Hurricanes Headed to Sweet 16 After Win over Indiana
BLOOMINGTON, Ind. – For Destiny Harden and the Hurricanes, it was a moment to savor.
A sweet, sweet moment to savor.
Moments after Harden hit a jumper in the paint with 3.3 seconds left that clinched a 70-68 win over Indiana at Simon Skjodt Assembly Hall, the veteran guard was mobbed by her teammates.
They all chanted two words: "Sweet 16."
For the first time since 1992, and the first time since the tournament field was expanded in 1994, the Hurricanes have advanced to the Sweet 16 of the NCAA Tournament and how they did it won't be forgotten in Coral Gables any time soon.
Miami, a nine seed in the tournament, built an early double-digit lead. It weathered a late charge from the Hoosiers. And ultimately, it defeated one of the nation's top teams – a one seed – to notch the biggest win in program history.
"I don't think there are words that can describe what this means to us," said graduate student guard Karla Erjavec. "I really don't. We've been talking about this moment, but actually standing in this moment, and actually feeling all the feelings and knowing what it means, knowing that when we say we are something special, we actually proved it out there. We had [14,000]-something people rooting against us. It was the 12 of us that stuck together and never gave up."
Said Harden, "It feels good just to keep dancing, keep advancing, survive and advance right now. It feels really good. The game we played tonight was something that we were talking about last night. To get the win, I mean, it's big time, over a very, very efficient team. I've just got to give my credit to Indiana, because they came out and played well, too"
According to the Associated Press, Miami's win marked just the third time a nine seed has beaten a one seed in the women's tournament. Before Monday's win, only Michigan, in 2009, and Notre Dame, in 1998, had accomplished that feat, beating Duke and Texas Tech, respectively.
Harden, one of Miami's unquestioned leaders, finished with 18 points and scored the 1,000th point of her career in the victory. Lola Pendande led the Hurricanes with 19 points and seven rebounds and Jasmyne Roberts added 16 points for Miami.
The Hurricanes (21-12) will now face Villanova in the Greenville Regional 2, for the opportunity to secure a berth in the Elite Eight.
Miami, which advanced to the Round of 32 with a win over Oklahoma State on Saturday, knew they faced a significant challenge against Indiana (28-4).
The Hoosiers had been perfect on their home floor all season. And a capacity crowd of 14,480 did its best to create as hostile an environment as possible for Miami.
But throughout the first half, the Hurricanes more than handled the crowd.
They silenced it. Often.
Led by a strong early showing from Pendande and Harden, Miami opened the game on a 10-4 run to build a double-digit lead and force an early Indiana timeout.
The second quarter was more of the same, with Miami opening the period on another run – this time an 8-2 stretch – that pushed its lead to 14 and kept the crowd hushed again.
But Indiana answered.
The Hoosiers scored six straight to cut the Hurricanes lead to 28-20 and get the crowd back into the game before a 3-pointer from Hanna Cavinder changed the momentum again.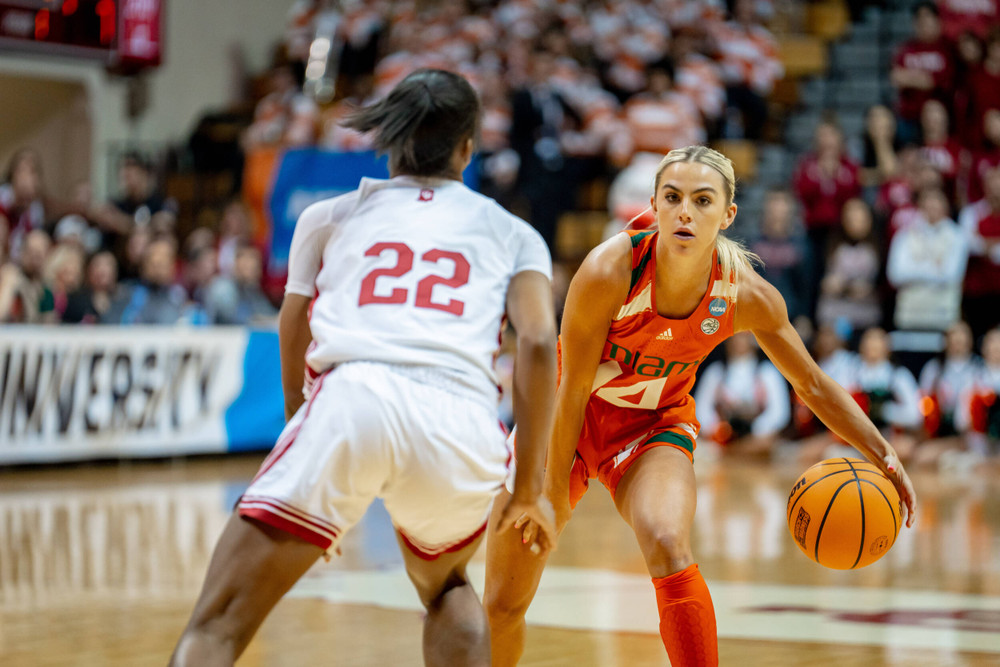 In the second half, Miami – which overcame a 17-point deficit in its tournament opener against the Cowgirls – saw its own 41-29 halftime lead evaporate.
The Hoosiers chipped at the lead, eventually tying the game at 60 with 3:05 left when All-American Mackenzie Holmes, who had 22 points to lead Indiana, scored on a layup.
Miami regained the lead after a layup from Pendande and a 3-pointer from Haley Cavinder, but again, Indiana fought back.
The Hoosiers tied it twice in the game's final seconds, both times on 3-pointers from Yarden Garzon, but ultimately, Harden and the Hurricanes were able to secure the win in a game in which they never trailed.
"For today's game we were just…it was a lot of belief," Pendande said. "We were just ready to come here, play… We've been in situations like this before with a huge crowd against us, and we stayed confident, and we had each other's backs."
And once the buzzer sounded, and the Hoosier faithful were left stunned, the celebration for Miami began in earnest.
Hugs were exchanged. There was dancing. And before heading to the locker room, the Hurricanes stood together in front of the Miami band as the school's alma mater rang throughout Assembly Hall.
"I always tell my team, 'Act like you've been there before,' but we haven't, so we kind of acted foolish and we were really happy and we enjoyed it," Hurricanes head coach Katie Meier said. "[We] tried to be respectful, but that was a really big moment for us, and it was fun, and it was time to just let the pure joy spill out and enjoy it and take the momentum into the Sweet 16."