University of Miami Athletics
Hanna Cavinder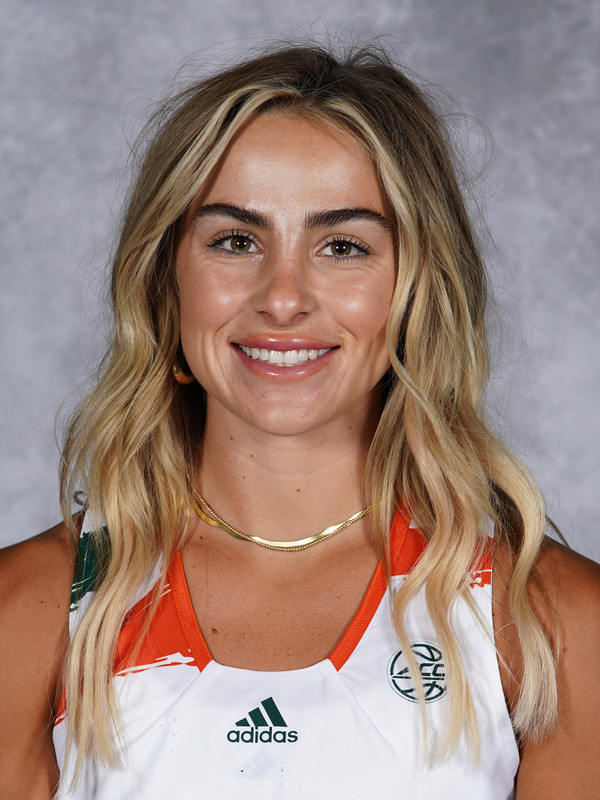 Career Honors:
2023 All-ACC Academic Team
All-Mountain West Team (2020, 2021)
2020 Mountain West All-Freshman Team
Mountain West Player of the Week (3x)
Career Notes: Played 123 career games, starting 87 of them…Totaled 1,529 points and 336 rebounds…Averaged 12.4 points, 2.7 rebounds and 3.2 assists in four seasons…Tallied 82 double-figures scoring games and eclipsed the 20-point mark 25 times…Posted three double-doubles in her career.
As a Senior (2022-23): Saw action in 34 games as a Hurricane…Averaged 3.8 points, 1.3 rebounds and 1.6 assists per game…Led the Hurricanes in assist/turnover ratio at 2.3…Totaled four double-figure outings…Poured in a season-high 14 points against Virginia (2/26)…Set a new career high in made 3-pointers with five against Virginia…Recorded the fewest turnovers on the team (500+ minutes played) at 24.
As a Junior at Fresno State (2021-22): Started all 29 games…Averaged 37.1 minutes per game, 15th-highest in the NCAA…Ranked 10th in the Mountain West in scoring at 14.6 points per game…Sixth in the conference in steals (1.8 spg) and seventh in assists (3.7 apg)…Posted seven 20-point games…Dropped a season-high 24 points versus San Jose State…Tied career high with 10 made free throws against the Spartans (10-of-11)…Grabbed a career-best nine rebounds at CSU Bakersfield…Dished out at least five assists in 11 contests…Knocked down a career-best 42 3-pointers on the year…Made multiple 3-point field goals 13 times…Hit a career-high four 3-pointers versus Cal and Utah State…Produced at least three steals on nine occasions…Swiped a season-high five in regular season finale at Utah State.
As a Sophomore at Fresno State (2020-21): Started 27 of 28 games…Reached double digits in 26 games, hitting the 20-point mark nine times…Nationally, ranked 17th in minutes played (984:43), 23rd in field goals made (191), 32nd in field goal attempts (412), 43rd in total points (477), 54th in total assists (109) and 95th in points per game (17.0)…Taking the second-most field goal attempts in the league, led the conference in field goal percentage (.464)…Ranked third in the Mountain West in points per game (17.0), fourth in minutes per game (35.17), fifth in steals per game (1.79), sixth in assists per game (3.89) and seventh in assist-to-turnover ratio (1.45)…Scored career-high 32 points in the final game of the regular season versus UNLV, shooting 13-of-20 from the field…Shot a career-best 4-of-6 from three-point range in that contest against the Lady Rebels…Shot north of 60 percent on two other occasions, going 9-of-12 against Lamar and 8-of-12 versus Saint Mary's…Twice recorded back-to-back games with 20-plus points… Grabbed a career-high nine rebounds against New Mexico.
As a Freshman at Fresno State (2019-20): Along with sister Haley, the twins were the first freshmen to earn a spot on the All-MW team since 2015…the two were the first freshmen teammates to be named to the All-MW team…Played in all 32 games with 31 starts…Made 116 free throws, most among freshman in Fresno State history…Second in program history among freshmen in points (502) and assists (118), and third in steals (42)…Ranked third in the conference in free throw percentage (82.3%), free throws made (116), free throw attempts (141) and total minutes (1122:32)…Ranked fourth in league in points per game (15.6 ppg), total points (502), 20-point games (9) and minutes per game (35.08 mpg)…Finished fifth in MW in assists per game (3.69), field goals made (182) and field goal attempts (418)…Was eighth in the MW in field goal percentage (43.5%), assist/turnover ratio (1.49), total assists (118), steals per game (1.75 spg) and total steals (56)… Ranked 26th in the NCAA in total minutes, 59th in free throw percentage, 72nd in made free throws, 89th in field goal attempts and 92nd in field goals made…Among freshmen in the country, was sixth in made free throws, 11th in points per game, and 17th in assists and steals per game…Opened career with 23 points at Cal Poly, the most points in a freshman debut at Fresno State…Became second Bulldog to open career with back-to-back 20-point games after scoring 21 against UC Davis…Twice dished out nine assists…Recorded a season-high 26 points versus LaVerne, shooting 11-of-15…Scored in double-digits it 12 straight games to open season…Grabbed a season-high seven rebounds in the MW title game against Boise State.
High School: Named Arizona 5A Offensive Player of the Year as a senior…All-Arizona team…Selected to Arizona all-star game…Surpassed 2,000 career points…Averaged 21.7 points, 6.1 rebounds, 4.8 assists and 3.0 steals per game as a senior…State runner-up (25-6)…Averaged 20.9 points, 5.7 rebounds, 6.2 assists and 2.9 steals per game as a junior…Three-time all-region selection and all-state honoree…Twice played in the Arizona all-star game…Was placed on the USA Today preseason All-Arizona team.
Personal: Born in South Bend, Ind….Daughter of Katie and Tom Cavinder…Has four sisters, Brooke, Brandi, Haley and Natalie…Father played basketball at Nova Southeastern…Twin sister, Hanna, also plays for Miami…Business major.