GREENVILLE, S.C. – It is an image that will long live in Miami women's basketball lore.
Haley Cavinder, alone at the line after calmly hitting two crucial free throws in a pressure-packed late-game situation, looked up at the Indiana crowd that had been taunting her relentlessly all night and with a small smile, brought her finger to her lips.
It was a moment Cavinder admits was slightly out of character for her.
She generally prefers to drown out the critics and let her play do all the talking.
But in that split second, she seemed compelled to inform the Indiana fans who wouldn't stop mocking her for her TikTok fame that she and her twin sister Hanna Cavinder are more than social media influencers and NIL pioneers.
They're basketball players who came to Miami to make a difference in March.
That's exactly what they did when the Hurricanes knocked the No. 1 seeded Hoosiers out of the NCAA Tournament and helped the Hurricanes clinch their first Sweet 16 berth since 1992.
"It's not something I usually do, feed into all of it, but I thought it was funny," Haley Cavinder said of the memorable gesture. "The crowd and the atmosphere were something I'd never seen in my life, so I'm really happy I made those free throws, and we won the game."
There was more drama after Cavinder's free throws pushed Miami's lead to 68-65 with 12 seconds left on the clock in Monday's Round of 32 matchup.
Indiana's Yarden Garzon tied the game seconds later with a step-back 3-pointer on the Hoosiers' ensuing possession before ultimately, a Destiny Harden jumper in the paint with 3.3 seconds left gave the Hurricanes (21-12) the win.
All of that only added to an experience Haley and Hanna Cavinder say they won't forget.
A year ago, the two were standouts at Fresno State, watching as the Hurricanes and 67 other teams from across the nation competed in the NCAA Tournament. Naturally, they couldn't help but wonder what it'd be like to play on college basketball's biggest stage themselves.
Now, they have.
And the stage is about to get even bigger.
On Friday afternoon, the Cavinder twins and their Hurricanes teammates will continue their tournament journey when they take on No. 4 seed Villanova (28-3) at Bon Secours Wellness Arena in Greenville for the opportunity to advance to the Elite Eight.
Miami has already made its presence felt in the tournament, with a 17-point comeback win over Oklahoma State and the upset of Indiana, but the Cavinder twins say there's still plenty of work for them and the Hurricanes to do.
"Coming in, you never know what to expect, transferring from a mid-major to a Power Five [program] and wanting to make a name for yourself and have a good role on the team," said Haley Cavinder, a second-team All-ACC selection who averages 12.6 points per game and is Miami's leading scorer. "It's something that's been really exciting. Being a part of this team, the success we've had, it's been so fun. It's one of my favorite seasons yet. I'm excited to keep it going forward."
Said Hanna Cavinder, "Looking back, we were watching Miami in the tournament and just being able to experience this a year later with them, it's kind of a surreal feeling. It's definitely something that Haley and I always talked about. Now it's coming full circle, to say the least."
The Cavinders, who joined the Hurricanes last summer, wasted little time making an impression on their new teammates and coaches.
Their competitive drive – one they say was honed by growing up in a family filled with athletes – was on display from the start, the pair often staying in the gym long after practices ended.
And they were always willing to be challenged, something Miami head coach Katie Meier especially appreciated.
"They are both super competitive and we really needed that," Meier said. "I think we had talent, but I think we needed a grit and a 'no one's going to outwork me' mentality. And day after day, they have a routine. They're super disciplined about their routine. They don't have time to mess around with stupid stuff. They're very, very focused, very organized and very disciplined…They've handled a lot this year and they've always been very, very straightforward. There's no gamesmanship. There's no posturing."
Said veteran Hurricanes guard Karla Erjavec, "They're competitors, really hard workers. That's something I talked to them during their visit last spring. Everybody knows me as a hard worker. I'm going to sit down, do my work and then whatever happens, happens. They're just like that. Everything people talk about them is not necessarily true. They always put basketball first. They're always going to do everything it takes for Miami to win and everything else comes second. That's one of the biggest things I appreciate about them, just being able to nullify that outside noise and being able to be present in the here and now."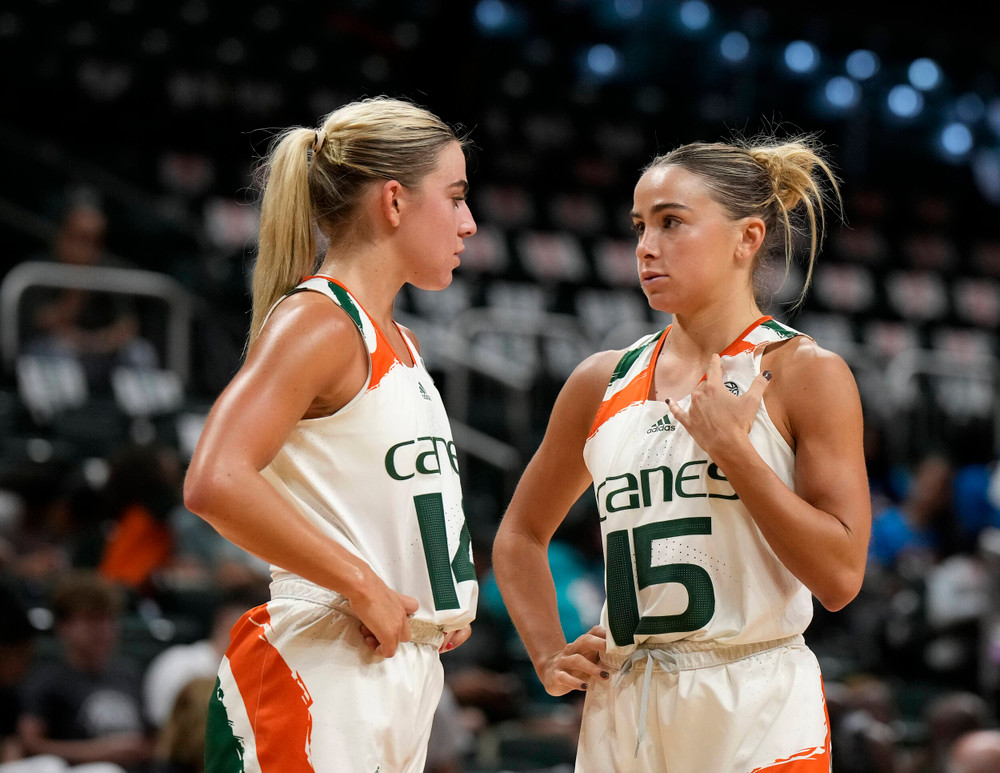 But even at this stage of the NCAA Tournament, with basketball at the forefront, the Cavinders can't quite escape the media spotlight that seemingly follows them everywhere.
The pair, who started making their now-famous TikTok dance videos and built their online following during Covid lockdowns, had plenty of media responsibilities on their plate ahead of Friday's game.
There were joint interviews with multiple media outlets. And Haley Cavinder was on the dais during Miami's pre-game press conference, while Hanna Cavinder answered her fair share of questions during an open locker room media availability.
Still, through it all, the focus remains on the task at hand: getting past Villanova and making sure Miami's season continues.
That's always been the goal, and the priority, since the Cavinders arrived in Coral Gables – even if it means there's been some jeering along the way, like there was in Bloomington.
"I don't really know if people underestimate us. I think that obviously, the majority of our following is through TikTok, so that's what people see a lot," Haley Cavinder said. "But I don't really try to focus on what they think, or if they underestimate me. This is what I love to do…I'm going to do what makes me happy. I love playing basketball. I love playing with this team. We're in the Sweet 16."
Said Hanna Cavinder, "Obviously, this is a huge game, but we can't make it bigger than it is. We just need to stay calm. It's the same game we've been playing all of our lives. Staying together, doing what it takes to win, knowing the whys. We're going to be prepared. We're ready. We just beat the No. 1 team. Why not go to the Elite Eight?"