University of Miami Athletics
Haley Cavinder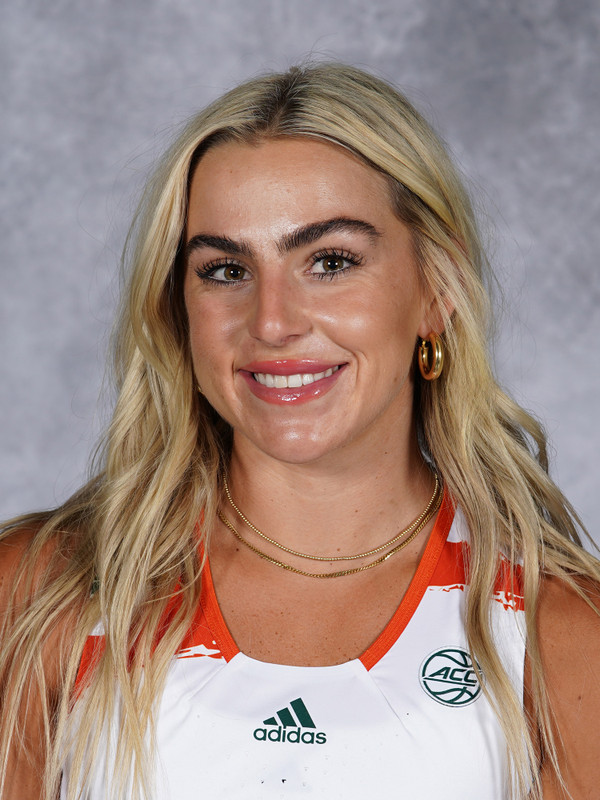 Career Honors:
2023 All-ACC Second Team
2023 All-ACC Academic Team
2022-23 ACC Newcomer Watch List
All-Mountain West Team (2020, 2021, 2022)
2021 Mountain West Player of the Year
Mountain West All-Tournament Team (2020, 2021)
2021 WNIT Fort Worth All-Region Team
Mountain West Player of the Week (4x)
2020 Mountain West Freshman of the Year
2020 Mountain West All-Freshman Team
Career Notes: Finished the 2022-23 ranked 19th among active Division I players in career points (2,065) and 10th in career free-throw percentage (.859)…One of 25 active Division I players to score 2,000 career points…Concluded her career with 2,065 points, 889 rebounds and 474 assists…Totaled 99 career double-digit scoring games and 45 20-point outings…Recorded 22 double-doubles in four years of action…Put together a 32-game streak scoring 10-plus points.
As a Senior (2022-23): Started all 35 games played…Averaged 12.2 points and 4.9 rebounds per game as a senior…Led the Hurricanes in scoring (12.2), 3-point field goal percentage (min. 50 attempts) (.404), free throw percentage (.878) and minutes per game (30.9)…Ranked second on the team in total assists (86) and rebounds per game (4.9)…Eclipsed the 2,000-career point mark with 16 points against Louisville (2/23)…At the conclusion of the 2022-23 season, was one of 25 active players with 2,000 career points…Totaled 22 double-digit scoring outings and three 20-point games…Tallied five-plus rebounds in 17 games…Put together a nine game double-digit scoring streak (12/1-1/26)…Poured in a career-high 33 points against Florida State (2/9/)…Tied her career high with seven made 3-pointers in the game (7-of-10)…The seven made threes puts her tied for fourth in Miami program history for single-game made 3-pointers…Led the Hurricanes in scoring 11 times and rebounding eight times in 2022-23…Named to All-ACC Second Team and All-ACC Academic Team.
As a Junior at Fresno State (2021-22): Set NCAA record for free-throw percentage in a season, converting 109-of-112 for 97.3 percent, breaking the mark of 96.5 (111-of-115) set by Kitija Laksa of South Florida (2018)…Became just the third player in Mountain West history, and first since 2006, to lead the MW in in scoring and rebounding…Averaged 19.8 points and 9.5 rebounds per game overall and 20.8 points and 9.9 rebounds per game in conference play…20th player in NCAA history to record at least three triple-doubles in a season…Posted second-most triple-doubles (three) in the NCAA during 2020-21…Earned MW Player of the Week on Jan. 17 following her second triple-double…Finished second in the MW in assists per game with 5.7…Pulled down a conference-best 8.1 defensive rebounds per game… Nationally, ranked 10th in defensive rebounds per game, 15th in assists per game, 21st in points per game, 48th in assist-turnover ratio (1.98) and 49th in rebounds per game…Started all 29 games, averaging 38.1 minutes per outing, sixth-highest in the NCAA…Her 20.8 points per game in conference play ranked sixth-highest in league history, passing the 20.6 she had a season earlier…Recorded 21st season-opening triple-double in NCAA history with 25 points, 12 rebounds and 10 assists at Utah Valley…Was the first triple double of her career…Against San Jose State, broke Fresno State's single-game record for assists with 13 while not committing a turnover…It was the 11th-best assist-turnover ratio in the NCAA in the last decade and was the best against a D-I opponent in MW history…The 13-0 ratio tied Sabrina Ionescu for the highest ratio in a triple-double in the last decade…Recorded a conference-best 12 double-doubles…Dropped a league-leading 17 20-point games, finishing the season with five in a row…Went 10-of-10 from the charity stripe twice during the final five games…Played every minute in 12 games.
As a Sophomore at Fresno State (2020-21): Third sophomore to ever win the Mountain West's top honor…First player in conference history to win the award the year after being named Freshman of the Year…Only player to earn multiple MW Player of the Week honors during the 2020-21 season, doing so three times…Started 27 of 28 games…Her 20.6 points per game in conference play ranks sixth-highest in league history…Posted 11 of her league-leading 17 20-point games in conference play, including seven during the final nine regular season games…Finished the season with 10 20-point games in the last 14 outings…Nationally, ranked sixth in total minutes (1026:50), ninth in field goal attempts (479), 16th in made field goals (204), 18th in total points (554), 26th in 3-point attempts (177), 32nd in points per game (19.8), 38th in minutes played per game (36.67), 39th in 3-point field goals made (58), 46th in free-throw percentage (84.6), 66th in total rebounds (211), and 71st in total assists (105)…Led the Mountain West in scoring (19.8) and minutes played (36.67), was second in free-throw percentage (.846), fifth in 3-pointers made (2.07), sixth in rebounding (7.54), steals (1.68) and assist-to-turnover ratio (1.48), and eighth in assists (3.75)…Led the Bulldogs in scoring in 14 times, rebounding 11 times, assists 11 times and steals 10 times…Dropped a season-high 30 points versus Nevada on Jan. 14.
As a Freshman at Fresno State (2019-20): Played in all 32 games with 31 starts…Played at least 40 minutes in nine games, including every minute in seven…Broke Fresno State's freshman records for most points (512) and most rebounds (233) in a season…Led the team and finished second in the conference in points per game (16.0 ppg), total points (512) and made field goals (189)…Ranked third in the league in 3-point percentage (34.3%), 3-pointers made per game (2.66), 3-pointers made (85) and 3-point field goal attempts (248)…Finished sixth in the MW in total assists (117) and assists per game (3.66 apg), and seventh in assist-to-turnover ratio (1.52)…Second on the team and eighth in the conference in rebounds per game (7.3 rpg) and total rebounds (233)…Nationally, ranked ninth in 3-point field goal attempts, 18th in 3-pointers made, 24th in field goal attempts, 36th in 3-pointers made per game, 45th in total minutes, 71st in made field goals and 78th in total points…Recorded the second-most 20-point games in the league (11)…Had the sixth-most double-doubles (six) in the conference and eighth-most double-digit rebounding games (six)…Was one of nine players in the country to average at least 16 points per game, seven rebounds per game and three assists per game, and was only freshman and only player under 5-foot-10 to accomplish the feat…Was one of 15 players under 5-foot-10 in the NCAA to average at least seven rebounds per game, and one of three 5-foot-6 or under…Ranked ninth among freshman in the NCAA in points per game and 18th in both rebounding per game and assists per game…Was one of four freshman under 6-foot to average at least 7.0 rebounds per game, and was only player under 5-foot-10…Posted 17 points and seven rebounds at Cal Poly in first career game…Recorded first 20-point game six days later versus UC Davis…Recorded season-highs of nine assists and six steals in the conference opener at UNLV…Tallied first career double-double with 13 points and 10 rebounds at Santa Clara…Grabbed a season-high 15 rebounds at San Jose State…Dropped a season-high 31 points and had six assists and five steals in comeback at New Mexico…Registered 21 points, 10 rebounds and seven assists championship clinching game versus San Jose State.
High School: Named Arizona 5A Player of the Year as a senior…First-Team All-Arizona…All-Star Game MVP…Broke 2,000-career point mark (2,282)…Averaged 21.8 points, 8.9 rebounds and 6.5 assists as senior…State runner-up in 2019 (25-6)…Averaged 23 points, 9.2 rebounds, 6.6 assists and 3.9 steals as a junior…2018 first team all-state and USA Today All-Arizona selection…Three-time first team all-region selection…2018 region player of the year…Named 2017 MVP of the Tournament of Champions…Twice been selected to compete in the adidas Uprising All-American Camp…Ranked as the No. 27 guard in the country according to ESPN.
Personal: Born in South Bend, Ind….Daughter of Katie and Tom Cavinder…Has four sisters, Brooke, Brandi, Hanna and Natalie…Father played basketball at Nova Southeastern…Twin sister, Hanna, also plays for Miami…Business major.