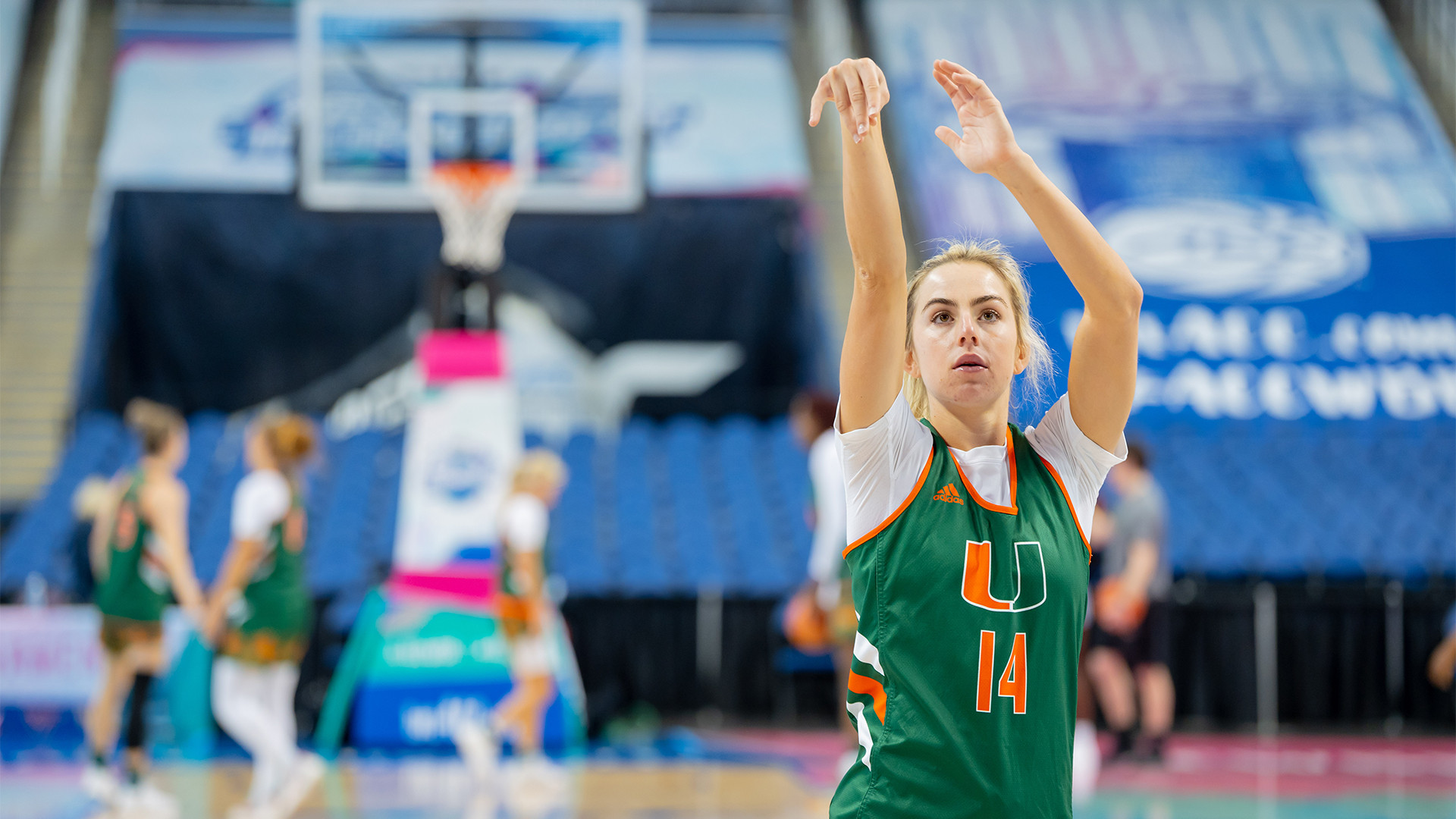 GREENSBORO, N.C. – For Miami, it was an ACC run that won't be forgotten any time soon.
A season ago, the Hurricanes took the floor at the Greensboro Coliseum, knocked off a pair of top-25 opponents and for the first time, earned the opportunity to play for a conference title.
It was historic, thrilling, and for the players and coaches involved, beyond memorable.
It was also, they say, a stretch that made them all hungrier for even more.
"We were so close to cutting the net you could almost taste it. In that warm-up, you saw the nets coming down [in your mind]. We were so close and nobody wants to be close anymore," veteran guard Karla Erjavec said. "We worked hard in the summer. We worked hard in fall workouts. We knew what was on the line when we started playing ACC games…
"Knowing that it's every possession, every loose ball, every rebound, every assist, and that when everything comes together, this is the most fun part of the year. We just know what it takes now. We know how to get there. We were in this situation last year and I think we're prepared even better than we were then."
The Hurricanes will have their first chance to put that knowledge to the test when they open play in the 2023 Ally ACC Women's Basketball Tournament on Thursday night against Boston College, which advanced to the second round with a 62-57 win over Georgia Tech on Wednesday.
Miami has already notched a big win over the Eagles (16-16) this season, besting them 86-65 at the Watsco Center back in January.
But the Hurricanes (18-11) know full well regular-season matchups mean little in March.
Their last appearance in the ACC Tournament is proof of that.
Miami arrived in Greensboro last March knowing it faced a formidable test against then-fourth-ranked Louisville. The Hurricanes notched a 61-59 win in that game, thanks in large part to some suffocating late-game defense and a heroic performance from forward Destiny Harden, who scored 15 straight points in the game's final four minutes – including the game-winning buzzer-beater.
The Hurricanes weren't content to let that be their only magical moment in Greensboro.
They followed that performance with a 57-54 win over No. 20 Notre Dame and became just the second seven-seed to advance to the tournament's championship game.
Ultimately, Miami came up short in its quest for the ACC title, falling 60-47 to North Carolina State, but the run provided invaluable experience for a core group of veterans and inspiration for some of the younger players on the roster.
"I think it was a great experience for me and where we are now. I know now what to expect coming into these games," said sophomore guard Ja'Leah Williams. "But as a team, it just shows you that the underdogs are capable of going far. No one expected us to go that far…It just gave us that extra boost, and that extra confidence like 'Okay, we've got this. All we need is each other. As long as we have each other's backs, we're going to get the job done.'"
Said Erjavec, "I'm just hoping we don't take any plays off. That's what I personally told everybody. Don't take any plays off. It's all in, headfirst. It's a win-or-go-home situation from now to the end of the season, so we might as well win as much as we can and don't leave anything behind. Leave everything you have out there and then good things happen to you."
Harden, who is set to play in her final ACC Tournament this week, will, no doubt, help set the tone once again for the Hurricanes.
The graduate student, a second-team All-ACC selection, is averaging 12.3 points and a team-high 5.9 rebounds. She has played some of the best basketball of her collegiate career in Greensboro and in six games here has averaged 13.7 points, 7.3 rebounds and 1.5 steals. She has scored a career-high 27 points here twice, once against Louisville last year and in 2021 against Virginia Tech.
Also helping pace the Hurricanes this season is fellow second-team All-ACC selection Haley Cavinder, a transfer from Fresno State who was the 2021 Mountain West Player of the Year.
At Miami, Cavinder has averaged a team-high 12.8 points and 4.6 rebounds and has a team-leading 20 double-digit performances this season. She is also one of just 21 active Division I women's basketball players to reach the 2,000-point milestone.
But while Harden and Cavinder have starred this season, more than a few of their teammates have delivered big performances, too.
This year, eight different players have led the team in scoring across 29 games. Eight have led the team in rebounding.
That kind of team basketball, Miami players know, will make a difference.
"Destiny is good at doing this. Haley's good at doing this. [Jasmyne Roberts] is good at doing this. Knowing your teammates and knowing how they function best, how to help each other…I think we learned that through the whole ACC [schedule] because it was so challenging," Erjavec said. "We were able to have so many tests down the road."
That first test comes Thursday. Miami hopes another awaits Friday. And Saturday. And Sunday.
"I think they understand the opportunity that is here and how focused you need to be," Hurricanes head coach Katie Meier said. "The tournament, there's always some crazy story. There's always one game or two games, that people are like 'I can't believe what I just saw.' Last year, I think we were just resilient. We were down in almost every game and then we came back, so I think that's one thing, our veterans have faith…
"But this is a new team. And the conference this year is just so different. Our journey has been so incredibly different than last year's team. I think it's just a matter of giving each team their own opportunity and letting them write their own story…It's an opportunity to add something to our resume and that's what we've got to do."