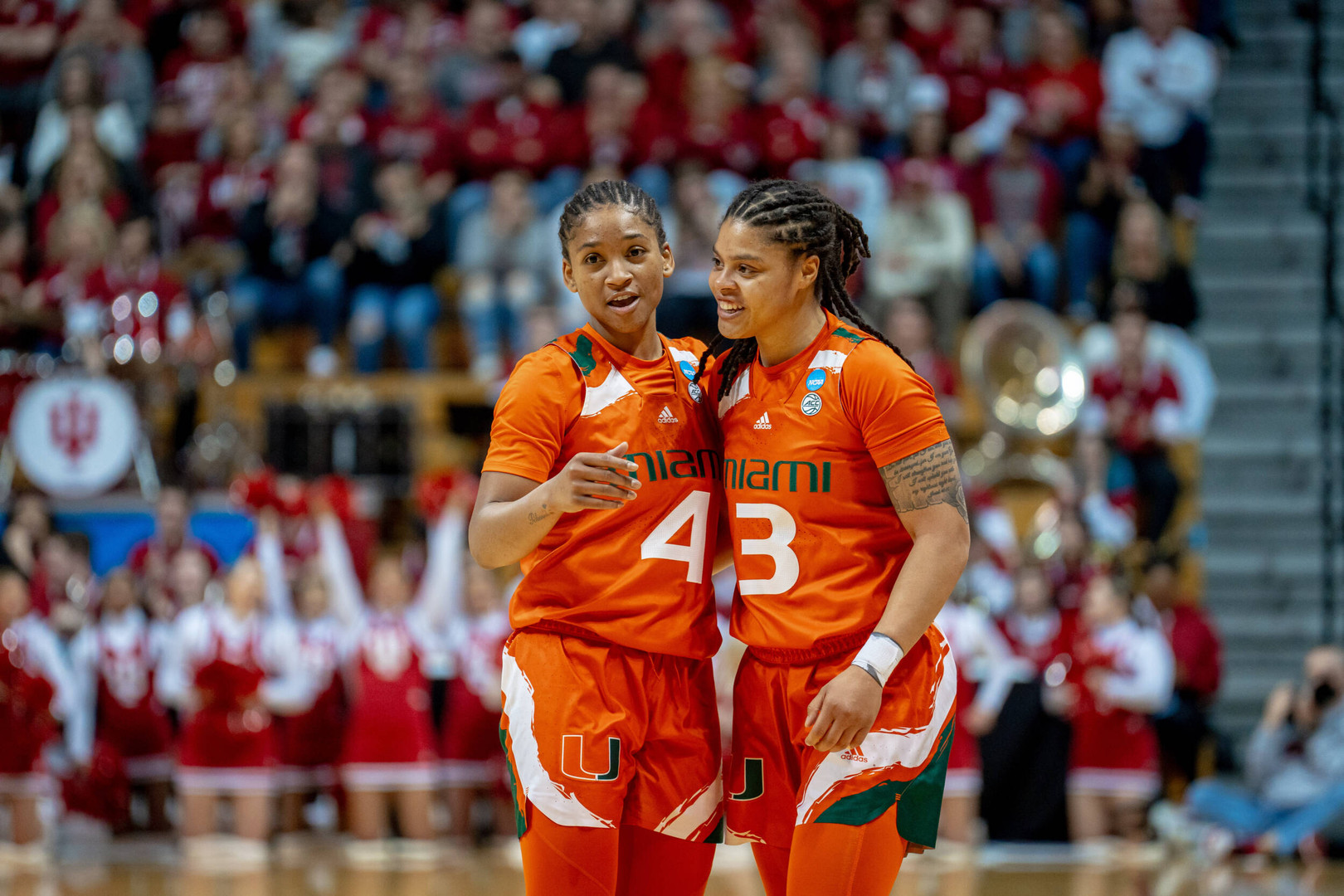 CORAL GABLES, Fla. – In the days since Miami's magical NCAA Tournament run came to an end, Jasmyne Roberts has had the chance to go home and visit with family and friends.
She's thrown out the first pitch at a Hurricanes baseball game. She and her teammates were honored at an on-campus watch party during the Men's Final Four and just this weekend, some of those teammates headed north to Fort Lauderdale where they and members of Miami's men's basketball team were recognized during an Inter Miami game at DRV PNK Stadium.
At every stop, there have been congratulations and plenty of well wishes.
And for good reason.
A little more than two weeks ago, Roberts and the Hurricanes women's basketball team made history when they played in the first Elite Eight game in program history.
While Miami's season ended that day with a hard-fought loss to eventual national champion LSU, the game capped an improbable run that won't be forgotten any time soon – not by players like Roberts, her teammates, their coaches or the Miami fans who watched it all unfold from Bloomington, Indiana to Greenville, South Carolina.
"It was amazing, to say the least," said Roberts, a sophomore from Jacksonville who averaged 19.0 points and 7.3 rebounds per game during the NCAA Tournament and was named to the Greenville 2 All-Region Team. "We really made history and we did something that no team at Miami that's played for [head coach Katie Meier]  has done here. We've got to hold our heads high on that. It's meant a lot to have everyone's support and everyone cheering for us.
"It just makes it feel a lot better."
There are so many reasons for the Hurricanes to be proud of what they accomplished in March.
They opened tournament play with a 17-point comeback win over Oklahoma State in the Round of 64. As a nine seed, they knocked off No. 1 seed Indiana – on the Hoosiers' home floor – to advance to the Sweet 16 for the first time since 1992.
They then held off a late surge from fourth-seeded Villanova to set up the Elite Eight matchup with LSU.
During their run, the Hurricanes held multiple All-Americans in check, silenced thousands of fans at Simon Skjodt Assembly Hall in Indiana and on the whole, put Miami front and center during a memorable women's tournament that is still making headlines across the country.
And at every step in their tournament journey, the Hurricanes made history.
That's something Meier said Monday spoke volumes about her team.
"When they had an opportunity, they kind of kicked the door down," Meier said. "We've had other teams that might have been ranked higher…But this particular team, [when] there was an opportunity, there was a little crack, they were like 'Let's kick it open.' And that's why I'm so happy for them, because they were not intimidated by any matchup, and they just went for it. Nothing to lose, everything to gain. It was fun."
Said graduate student forward Destiny Harden, one of Miami's veteran leaders, "Now that everything's been soaked in, I think it's kind of crazy because when you think about it, this hadn't happened in 30 years. That's before I was born. I keep saying that to myself, it took all of us to be born to make some history. So, I think that's the main part that I've taken in is just that something that hadn't happened in 30 years happened now, with this group of girls and this group of people. It's amazing because I feel like me leaving here now, I put a mark on the program. Now, these are our expectations and now, we can't go back to where we used to be. It's time to move forward and keep improving."
There's no doubt Roberts, who made her first starts in January and then emerged as one of Miami's stars in the postseason, will be a part of the Hurricanes' foundation moving forward.
It's an opportunity she says she's embracing, even if it will come with new challenges.
"I know that there's really high expectations for me, but I'm going to keep working on my game, keep working hard and stay humble," Roberts said. "I mean, I put more pressure on myself than anybody could ever put on me, so I know I have to elevate my game. I know teams are going to scout me now. People are going to be looking at me. So, I'm just going to keep doing what I've been doing and what got me to this point."
But Meier acknowledged she and her staff will have work to do over the course of the next few weeks and months to reshape Miami's roster after the departures of veterans like Harden and fellow graduate student Karla Erjavec, both of whom have exhausted their eligibility.
The coach knows, though, that what Miami did in the month of March likely opened eyes around the country and whether they're high school prospects or potential transfers from the college ranks, some of the nation's top players will have plenty of reasons to think about donning orange and green and coming to Coral Gables.
"I do think what we've done in this run has shown what Miami basketball is all about," Meier said immediately after the loss to LSU. "I think we've shown absolutely raw emotion. No one steals our joy. Never can, never will. You're always going to see a joyful, intense team.
"I think we're attractive and I think if people have an option to come back, they probably will because they've had just a great time and because we take care of our players so well…I am certainly not going to worry about the future. I think it looks pretty darned good."