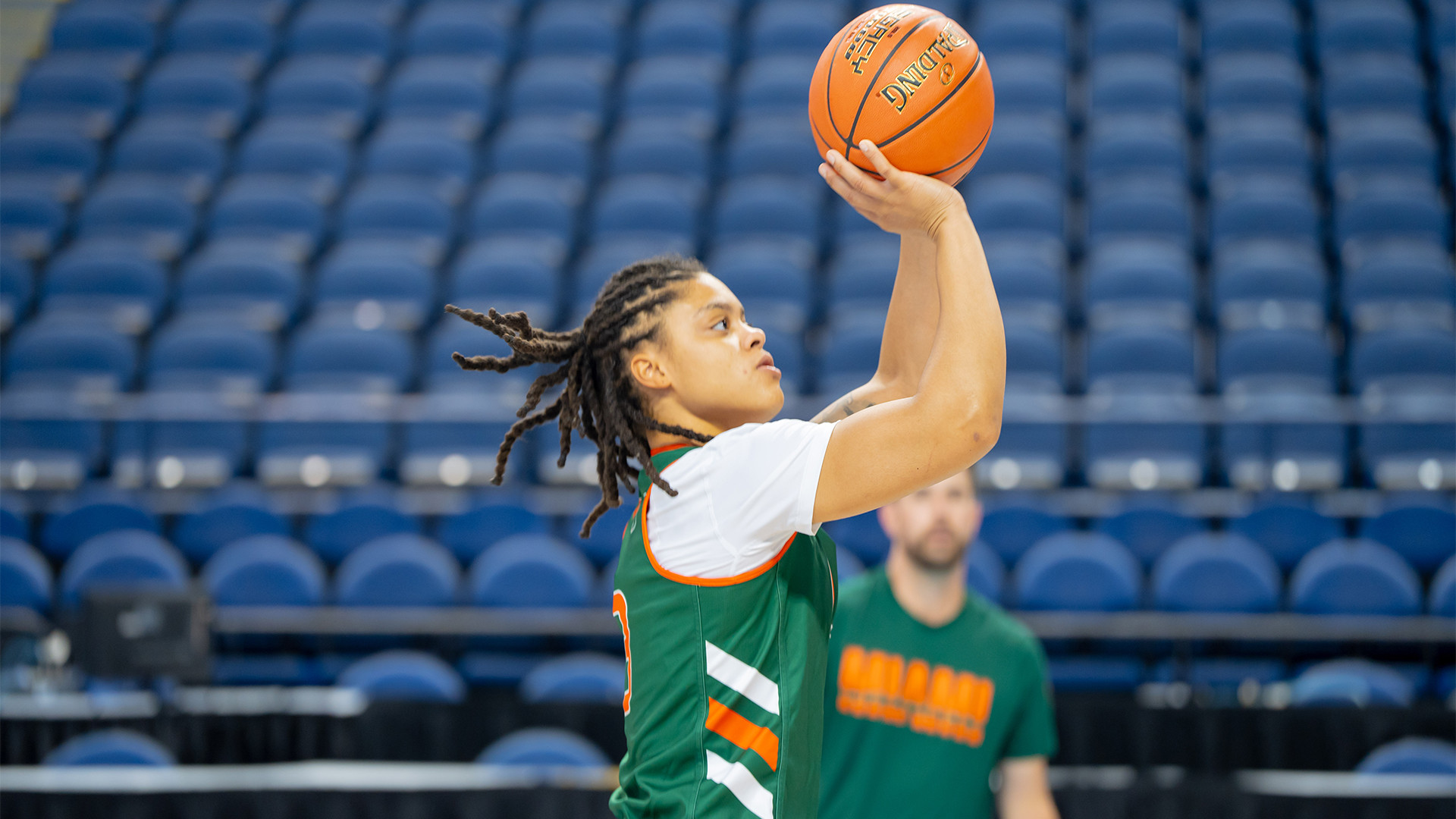 GREENSBORO, N.C. – Destiny Harden knows she and the Hurricanes have work to do at this week's Ally ACC Women's Basketball Tournament.
That doesn't mean, though, that she didn't allow herself a minute to relive some of the most memorable moments of her basketball career, moments that played out just about a year ago when she and her Miami teammates were in this very same tournament.
On that particular day, the Hurricanes – who were hoping to bolster their NCAA Tournament resume – faced a daunting challenge: trying to overcome a late double-digit deficit against a top-five opponent.
But that's exactly what Miami did, thanks in large part to Harden and one of the most improbable performances in Hurricanes women's basketball history.
Yes, Harden hit a buzzer-beater to lift Miami to a 61-59 win over Louisville and send the Hurricanes to the tournament's semifinal round. But it was everything that happened in the four minutes before that that made the veteran forward's effort so memorable.
Harden – one of Miami's leaders on the court and in the locker room – scored 15 straight points to help give the Hurricanes the win. She hit a key 3-pointer, converted on a 3-point play, and ultimately, finished the night with a career-high 27 points and 10 rebounds, her first double-double of the season coming in one of the season's biggest games.
Her heroics set off a wild celebration first on the Miami bench and then on the court that neither Harden nor many of her teammates have forgotten.
"When she hit that last buzzer-beater, I remember running after her and she was running in circles and I was like, 'Destiny, where are we going?' But we just kept running and running," recalled Hurricanes guard Karla Erjavec with a smile. "It was so special. But I don't think I was able to really soak it all in until I re-watched the game and was like 'Wow. Fifteen straight.' It was incredible."
Added Hurricanes head coach Katie Meier, "You remember the reaction of the bench and everybody was just so joyful. That moment, there's so many great photographs of the emotion of that moment and that's what conference tournaments are all about."
Harden and the Hurricanes, who are set to open tournament play Thursday night against Boston College, are hoping to create more magical memories this week.
And odds are if they do, Harden will more than likely have a hand in it.
The graduate student has played some of her basketball in Greensboro, where she is averaging 13.7 points, 7.3 rebounds, and 1.5 steals. She is shooting 50 percent from the field in six ACC Tournament games and it's here, where she's notched both of her career-high 27-point performances, the first coming in 2021 against Virginia Tech.
So, it's understandable why Harden couldn't help but feel a rush of memories when the Hurricanes took the floor for a practice at the Greensboro Coliseum on Wednesday morning.
But she made it clear that she isn't going to let herself dwell on games past – no matter how amazing some of them may have been.
"That game came to mind, but what also came to mind is that it's a new year," said Harden, who is averaging 12.3 points and 5.9 rebounds per game and was on Tuesday named a second-team All-ACC selection. "We're trying to do a repeat, but better. But yeah, there was definitely a little flashback walking into the gym, for sure. I think any age I'll walk into that gym, I'll probably have flashbacks. It was a historical moment…It was pretty good to have."
Coming up clutch
One of the messages Meier wanted to make sure the Hurricanes took from their first practice in Greensboro was that all season long, they've found ways to come up big in close games.
Given the nature of tournament play, particularly in March, that trend needs to continue.
Entering play in the ACC Tournament, the Hurricanes have notched seven wins over conference opponents by nine points or less. And at this tournament in particular, nine of Miami's last 11 games have been single-digit decisions, with the Hurricanes posting a 5-4 record in those games.
"I really wanted to say that out loud because there's a lot of teams in this league who have the same score, with three minutes to go in a game, and end up with only four ACC wins [total]. Why did Miami get 11? I think we did some special things in those moments," Meier said. "We got a stop or we understood the power of if the game is winnable, you should win it. This entire conference's standings can change on three possessions. Just three possessions, in three games, and we have a different champion or a different bottom [in the standings]. That's what's amazing about this conference."
Said Erjavec, "Like Coach said the other day, we didn't have an easy ACC game. That really prepared us for the close games that are going to happen in the tournament, and just staying together. That's when we play our best basketball. Being together, playing for each other, and just hustling everywhere."
Hard to scout
The Hurricanes have been a pretty balanced team all season – which could be one of their biggest advantages in Greensboro this week
Eight different players have led the team in scoring across 29 games this season and eight have led the team in rebounding.
"It's all about noticing whose game it is because we have a good team and it can be anybody's night any day," Harden said.