For Canes' Offense, ''Sky's the Limit''
PHILADELPHIA – There were moments Tyler Van Dyke felt himself looking up in awe.
A native of Glastonbury, Connecticut who grew up just three hours from Philadelphia, Van Dyke spent many a childhood Sunday at Lincoln Financial Field cheering on the Eagles with his family.
To now be in their home stadium – and to have Miami notch a 41-7 win over Temple in the process – was something the Hurricanes quarterback said he won't be forgetting any time soon.
"This was very special. It was just surreal, looking up and seeing all the Eagles banners and seeing where Donovan McNabb, Mike Vick and all those legendary players played," Van Dyke said. "It was cool playing in this stadium. I know we play at Hard Rock [Stadium] and it's also a pro stadium, but this was just different, playing in Philly and growing up an Eagles fan."
Van Dyke, who has been on a tear through the month of September and entered Saturday's game against the Owls with the top completion percentage (76) in the ACC, had another impressive showing on this afternoon.
He completed 17 of his 24 passes and threw for 220 yards and three touchdowns in a game that was marred from start to finish by cold, windy, rainy conditions.
But none of that seemed to phase Van Dyke or the rest of the Hurricanes offense, which delivered yet another big performance under the guidance of first-year offensive coordinator Shannon Dawson.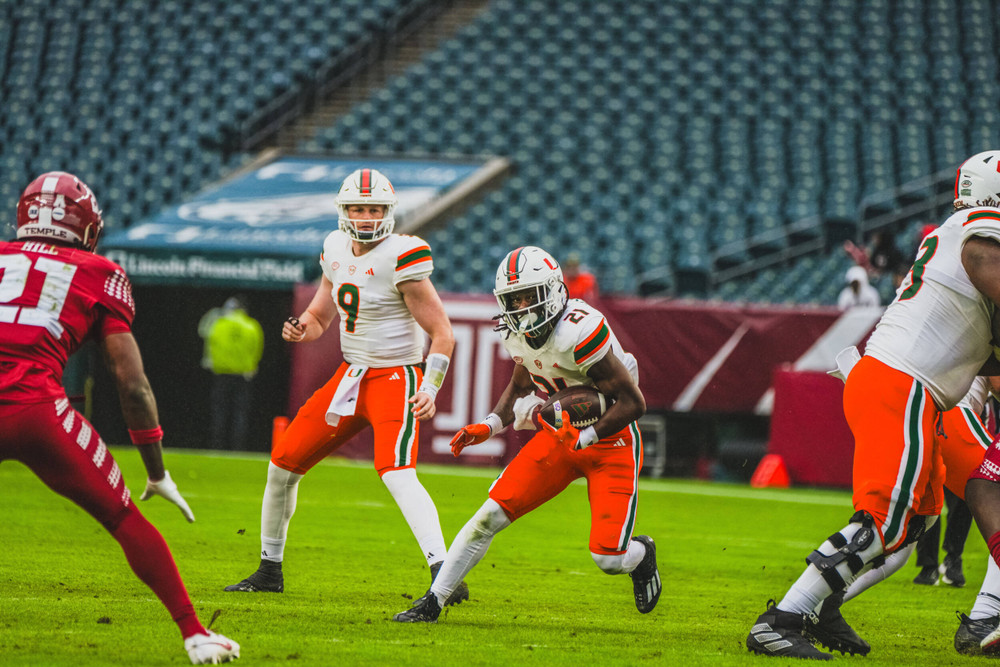 Miami totaled 543 yards. It rushed for 323 yards, with running back Henry Parrish, Jr. gaining a career-high 139 yards and scoring twice. And though he quipped he "felt slow," even Van Dyke had an impact on the running game, scampering for a 37-yard gain that proved to be the Hurricanes' longest run of the day and second-longest play from scrimmage.
Some more highlights from Miami's offensive display? Jacolby George had five catches for a team-high 90 yards. Fellow receiver Xavier Restrepo had a team-high seven catches for 41 yards with two touchdowns, his first multi-score game since arriving at Miami. And in his first start, running back Donald Chaney, Jr. had nine carries for 61 yards, while Mark Fletcher, Jr. added 11 carries for 51 yards.
And for the first time since 2002, the Hurricanes have scored at least 38 points in their first four games.
After the victory, head coach Mario Cristobal – a two-time national champion offensive lineman at Miami – had high praise for not only the Hurricanes' offense as a whole, but the running backs in particular.
He noted it's a group that has thrived thanks in large part to the competition in the room and the way each back is pushing each other for playing time and touches.
"I think our guys are playing with a better technique, better power. … We're seeing, well, I think the competition at running back really helps us," Cristobal said. "You saw today [that] Don Chaney got the nod, but then Henry Parrish got the hot hand. That competition is alive and well and it's important for us to praise effort, but reward performance and then its right back to competing again in practice. Again, just get better at it. We had some big runs, too. We made some people miss on the back end, which is something we were trying to get better at as well. … Just a good, solid performance."
It was a performance that made Miami's offensive linemen plenty proud, too.
Lineman Anez Cooper couldn't help but smile when learning the Hurricanes had rushed for more than 300 yards. And fellow lineman Jalen Rivers, one of Miami's veteran leaders up front, said Saturday's numbers were a testament to the work the Hurricanes have done from the moment the 2022 season ended.
"Of course, we need to clean things up, that's every game. But we were very explosive, and we executed very well, I feel like," Rivers said. "We just made big plays and that goes to show you how we've been preparing since the spring and the off-season. So, it was really good to see that and know how we've been performing these past four weeks."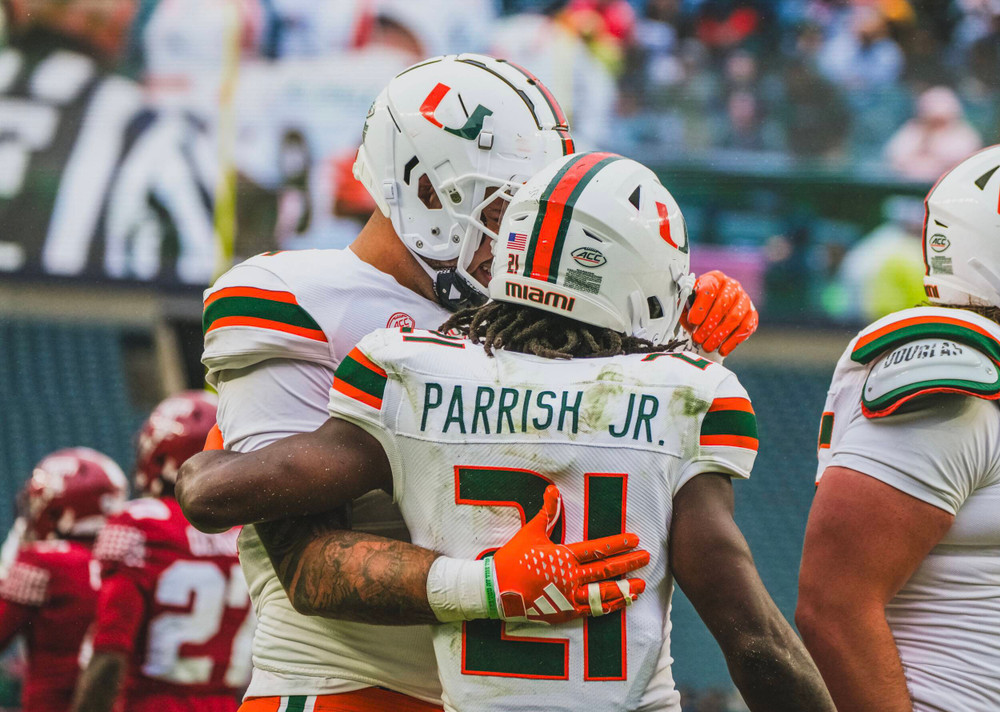 With its non-conference schedule now behind it, Miami now turns its focus to preparing for the start of ACC play.
But before they host Georgia Tech at Hard Rock Stadium on Oct. 7 for their conference opener, the Hurricanes will have a bye week. It's a stretch that Cristobal says the team will use to not only get healthy but get better, too.
Finishing non-conference play with four straight wins is, no doubt, a positive start to the season – but there's still so much more Miami wants to accomplish.
"We're getting better. We're working hard. Again, we're focused on just getting better and we're executing at a more consistent level," Cristobal said. "I do believe the sky's the limit for this offensive scheme and the bye week's going to be really valuable. We need more guys to play winning football. We have a handful of guys on each side of the ball and on special teams that … view themselves as a two or a three [on the depth chart]. They've got to conduct and push and compete like a one or somebody that's trying to be a one.
"We've got to get there … And we've got to do a really good job coaching and we've got to make sure that we breed that type of competition so we can get more players on each side of the ball, in every phase to make this team better, and in turn, make us a better offense, make us a better defense. So, the bye week is going to be extremely valuable, comes at a good time. We're looking forward to using it."