Canes Rewind: A Look Back at the Win over Temple
PHILADELPHIA – Each week this season, we'll take a look at the game that was for the Hurricanes.
Here are some key storylines, numbers of note and quotes from No. 20 Miami's 41-7 win over Temple on Saturday at Lincoln Financial Field.
The Recap
After opening the season with three straight wins at home, the Hurricanes had to weather their first road test of the year – with "weather" proving to be one of the operative words on the day.
Still, despite the windy, rainy conditions that descended on Philadelphia this weekend, Miami's offense was efficient, effective, and found ways to make plays.
Quarterback Tyler Van Dyke – who grew up three hours outside Philadelphia in Glastonbury, Connecticut and is a life-long Eagles fan, put together another impressive performance, completing 17 of 24 passes for 220 yards and three touchdowns.
Van Dyke's first scoring pass of the day – a 7-yard touchdown to Xavier Restrepo – capped a methodical, 13-play, 82-yard drive that came on Miami's first possession and set the tone for what would be another big day from the offense.
The Hurricanes scored on all but one of their five first-half possessions and built a 24-point lead that proved too much for Temple to overcome, even with the Owls scoring just before halftime.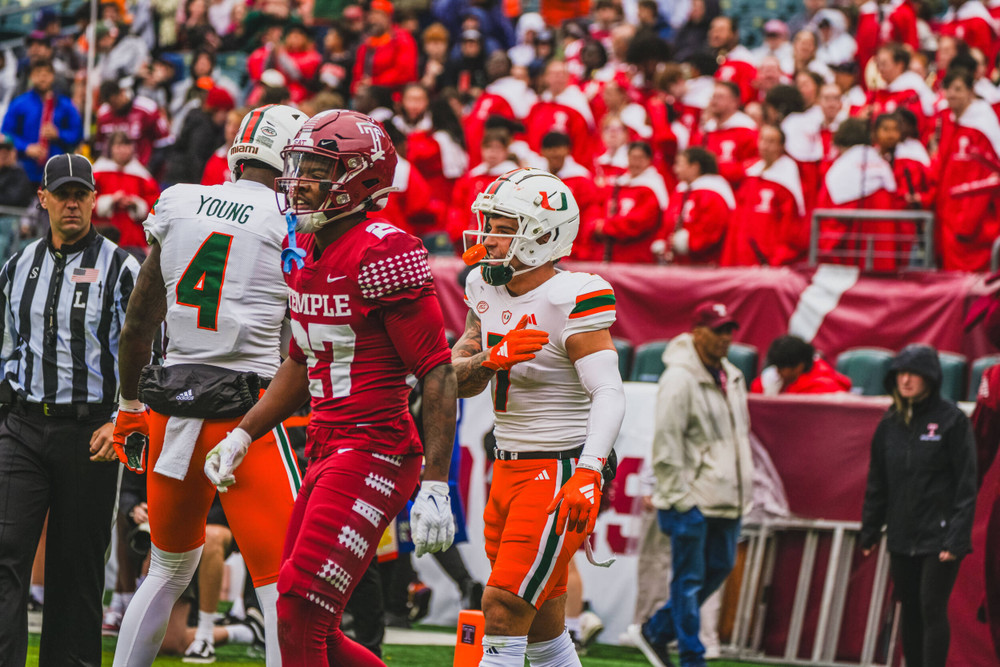 In the second half, the Hurricanes added a touchdown run from Henry Parrish, Jr., another score from Restrepo – who finished the day seven catches for 41 yards – and a second field goal from Andy Borregales to round out the scoring.
Parrish had a game-high and career-high 139 rushing yards for Miami, while receiver Jacolby George had five catches for a team-high 90 yards.
"Proud of our guys. First road test and perfect football weather, right? I know certainly the big guys appreciated [it]," Hurricanes head coach Mario Cristobal said after the win. "Had some really bright moments in the first half and felt like we started taking control of the game and they got some momentum there right before halftime, going down and scoring.
"But then I thought our guys came out in the second half and made it a point to really take control, especially at the line of scrimmage. Forcing turnovers … I think we forced three today. The offensive line did a really good job, defensive line had some really bright spots, and the secondary shored some things up. Overall, a solid performance and lots of room for improvement."
Numbers to Know
2002 – The last time, before this season, that Miami scored at least 38 points in each of its first four games. The Hurricanes opened the year with a 38-3 win over Miami (OH) and followed that with a 48-33 win over Texas A&M, a 48-7 win over Bethune-Cookman and now, a 41-7 win over Temple. Miami's average of 43.8 points-per-game ranks seventh among FBS programs.
2 – Number of sacks recorded by Hurricanes defensive lineman Thomas Gore in the win over Temple. Miami finished the day with three sacks and six tackles for loss.
11 – Total rushing yards allowed by the Hurricanes defense against Temple. So far this season, opponents are gaining an average of just 48 rushing yards per game against Miami, a number that ranks third among FBS programs.
8.1 – Average yards-per-play gained by the Hurricanes in Saturday's win. The Hurricanes totaled 323 rushing yards and another 220 yards in the air.
2 – Passes intercepted by cornerback Te'Cory Couch . The fifth-year senior also had three tackles and broke up another pass on the day.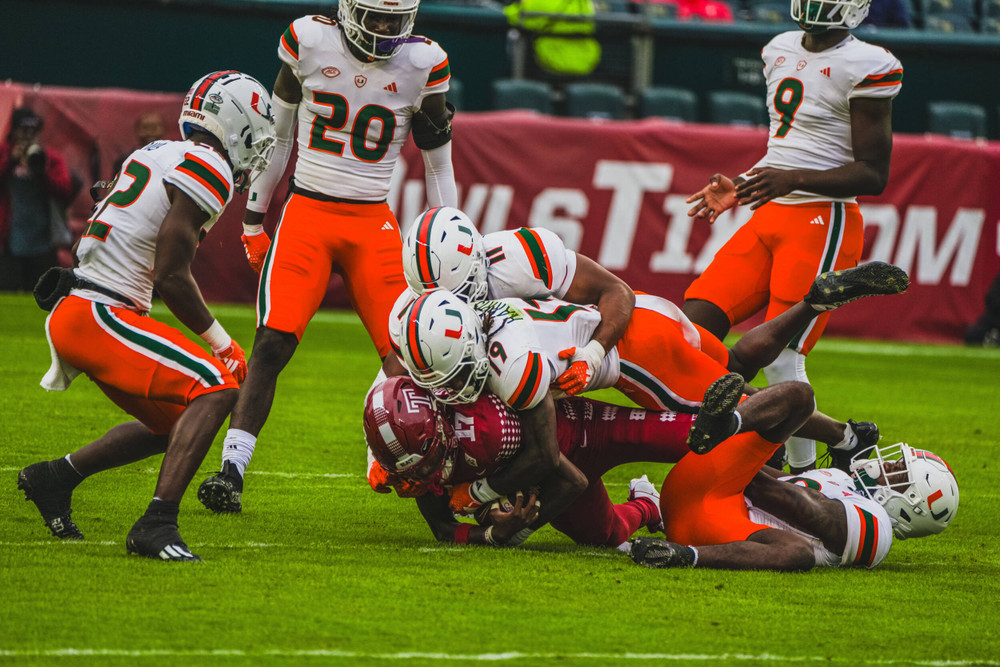 Quotable
"The o-line is dominating right now. Tyler [Van Dyke's] barely getting touched all game. Receivers, we have all day to run routes and that's a receiver's dream. Running backs, you can fit cars through the holes. The offensive line, all five of them even their backups are doing a great job."
 – Receiver Xavier Restrepo, on the play of Miami's offensive line this season
"I don't think we're anywhere in our stages of development and growth as a program, we're not in any way, shape, or form ready to compare ourselves to any team from the past. We try to honor past teams by the way that we play the game. That's the best thing that we can do, and it's got to show on a game-by-game basis that it means more to us than the guys on the other side of the field. We would one day, be able to say 'Hey, we are as effective and productive as those teams,' but the entire focus is on the 2023 Miami Hurricanes and strictly on just getting better. That's really, honestly, all we're talking about in there. That's all the players are talking about in there. Let's just get better."
– Head coach Mario Cristobal, on whether this high-scoring Hurricanes team is starting to look more like past Miami teams
"Yeah, we get some sprinkles and rain at Hard Rock [Stadium], but you don't really get the wind because it's a pretty closed-in stadium down there. So, you don't get the wind as much as you do here [at Lincoln Financial Field]. I would say we had some gusts, like 25, 30-miles-per-hour winds out there. You kind of have to play the ball a little bit like you would in golf, so it was a little bit challenging. You just kind of have to put more on it than usual, but we definitely showed we can go out there and perform in any kind of conditions."
– Quarterback Tyler Van Dyke, on playing through the elements in Philadelphia on Saturday
"It was nice for everybody, just him being around. He's a great guy on and off the field. Him being around, smiling, helping guys, coaching guys up … Having him around in general is best for everybody because he's the best himself. We're thankful for him in every way possible."
– Cornerback Te'Cory Couch, on what it meant to have safety Kamren Kinchens back on the sideline Saturday after he was injured earlier this month
 Up Next
With their non-conference schedule now behind them, the Hurricanes will turn their focus to their ACC opener, an Oct. 7 showdown against Georgia Tech at Hard Rock Stadium.
The Yellow Jackets (2-2) opened their ACC slate this past Saturday with a 30-16 win over Wake Forest and are set to face Bowling Green this week, while the Hurricanes have a bye.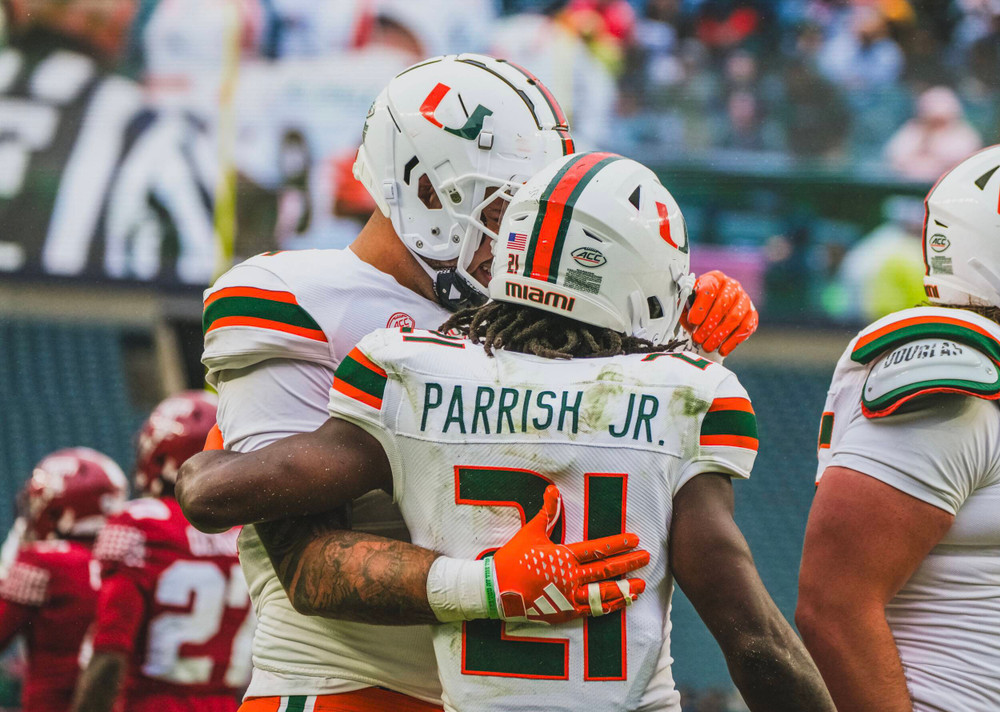 While the Hurricanes won't have another game before facing Georgia Tech, Cristobal noted they will still be plenty busy.
"The bye week, man, there's so many ways that it's important. Number one, you've got to make sure to take care of school. We've had a Thursday night game, we had a Friday night game, right? We were on the road. We were at home. We've had a wacky month. A great month of September. Came out of it 4-0, and took care of business," Cristobal said. "Certainly, you use a bye week to get healthy, but you want to use a bye week to get better. There's a balance there. You want to self-scout to see what you're doing, where your tendencies are, make sure that you can evolve as an offense and a defense and find the things that you need to work on and get better. …
"It's also important that we continue to get more connected as a team, as coaches and players because that's probably the most valuable thing we've done since January. This team's become tighter. It's become more self-motivated, driven and we've got to continue to enhance that. So, we're going to spend some time together. We're going to spend some time in the community. That's really important, too. … Our community's important to us and we want to make sure that they know that, that they feel that from us. And then, it's a little bit of extra time to watch, to prepare for what's coming down the road. We start ACC play the next time we set foot on the field, game field."