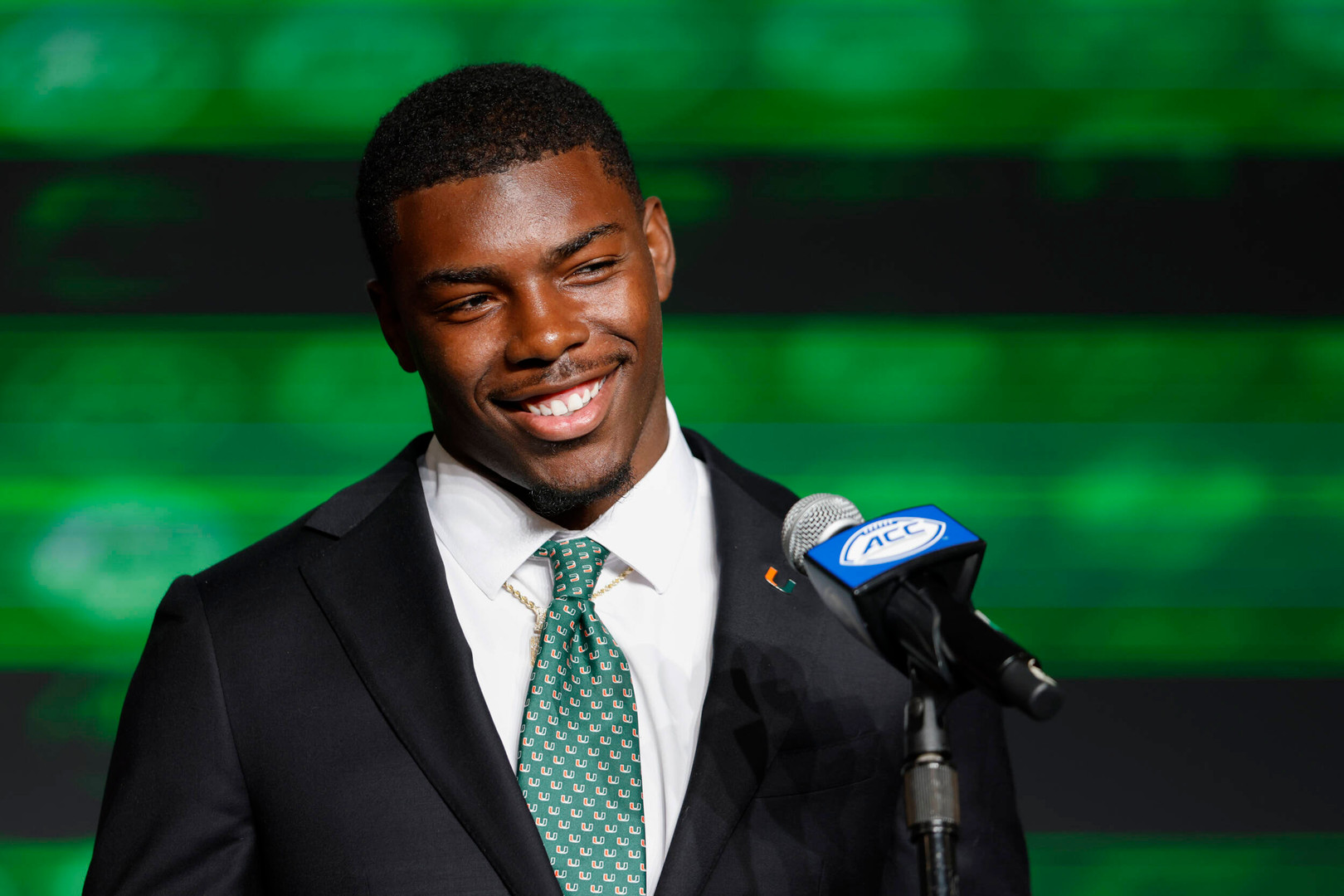 CORAL GABLES, Fla. – Merdie Kinchens has always been proud of all six of her children.
But when her eldest son – goofy, fun-loving Kamren – stepped out of his comfort zone in a most unusual way last fall, Merdie was impressed, even if she was a bit taken aback.
Kamren Kinchens had just capped what would turn out to be an All-American season with a seven-tackle performance in the Hurricanes' final game of the season.
But the sophomore wasn't happy. Far from it.
And on that disappointing November night at Hard Rock Stadium, where Miami had just finished a 5-7 campaign with a loss to Pittsburgh, Kinchens did something out of character.
In a quiet locker room, surrounded by dejected teammates, the safety who'd long preferred to let his play speak for him, found his voice, and made it abundantly clear to everyone that he wasn't going to endure another season like the one he and the Canes had just weathered.
He loved his hometown program too much to let that happen again, and so, if anyone wasn't ready to do the work needed to make Miami significantly better, well, there would be no hard feelings if they wanted to leave.
Suddenly, Kinchens had embraced a new role: vocal team leader.
"For me, it was surprising because Kamren has always been like, 'I'll just do what I need to do for me and everybody else can do what they need to do for them,' so, it was surprising. But it also made me very proud," Merdie Kinchens said of that night. "It's hard to talk to men and boys of your caliber and your age, where they'll actually listen to you. For me, that just made me really proud to know that he was stepping up and saying 'I want to be here. I want to make the program great. I want it, but I can't do it by myself, so we all have to get on one accord.'"
Kamren Kinchens, a former four-star safety prospect out of Miami's Northwestern High School, arrived at Miami two years ago a proven winner.
He was a three-time state champion in high school and proudly notes he didn't exactly do much losing during his time with the Bulls.
But, because he was surrounded by so many talented, older teammates, he didn't feel the need to step up as one of his team's leaders. He was perfectly fine letting others take on that responsibility.
During his first year at Miami, he didn't feel comfortable speaking his mind, and because of his age, preferred to let older teammates speak, while hoping his work ethic and play on the field sent a message.
But last November, something finally clicked. Kinchens couldn't hold back any longer.
After totaling a team-high 59 tackles and hauling in six interceptions, he was finally compelled to speak his mind. In doing so, he earned the respect not only of his then first-year head coach, Mario Cristobal, but his teammates, too.
"I thought Kam Kinchens said it best in the locker room as he left. He called up everybody and told them how much he loved them and that we're going to get it done and anyone that can't, or doesn't want to be a part of that, move fast and get out the way," Cristobal said after the Pittsburgh game. "That's what it takes. That's what it's taken at Miami every single time, every single time Miami has been rebuilt."
Said Miami receiver Colbie Young, "It was very heartfelt. It wasn't fake. It was real. It came from his heart, and we all understood the message. We all understand what we have to do. We all got behind him, stood behind him and we respect him…It's never easy to speak in front of a team, but I feel like everybody in that room, who's either here or not here, felt his message and understood it to the maximum."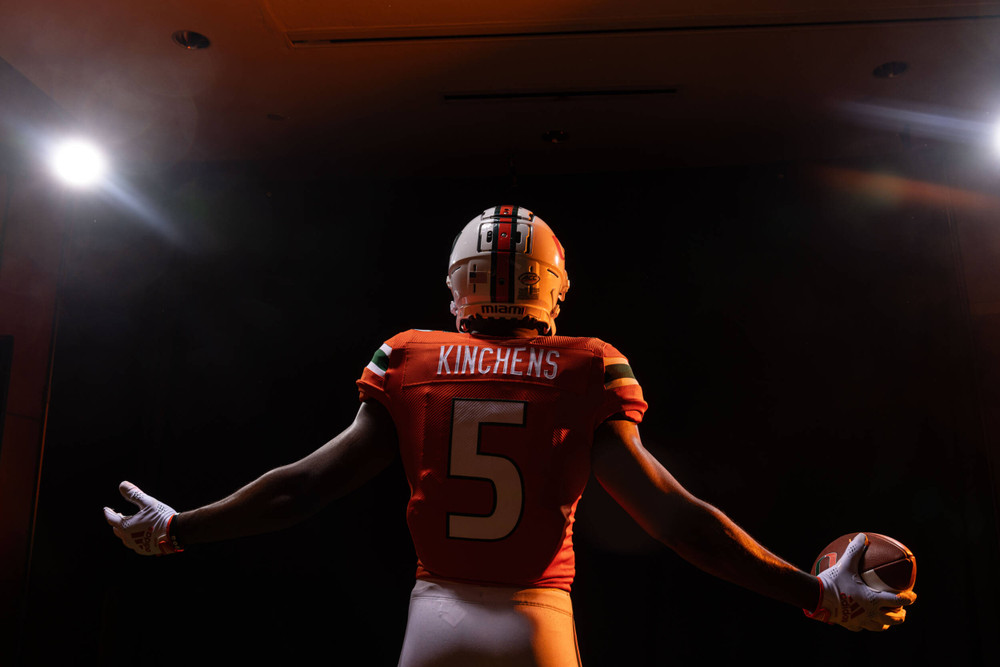 In the months since, Kinchens has done his best to live up to the standard he set, both on and off the field.
He became the first current Miami player to have his name hung in the rafters of the Carol Soffer Indoor Practice Facility after multiple media outlets, including the Associated Press and The Sporting News, named him a first-team All-American.
He enters the season with a plethora of accolades, earning spots on the watch lists for the Thorpe Award and the Nagurski Trophy. He is both a preseason All-American and a preseason All-ACC selection.
Teammates and coaches note Kinchens is often the first one in the building and the last to leave anytime there are workouts, team meetings or practices to attend.
He studies film whenever possible and encourages his teammates, particularly his fellow safety and good friend James Williams, to join him.
And when he isn't at Miami's practice facility, in class, or spending time with his younger siblings, it's not unusual to find Kinchens somewhere in the South Florida community, doing his best to help those in need.
In fact, while the Hurricanes were navigating training camp, Kinchens used his limited free time to provide school supplies for both teachers and students at his old elementary school, Little River Elementary, through his non-profit organization, Charms of Life.
He also spent part of the weekend before Friday's season opener against Miami of Ohio feeding the hungry, delivering pizzas throughout Miami with teammates Kaleb Spencer and Jaden Harris.
Kinchens has also participated in beach cleanups, volunteered at the Miami-Dade Animal Shelter, packed holiday gift boxes for Operation Christmas Child, and has hosted his share of football clinics across South Florida, including at Gwen Cherry Park, where he played youth football.
He was recognized by the ACC and named a Top 6 for Service Award winner and in much the same way his play has been recognized, Kinchens has been named to the preseason watch lists for both the AllState AFCA Good Works Team and the Wuerffel Trophy, which is given annually to "the FBS player who best combines exemplary community service with leadership achievement on and off the field."
For Kinchens, doing work in the community is a way of life. It's as important to him as excelling on the field after his mother and grandmother – a former City of Miami employee whose focus was neighborhood enhancement – taught him the importance of helping others.
They're lessons Kinchens has brought with him to Coral Gables, lessons he tries to share now with his teammates.
"Since freshman year, we'd be in the dorms and he'd give me a call and be like, 'Let's go feed the homeless,' and he'll take me," Williams said. "And there are times, I'll call him and say, 'Let's do this, let's go do this for the community.' We understand where we come from. We know little girls and little boys need it. They're waiting on us to speak up. And when we speak up, it brings a light to the community, and they love it."
Said Kinchens, "My grandma and my mother, we didn't have the most. But any time we had extra, we found a way to give back. If it was extra clothes, giving it to Goodwill or just having some extra fries in a bag and you see somebody on the side of the highway, you know, you just give them some food…I didn't have the best situation ever, but I made the most of it. You give those people hope…When you give back to them, a toy, a book, or anything, it just puts a smile on their face. You're just doing it because you're a human being."
That same passion that drives him on the football field and in his community translates at home, too.
Part of the reason Kinchens opted to play for his hometown program was so that he could stay connected to his five younger siblings, Demetrius, Dontavious, Kai, Karter, and Dallas.
He's a regular presence at his younger brothers' football games and takes all their good-natured teasing about how they're better than he is in stride. He's there when his younger sister has cheerleading and dance tournaments.
And as often as possible, he spends time with his parents and uncles, all of whom he says helped build in him the work ethic that's made him a force at Miami.
To be able to share his journey with all of them, Kinchens says, is a blessing.
"It means a lot to be here," said Kinchens, who received offers from the likes of Alabama, Auburn, Clemson, Florida, Florida State, Georgia, LSU, Nebraska, Ohio State, Oregon, Texas A&M, Utah, Washington State, and plenty of other programs far and wide before choosing Miami. "If I had gone somewhere far, I wouldn't be able to do things like be at their games and events. None at all. I'd have to do it on a break and hope it matched up perfectly. Now, it won't take anything but two hours of my day to go be there…
"I want to make sure I'm the best role model I can be, so they don't miss a turn or go in the wrong direction. I want them to know that giving hard work and being great in school and off the field, doing stuff in the community, is the way to do things."
Now, with his junior season set to begin Friday, Kinchens has set his focus on a simple, singular goal: he wants Miami to be better and to find itself playing late into the season.
As a freshman, he saw his opportunity to play in a bowl game snatched away by a Covid outbreak that kept Miami from traveling to El Paso for the Sun Bowl. And last year's disappointing finale kept the Hurricanes from qualifying for a bowl.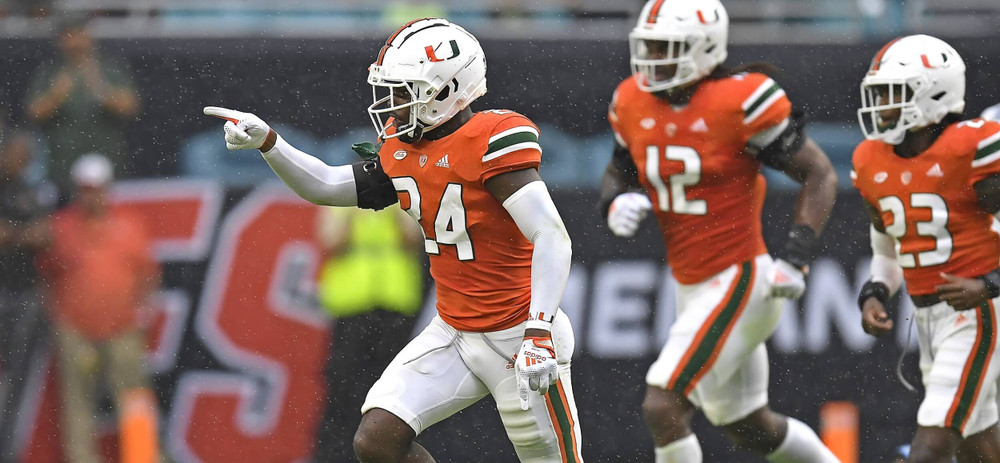 Kinchens wants – and expects – better from himself and his teammates this season.
"I don't want a regular bowl game, like a 7-5 bowl game or an 8-3 bowl game. I want a New Year's Six [bowl]. It's very personal," Kinchens said. "I think about that probably half the day. How can I make myself better? How can I make the secondary better? The defense? The whole team? I know the guys that came with me in the '21 class have the same mindset as me and they don't want to lose. I don't want to lose either.
"Going into this year, we feel good coming from spring and summer. Everybody's kind of jelling together to build this one unit, just hoping we can put it all together and make it work. It's been a great journey and I just want to see it end up with a happy ending."
His teammates and coaches want the same – for Kinchens and for themselves.
They know their All-American leader has become a force in all he does and they're looking forward to seeing what comes next, for him and the Hurricanes.
"He's a kid that really doesn't ever have a bad day," Miami defensive coordinator Lance Guidry said of Kinchens. "He's like an in-between player-coach. He's very mature, like a coach. He doesn't act like a kid with a lot of things…He's a beautiful person. He never has a bad day. Even when you get on him, he never drops his head. He's positive and upbeat. It's refreshing."
Added quarterback Tyler Van Dyke, "He knows what the standard is, and a lot of guys look up to him now as a true leader of our team, a true leader of the defense. He's a special player, a special leader. I can't wait to go to battle with him this year."