Canes Camp Report: August 9
CORAL GABLES, Fla. – Training camp continued Wednesday morning for the Hurricanes, who were back on the Greentree Practice Fields bright and early, this time in full pads.
The practice session comes amidst a busy week for Miami's players and coaches, who are preparing not only for their Sept. 1 season opener against Miami of Ohio, but for Saturday's preseason scrimmage during CanesFest at Hard Rock Stadium.
Here's some of what head coach Mario Cristobal and some of the Hurricanes' veteran leaders had to say after Wednesday's practice.
Mario Cristobal
On Wednesday's practice:
"That was practice number seven. As you saw, we were in full pads. Emphasis on short-yardage, goal-line, red-zone balls and third-down ball. A lot of situational stuff and certainly, doing everything we can to give guys opportunities to find roles and see who can do what, well and the things that we need to work on also. We set really high standards. We're working hard to achieve those standards. We're not there yet, but there is progress. All in all, again, we're pleased with [the] progress, but we also know we have a long way to go."
On the play of freshman receiver Nathaniel "Ray Ray" Joseph:
"Ray Ray's a great player and the best part about him is he's not going to be outworked. If you come out here any time of day or night, he's probably on the JUGS Machine. He's really smart. He's really detailed. Whatever he does, he does at 100 miles-per-hour. He's tough. He's South Florida through and through. He's exactly what you want on your football team. If he makes a mistake or he drops a football, he's going to find a way to come back and just make up for it and so, everyone trusts him. He's going to be a great player."
On Saturday's scrimmage at Hard Rock Stadium during CanesFest:
"We wanted to have one last year, but with all the stuff going on, the stadium in transition, we couldn't have that. But that's something we do all the time. It just couldn't happen last year. Where we are, in terms of our install, where we are, what we're doing that day, it's nothing you wouldn't be able to see on tape…
"I think it's important for our guys to understand the importance, the value of creating a great home-field advantage by playing at Hard Rock and making Hard Rock an awesome place to play and making sure we defend home field in a certain way, also."
On the competition so far in training camp:
"You see the rotations. They're pretty significant now. I mean, day-to-day, things change. That line, those magnetic tags are moving up and down [the board] because guys are earning, more than guys are tailing off. We don't see any tail off yet. Sometimes in camp, guys get discouraged when they don't get the playing time, they feel they deserve. But right now, the coaches have done a good job of, with clarity, providing feedback and letting guys have opportunities to earn playing time.
"But the standards are high and they're doing a great job. The leadership council, and the team leaders in general, are doing a much better job [of] making guys uphold the standard. When a team starts doing that, there's significant progress."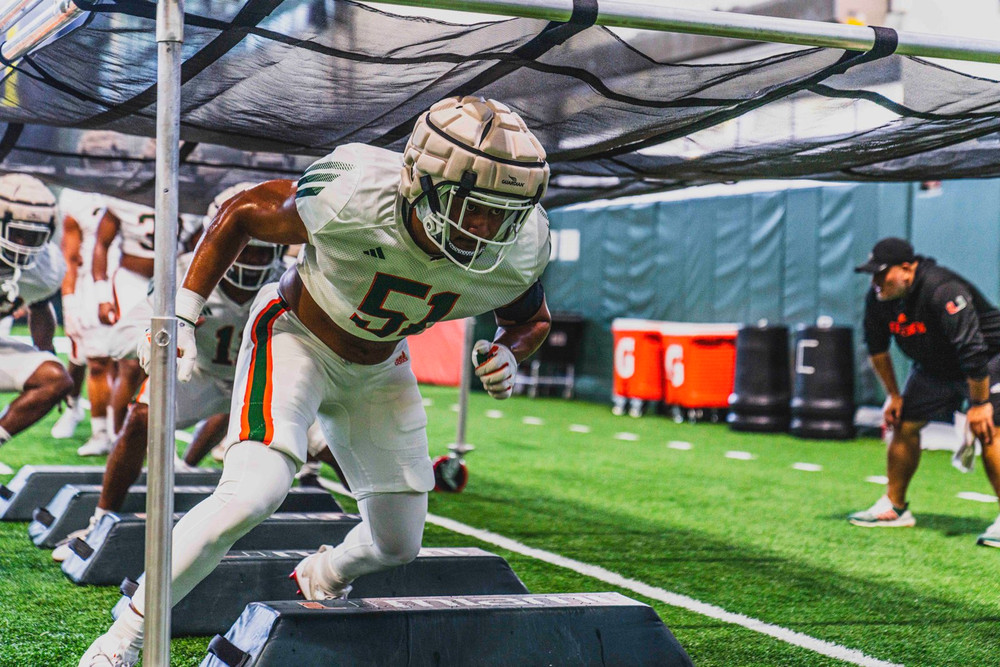 On the play among the cornerbacks:
"You have some veterans outside in the form of [Te'Cory Couch], Davonte Brown, Jaden Davis, Jadais Richard being a sophomore, he has a lot of experience. He's not a rookie, but he's not an old guy either. He's had a lot of experience. Davonte's experience and his toughness shows. Jaden Davis, his versatility, his toughness, his ability to play man-to-man coverage, his ability to understand the game, pick up everything quickly, communicate has been awesome. Really excited about Damari Brown. I mean, he pops now. Big and physical. He can run. He plays with courage and toughness. Student of the game. Obviously, it's in his bloodline and he's earning. He's out there working to earn everything…"
On the play of freshman defensive lineman Rueben Bain, Jr.:
"He's a complete monster. He is. The best thing for him…this puts it into perspective…he came in and he was banged up. He throws his body around when he plays football. Tremendous player. Competitor. He's what you want at Miami all day, Rueben Bains all day. Rueben Bain was benching about 250, 275 and weighing about 260. He's now weighing 280, 285 and he's benching 400-plus pounds. Explosive. Fast. So smart. He's a one-time correction guy, right? If you correct it, he's on to the next play and doing it the right way. He holds himself accountable. He's a natural leader. He's just got a super-bright future, but he also has a super-bright present moment. He's going to be an impactful player for us this year."
On the play of freshman Mark Fletcher, Jr. and the running backs:
"Mark Fletcher's been an absolute stud. He has. The running backs in general…Mark Fletcher, you all know how big he is, how powerful he is. But his ability to get in and out of trouble when things aren't exactly right has been impressive. His ability to protect has been awesome. [Nebraska transfer] Ajay Allen is another one, speaking of newcomers, that really exploded yesterday…the older guys have done a good job, too. All in all, a lot of progress by the running backs."
Center Matt Lee
On the level of physicality during the first practice with full pads:
"First day in full pads today, with the pants on, and super physical. But o-line, d-line, the world I live in, we're still hitting either way, just with shoulder pads on…Having pads on, that's a little bit of a different facet, but we've been physical since we started."
On the opportunity to scrimmage at Hard Rock Stadium on Saturday during CanesFest:
"It's awesome. This whole week is preparing for that, the first scrimmage of camp. It'll be really good. Obviously, we get our situations, and we get real sets and game-time situations out at practice, but the scrimmage aspect of it, where it's truly put the ball in play, you don't get a lot in camp, so to get that experience and whatnot will be good."
On the play of defensive lineman Leonard Taylor III and what it's like to compete against him:
"It's been fun. LT's a good player. He's a talented dude. All aspects – big, strong, long guy, a pass rusher that likes to get active in the pass rush and I go against him a bunch, every single day and it's been good. Iron sharpens iron, right? And same thing with Branson Deen. [He's] been having a great camp. Going against him every single day just as much as LT. Iron sharpens iron. It's been a lot of fun. It's been good."
On the play of offensive lineman Anez Cooper:
"Coop's been getting a lot better. He's a big, imposing dude. Really long arms, smart, too. Real smart guy on the offensive line. Knows what he's doing from a game plan and technique standpoint. Going through the spring with him and now into the fall with him, I see all parts of his game continuing to develop…last year as a freshman, he played a lot. But it was his first year. Going into this year, I expect him to keep going, have a great year."
Defensive lineman Akheem Mesidor
On the opportunity to scrimmage Saturday at Hard Rock Stadium:
"It's always exciting to go to Hard Rock, of course, and have a scrimmage in front of the fans. I'm just excited to get in front of everybody and just compete and show everybody how much we've improved."
On the progress of the defensive line through camp:
"I think we took a huge step, compared to last year. And from the beginning of camp to now, I think we took a pretty good step. We're trying to be as physical as we can up front because at the end of the day, everything starts up front."
On the energy in Wednesday's practice:
"I think it was good. On the d-line, full pads and shells is basically the same thing. It's all the same amount of contact. But I think everybody was excited to have full pads on."
Quarterback Tyler Van Dyke
On the play of freshman receiver Nathaniel "Ray Ray" Joseph:
"Ray Ray's taken a big jump. Had a really good offseason, working hard, getting on the JUGS machine…He's done a great job catching the ball, running routes, getting open. Really took that jump and he's going to continue to do that."
On how he's built chemistry and timing with the receivers through seven practices:
"It's been really good. Really happy with timing with all the guys out there. Now, it's just about executing. Throwing and catching the ball. Doing a great job and we're going to continue to do that."
On the progress of the offense through seven practices:
"I'd say we're more consistent. Doing a great job executing. O-line looks good. Receivers look good. Running backs are running the ball really well. We just have to continue to do it, continue to get better each day, attack each day with a positive mindset."
On what he'd like to see the offense accomplish in the scrimmage:
"Just go out there and execute the plays that are called. Do what we've got to do to move the ball. My job is to get the playmakers the ball – handoff, throw it. And just lead the offense. Just execute really. Connect on throws, connect running the ball, good blocking. Just kind of be 100 percent doing that. It's not going to be perfect. We know that. But you've got to fight through those adverse moments when it doesn't go our way and continue to get better and work through it."
On the play of the receivers so far in camp:
"This is the best I've seen the receivers so far. They've been doing a great job catching the ball, getting upfield, run-after-catch, I think they've done a great job. From last year to this year, it's a huge jump. They've been doing a great job, so I'm excited to see what those guys can do leading into the game week and obviously into the season."
On his off-season preparation:
"I watched a good amount of film. Started with Miami of Ohio and then kind of worked through it, just to kind of get a good base on what teams do so it's not [getting] to that week and trying to learn everything at work. I've got an iPad, I'm organized, I've got all the teams and what I have to know about them. But right now, I'm just worried about our offense right now. I'm sure in a week or so, I'll get to the Miami of Ohio stuff soon. But I've been watching a lot of film this offseason of all the opponents."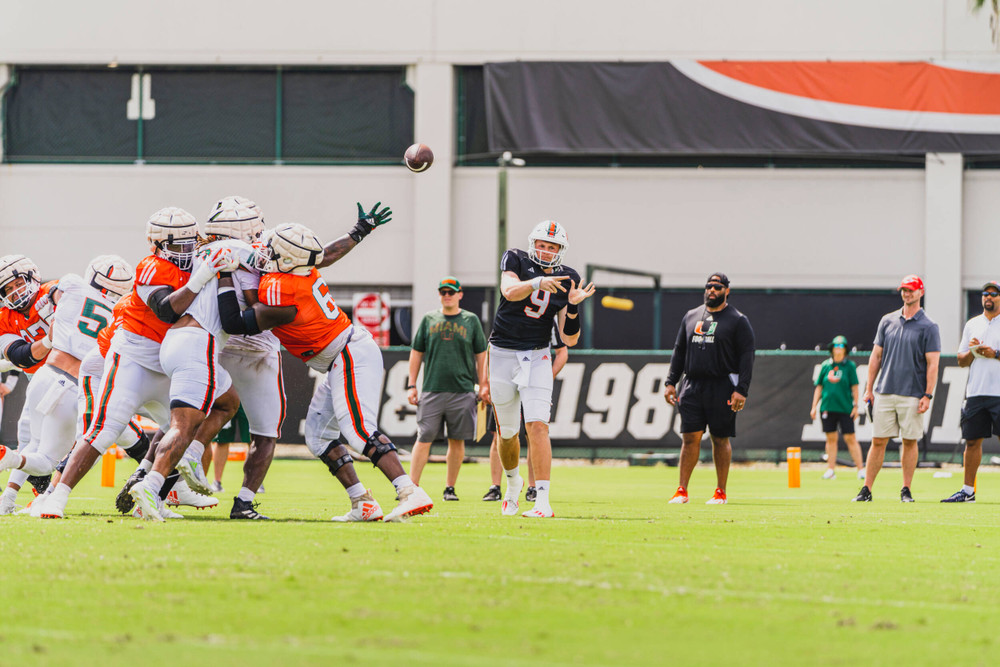 Safety Kam Kinchens
On how he thinks have gone for the defense through the first part of camp:
"I think we're pulling together great. I think we're starting to jell together and playing off each other, getting that chemistry, especially with the back end. Offense is starting to come along. We've had ups and downs through practices, as far as who's winning. Offense might be winning some, defense and just kind of go about it."
On the energy he has to have as a leader among the defensive backs:
"Just having fun, you know? A leader doesn't bring extra pressure. You just go out there and say something if you see something. Just having fun."
On what he'd like to see from the defense in Saturday's scrimmage:
"Just see where we are in the run game. You can always kind of tell with the pass game and stuff like that, because we're throwing the ball a lot and we keep it going. But run game, you can't really see [because] we're just [in] thud. You don't know if a guy is going to break off a tackle, so, see where our run game is at."