Canes Camp Report: August 8
CORAL GABLES, Fla. – The Hurricanes are continuing to work their way through second week of training camp and were back on Greentree on Tuesday morning.
After practice, linebackers Wesley Bissainthe, K.J. Cloyd, Corey Flagg, Jr., and Francisco Maugioa spoke to reporters and shared their thoughts on how the first practices of camp have gone, the competition they're fostering as a position group and more.
Here's some of what they had to say.
Wesley Bissainthe
On how he feels the first practices of the season have gone:
"Practice has been going good. It's just a matter of being consistent, going out there and doing it every day."
On whether he feels the game has slowed down for him now that he has more experience at the college level:
"Oh yeah. I feel like it's slowed down for me a lot. When I came in last year, I honestly just saw people moving. I had to get the gist of things, see how they work. Now, everything's slower. Now, it's just a matter of knowing what you're doing and making plays."
On learning Miami's new defense:
"I love this defense…I feel like it's more complex. We can hit you from all different types of directions and we're coming at you full speed."
On the freshmen linebackers:
"They're learning, they're learning. They're seeing how everything moves. They're like me when I first came in. They're learning how everything moves and they're getting better every day. They're getting better every day. I can tell you that."
On what it's like to be reunited with high school teammate Rueben Bain, Jr.:
"I'm pretty sure all you guys know it's great having Rueben Bain back with me again. Big, strong, fast. He can make plays, take the o-linemen off of you, so you're able to play free. It's amazing, honestly."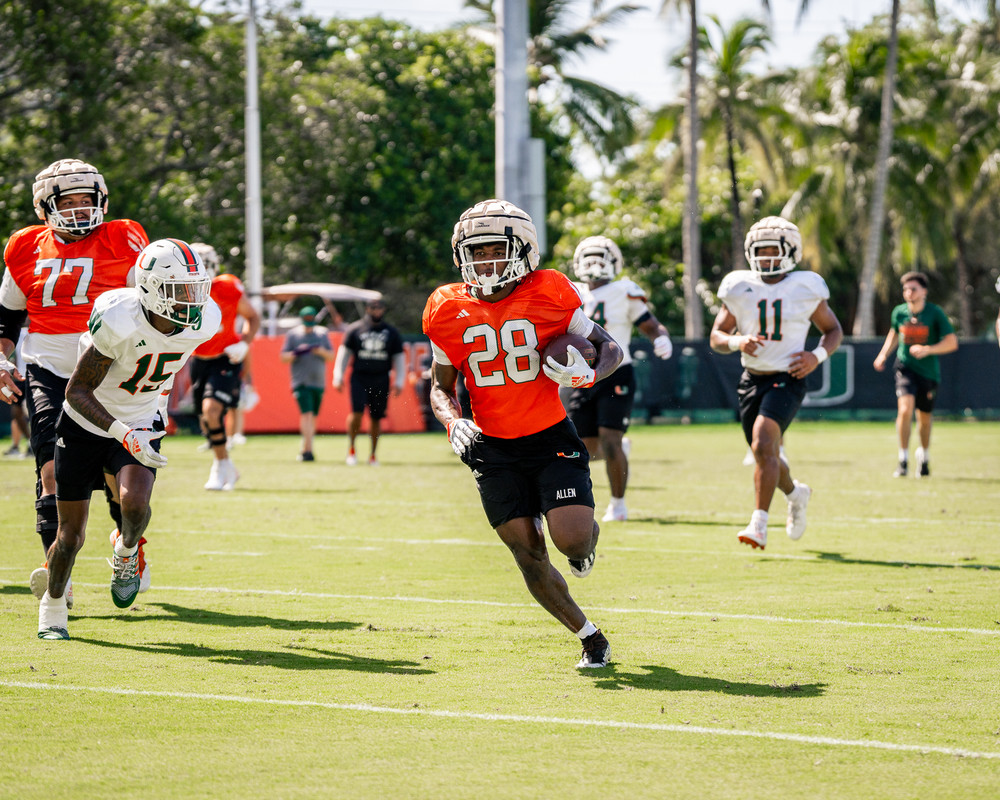 K.J. Cloyd:
On the competition in the linebackers room:
"The competition is great. Everybody's doing their part. We're doing a good job getting reps and making sure everybody's getting – if not the same play, that we take mental reps and everybody's competing well."
On the culture at Miami:
"It's very, very family-oriented here…The coaches are involved here, and they try to make sure that everybody's together and working toward one goal. Even though we're competing, we're still on the same team and we just want to make sure that everybody's able to put their best foot forth every day."
On getting to practice at Hard Rock Stadium on Saturday during CanesFest and what he's heard about Hard Rock Stadium:
"I'm extremely excited. That'll be my first time stepping foot in Hard Rock…I've heard that's what we're going to make our place. We want it to be the hardest game that anybody comes to when they come to face us at Hard Rock."
On which running backs have impressed him in practice early in camp:
"All of them, really. All of the running backs are different. Somebody brings something different to the table every time. One running back may be fast, one running back may be quicker, one running back may be stronger. They all have different pieces to their game that make them unique and it's good to get reps against everybody."
On what he likes about the Miami defense:
"You're not going to know what to expect. We can bring pressure, we can drop in the zone. You just have to strap in and get ready for the ride."
Corey Flagg Jr.
On the evolvement of the linebacking group during his time at Miami:
"This linebacking room is full of guys that are hungry. A lot of competition. You're going to make mistakes, but you know in the back of your mind you really can't make mistakes because there's somebody behind you. That's what you need. You need competition. It makes you better. It makes you better as a team, and it makes you better as a unit and as an individual. Over the years, we've had glimpses of that. But, this year, in this fall camp, it's been very consistent every day. Every guy's competing at every position. I love it, man. You've got to do every little thing right and it's going to make you better."
On whether he feels the competition in camp has pushed him, personally:
"A hundred percent. I've been pushed. [Mauigoa] has pushed me. [Keontra Smith] has pushed me. Wesley, K.J., everybody's being pushed and [linebackers coach Derek Nicholson] moves everyone around and he'll do it randomly, so you have to be ready. You've got to know the playbook. You've got to be prepared. It makes you study. It makes you study consistently. I was already a film junkie myself, but knowing what everyone is doing…knowing everything consistently, that makes you better not only as a player, but in general. It makes you better because you know what everybody's doing."
On why he believes the competition in the linebackers room has improved:
"Guys like K.J. and Francisco, both of those guys were guys at their [previous] schools. You bring in dudes like that, and for me and [Smith] as well, we're all very excited because we get to compete with guys like that every day…There are guys like that all across the country. They bring a lot of competition to the room, and we just embrace it. The thing I love about it the most is there's no jealousy, there's no envy. We're all trying to get better together…It's good competition and that's the thing I like about it the most."
On the play of Wesley Bissainthe:
"Wesley Bissainthe is a pure, natural athlete. Very talented. He's improved a lot. He's going to emerge. I plan on him having a big season. I love Wesley. He's just getting comfortable in the defense. Once he really gets his feet sunk into it, the rest is history."
Francisco Mauigoa
 On the relationship he's built with fellow linebacker Corey Flagg, Jr.:
 "We've built a really strong relationship throughout this offseason. Coming in, putting in the extra work, watching film when nobody's here at the building, just trying to get each other better. We come out here some days, too, work on some different techniques to work on pass rushing or rushing on the running backs. We're getting better each day."
On the competition among the linebackers:
"This is a really talented group. We've got a lot of competitors. Each guy has their own unique technique, unique skill set. We're just using it as an advantage. Coach [Nicholson] is putting us in a good spot to feel comfortable and play better. The competition is there."
On how much he's looking forward to practicing at Hard Rock Stadium during Saturday's CanesFest event:
"This is going to be my first time playing at Hard Rock and I'm pretty excited for it. I can't wait to get there, feel the atmosphere, feel the turf. I can't wait to play football and compete with my brothers. I'm looking forward to that."
On what he's seen from the freshmen linebackers:
"These true freshmen are talented. You've got [Raul Aguirre, Jr.], [Marcellius Pulliam], and [Malik Bryant] and [Bobby Washington, Jr..]. Those guys are amazing. They've caught up to the defense really quick and really fast and you'll see at practice, [Aguirre] has been showing up. He's a guy. He's smart and very instinctive. Very aggressive, too."