University of Miami Athletics
Derek Nicholson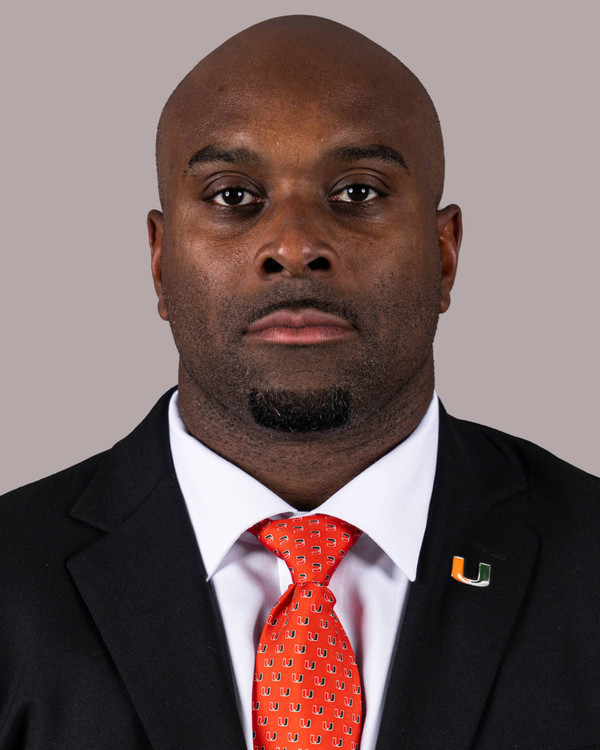 Derek Nicholson is in his first year as the Hurricanes' linebackers coach in 2023.
Nicholson spent the past three seasons as linebackers coach at Louisville, where he helped elevate the Cardinals' defense. This past season, Nicholson helped guide Momo Sanogo to All-ACC honors after finishing with 86 tackles and 8.5 TFLs. Nicholson also tutored linebacker C.J. Avery to lead the team in tackles in each of his first two seasons, and saw the linebacker earn all-ACC honorable mention honors in 2021.
Nicholson made an immediate impact at the inside linebacker position in his first year on the Cardinals staff. He guided Monty Montgomery to his best season, leading the team in sacks for the second consecutive season, while his counterpart Dorian Etheridge inked a contract with the Atlanta Falcons following the year.
Nicholson arrived back in Louisville in 2020 after spending four seasons at Southern Mississippi – two seasons coaching the defensive line and two serving as the co-defensive coordinator and linebackers coach.  A native of Winston-Salem, N.C., Nicholson assisted with a defense that led Conference USA and finished 18th nationally in rushing defense. The Golden Eagles finished third in the league and 37th in the country in total defense in helping the team earn an appearance in the Armed Forces Bowl.
Under Nicholson's tutelage, linebacker Hayes Maple was named to the Conference USA all-Freshman squad after finishing with 31 tackles and 2.5 tackles for loss. With Nicholson coaching the linebackers in 2018, the Golden Eagles established themselves as one of the nation's top defenses, finishing third in total defense, sixth in rushing defense, 11th in passing defense and 19th in scoring defense. Two of his linebackers, Racheem Boothe and Sherrod Ruff, were named Conference USA honorable mention.
Before joining the Southern Mississippi staff, Nicholson spent one season tutoring the defensive line at Alcorn State, leading the team to a Southwestern Athletic Conference title and working with a defense that finished fourth in the country in sacks and fifth in tackles for loss. Four of his defensive linemen registered seven or more sacks.
He spent 2014 at Louisville, coaching outside linebackers/defensive ends on a defense that ranked fifth in the country in total defense, lead the nation in interceptions, were ninth in total sacks and fourth in rush defense.
Nicholson worked one season at Akron, coaching linebackers in 2013, developing a pair linebackers that earned first and third team Mid-American Conference honors. It marked the first time since 2010 that Akron placed a first-team linebacker, and the first time since 2001 that the Zips had multiple linebackers on the All-Conference team.
He began his coaching career in 2011, coaching high school football in both North Carolina and Florida.
A standout linebacker at Florida State, Nicholson finished his career with 207 tackles, 25.5 tackles for loss, 3.0 sacks, two defensive touchdowns, and was named to the Butkus Award and Chuck Bednarik Watch Lists in 2008. Nicholson led the Seminoles in tackles for two consecutive seasons, recording 99 in 2007 and 81 during the 2008 campaign. He recorded 15.5 tackles for loss in one season in 2008, which ranked him tied for 10th in FSU history. He also scored two defensive touchdowns in one season, and finished ranked fourth best all time in one season at FSU as a defender. In 2008, he garnered All-ACC honors and was a member of the All-ACC academic team during the 2007 and 2008 seasons.
Nicholson earned his undergraduate degree in sport management in just three years while at FSU. He was an undrafted free agent signee by the Atlanta Falcons and played for them in 2009 before a career-ending knee injury.
Nicholson and his wife, Onnie, a former soccer athlete at Florida State and the USA National Team, have three children: Alana, Dace and Amaya.