Canes Camp Report: August 4
CORAL GABLES, Fla. – The Hurricanes continue making their way through training camp on the Greentree Practice Fields and after Friday's session, defensive linemen Branson Deen and Leonard Taylor III, along with tight end Elijah Arroyo and offensive lineman Jalen Rivers spoke with reporters.
Here are some of their best quotes after Friday's practice, along with some team notes as Miami moves one day closer to its Sept. 1 season opener against Miami of Ohio at Hard Rock Stadium.
Tight end Elijah Arroyo
On how he is feeling physically after working his way back from an injury last season and what the recovery process went for him:
"I'm doing well. We've been doing a great job with the training staff and I'm ready. I'm ready to be out there…I've been all over the place, working with the o-line, working with the tight ends, receivers, being out there coaching. But I'm good…
"I gave myself a day to be mad about it and then after that, you know, I was like 'I have to attack this rehab so I can come back as healthy as possible. I want to be feeling better than I felt before.' And I feel like I'm doing a good job with that."
On how tight ends are utilized in Miami's new offensive system:
"I feel good about the offense. It gives us a chance to show out and really do whatever we want. Pass game, run game, it gives us more freedom. I really like that."
On what he's seen early in camp from freshmen tight ends Jackson Carver and Riley Williams:
"They're great. I think Jackson is a real hard-working guy. He just started playing football, so it's real impressive to me, watching him play and do what he does. And then we've got Riley. He can do it all. I think he's going to be real good in the future."
On what it was like to watch former Hurricanes tight end Will Mallory go through Pro Day and be drafted into the NFL:
"Will's my guy. It's just motivation. If he can do it, I can do it. It motivates me and makes me want to work hard and makes me want to follow his footsteps. He pretty much did everything right. He left the blueprint for me. Everything he did, I'm going to try to do."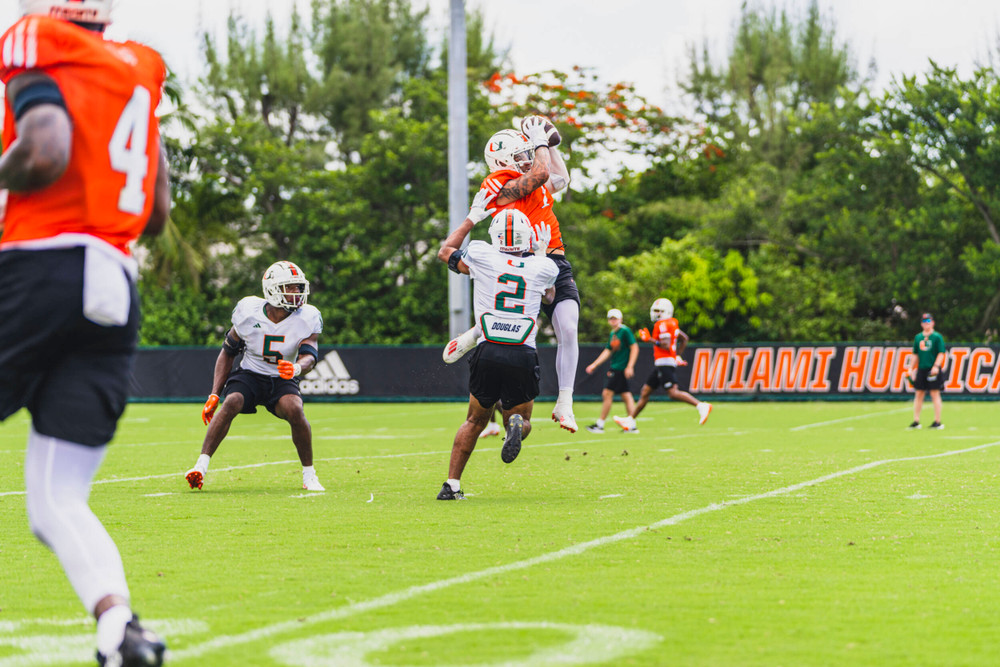 Defensive lineman Branson Deen
On the adjustment to Miami after transferring from Purdue:
"It's going great. Everything I expected it to be, even more. The attitude of the team fits what I want to do. And we're working. We're working. We're shutting out all the noise and we're working."
On his first impressions of the defense:
"It's a different defense. A lot of movement on this defense. We've got a bunch of talented guys, from the young guys all the way up. There's a bunch of talent all over the place. Every day is great competition. Other than that, man, it's good football."
On fellow defensive lineman Leonard Taylor III:
"I've only been through three practices with him – I didn't get a chance to play with him in the spring – but to be a young guy, he's really seasoned. He plays like a vet. A lot of the time, he kind of looks at me for the lead and he just goes out there and balls. It's been great playing with him and working together with him."
On what he's seeing from the offensive line so far:
"We've got some real talent up there. Those guys are extremely physical, extremely confident. We're young in some spots, but you can't tell. Francis Mauigoa, [Anez Cooper], those guys are seasoned up like vets and we go at it every day. It's great competition every day."
On what it's like working with defensive line coaches Joe Salave'a and Jason Taylor:
"Every day I go in there, they have the answer to every question. They're ex-NFL guys. You can go in there with confidence, ask them about technique, about plays, film, they've got the answers. It's extremely comfortable for me to go in there and have guys that I know have been through it, and played the game and can give me more information."
On the depth of Miami's defensive line:
"I think it's a point of strength for us. I think we'll be three, four deep at all of our spots. Like I said, from the young guys all the way to the older guys, we all can play. Our group, we're a lot similar in our play style and the way we play – we play physical, we play fast, we play twitchy – and I think we have to use it as a point of strength also this year."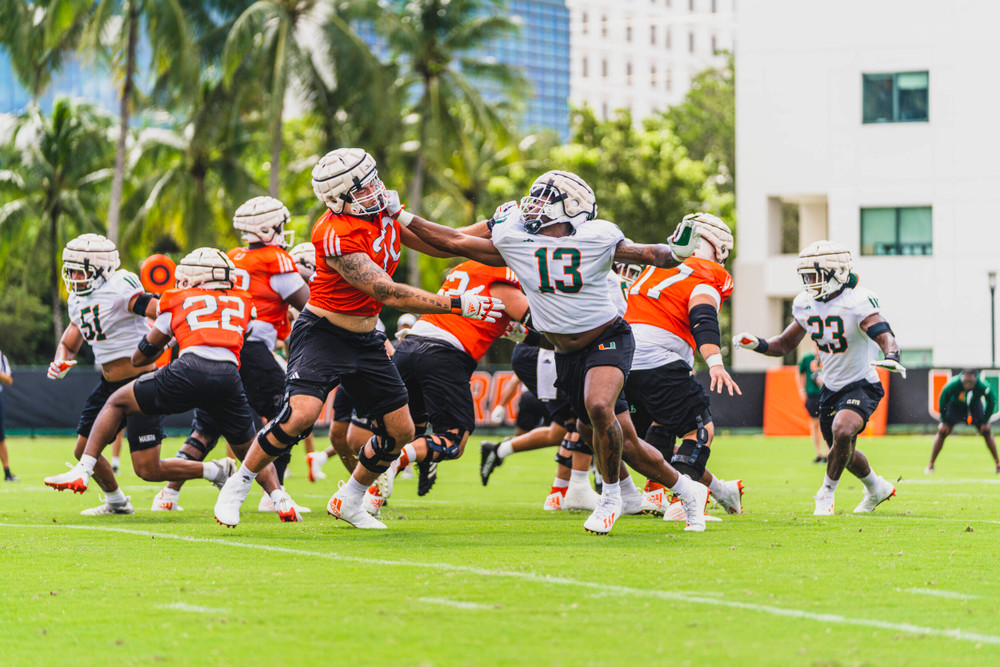 Offensive lineman Jalen Rivers
On what he likes about Miami's new offense:
"I like the offense a lot…I like how we're doing different things; we're spicing things up. You'll see that. I'm not going to talk too much about that, obviously. I like how we're all jelling together and of course; we have a lot of improvement going forward before the season. Overall, I think we're doing good."
On defensive lineman Leonard Taylor III:
"He's a physical guy…He's a great player. He brings it to the offense every day. He gives us different looks. He spices things up and we have to react. Iron sharpens iron every day. Going into practice, we look forward to helping get each other get better."
On the offensive line's relationship with quarterback Tyler Van Dyke and how they've all bonded:
"That was our big thing this summer. He took us to Texas de Brazil, and he treated us…We just get our minds off of football and get to know each other more. And another thing, not just with Tyler, but our leadership group, we all went fishing, we did some more stuff…We do a lot of things with the team, but with Tyler, we talk to him on a more personal level, get to know each other more and know our likes and dislikes, so we can jell even more out here. We're comfortable talking to each other. That's the biggest thing."
On working with assistant head coach/offensive line coach Alex Mirabal:
"Coach Mirabal is straightforward, and everybody respects that in that regard. Our chemistry has been really good. We can come to him if we have a problem. Of course, he's going to be on us, on us on the field. But off the field, he's there for you. He cares for you, so you can talk to him about everything."
On offensive lineman Matt Lee:
"Matt Lee, he just brings leadership. He brings the best out of all of us. Me and him being the leaders on the offensive line, we can speak on things more. He can back me up, I can back him up. He brings a lot of leadership and just brings the best out of all of us."
Defensive lineman Leonard Taylor III
On what it's like to play with Branson Deen:
"Branson's a real vocal leader. He came into the system, leading right off…He pays attention to detail. You can tell he's been mastering the craft of the game. When it comes to certain positions on the line, he does great at his job…He's a real vocal leader."
On how he thinks the defensive line is doing early in camp:
"I feel that we're all doing good. We're taking it day-by-day, going out there, taking reps and getting better as a whole."
On what it means to be from Miami and play for the Miami Hurricanes:
"Going back home is great. When I go to my old high school and stuff, I go there, work out and a lot of kids will come up to me, who look up to me, who play the same position as me, they'll ask for some pointers and stuff. I try to teach them to the best of my ability and just tell them to keep pushing and go forward and hopefully they'll be in the same position I am."
On how those interactions make him feel:
"That makes me feel good, knowing I have young kids looking up to me from all the hard work I've put in. It just feels good. It's great. It's amazing."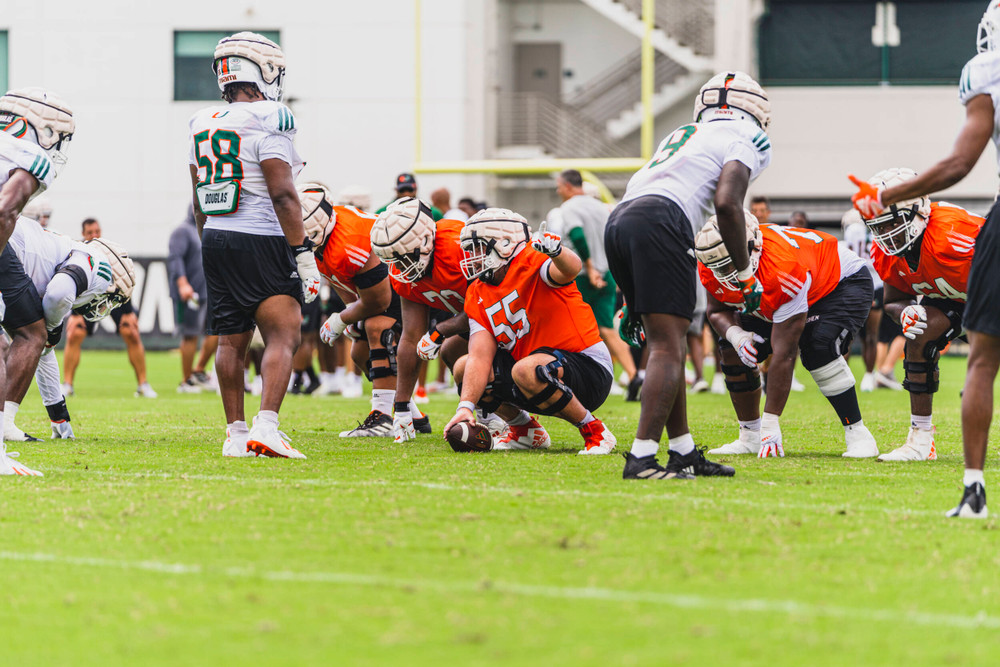 Lee, Arroyo Honored
Two more Hurricanes have earned spots on the watch lists for some of college football's biggest awards.
Redshirt senior Matt Lee on Friday was named to the watch list for the Rimington Trophy, which honors the nation's top collegiate center. Lee, who previously played at UCF, was rated as the third-highest center nationally by Pro Football Focus in 2022 and earned a 90.6 pass-blocking grade and an 80.6 run-blocking grade during his final season with the Knights.
Arroyo, meanwhile, earned a spot on the watchlist for the Mackey Award, which is presented annually to the nation's top collegiate tight end.
He caught five passes totaling 66 yards during an injury-shortened season last year. The third-year tight end saw action in all 12 of Miami's games his freshman season, when he made one start and finished with 86 receiving yards and one touchdown.
Arroyo and Lee are the fourth and fifth Hurricanes to receive preseason watch list recognition joining kicker Andy Borregales (Lou Groza Award), offensive lineman Javion Cohen (Outland Trophy) and safety Kam Kinchens (Nagurski Award, Wuerffel Trophy).
Borregales, Cohen and Kinchens were also named preseason All-ACC selections by the conference.