University of Miami Athletics
Alex Mirabal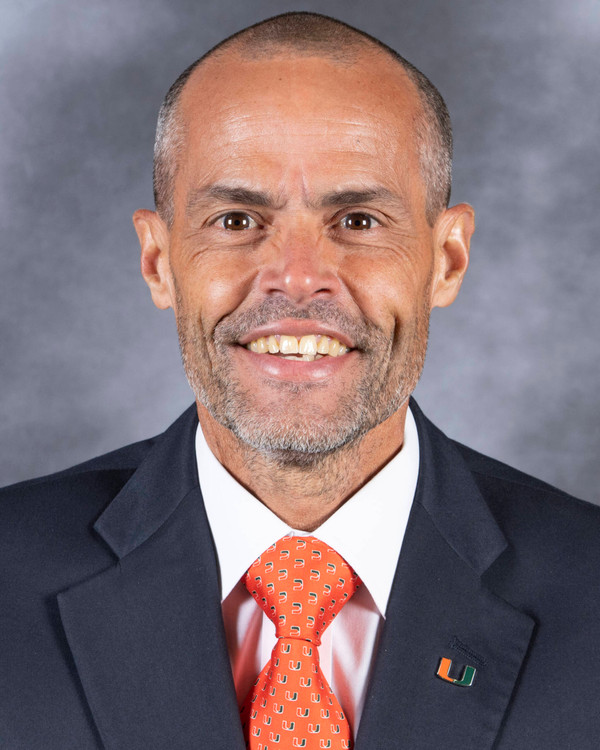 Alex Mirabal is in his second season as a member of the Miami Hurricanes Football coaching staff, where he serves as assistant head coach and offensive line coach.
"I couldn't be more excited to welcome Coach Mirabal back home," head coach Mario Cristobal said upon Mirabal's hiring. "From Outland Trophy winners to All-Americans to all-conference players, Coach Mirabal has a reputation as the best offensive line coach in the country and one who is elite at talent development. He also has a track record as one of the very top recruiters in the nation.
"I know Coach Mirabal is excited to return to his roots in Miami and I know he will make a tremendous impact on the physicality our offense and the culture of the Miami Hurricanes program as a whole."
Mirabal, a high school teammate of Cristobal, has been the one constant on the staff during Cristobal's career as a head coach. Mirabal came to Miami after spending the previous four years on Cristobal's staff as offensive line coach at Oregon from 2018-2021. Prior to the 2021 season, Mirabal added the title of associate head coach / offense to his duties coaching the offensive line.
During seven of his 10 full seasons as head coach entering his tenure at Miami, Cristobal has entrusted Mirabal with the development of the offensive line. For the first six years of Cristobal's head coaching career, Mirabal served as his assistant head coach.
"It's a blessing to be back home," Mirabal said upon his hiring. "My job is to make these guys understand that it's a privilege and an honor to coach here, and it's a privilege and honor to play here. We have to make sure that those men who came before us are proud of how we're carrying ourselves. It always starts at the front, on the offensive and defensive lines. The program here at the University of Miami has traditionally been tremendous along both lines of scrimmage, and it's our job to uphold that tradition."
In Mirabal's time at Oregon, the offensive line was the driving force behind Oregon's offensive success.
In his final season in Eugene, Mirabal helped guide the Ducks to a 10-4 record, including a 7-2 mark in conference play, and their third straight appearance in the Pac-12 Championship Game. The Ducks averaged more than 31 points per game each of his four years on staff, including finishing second in the Pac-12 in scoring offense the first two seasons, fourth in 2020 and third in 2021, while ranking in the top 25 in the nation in both 2018 (34.8 ppg – 25th) and 2019 (35.4 ppg – 16th).
The Ducks rushed for 203.2 yards per game in 2021 – ranked No. 24 in the nation – and had 200-plus rush yards on seven occasions, including two 300-yard games
Mirabal was instrumental in Oregon's success on the recruiting trail over his time there. During the 2021 cycle, Mirabal earned recognition as one of the top 25 recruiters in the country while helping Oregon to an all-time best No. 3 class ranking by Rivals. In the 247Sports rankings, Mirabal ranked second among all Pac-12 assistants and No. 16 overall while the Ducks' signed the No. 6 class according to the recruiting site.
Mirabal's success has not only been limited to the recruiting space, but also in player development, where he has thrived throughout his career. In 2019, Oregon offensive tackle Penei Sewell won the Outland Trophy as the nation's top lineman and was a consensus All-American for an offensive line that helped lead the Ducks to a Rose Bowl championship. Sewell opted out of the 2020 season due to COVID-19 and was selected with the seventh overall pick of the first round of the 2021 NFL Draft by the Detroit Lions.
In 2021, Mirabal coached offensive lineman T.J. Bass to an All-America season. Bass was named to the Pac-12 All-Conference Team and recognized with All-America first-team honors from The Action Network. Mirabal's line helped the Ducks rush for 203.2 yards per game in 2021 – ranked No. 24 in the nation – and its group helped clear the way for 200-plus rush yards on seven occasions, including two 300-yard games.
In 2020, Mirabal faced one of the biggest challenges of his career rebuilding an offensive line that lost all five starters off the 2019 Pac-12 Conference championship team and doing it while being limited because of COVID-19 protocols. Despite the limitations, Mirabal blended a unit that had one career start between them into a cohesive unit that helped lead the Ducks' to their second consecutive Pac-12 Conference Championship. Four of the five starters earned all-conference honors led by former walk-on Ryan Walk, who the Associated Press named first-team all-league.
Bass picked up a pair of honors, earning second-team all-conference from the AP and honorable mention recognition from the Pac-12 coaches. Center Alex Forsyth was a second-team pick by the coaches, who also gave Malaesala Aumavae-Laulu honorable mention recognition.  Forsyth was also a second-team pick in 2021.
In 2019, a year when Oregon won the Pac-12 Championship and the Rose Bowl while finishing 12-2, the Ducks' offensive line was one of four finalists for the Joe Moore Award, which honors the nation's most outstanding offensive unit in college football.
Mirabal coached four players in his time at Oregon who have earned All-America honors, including Sewell. Oregon's left tackle, Sewell joined LaMichael James (2010) and Marcus Mariota (2014) as the only Oregon players to be unanimous first-team All-Americans. Sewell also claimed freshman All-America recognition in 2018 from USA Today and 247Sports.  Left guard Shane Lemieux and right tackle Calvin Throckmorton also claimed All-America accolades under Mirabal's tutelage. Lemieux earned first-team honors from Sports Illustrated in 2019 and second-team recognition from The Athletic in 2018. Throckmorton, who was also a second-team academic All-American in 2019, claimed back-to-back second-team recognition in 2018 (FWAA, PFF, Phil Steele) and 2019 (FWAA, CBS, Phil Steele).
Following the 2019 season, Mirabal saw four of his Ducks' offensive linemen move on to the NFL with Lemieux and center Jake Hanson both selected in the NFL Draft. The New York Jets picked Lemieux in the fifth round (No. 150 overall) and the Green Bay Packers selected Hanson in the sixth round (No. 208 overall). Throckmorton signed a free agent deal with the New Orleans Saints, while offensive tackle Brady Aiello did the same with the Minnesota Vikings.
In between his stints with Cristobal, Mirabal put together a successful five-year run at Marshall as the Thundering Herd's offensive line coach. Prior to reuniting with Cristobal in Eugene, Mirabal had a league-leading eight first or second-team All-Conference USA selections on the offensive line from 2013 to 2017 at Marshall, helping pave the way for the Thundering Herd to put together a 44-22 record, three 10-win seasons, a 4-0 record in bowl games, two Conference USA titles and a win in the 2014 Conference USA Championship Game.
Marshall's offense was among the best in college football during Mirabal's five seasons. In 2014, the Thundering Herd joined Oregon as the only two programs in the country to rank in the top 12 nationally in scoring offense (3rd), rushing yards (6th) and passing yards (12th).
Mirabal served as the assistant head coach for six years at FIU under Cristobal, working with the offensive line his final three years following three seasons coaching tight ends.
In 2012, FIU offensive linemen Caylin Hauptmann and Rupert Bryan Jr. were named second-team and third-team All-Sun Belt Conference selections, respectively, by Phil Steele. During FIU's impressive two-year run in 2010 and 2011, Mirabal's offensive line was regarded as one of the best in the Sun Belt, allowing just 20 and 15 sacks in successive seasons. Behind a much-improved offensive line, FIU continually broke single-season and single-game offensive records.
A long-time Miami-Dade high school football coach, Mirabal taught and coached around south Florida starting in 1993 all the way up to his arrival at FIU. He helped lead Miami's Christopher Columbus High School to three district championships in four years as the Explorers offensive line coach and run-game coordinator.
During the winter of 2007, Mirabal was honored with inclusion on the coaching staff on Team USA Football, a Miami-Dade and Broward County high school all-star team that competed in and advanced to the championship round of the NFL Global Junior Championships XI.
Mirabal began his coaching career at Christopher Columbus High School by taking on a variety of roles. He was the Explorers assistant track and field coach and a volunteer football offensive line coach for six years. Mirabal was the school's junior varsity head coach in 1994-95 and then took on the program's strength and conditioning coordinator responsibilities from 1996-2001. During that time, he also assumed the titles of varsity running backs coach in 1996-97 and then varsity offensive line coach from 1997-2001.
Mirabal and his wife, Berta, have two sons – Alejandro and Nicolas.