University of Miami Athletics
Joe Salave'a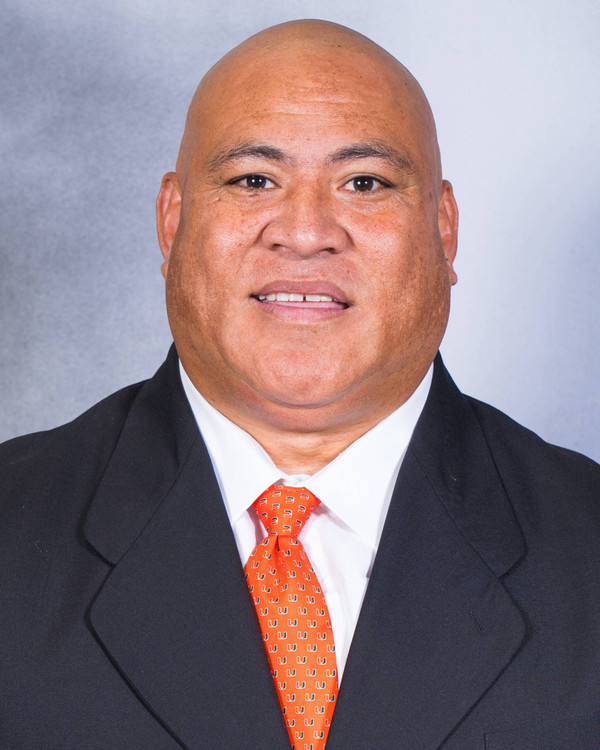 Joe Salave'a is in his first season as a member of the Miami Hurricanes Football coaching staff, where he serves as defensive line coach, associate head coach (defense) and defensive run game coordinator.
Salave'a arrives in Miami after spending the previous four seasons working in a similar capacity at the University of Oregon under head coach Mario Cristobal.
"The University of Miami is committed to physicality and controlling the line of scrimmage," Cristobal said upon his hiring. "Coach Salave'a's eight years in the trenches of the NFL and his college coaching experience are the driving forces behind an elite recruiter, coach and developer of the talent. Coach Salave'a is a tremendous leader of men, and I know that mental and physical toughness will be traits of the Miami Hurricanes defensive line. He will make his impact felt in the culture and identity of our program."
Salave'a and Cristobal both came to Oregon as assistant coaches in 2017, and when Cristobal was named head coach, Salave'a stayed with the program and added co-defensive coordinator and run-game coordinator to his title.
Salave'a spent the final four seasons of his time in Eugene as associate head coach.
"What an honor," Salave'a said upon his hiring. "I'm blessed to have the opportunity to continue to work for Coach Cristobal. The opportunity here is tremendous. I want to get to work – I want to get to know our guys in the building and connect with them, start putting together the pieces and really start this entire process."
In his most recent season in 2021, two of Salave'a's top defensive linemen – Kayvon Thibodeaux and Brandon Dorlus – earned first-team Pac-12 recognition. Thibodeaux delivered a dominant three-year career in Eugene, becoming the program's first player in history on the defensive side of the ball to earn consensus All-American in his final season. Thibodeaux tied for seven in program history with 19 sacks in 31 career games and finished with 34.5 career tackles for loss.
"Having played the position collegiately and in the National Football League as a professional athlete, the University of Miami is where it starts for defensive linemen," Salave'a said. "I'm very excited and looking forward to adding to the history of this room. Those are the things that we're already working on – making sure we identify the right guys that fit the culture here that we're going to establish. The standard is the standard, and we're excited to contribute to that and build on the history of greatness."
During his five seasons at Oregon, the Ducks' defense showed marked improvement. After inheriting a defensive line that was part of a defense that finished near the bottom nationally in nearly every statistical category in 2016, UO finished the 2019 season among the top 25 in scoring defense, rushing defense, total defense, sacks and tackles for loss.
The Ducks ranked 126th in scoring defense in 2016, before improving to ninth in 2019 while allowing nearly 25 fewer points per game. Oregon's rush defense finished third in 2019 after ranking 121st the season before Salave'a arrived in Eugene, holding opponents to over 135 fewer yards on the ground. In total defense, UO improved from 126th the year before Salave'a arrived to 22nd in 2019 while allowing over 189 fewer yards per contest.
In the COVID-shortened 2020 season, Oregon's defensive line continued to make big plays finishing fourth in the Pac-12 in both sacks and tackles for loss. Thibodeaux earned first-team All-Pac-12 Conference honors after finishing third in the league in TFLs with 9.5 and eighth in sacks with three. Thibodeaux led Oregon to a win in the Pac-12 Championship game, earning Most Valuable Player honors after harassing the Trojans finishing with five tackles (3 solo) with two TFLs and a sack with a pass break up.
With Salave'a in charge, Oregon's defensive line has increased its big play output significantly over the last four seasons. After having just 25 sacks in 2016, Oregon finished 2019 with 41 sacks. Oregon had 33 in 2017 and 29 in 2018, before increasing its total by 12 during its Pac-12 championship 2019 season. In the seven-game 2020 season, Oregon had 12.0 sacks. In addition to sacks, the Ducks have also been much more effective in making tackles for loss. Oregon finished its Rose Bowl championship 2019 season with 97 TFLs, 25 more than the 2018 season and 36 more than the 2016 season. In 2020, the Ducks made 35 tackles for loss.
Individually, Salave'a coached his second freshman All-American during the 2019 season. The Athletic, USA Today and 247Sports all named Thibodeaux a first-team freshman all-America pick, while the league's coaches named him the Pac-12 Conference Freshman Defensive Player of the Year. The Associated Press tabbed Thibodeaux as a first-team all-conference player.
Thibodeaux was the third Oregon defensive lineman to be named all-league under Salave'a's guidance. Jalen Jelks, a seventh-round pick by the Dallas Cowboys in the 2019 NFL Draft, claimed first-team honors following the 2018 season and was a second-team pick after the 2017 season. Jordon Scott claimed all-league accolades in both 2018 and 2019, earning second-team honors by the AP in 2018 and honorable mention recognition from the league's coaches after both seasons. Senior Austin Faoliu made it four all-conference players coached by Salave'a when he claimed honorable mention honors in 2020 while Thibodeaux was earning first-team recognition from both the coaches and the AP.
A member of the Polynesian Football Hall of Fame and an eight-year NFL veteran, Salave'a spent five seasons at Washington State, working the first three as defensive line coach before adding assistant head coach to his title for his final two seasons with the Cougars.
During his time at WSU, Salave'a helped build a formable program going from three wins his first season (2012) to a combined 17 wins (9 in 2015, 8 in 2016) in his final two years. The Cougars advanced to three bowl games during Salave'a's tenure: the 2013 New Mexico Bowl, the 2015 Sun Bowl and the 2016 Holiday Bowl.
His unit showed vast improvement each of his five seasons in both pass rush and rush defense, finishing the 2016 season 29th in the country in run defense (134.2). Over the last two seasons at WSU, three of the Cougars' defensive linemen earned second-team all-Pac-12 Conference recognition under Salave'a while two more were honorable mention picks.
Salave'a was instrumental in the development of 2017 consensus All-American Hercules Mata'afa at Washington State. Salave'a coached Mata'afa during the defensive lineman's first three seasons on the Palouse. After redshirting in 2014, USA Today tabbed Mata'afa as a first-team freshman All-America pick, while the conference's coaches voted him honorable mention all-conference. In 2016, Mata'afa claimed second-team all-league accolades as a sophomore. He went on to an NFL career, one of seven Salave'a-coached players drafted or to play in the NFL after signing a free agent contract.
In 2015, Washington State placed three of Salave'a's defensive linemen on the all-Pac-12 Conference team. In addition to Mata'afa's honorable mention nod, Darryl Paulo and Destiny Vaeao claimed second-team all-conference honors. Paulo earned second-team recognition from both the Associated Press and the league's coaches, while the coaches recognized Vaeao.
In his first year at WSU, Salave'a coached Xavier Cooper to an honorable mention all-conference season.  Cooper, a third-round pick in the 2009 NFL Draft by the Cleveland Browns, went on to a three-year career in the NFL, two with the Browns and one with the New York Jets.
Salave'a spent a season at his alma mater as the defensive line coach, joining the Wildcats in time for preparation for the 2010 Valero Alamo Bowl. Salave'a began his coaching career in 2008 at San Jose State under his former college coach, Dick Tomey, working for two seasons as the defensive line coach. During his first season, Salave'a made an immediate impact with the Spartans, who finished in the top 25 in the country in three separate statistical categories. SJSU finished seventh in the nation in tackles for loss, 11th in sacks and 21st in total defense. The Spartans led the WAC in TFLs, while finishing second in sacks and total defense en route to a 6-6 overall record, 4-4 in league play.
Salave'a enjoyed an eight-year NFL career after the Tennessee Titans selected him out of Arizona in the fourth round of the 1998 NFL Draft. Salave'a spent five years with the Titans, split 2003 with the Baltimore Ravens and San Diego Chargers and finished his career with a three-year stint with the Washington Redskins before retiring after the 2006 season. He played 100 NFL games, making 28 starts, while totaling 82 tackles, 7.5 sacks and two forced fumbles. He appeared in Super Bowl XXXIV for the Titans.
Salave'a lettered at Arizona as a defensive tackle from 1994-97, earning first-team all-Pac-12 honors in 1997, second-team recognition in 1996 and honorable mention accolades in 1995. He was the team captain in 1996. Salave'a tallied 157 career tackles for the Wildcats, all as an interior lineman, with 43.5 tackles for loss and 21.5 sacks. He led the team in sacks and tackles for loss in both 1996 and 1997 and in forced fumbles in 1994 and 1996.
A native of Leone, American Samoa, Salave'a has been one of the territory's foremost ambassadors, promoting the game among Samoan youth, including founding the Joe Salave'a Foundation in 2001 to help introduce the game and strengthen its appeal. The foundation specializes in free football clinics for youngsters in American Samoa and Hawaii. Congressman Eni Faleomavaega recognized his work in a 2005 White House ceremony hosted by President George W. Bush to celebrate Asian-Pacific Heritage Month.
The Polynesian Football Hall of Fame honored Salave'a with induction in 2019.
He and his wife, Josephine, have one daughter, Katalina Elizabeth, and one son, Joseph Fatuimoana Jr.