''Everybody Wants to Compete''
CORAL GABLES, Fla. – Even before the sun rose, his alarm sounded.
That was all Kam Kinchens needed to get himself up and moving on Miami's first day of camp.
Though the Hurricanes have been working their way through their offseason conditioning program for months, the Hurricanes returned to the Greentree Practice Fields on Tuesday morning for their first official practice of the 2023 season.
Understandably, there was a collective spring in everyone's step.
"You're out there running, your body's feeling good and you're just happy to get out there," said Kinchens, who had a team-high 59 tackles and six interceptions during an All-American campaign last year. "You haven't put on a helmet in so long. Or a jersey. Coach is out there yelling 'go this way, go this way' and you're just feeling good. It's a good sweat we're putting in. We're not just running sprints and doing jumping jacks. You actually get to play football."
Added defensive lineman Akheem Mesidor, "It's the first step towards the season. That's what I think is the most special part about it. It makes you feel like you're one step closer to the season and you get to see all the hard work that you put in during the offseason. It's a feeling that's unexplainable – well, besides game day."
Kinchens and Mesidor weren't the only ones excited to get on the field.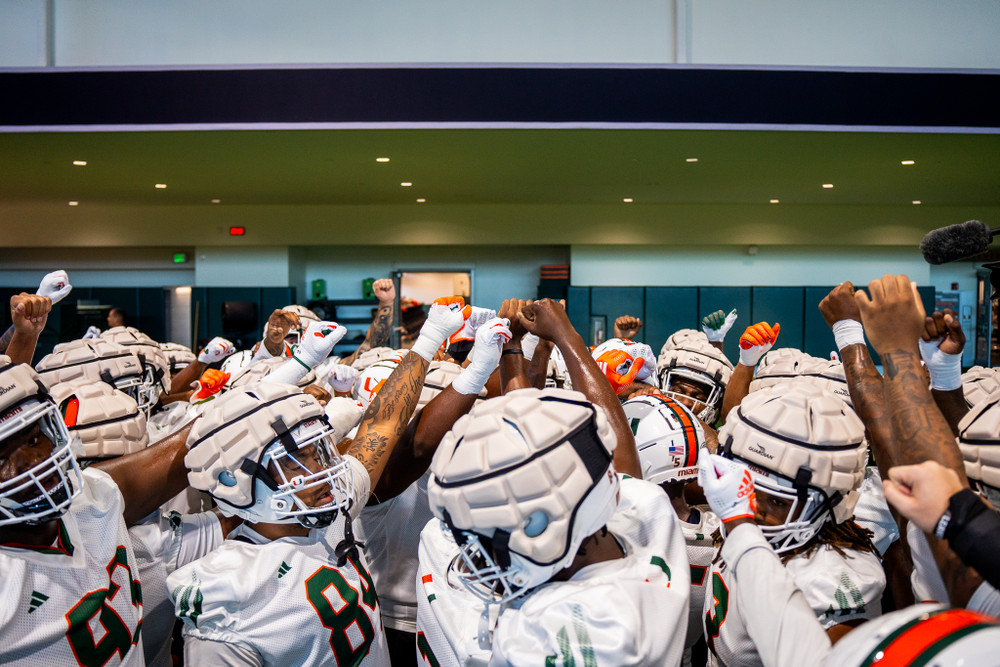 Head coach Mario Cristobal – now in his second year at his alma mater – wanted to see what kind of progress the new-look Hurricanes have made since wrapping up spring drills back in April.
And as his players walked off the field and into the locker room, Cristobal noted he felt they were off to a positive start – particularly in one area of note.
"The biggest flash [I saw] was the progress of culture," Cristobal said. "Running all the way on, all the way off the field; making sure attention to detail and finishing plays are at the forefront. Not perfect, but improvement, so you know, right back to film and go get better."
Continuing to build a strong foundation and competitive culture have been priorities for the Hurricanes from the moment they left Hard Rock Stadium last November after a tough 5-7 season.
Miami signed one of the top recruiting classes in the nation and added key transfers at several positions of need. Cristobal revamped his coaching staff, bringing new coordinators Shannon Dawson and Lance Guidry to Coral Gables, while adding the likes of Pro Football Hall of Famer Jason Taylor to the staff, along with Miami alums Kevin Beard and Tim Harris, Jr.
The Hurricanes, Cristobal also said, got bigger, faster, stronger and more competitive during the offseason.
All of that was on full display as Miami made its way through its first drills Tuesday.
"We have significantly increased our size, our power, our speed. It's been put to the test throughout the summer conditioning program, and they had a good summer," Cristobal said. "It showed up today because, yeah, there's always some rust, but it looked like a Day One, plus a little bit more. Depth-wise, it's gotten better. Not exactly where you want it to be, but certainly an opportunity to build a lot more during camp…
"What sticks out the most [is that] there's competition at just about every position and that's going to make us better right there. It's the right type of competition [and] attitude as well. Our guys are taking it on and understanding 'look, this is going to make me better.' It's not a type of threat. We see growth and development and we've got to keep teaching and learning and teaching and learning and developing and getting better."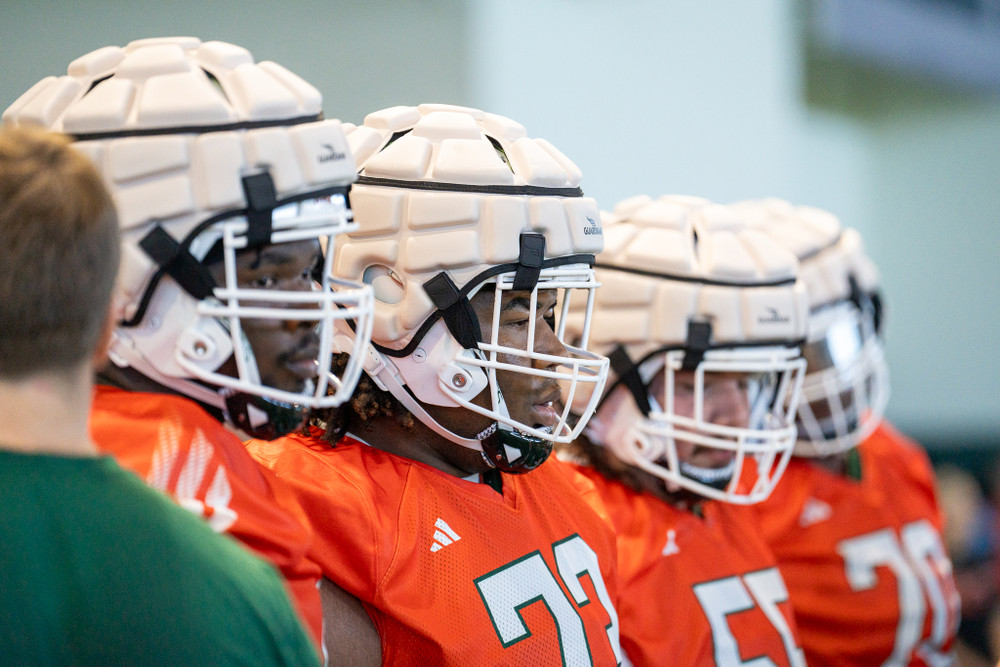 In an effort to help create that culture of healthy competition and mental toughness, the Hurricanes established a player-elected leadership council this offseason that they hope will continue to set the tone both on the field and in the locker room.
That group's influence made a difference not only during summer workouts, but during Tuesday's practice, too.
"They've done an unbelievable job in connecting and hanging and getting to know each other through countless activities and just invested time in the summer and work, right? I mean, you can't trust somebody unless they put in the work and these guys are smart. They want to play with guys they can trust," Cristobal said. "If they can't be trusted, they're not going to play. So, they're holding each other more and more accountable, but there's still a lot of room to grow and our focus is as much on the intangibles and culture as it is on scheme."
Added quarterback Tyler Van Dyke, one of the players on Miami's leadership council, "It makes a huge difference. Being a player-led team is how you win college football teams. Players have got to execute. You've got to make sure everyone on the whole team is doing the right thing on and off the field to be successful. So, having other guys stepping up and being those voices for each other was definitely huge for the whole program."
With their season opener against Miami of Ohio now exactly one month away, the Hurricanes know there is still much work to be done over the course of the next three weeks.
They'll continue that work Wednesday and beyond, when they're back on Greentree.
But they're confident Tuesday was a good first step in their efforts to be ready for not only that opener, but for the entire season that awaits them.
"Everybody wants to work, everybody wants to be here, and everybody wants to compete," Mesidor said. "I'm looking forward to, obviously, the team growing. I want to see the team grow. I want to see us get closer as individuals on the field because I feel like people get closer through struggle and being on the field is never easy. So, I want to see everybody get closer and compete."