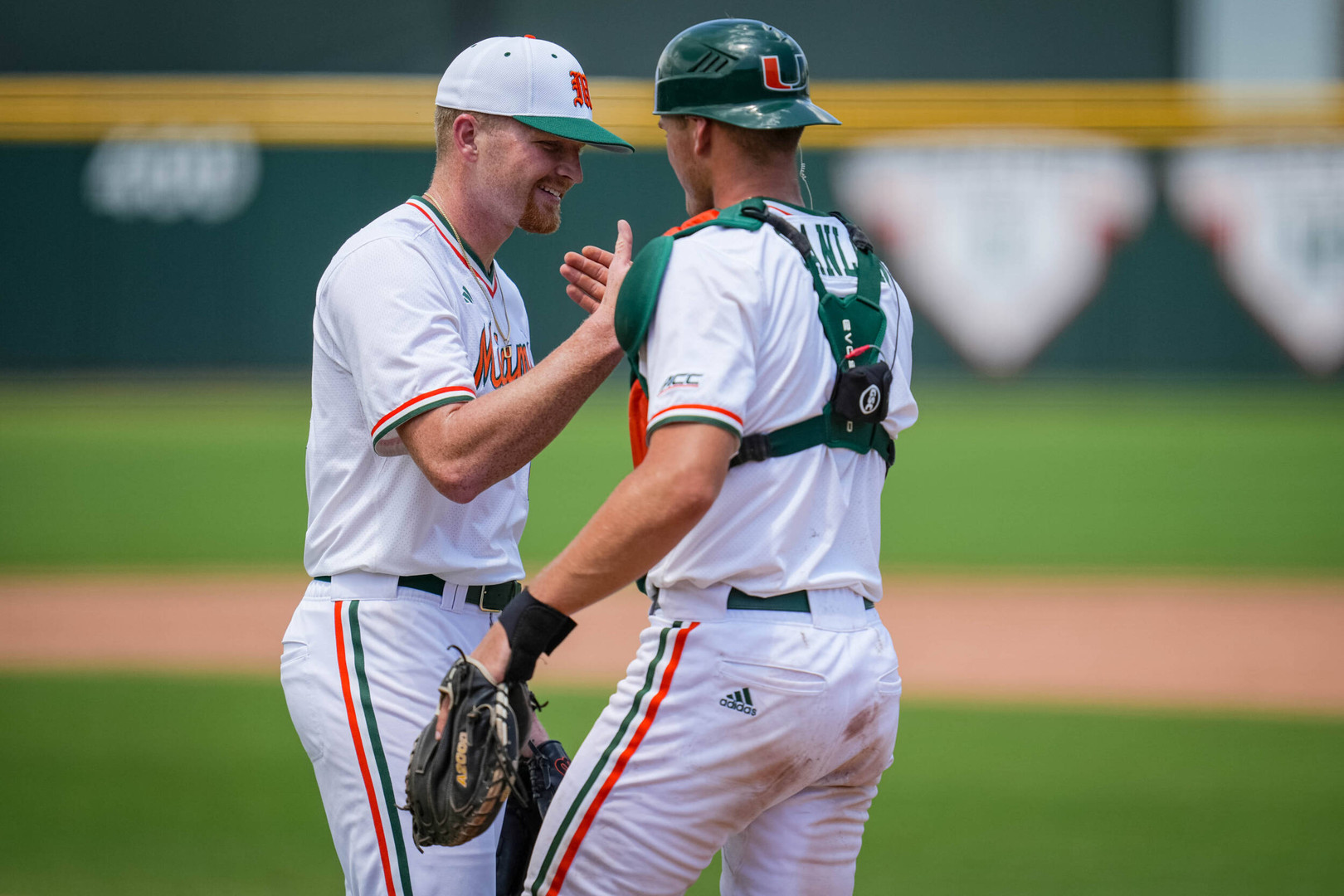 CORAL GABLES, Fla. – For as long as he can remember, the Hurricanes have been part of his life.
Andrew Walters and his family were regulars at Miami football and baseball games for much of his childhood. So, when the pitcher arrived in Coral Gables, he was more than ready to carry on the legacy his uncle Matt Walters – a member of the Hurricanes' 2001 national championship football team – had established during his own time at Miami.
Now, three seasons after taking the mound at Mark Light Field for the first time, Andrew Walters is an All-American closer. He's a Miami graduate. And this weekend, he is preparing for what could be his final regular-season games as a Hurricane as No. 11 Miami hosts No. 16 Duke in a key three-game series that could go a long way in determining both teams' fate in the upcoming ACC Tournament.
It's been a journey filled with highs and lows, but it's one Walters is beyond grateful to have taken – especially this season with his brother, Brian, also on the Miami roster.
"It's [going to be] a big day," Walters said of Saturday's impending Senior Day matchup against the Blue Devils. "I graduated from the University of Miami, and I look back on it and I feel like I just came to the school yesterday. Honestly, it went very fast. You don't know what to think…I don't really know how to feel in this moment. But it's an important milestone, especially coming to The U, graduating from The U and being able to share that on the field with my family."
Walters is one of four seniors that will be honored when Miami closes out the regular season this weekend. Joining him will be outfielder Dario Gomez and pitchers Carlos Carlos Lequerica and Alejandro Torres .
Each of them traveled their own journey to Miami, but ahead of this weekend's series, each made it clear how grateful they were to be Hurricanes.
"My time at Miami…I think the most important thing is the friendships I've created along the way and just being able to play with a group of guys like this," said Gomez, who is hitting .261 and has 13 RBI and 17 runs scored this season. "It's been something special for me…Saturday's going to be really special for me. I'll be surprised if I don't cry, for sure. It's just a very emotional day and you know it's kind of coming to an end…All the memories you made here, you know, you've got to leave them behind and that's a little sad to me, but you've also got to enjoy the fact that you went through them."
While Gomez hails from Las Vegas and was only recently introduced to Hurricanes baseball on a personal level, Lequerica and Torres are Miami natives who've long understood what the program means to the South Florida community.
And for both of them, having the opportunity to close out their college careers in orange and green has been the stuff of dreams.
"I want to say it's a dream come true, but there's still an ultimate goal to that dream and that's to add a fifth national championship to that scoreboard," said Torres, who has a 4-0 record, 53 strikeouts and two saves entering the weekend. "I'm fortunate, lucky and everything in between to be a part of that locker room with all these guys that are trying to achieve a common goal. I'm just so fortunate to have been brought in by this coaching staff and to have been given this opportunity to be a Miami Hurricane. I just hope that when my time is said and done that everything I've done, through my work on the field regardless if it's been a game or practice, I hope I've shown how much it's meant to be a Miami Hurricane."
Said Lequerica, "Growing up here in Miami, being able to come to all these games and really seeing what it is to play for the green and orange, it's everything I've ever wanted in my career to play here…It's a blessing. I'm beyond grateful. It's all I've ever wanted. I can't put it into words. It's an amazing feeling to say the least."
Making this weekend even more meaningful for Miami's four seniors is what's at stake.
With Miami, Virginia (41-11, 16-11) and Duke (34-17, 15-11) all jockeying for position atop the Coastal Division standings ahead of next week's ACC Tournament, the Hurricanes (35-17, 16-11) know how crucial it is to play well Thursday, Friday and Saturday.
It's a challenge each says they're looking forward to, especially given that the Hurricanes will have the chance to play this series at home where Miami has posted a 26-4 record this season.
"As the Miami Hurricanes baseball team goes, it's very important to us. We live for these moments. These are the kind of moments where you know the crowd is going to be there and it's going to be a big, big series," said Walters, who enters the weekend with a 1.31 ERA, nine saves and 60 strikeouts. "It's very important for our seniors as well. Potentially, it could be our last home series played here at The U…It's a big series and the way our team goes, we have to take it game by game…ACC baseball is tough. It's highly competitive and anybody can beat anybody on any given day. It's basically who's playing better baseball on that day and who has more will to win. That's what I like about the ACC. No matter the record, no matter how the season is going for any team, it's going to be a battle."
Said Hurricanes head coach Gino DiMare of the Blue Devils, "One of the things I noticed that they're unique in is that they don't go with their starters a whole lot long. They're usually a couple innings and they're out of there and their starters are good, but their bullpen is even better. They get stronger as they bring guys in, and they have a lot of depth in their bullpen. So, we're going to have to do a good job of adjusting to pitchers as they come…You might see a different guy every time you come up. That makes it hard, especially if they're really talented, which they are. They do have some home run guys, so they're kind of similar maybe with us in terms of they've got some guys that are big and strong and can hit the ball out of the park."
For their part, the Hurricanes will try to counter that deep bullpen with a hard-hitting lineup that is averaging .304 as a group and has totaled 99 home runs, with six players – second baseman Blake Cyr, first baseman CJ Kayfus, outfielder Zach Levenson, third baseman Yohandy Morales, catcher Carlos Perez and shortstop Dominic Pitelli – all hitting double-digit homers.
The stakes are high, but that's to be expected at this point in the season and the Hurricanes say they're confident their preparation all year has gotten them ready for this moment.
"Being able to control our own destiny at the top of the ACC, I think, just goes to show the grit of this team," Torres said. "We've just kept it together. We've stayed strong as a team. We have so many wins coming back from behind. We've had wins where we've blown teams out. At the end of the day, we're fighting up there from pitch one to the last pitch of the game and I think that's shown the resilience of this team.
"I can't wait to showcase that even more this weekend. I know Duke's a great team and they're going to come in here and they're going to put up a great fight, but that's one that we're ready for."