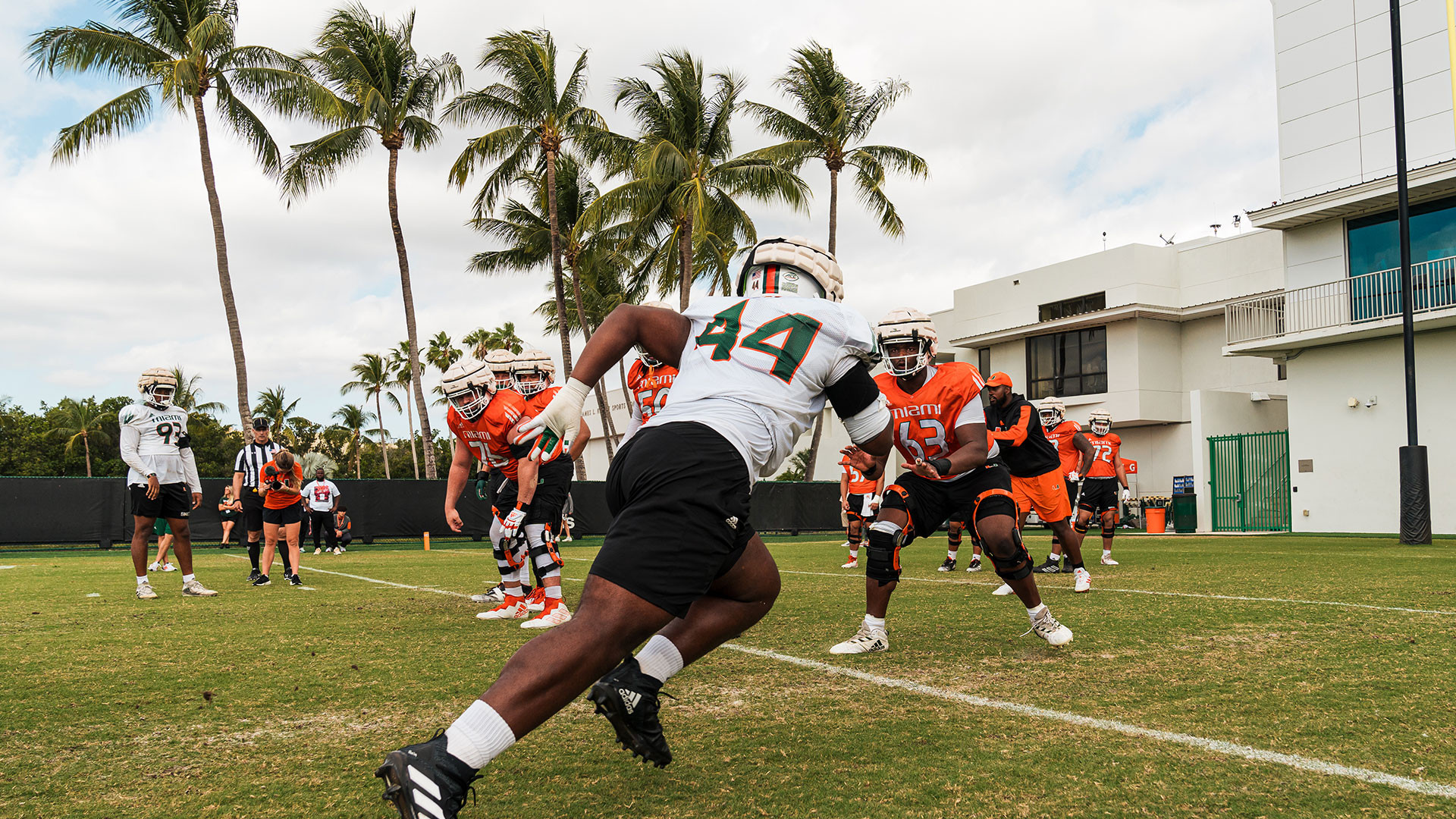 CORAL GABLES, Fla. – For some of them, coming to Miami has been about getting a fresh start, taking the next steps in their college football careers somewhere new and looking forward.
For others it's been simply about getting those careers started, period.
As the Hurricanes prepare to take the field Friday evening at DRV PNK Stadium for their annual spring game, a talented group of newcomers – both transfers and freshmen – will have the chance to don orange and green for the first time in front of family, friends and Miami's fans.
None of them are taking that opportunity for granted.
"To be able to run out there with those guys is a dream come true," said freshman receiver Nathaniel "Ray Ray" Joseph, a former four-star receiver out of Miami Edison High School, who enrolled at Miami earlier this year. "I always wanted to be a Hurricane, so it's going to be a dream come true. That's definitely what I'm looking forward to, just making plays and showing everybody why I came here."
Joseph, who has spent the past few weeks navigating his first collegiate practices, will be joined Friday night by the rest of Miami's early enrollees, a group that includes five-star offensive linemen Francis Mauigoa and Samson Okunlola, tight ends Riley Williams and Jackson Carver, and defensive linemen Rueben Bain, Jr. and Jayden Wayne, among others.
For each of them, spring practice has been one of their first real tests, a chance to show their coaches and veteran teammates how much they've grown during their first weeks on campus.
There have been challenges, of course, like adjusting to the speed of the game at the college level. But each has tried to learn as much as possible as quickly as possible.
"Everything happens a lot faster," said Bain, an Under Armour All-American who helped lead Miami Central High to four state titles. "When it comes to actual scrimmages and everything like that, throwing the ball down, that's when football gets a little real. I'm just having to ease down and get all the nervous jitters out of my body and just play football."
Said Joseph, "It's been a great adjustment. Just being able to come in and learn from some of the older guys, I just took everything I could take. I just soaked it all in like a sponge. I took in everything I could as soon as I got here."
For Joseph and many of the freshmen, that learning process has meant plenty of extra work in the Carol Soffer Indoor Practice Facility, either early in the morning or after practices.
There have been film sessions, meetings with coaches and lots of one-on-one mentoring sessions with some of their veteran teammates – including some of their fellow newcomers.
"I'm always coming in extra, trying to get extra meetings in, learn as much as I can even from just the tight ends in my room," Carver said. "Riley and Jaleel Skinner and Elijah Arroyo are teaching me a lot about the route-running game. Cam [McCormick], having a veteran tight end in the room, is teaching me all the run-blocking stuff. It's been real beneficial to have such a great tight end room around me, to help me learn so I can improve my game. It's been good to take everything in I've learned a ton in the past couple months. Just looking forward to learning more."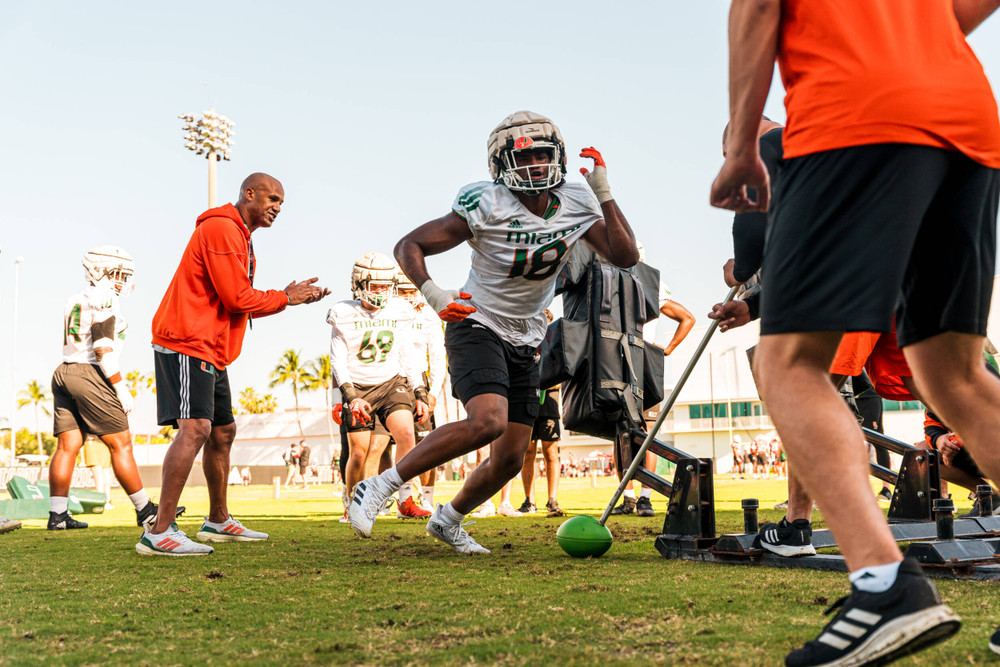 McCormick, a veteran transfer from Oregon who has dealt with multiple serious injuries during his career, said coming to Miami and reconnecting with his former head coach, Mario Cristobal, has been a boon.
"This was definitely a fresh start. I had been [at Oregon] for seven years. I was kind of ready for some change, just as a person living there for so long," said McCormick, who totaled 366 snaps and 10 catches for 66 yards last year while playing in his first full season since 2017. "I was ready to change up and kind of experience something new. I felt like the opportunities here, outside of football and within football, are endless. I feel like that's kind of what drew my attention to coming out here."
Offensive lineman Javion Cohen, a two-year starter at Alabama, expressed a similar sentiment when describing why he wanted to join the Hurricanes this past offseason.
"Why not? Everything around here is perfect," Cohen responded when asked why he chose Miami. "The people really drew me in, people like Coach Cristobal, [offensive line coach Alex Mirabal the entire staff, honestly and the teammates I've got as well. Everybody has a collective goal, which is getting The U back to its standard."
And while he's only been on campus since January – like Miami's early enrollees – already, Cohen is emerging as one of the leaders on the offensive line, particularly when it comes to mentoring his younger teammates.
"Everybody has been very positive, speaking to the young kids. I have the chance to talk to Samson about a lot of things, I go talk to him. Me and [Mauigoa] are in the huddle together, I go say something to him. Everybody's leaning on each other, and we've got great coaches with Coach Cristobal and Coach Mirabal leaning on us as well. It just takes a complete room effort, and everybody has to be on the same page and want the best for each other and we do that every day…Those [freshmen] really want to be something special here. They came here for a reason, which is to turn The U around and I think that's very inspiring to see and great to have with young kids."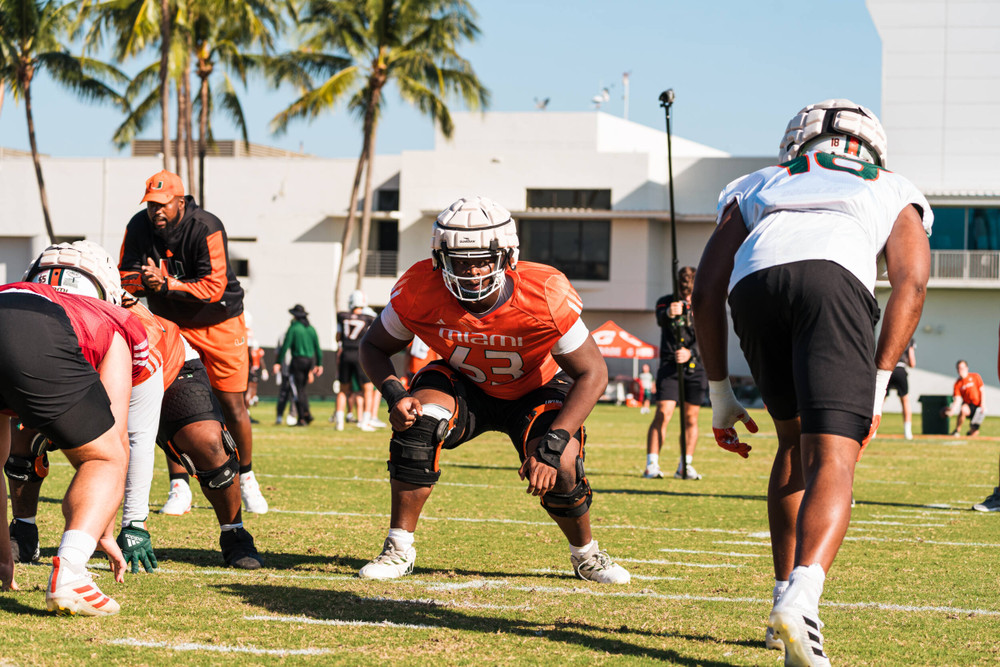 For all of Miami's newcomers, no matter their level of experience, the past few weeks have been about getting to know their new teammates and coaches, getting acclimated to life in South Florida and adjusting to new routines.
But even when the spring practice is finished and the offseason begins, they say their work together to prepare for the season that awaits will continue, both on and off the field.
"It's been good to live with these guys, train with these guys, sweat and put everything we've got into this facility with those guys," Carver said.
Said Bain, "I feel like we're all connected right now. We all feel like brothers…When we can, we're chatting and teaching each other up on plays, correcting each other, working out together, training, trying to be the best that we can."