Ligon Earns ACC Pitcher of the Week Honors
CORAL GABLES, Fla. — Following a career outing against rival Florida State, Miami ace Karson Ligon was named ACC Pitcher of the Week, the league office announced Monday afternoon.
In the series opener, Ligon tossed eight scoreless frames for the first time in his career. The sophomore tied his career long in innings, scattering three hits along the way.
Ligon struck out six Seminoles across his 95-pitch masterpiece. The right-hander retired Florida State on five pitches in both the second and fifth frames, while also recording a seven-pitch third.
"Boy, he was extremely efficient," Miami head coach Gino DiMare said after the game Friday. "I don't recall too many of our guys going eight innings and throwing under 100 pitches. You can't draw it up any better."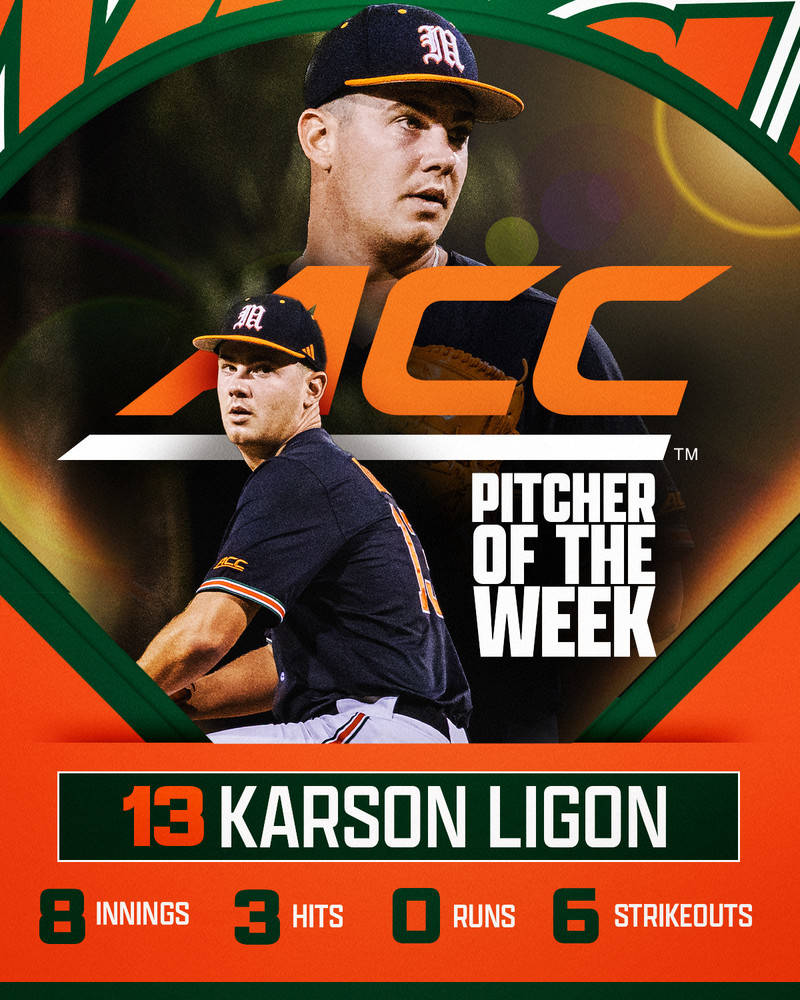 A native of Sarasota, Fla., Ligon led Miami to an 11-0 victory, which matched the second-largest shutout win in series history.
Ligon's start set the tone against the Seminoles, as the Hurricanes recorded their first weekend sweep of Florida State since 2001.
The 6-foot-2, 206-pound hurler is the third Hurricane to garner an ACC weekly honor this season, joining fellow sophomore right-hander Gage Ziehl (March 13) and junior first baseman CJ Kayfus (March 20).
No. 20 Miami (19-9, 8-4 ACC) closes out a five-game homestand Tuesday, as the Hurricanes host the UCF Knights at Alex Rodriguez Park at Mark Light Field. First pitch is scheduled for 6 p.m.
To keep up with the University of Miami baseball team on social media, follow @CanesBaseball on Twitter, Instagram and Facebook.