No. 23 Miami Clinches Series over Florida State
CORAL GABLES, Fla. — Gage Ziehl's dominant start propelled the 23rd-ranked Miami Hurricanes to a series victory over the rival Florida State Seminoles with a 3-2 win Saturday afternoon.
"He pitched like a dog," Ziehl's batterymate Carlos Perez said. "Every pitch was working. He got a lot of outs with his fastball and slider. His location was really good."
After shutting out the Seminoles (12-14, 3-8 ACC) Friday evening, Miami (18-9, 7-4 ACC) nearly silenced Florida State for the second straight day.
Ziehl (4-3), who faced the minimum through six, extended the Hurricanes' scoreless stretch to 16 2/3 innings to start the series. The sophomore right-hander yielded only one run on four hits, matching a career-best with nine strikeouts.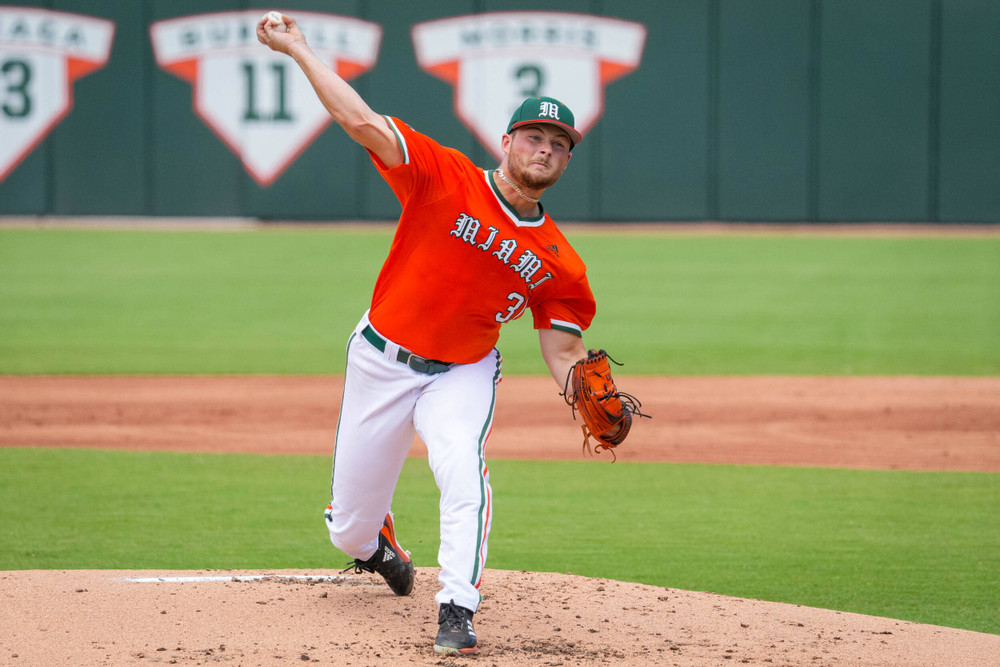 "He was very efficient," Miami head coach Gino DiMare said. "He was amazing through six innings. I think the pitching has done a great job this series. To shut them out the night before and almost nearly shut them out again, you can't draw it up any better."
Perez delivered the eventual game-winning solo shot in the seventh, as the junior catcher homered for the second straight game. His team-leading eighth home run traveled an estimated 429 feet.
"Carlos does a good job at hitting mistakes," DiMare said. "That's a part of being a good hitter. One of his strengths is hitting the ball to left field and getting it up in the air and that plays well in our ballpark."
Closer Andrew Walters (3) entered with two down in the eighth and recorded the final four outs to clinch the series.
The Hurricanes will look to sweep the Seminoles for the first time since 2001, when the two sides meet Sunday. First pitch is set for 2 p.m.
"Any series win against an ACC team on the second day is huge, but against Florida State, it's even bigger," Ziehl said. "We have to come out hot tomorrow, swing the bats and do a good job on the mound. If that happens, we'll get the job done."
To keep up with the University of Miami baseball team on social media, follow @CanesBaseball on Twitter, Instagram and Facebook.