Miami Tops No. 17 Virginia Tech on Morales' Walk-Off Knock
CORAL GABLES, Fla. — The Cardiac Canes did it again.
On Saint Patrick's Day, the Hurricanes used a little bit of Mark Light Magic.
Junior third baseman Yohandy Morales delivered a walk-off double in the bottom of the ninth, lifting Miami to a 4-3 victory over the 17th-ranked Virginia Tech Hokies Friday evening.
"I told Zach [Levenson] in the dugout, 'Don't even get your things. You're not coming up to bat,'" Morales said.
With the Hurricanes (12-6, 3-1 ACC) and Hokies (12-5, 1-3) deadlocked in the ninth, Miami didn't lean on the luck of the Irish.
But rather the Hurricanes' Pied Piper.
After sophomore Edgardo Villegas was hit by a pitch, Morales ripped an opposite-field rocket into the right-center field gap.
Villegas flew around the bases and slid across home plate, sending Mark Light Field into a frenzy.
The Hurricanes poured out of the first-base dugout and chased Morales into left, dumping coolers full of water in celebration of their second walk-off win of the season.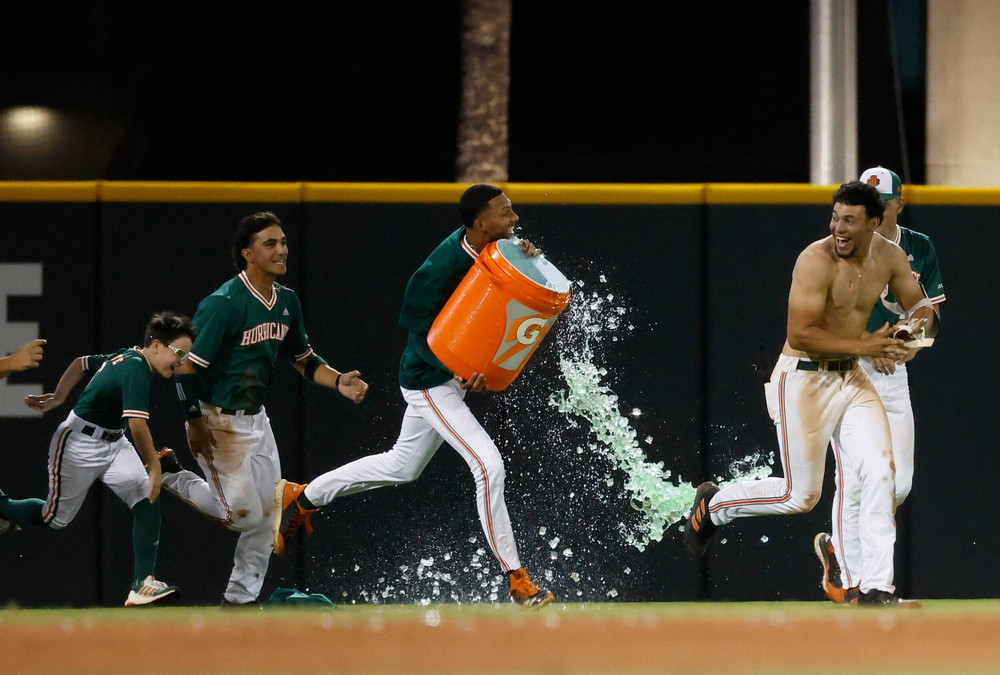 "It's a top-two moment in my baseball career," Morales said. "We're a family. We stick together and we have each other's backs. It was an amazing experience to come through for our team."
While Morales was the Hurricanes' hero, relievers Chris Scinta and Carlos Lequerica came up clutch out of the bullpen.
The duo teamed up to pitch the final 3 1/3 innings, holding the Hokies hitless.
Scinta tossed 2 1/3 frames, striking out four of the eight batters he faced, while Lequerica recorded a scoreless ninth en route to his second straight victory.
"We got heart," Scinta said. "We want to make it to Omaha. We're coming together as a team and as a family."
Juniors CJ Kayfus and Dominic Pitelli both tallied multi-hit performances in the win, with Kayfus reaching safely four times.
Virginia Tech left-hander Henry Weycker was tagged with the loss after surrendering the game-winning hit to Morales.
Following their fourth victory in their last five games, the Hurricanes will look to pick up their second consecutive top-25 series win.
Miami and Virginia Tech are scheduled to wrap up the three-game set Saturday with a doubleheader beginning at 2 p.m.
"Yoyo had the biggest hit of the year so far," Miami head coach Gino DiMare said. "We haven't gotten that big two-out hit before that. We had a lot of opportunities in the game, but just couldn't get it done. As long as he stays consistent with his approach, he's going to do a lot of good things."
To keep up with the University of Miami baseball team on social media, follow @CanesBaseball on Twitter, Instagram and Facebook.