Ziehl Dazzles in Victory over No. 19 NC State
CORAL GABLES, Fla. — Gage Ziehl roared.
After tossing a career-long eight innings, Miami's sophomore starter let out a scream walking off the mound to a standing ovation at Mark Light Field.
Ziehl quieted No. 19 NC State, leading the Hurricanes to an 8-1 victory over the Wolfpack Saturday night.
"I let my emotions go," the fiery-Ziehl said. "I'm just going out there trying to attack hitters. I had to fight through adversity in my first few starts. The beginning of the season didn't go the way we wanted it to, but the season is long and we've got a lot of games left."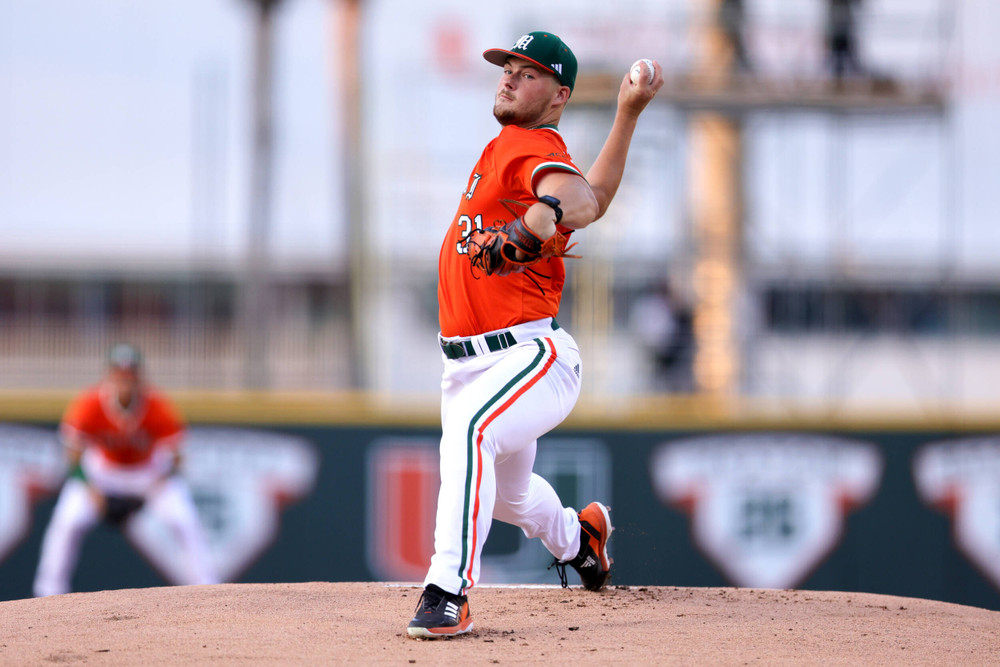 Ziehl's outing marked the longest start by a Hurricane this season, as the right-hander didn't yield an earned run in the series-clinching win for Miami (10-5, 2-0 ACC).
After the first two NC State (13-2, 0-2 ACC) batters reached base, Ziehl (2-2) retired 15 of the next 17 hitters he faced. The 6-foot, 216-pound hurler totaled eight-plus strikeouts for the third straight game, scattering four Wolfpack hits.
"We all have a lot of confidence in Gage and that's why he's one of our guys," Miami head coach Gino DiMare said. "He's a high-character guy, who is very mentally-tough with a lot of moxie. It was a big performance and we needed that."
The Hurricanes' offense backed Ziehl the entire evening, scoring four runs over the first four frames before tacking on four more across the sixth and seventh.
Juniors Ian Farrow, CJ Kayfus and Yohandy Morales each plated a pair of runs, with Kayfus leading the charge with his first three-hit performance of the year.
Farrow belted his co-team-high fifth blast, a two-run shot in the seventh, homering for the third time in the series.
"Gage is a dog," Farrow said. "When he's locked in, he's hard to hit. Everything was working for him. He set the tone on the mound for us."
NC State junior righty Matt Willadsen (2-1) drew the loss, surrendering five runs, two earned, over 5 1/3 innings. Willadsen issued four free passes and struck out six.
The Hurricanes will look for their second sweep of the season, as Miami and NC State close out the three-game set Sunday. First pitch is scheduled for 1 p.m. at Mark Light Field.
To keep up with the University of Miami baseball team on social media, follow @CanesBaseball on Twitter, Instagram and Facebook.