Farrow Leads Miami to Win Over No. 19 NC State
CORAL GABLES, Fla. — Ian Farrow is known for his power bat.
Last year at FGCU, Farrow set the Eagles' single-season record with 21 home runs and 75 RBI.
But entering the Miami Hurricanes' ACC opener, the junior slugger only had two homers across his first 11 games in the orange and green.
Friday night, Farrow found his form.
Farrow smacked a pair of homers, including the game-winning blast, as the Hurricanes bested previously undefeated and 19th-ranked NC State, 9-8, at Alex Rodriguez Park at Mark Light Field.
"His at-bats were really good," Miami head coach Gino DiMare said. "He had been struggling, chasing pitches out of the zone. He seemed to get it right with his at-bats tonight. He took counts deep, he laid off pitches and his body looked under control. When he swung the bat, he made good swings."
Miami's designated hitter launched a towering three-run shot that highlighted an eight-run second for the Hurricanes (9-5, 1-0 ACC).
Farrow's third jack as a Hurricane traveled an estimated 414 feet and sparked Miami's largest inning of the season, thus far.
"I just wanted to damage with runners on," Farrow said. "I come out every day and do whatever I can to help the team win. "I haven't been swinging it the way I wanted to, but I've made a couple of adjustments and I feel really hot now.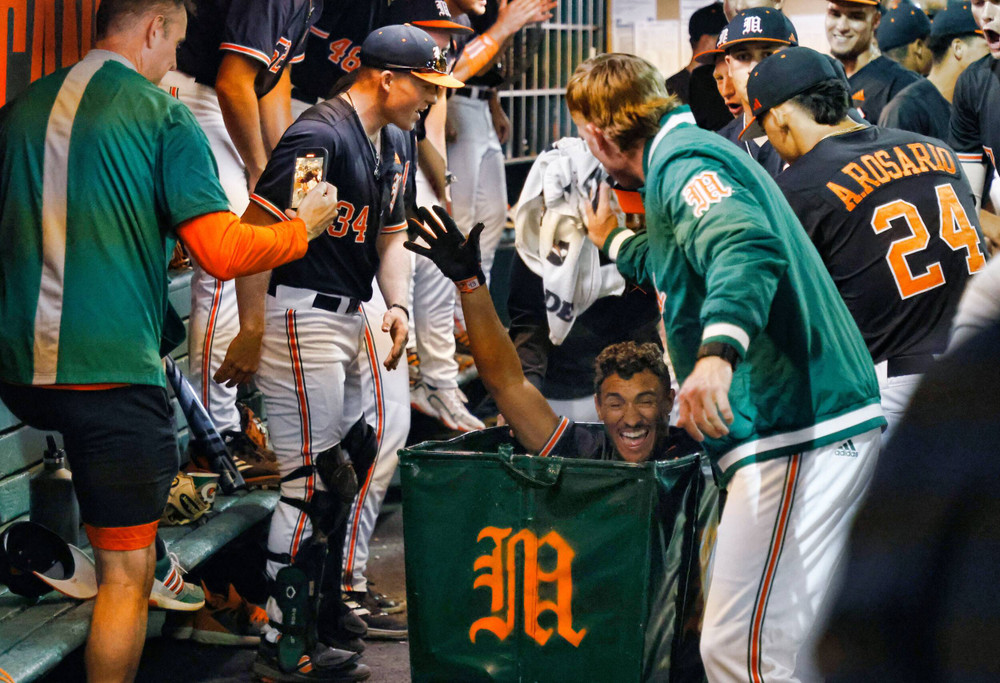 After the Wolfpack (13-1, 0-1 ACC) tallied eight unanswered runs to level the score at stretch time, Farrow flexed his muscles again.
The Merritt Island, Fla., native launched an opposite-field solo shot to put the Hurricanes back in front for good.
Fourth-year right-handers Ben Chestnutt and Alejandro Torres slammed the door, teaming up to toss the final 2 1/3 frames. Chestnutt garnered his second win of the year, while Torres picked up his first career save with a 1-2-3 ninth.
NC State veteran righty Baker Nelson (3-1) was tagged with the loss after giving up the seventh-inning homer.
Miami second baseman Blake Cyr and left fielder Renzo Gonzalez both totaled two hits in the victory, while outfielder Edgardo Villegas notched his third homer of the year.
Following the Hurricanes' second ranked victory of the year, Miami will look to secure the series over the Wolfpack Saturday. First pitch is slated for 6 p.m.
"If there's one thing that I've learned from being here it is that every game you have in the ACC is a dogfight," Torres said. "It's not going to be a walk in the park. We're going to respect every team and show up ready to fight."
To keep up with the University of Miami baseball team on social media, follow @CanesBaseball on Twitter, Instagram and Facebook.