Hurricanes Begin ACC Action with No. 19 NC State
THE MATCHUP
•  The Miami Hurricanes will welcome the 19th-ranked NC State Wolfpack to Coral Gables for the opening weekend of ACC play.
•  The Hurricanes lead the all-time series over the Wolfpack, 37-21, including a 20-8 edge at Alex Rodriguez Park at Mark Light Field.
•  Miami and NC State last met in the 2022 ACC Baseball Championship, but haven't faced off at Mark Light Field since 2019. 
•  Since Gino DiMare was elevated to head coach in 2019, Miami boasts the best conference win percentage (.622) in the ACC.
•  Under DiMare's watch, the Hurricanes have tallied the third-best overall mark in the league, totaling a 134-70 (.657) record.
•  Miami sophomore right-handed hurler Karson Ligon (2-0, 3.20 ERA) gets the ball in the series opener, opposing NC State redshirt junior righty Logan Whitaker (2-0, 2.81 ERA).
•  Across his first three starts, Ligon leads the Hurricanes in wins and opponent batting average (.149), while tallying the second-best ERA among qualified pitchers.
MIAMI MASHERS
•  As of March 9, the Hurricanes are fourth in the ACC and tied for ninth nationally with 29 home runs.
•  Miami has circled the bases in 11 of 13 games, totaling nine multi-homer performances along the way.
•  The Hurricanes are on pace for 123 homers during the regular season, which would be the second-most by a Miami team in a single season.
•  Eleven different Hurricanes have left the yard, with junior Yohandy Morales and freshman Blake Cyr blasting a co-team best five round-trippers.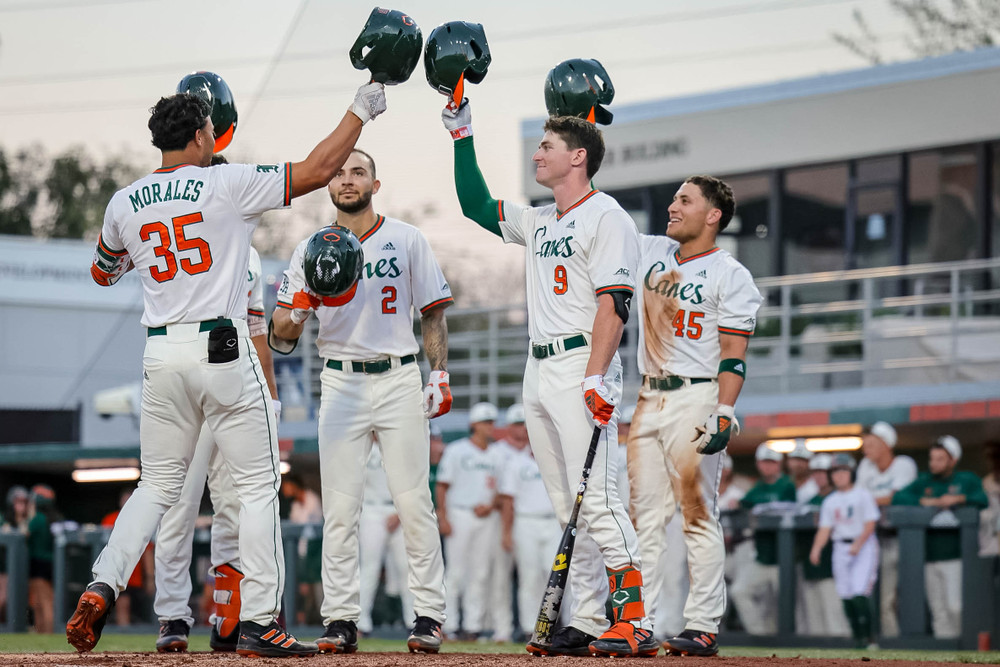 YOYO MAKES US GOGO
•  Junior third baseman Yohandy Morales is one of the most prolific power hitters in the nation.
•  Morales is tied for fourth in the ACC in hits (22), seventh in average (.458) and tied for 10th in home runs (5).
•  A year ago, Morales tallied a team-best 64 runs, 17 doubles, three triples, 18 homers, 59 RBI, 156 total bases and a .650 slugging percentage.
•  The Miami native became the first Hurricane since Zack Collins in 2015 and 2016 to blast double-digit dingers in back to-back seasons.
•  An All-ACC Second Team selection, Morales notched a .329 average, the third-best mark among the Hurricanes.
•  Throughout his career, the 6-foot-4, 225-pound slugger has had a flair for the dramatic, as 18 of his 34 home runs have either been game-tying, go-ahead or game-winning jacks.
•  During the 2022 Coral Gables Regional, Morales became only the fourth Hurricane all-time with a trio of homers in a single postseason game, joining Lale Esquivel (1998), Kevin Brown (2001) and Scott Lawson (2010).
•  Following his star-studded sophomore season, he was chosen to represent his country as a member of USA Baseball's Collegiate National Team.
•  As a rookie in 2021, Morales garnered All-ACC Freshman Team and Collegiate Baseball Freshman All-America honors after mounting a .284 average, 11 round-trippers and a .874 OPS. In the postseason, he paced the Hurricanes with a .444 average and was named to the Gainesville All-Regional Team.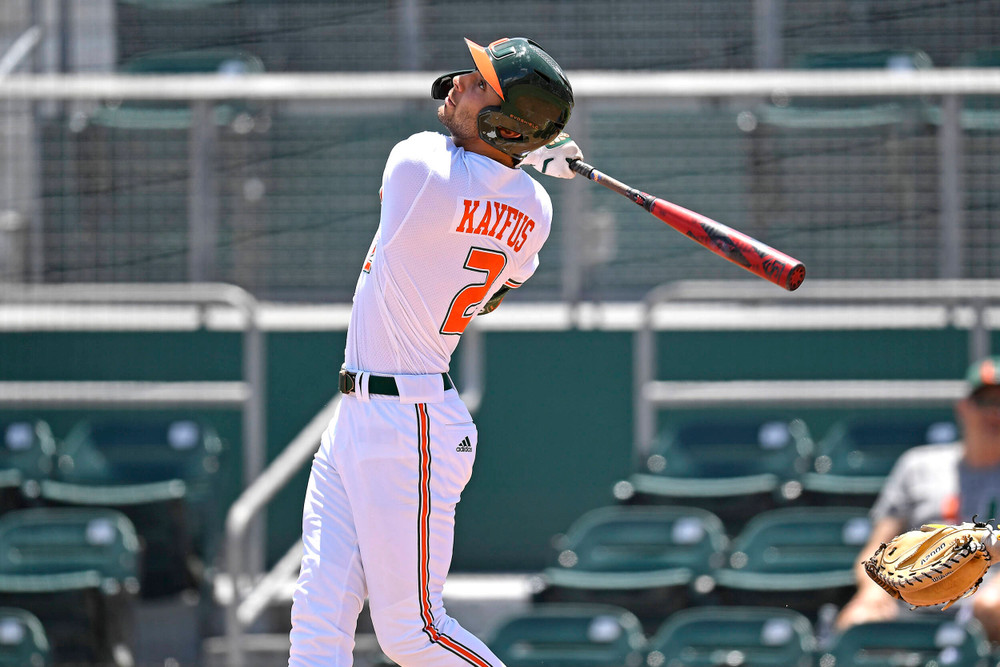 COLLIN JOSEPH KAYFUS
•  Junior CJ Kayfus has built a reputation as one of the best hitters in the ACC
•  Kayfus has reached base safely in 75 of the last 78 contests, dating back to 2021.
•  The 2022 Hurricanes MVP led Miami with a .366 average, 87 hits, 38 walks, a .460 on-base percentage, 16 stolen bases and 27 multi-hit games.
•  Within the conference, the All-ACC second team first baseman finished eighth in average, tied for eighth in hits, tied for ninth in stolen bases and 11th in on-base percentage.
•  During his freshman campaign, Kayfus hit .298 with three homers and six RBI, playing in 40 games, including 10 starts.
•  The Wellington, Fla., native was named to the 2021 All-Gainesville Team after hitting .308 in three contests.
ARE YOU CYRIOUS?
•  Freshman Blake Cyr has burst onto the college baseball scene across his first dozen games.
•  As of March 9, Cyr is one of three freshmen in the nation with five home runs and 22 RBI.
•  The rookie is tied for third in the ACC in RBI and 10th in homers.
•  In Miami's 14-6 win over then-No. 6 Florida, Cyr finished one RBI shy of the Hurricanes' freshman single-game record set by Randy Guerra (8) in 1976.
•  Heading into the 2023 campaign, the Windermere, Fla., native was ranked as the 11th best freshman in the ACC, according to D1Baseball.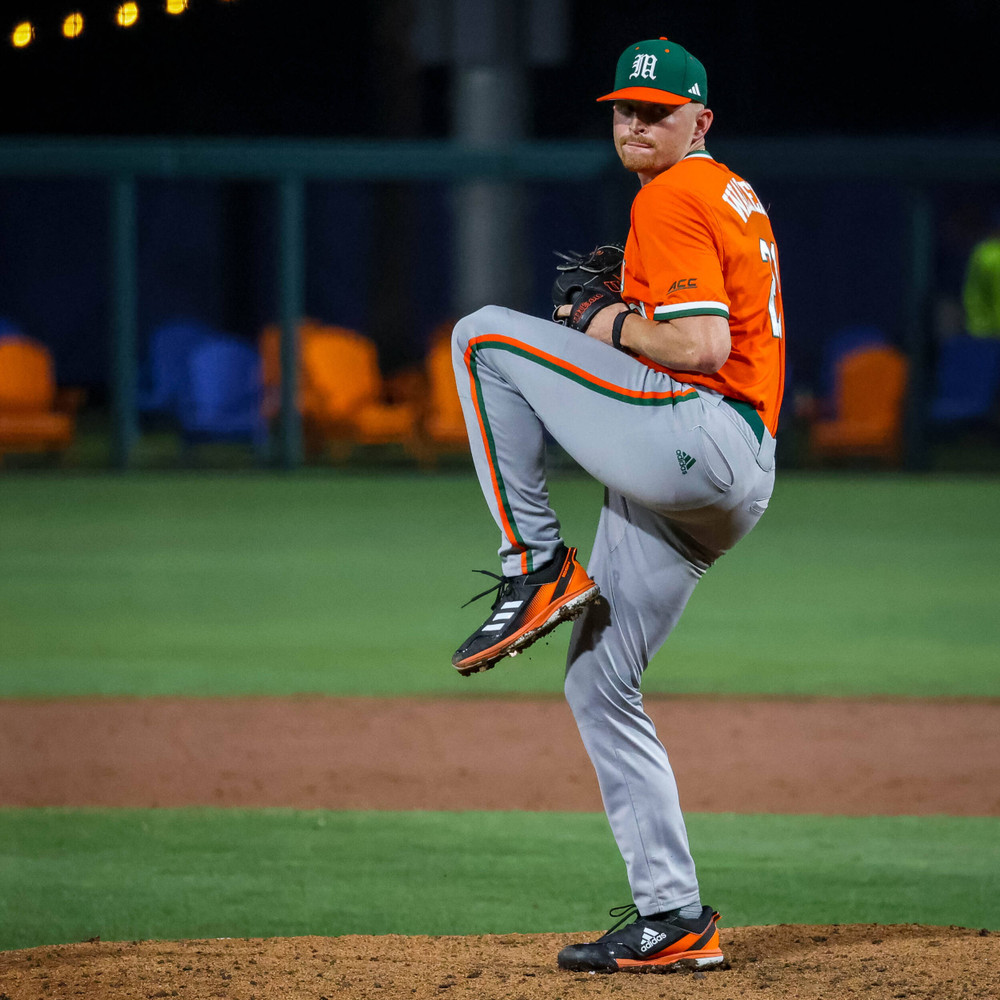 FIRE ME UP, WALT
•  Closer Andrew Walters enters the 2023 campaign as a consensus preseason All-American and National Player of the Year candidate.
•  The right-hander collected first-team All-America recognition from Baseball America, D1Baseball, Perfect Game and the NCBWA, while he received second-team plaudits from the ABCA/Rawlings and Collegiate Baseball.
•  Walters was one of 10 finalists for the 2022 NCBWA Stopper of the Year award after pacing the ACC and finishing fifth nationally with 14 saves.
•  The 6-foot-4, 222-pound hurler tallied a 1.65 ERA, 62 strikeouts and just six walks across 32.2 frames.
•  Among pitchers who threw at least 25 innings at the  Division I level last year, Walters leads all returning Power Five arms in WHIP (0.58) and opponent batting average (.116).
•  In his career, the Palm Bay, Florida, native has totaled a 1.41 ERA with 112 punchouts over 63 2/3 frames.