Takeaways from Miami's Game Against Pittsburgh
MIAMI GARDENS, Fla. – For the Hurricanes, Saturday night was an opportunity to give their seniors one last special memory at Hard Rock Stadium, to secure bowl eligibility and to end the regular season on a positive note.
But Pittsburgh capitalized on a series of early Miami turnovers to build a three-touchdown lead on its way to what was eventually a 42-16 win over the Hurricanes.
The victory snapped the Panthers' four-game losing streak to the Hurricanes. For Miami, the loss marked the end to what has been a tough season and was a disappointing night for those playing their final game in orange and green.
"The first thing is, you have to acknowledge the seniors because, even though it is a painful night, there are guys who have been in there for four and five years, some three years, some just got here and some who have been through a lot, a lot of change," head coach Mario Cristobal said of his post-game message to the Hurricanes in the locker room. "Some have been through injuries…And you always want great things for them in terms of the way it ends. It's important to acknowledge and thank those guys, so that was the first message, the fact that those guys deserve that from every player…
"And then, after that was the reality that setting a standard comes with laying a foundation, and sometimes it is really painful and that is where we are. The standards that we set are high and they are to be uncompromised and they will continue to be uncompromised. And we will set them higher and higher each and every year. We've got to work to get to there. There's no way around it. There's no fluff and there is no sugar-coating it. We're not there now and, certainly, we've got work to do."
The Hurricanes, who finished the season 5-7, will now begin what Cristobal described as a full evaluation of the program as they start looking forward to 2023.
Here, more of what Cristobal and the Hurricanes took away from Saturday's season finale…
Tyler Van Dyke is a fighter
Quarterback Tyler Van Dyke, last year's ACC Rookie of the Year, entered the season with lofty goals and big expectations.
But the third-year sophomore has been hampered by an injury throughout the latter part of the season. He started Saturday's game against Pittsburgh, but was unable to finish the night after a hard hit that came as he threw an interception.
Van Dyke completed 4 of 8 passes for 83 yards with an interception before leaving the game. Jake Garcia, who came on in relief of Van Dyke, completed 17 of 28 passes for 192 yards with two touchdowns.
"Again, I know it sounds like a broken record…[Van Dyke] was healthy, he practiced well and he was cleared medically. You check that 10 times over to make sure, but it was something that was really painful for him after he had taken that shot on the interception," Cristobal said. "So, was it frustrating? Yes. Obviously, you saw what a good player he is and it has been painful not having him for a good part of the season. But you have confidence and faith in your other guys and you do everything you possibly can to generate some points and some yards, but we didn't do a good enough job at all. And we put a lot of pressure on the defense."
Will Mallory finishes strong
Tight end Will Mallory was among the seniors honored Saturday night and the Jacksonville native finished his Hurricanes career by leaving his name in the Miami record book.
Mallory, who had a career-high nine catches for 103 yards, scored the 14th touchdown of his career in the fourth quarter and tied the Miami record for touchdowns by a tight end.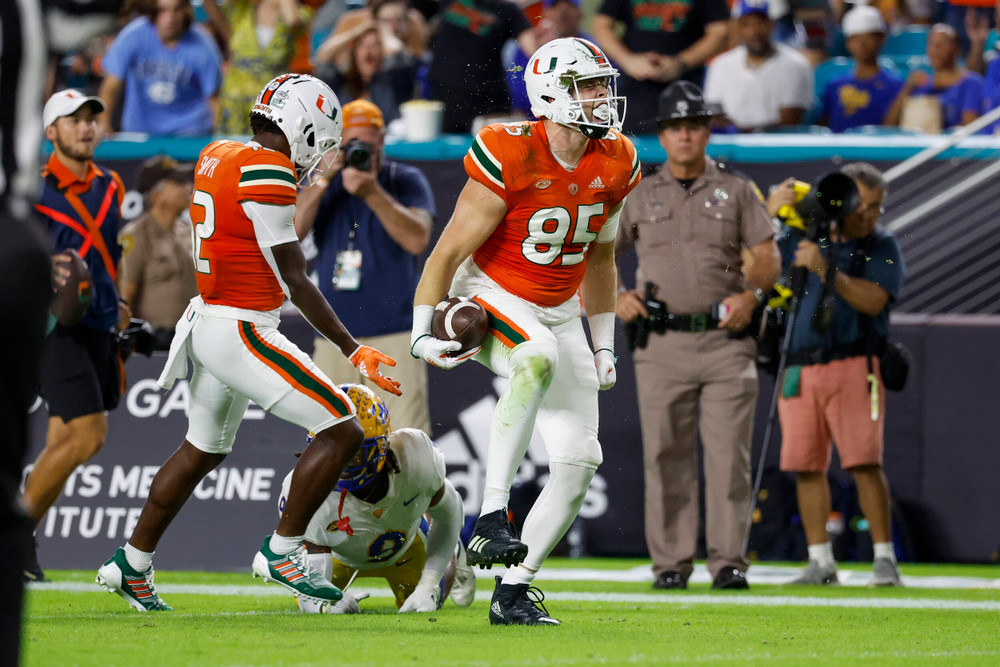 He finished his career with 1,544 yards, which tied him for the second-most receiving yards by a tight end in Miami history.
"It means a lot to me. That wasn't just done by me. That was done by countless coaches and players that have helped me get to that," Mallory said. "I wouldn't have been able to do it without any of them."
Kam Kinchens emerging as a leader on and off the field
Sophomore safety Kam Kinchens has been one of the leaders of Miami's defense all year, finishing the season with a team-high 59 tackles and six interceptions, a number that is tied for the national lead.
Cristobal shared that after Saturday's game, Kinchens – who had seven tackles against the Panthers – addressed the Hurricanes in the locker room and seemingly set the tone for the offseason.
"I thought Kamren Kinchens said it best in the locker room as he left. He called up everybody and told them how much he loved them and that we are going to get it done and anyone that can't or doesn't want to be a part of that, move fast and get out of the way," Cristobal said. "That's what it takes. That's what it's taken at Miami every single time…That's what it is going to take, no fluff, no proclamations, no declarations, no tweets. We just have to get back to work and we have to make sure that we continue to develop and fill the roster with the right people, high-caliber, tough-minded guys, and make sure that we are doing the right things as coaches."
Said Kinchens, of his message to the Hurricanes, "We know 5-7 isn't the standard. Nobody wants it to be the standard. Not to speak on anything that happened in the past, we know what we're trying to reach…We're trying to reach the glory days. But we're trying to make it for ourselves. We're not trying to do it for the past."
Miami's work will continue
Though there is no game to prepare for next week, Cristobal made it clear there won't be much time for the Hurricanes to dwell on the disappointing finish to the season.
The coach said he intends to begin evaluating every aspect of the program and with the start of the early signing period looming, recruiting will be a priority.
To get the Hurricanes back to championship form, he's prepared to scrutinize every aspect of the program, including Miami's roster and personnel. And he understands that may lead to some uncomfortable conversations.
"We didn't accomplish our goal of being in the postseason, so, obviously, we didn't live up to our own expectations. You know, it's hard because we've all been in the postseason for the last decade or so as a head coach or as an assistant coach, so, in taking on this situation, we had nothing but excitement and, for me, it's nothing but drive and determination going forward," Cristobal said. "I don't get fazed or flustered by what needs to be done. [There] is some work to do now. It's important to assess reality, right? It's important to look at exactly each and every position and performance and everything that goes with it and what needs to be done to improve it and elevate a program. That is what rebuilding a program is all about and this is rebuilding a program…
"This program has had to be rebuilt, whether that be from a recruiting standpoint, a schematic standpoint, culture standpoint, toughness standpoint, resiliency standpoint. There's no need to BS ourselves, we [aren't] going to do that. We have to get to work with tough-minded people, talented and tough-minded people and, you know what, that is uncomfortable for some people and that's alright. There's no flinching here."