"I Had to Find My Role and Provide Where I Could"
ATLANTA – Around him, teammates celebrated. Fans cheered. Jubilation reigned.
But Jacurri Brown knew he needed to find his family.
Once he did, the freshman quarterback who hails from Valdosta, Georgia, embraced his mother and let himself savor a moment that seemed so improbable when the season started.
Brown, who'd been pressed into duty after an injury sidelined veteran quarterback Tyler Van Dyke, had just made the first start of his college career, had accounted for 223 yards on his own and had helped lead the Hurricanes to a 35-14 win over Georgia Tech in a game Miami needed.
That all of that happened in his home state only made the moment that much sweeter.
"It felt amazing, felt like everything I went through from being younger to up until this point was worth it," said Brown, who completed 14 of 19 passes for 136 yards with three touchdowns. "All the hard coaching and everything like that, it was all worth it."
It has been a journey for Brown, who arrived at Miami in January and wasted little time trying to find ways to help the Hurricanes improve.
He's helped run the scout team offense at times during practice. Has signaled calls in for Van Dyke and the offense from the sideline. And after Van Dyke was unable to finish last week's game against rival Florida State, Brown was thrown into a most difficult situation.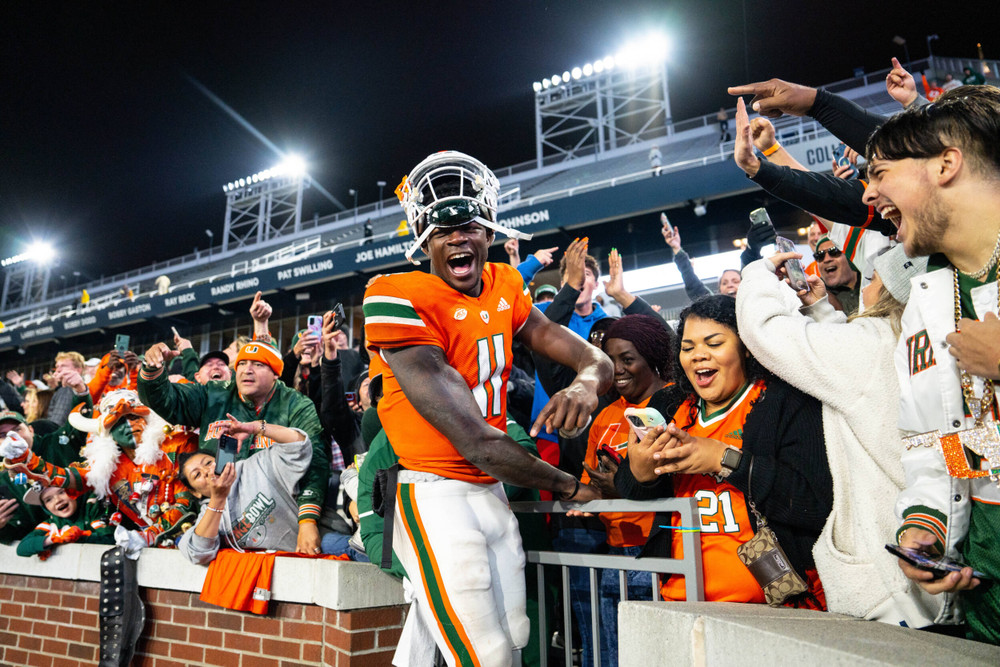 Called on to try and spark the Miami offense, Brown rushed for 64 yards against the Seminoles, but threw for just 37 yards. The Hurricanes were held scoreless in the second half and eventually, left Hard Rock Stadium searching for answers after a 45-3 loss.
But Brown and the rest of the Hurricanes put their heads down and got to work ahead of Saturday's Coastal Division matchup against Georgia Tech.
Their efforts paid off.
With 8:44 left in the first quarter, Brown completed his first touchdown pass as a Hurricane, a 22-yard scoring pass to Will Mallory that put Miami on the board first.
In the second quarter, Brown connected with Jaleel Skinner on an 11-yard touchdown that pushed the Hurricanes' lead to 14-0 after an Andy Borregales extra point.
And after Georgia Tech cut the lead in half late in the third quarter, Brown engineered an eight-play, 51-yard scoring drive that ended when he threw an 8-yard touchdown pass to Colbie Young.
The Yellow Jackets would add a score in the game's final minutes, but ultimately, it wasn't enough and Brown left Bobby Dodd Stadium as the first true freshman quarterback at Miami to throw for three touchdowns in his first start since Gino Torretta did the same in 1989.
So, yes, the embrace he exchanged with his mother seemed a fitting end to a memorable night.
"In the beginning of the season, I started off signaling and I was on scout [team] and then I was doing like the little wildcat thing and I would always call her," Brown said. "I was always good about it, but she always knew me, that I was always down on myself and I wanted to be better because I felt like I could provide to the team. She just got in my ear and she was just like 'I told you. Like I told you, it's God's timing.' I mean, it's crazy that my first start came in Georgia and all my family was there to watch me."
Brown's family and friends weren't the only ones happy with the quarterback's effort.
Teammates and coaches had high praise for the freshman on Saturday.
"If you watch his high school tape, he does a good job throwing it. He does a good job running it and he runs it with power and he has great ball security. Always has," head coach Mario Cristobal said. "He did a real nice job today."
Added Miami safety Kamren Kinchens, "He's a great guy. You see him day in, day out, all the quarterbacks are always working and he's always with them. Anytime Tyler or Jake [Garcia] are going to get work, he's right there with them…Any quarterback that steps on the field, they have our full confidence. With him, he just brings a lot of joy to the team. He brings a running aspect. That was good."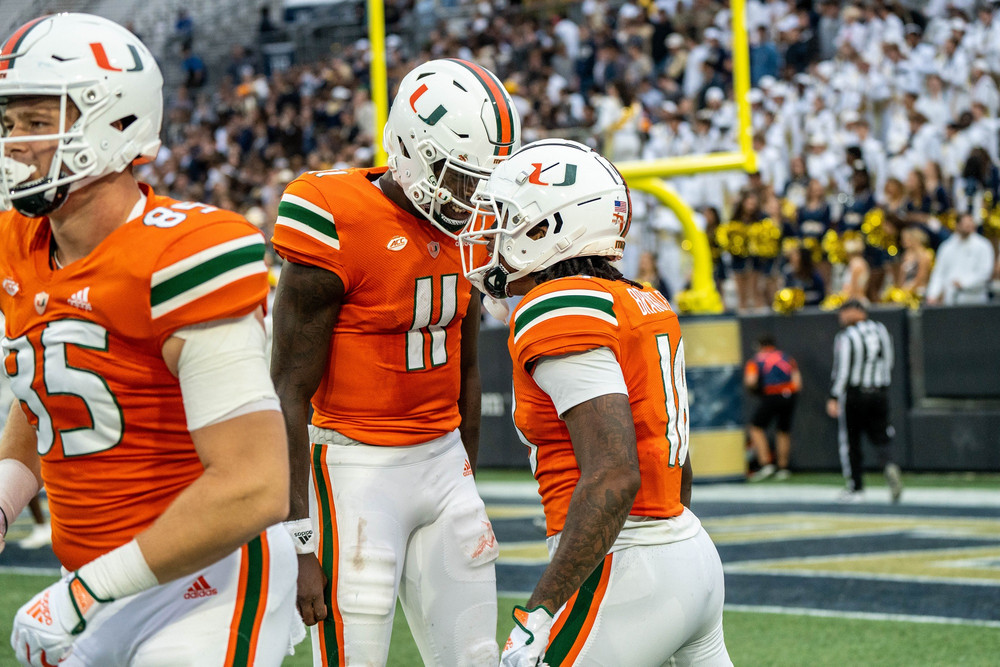 While it remains to be seen whether Brown will start again next week when the Hurricanes travel to face Clemson, the freshman said the past few weeks have been filled with lessons that he knows will only continue to make him a better quarterback.
And he stressed that he's going to continue doing everything he can to help the Hurricanes, no matter what they need from him.
"I came in the spring and I had to really gut-check [myself]. In high school, I was that guy for a little bit. A coach when I went to Elite 11 told me 'You've never played quarterback until you've been in a room with somebody better than you,'" Brown said. "I would say when I got here, I was challenged with my pride and my competitiveness and supporting those guys. When the season started, I had to find my role and provide where I could.
"Jake is always on my back and I'm always on his. Even Tyler, [Peyton] Matocha, all those guys, we're probably the closest quarterbacks room I've probably been in for a while. And everybody just wants each other to win. The one goal is to win the game. I mean, whoever's in, we're going to push him and help him out."