Takeaways from Miami's Win over Virginia
CHARLOTTESVILLE, Va. – Another trip to Virginia, another much-needed win for the Hurricanes.
Two weeks ago, Miami notched a nail-biter of a win over Virginia Tech in Blacksburg. On Saturday, it was a nail-biter of a win over Virginia in Charlottesville.
But this game, well, this one was different. Very different.
While against the Hokies Miami started fast and had to fend off a late rally, against the Cavaliers the Hurricanes found themselves needing four overtimes to secure the win.
Understandably, when they did, the celebration was pretty memorable.
Sophomore quarterback Jake Garcia – who started in place of the injured Tyler Van Dyke – scrambled through the Virginia defense to make it to the pylon, scoring the two-point conversion that gave Miami the 14-12 victory.
It was the only time the Hurricanes put the ball in the end zone, with all of their previous points coming after four Andy Borregales field goals. But it was an effort that capped an afternoon of resiliency for a Hurricanes team that has endured its share of challenges this season.
"I think every team needs something like this. I mean, no one enjoys the anxiety that takes over, right, when you go through a tight game like that. But I mean, quite honestly, I think our guys enjoyed it," head coach Mario Cristobal said. "I know our coaches really enjoyed the competitive nature of this particular game. And I think every team could really benefit, learn a lot from a game like this on either side, on both sides. Because you're so close. You're a tipped ball away, right? You're a missed block away. You're a penalty away. And it just increases everybody's awareness of the value of each and every snap. Every single snap is like gold and you can't waste any of them, especially in conference play, especially in conference divisional play, so [this game was] really important."
Here, some of what the Hurricanes said they could take from Saturday's win at Virginia before they start to begin preparations for this week's matchup against rival Florida State…
1. The Hurricanes showed plenty of fight
Early this month, the Hurricanes found themselves trying to end a three-game losing streak. Two games ago against Duke, they turned the ball over eight times. And injuries have forced Miami to make personnel adjustments all across the field.
The challenges kept coming Saturday at Virginia, with the Hurricanes moving the ball at times, but struggling to score and again, seeing playmakers depart after getting hurt.
But Miami's defense kept the Cavaliers out of the end zone, too. And Borregales delivered in some very clutch moments.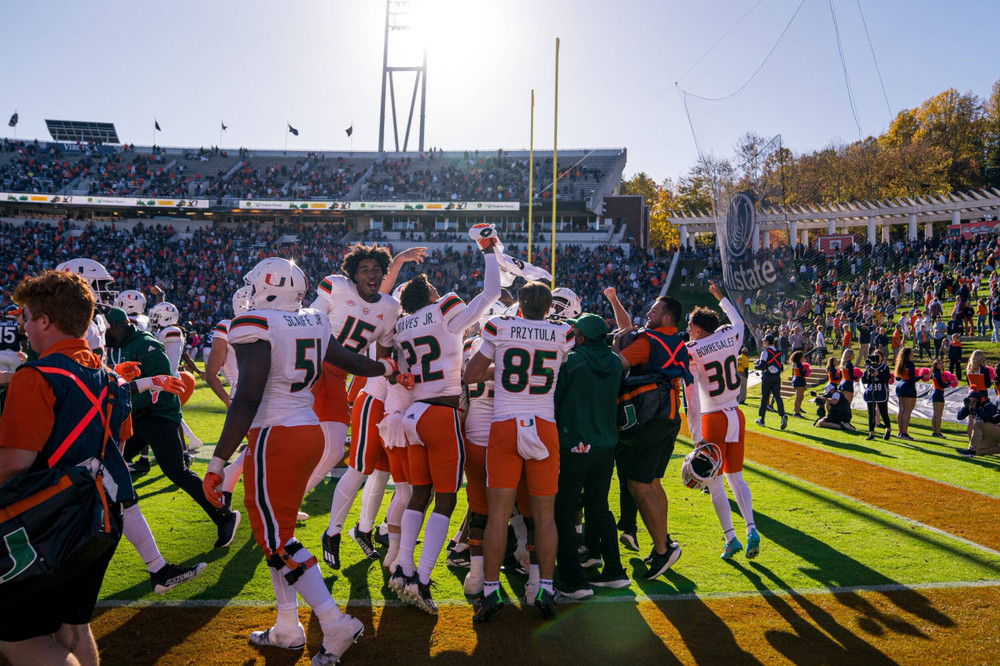 All of that was enough to help the Hurricane even both their overall record and their conference record to 4-4 and 2-2 in ACC play.
"I can't say enough about the resiliency of the team, which was something that we felt certainly needed to be upgraded based on some of the recent things in some of our games for some of our guys," Cristobal said. "I'm really proud of our guys for effort, toughness, and playing hard the whole way through. The defense, minus some of those third downs, and the quarterback played about as good of a game as you can play. I saw some phenomenal stuff, particularly down in the red zones, particularly the tight red zone and the fourth down stop. Offensively, the best part was that the sideline, no matter what happened they just continued to get together, support each other, push each other and lift each other up. I'm really proud of the support they showed knowing that we're in one of those games where you might have to win it 3-0 or win it in four overtimes. This is something positive to build on."
2. Borregales shines
In last year's game against Virginia at Hard Rock Stadium, Borregales – then a freshmen – missed a game-winning kick with three seconds left and the Cavaliers escaped with the victory.
Borregales said it didn't hit him until midway through Saturday's game that that missed kick came against the same team he was facing and it was clear throughout the afternoon he was unfazed – both by the past and what Virginia did to try and ice him in the present.
Borregales converted on all four of his field goal attempts, including one as time expired at the end of regulation and another as time expired in the first half, even after Virginia called timeout twice an in effort to throw him off his game.
The kicker delivered again in overtime, converting on two field goals to keep Miami alive.
"Wow. Wow. I mean, well he does it in practice all the time," Cristobal said. "Actually, on Tuesdays and Wednesdays when we do [the] two-minute [drill], we've made the kick line the 36, 37-yard line and he kicks 52, 53 yarders. Unfazed, even before halftime even, even with the double freeze and whatnot that went on. Ironically, we said we might have to win some games [55-54] and some, 3-0. It almost played out that way."
Said Borregales of his day, "Going 4-for-4 in game like this means a lot. It means a lot to the team. We came out with a 'w.' Seeing how the team reacted after, it just got me excited."
3. The defense delivers
Miami's defense knew it faced a challenge against fifth-year senior quarterback Brennan Armstrong, who has rewritten the Virginia record book.
Armstrong may have accounted for 275 yards Saturday, but he didn't throw a touchdown pass and was sacked five times. In all, Miami posted 11 tackles for loss and came up big in multiple goal-line situations, including a goal-line stand in the third quarter in which Virginia couldn't score, despite a 1st-and-goal from the Miami 1-yard line.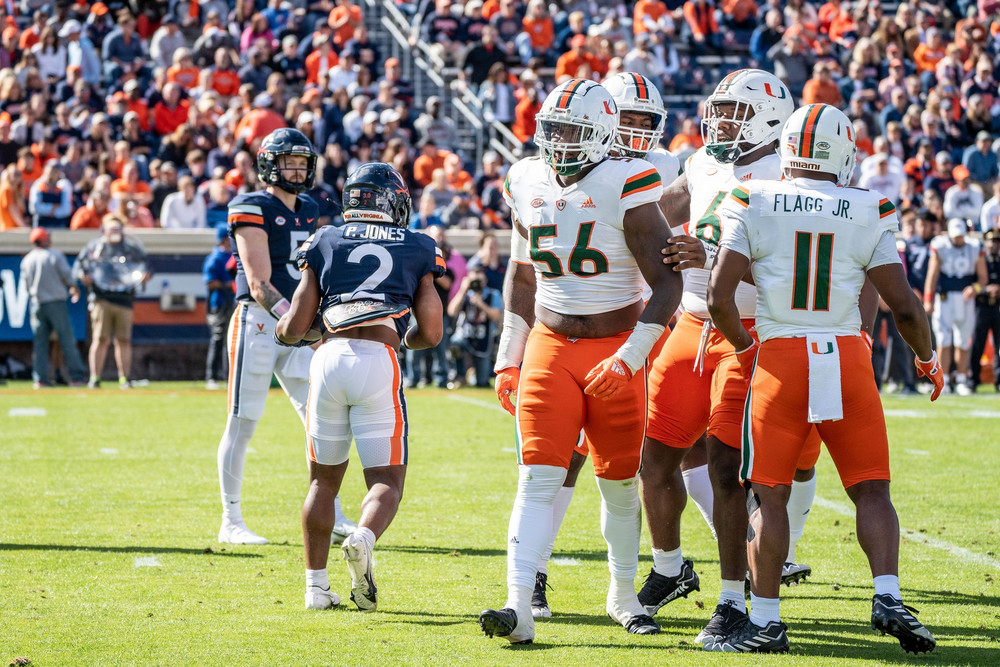 "I think today, as opposed to maybe a couple weeks ago, as opposed to maybe week three of the season, we were able to put four quarters of really good defense together," Cristobal said. "Especially at halftime, when they came out with their adjustments, hit us on a big play, still find a way to get a stop…Then the success of the stops in overtime, just that defense, really, I mean talk about stepping up and you saw the amount of guys that played, that got reps today with the guys that were down. A great job, man."
Said Miami defensive lineman Mitchell Agude, who had a team-high seven tackles, "It was just never quit. Every down, keep playing your hardest. Just keep fighting. In football, it's about inches. If you can keep them out of the end zone, you can win the game."
4. Garcia, Parrish Jr. lead the offense
With Van Dyke sidelined, Garcia made the first start of his Miami career.
It wasn't perfect, but the quarterback delivered the game-winning two-point conversion and finished 15-of-29 for 125 yards.
"It felt like a normal day. I'm always trying to prepare myself like I am a starter. Whether that was last year, throughout high school, and this year, it felt normal," Garcia said of his first start. "Prior to this game, I went and tried to mentally prepare myself. I told myself that I had to lock in, and it felt normal to me. Obviously, however, there was a little bit of excitement. The ball got out of my hands a couple times earlier on in the game. I just have to get better with that. We have to stick to what we know and execute that."
Meanwhile, running back Henry Parrish Jr. – who has missed time with an injury this season – rushed for a game-high 113 yards on 24 carries.
Said Parrish, "I'll say the run game, we kind of struggled in the first half, we just had to stick to it and just work. It was going to open up and [we] just had to take advantage of every opportunity."
5. Florida State week has arrived
It's one of the most anticipated game on the schedule every season and finally, the Hurricanes can turn their attention to rival Florida State.
The Seminoles will come to Hard Rock Stadium on Saturday for this year's matchup and will bring with them a 5-3 record.
There's no doubt they'll have Miami's full attention, but as they have after every game of the season, win or lose, the Hurricanes stressed the need to continue using each practice as an opportunity to continue focus on themselves and continue improving.
"[We're] getting right back to work tomorrow," Cristobal said.
Added Agude, "We're going to focus on correcting our mistakes. It's going to be an exciting game, but we have to keep working, day-by-day."