Four Hurricanes Named to All-ACC Academic Team
CORAL GABLES, Fla. — Four members of the University of Miami baseball team were tabbed to the All-ACC Academic Team, the league office announced Monday afternoon.
CJ Kayfus, Karson Ligon, Andrew Walters and Gage Ziehl were among the 66 student-athletes honored, with Walters earning his second selection. This marks the fourth straight season that at least a quartet of Hurricanes have garnered All-ACC Academic recognition.
Minimum academic requirements for selection to the All-ACC Academic Team are a 3.0 grade point average for the previous semester and a 3.0 cumulative average during one's academic career for undergraduate students.
Athletic achievements during the most recent season are also considered in selection the All-ACC Academic Team.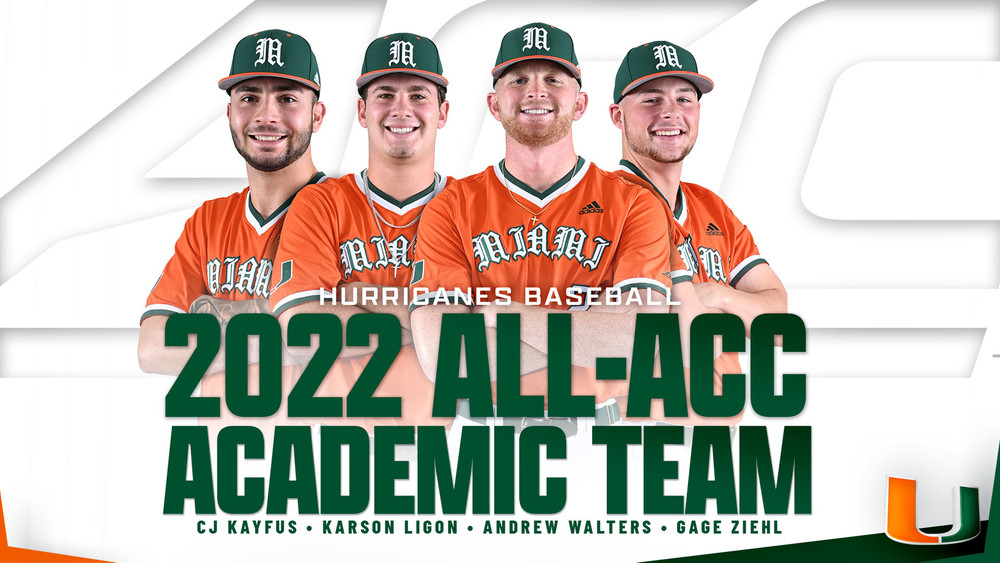 Kayfus provided a spark at the top of the Hurricanes' lineup, pacing Miami in average (.366), hits (87), walks (38), on-base percentage (.460), stolen bases (16) and multi-hit games (27). Within the ACC, the sophomore finished seventh in average and tied for ninth in stolen bases. Kayfus, who was named to the All-ACC second team and Hurricanes MVP, reached base in all but two games this past campaign and in 62 of the last 64 contests, dating back to 2021.
The first baseman completed his second year at Miami and is majoring in management. Kayfus has received two Athletic Director's Honor Roll awards and is a four-team Book Buster Club recipient. The Wellington, Fla., native has also been listed on the AD's Honor Roll twice in his career.
Ligon emerged as one of the top freshman arms in the conference in his debut season with the Hurricanes. The 6-foot-1, 200-pound right-hander held opponents to a .275 batting average, which ranked second among ACC rookies. The All-ACC Freshman Team pick tallied a 6-6 ledger with a 4.90 ERA across 75 1/3 innings, notching a spot on the Golden Spikes Award midseason watch list.
The Sarasota, Fla., native is pursuing a bachelor's degree in accounting. In his first year, Ligon earned Dean's List distinction, AD's Honor Roll status and Book Buster club recognition.
In his second season in the orange and green, Walters turned in one of the finest performances by a closer in Miami history. The NCBWA Stopper of the Year Finalist registered an ACC-best 14 saves, which tied for fifth nationally and 10th all-time in a single campaign by a Hurricanes hurler. Walters, who began the year with 22 2/3 consecutive scoreless innings, recorded a 1.65 ERA, allowing just six runs in 24 outings.
The management major has collected Book Buster Club accolades four times in his career, while landing on the AD's Honor Roll three times and the Dean's List once.
Ziehl was a valuable set-up man for the Hurricanes in 2022, leading the club with 30 appearances. The freshman totaled a 2-2 mark with a 4.04 ERA and one save in 35 2/3 frames. Ziehl, who hails from Macedon, N.Y., limiting opposing batters to a .209 average, while picking up 52 punchouts.
The right-handed pitcher was tabbed to the Dean's List, AD's Honor Roll and Book Buster Club as a first-year sport administration major.