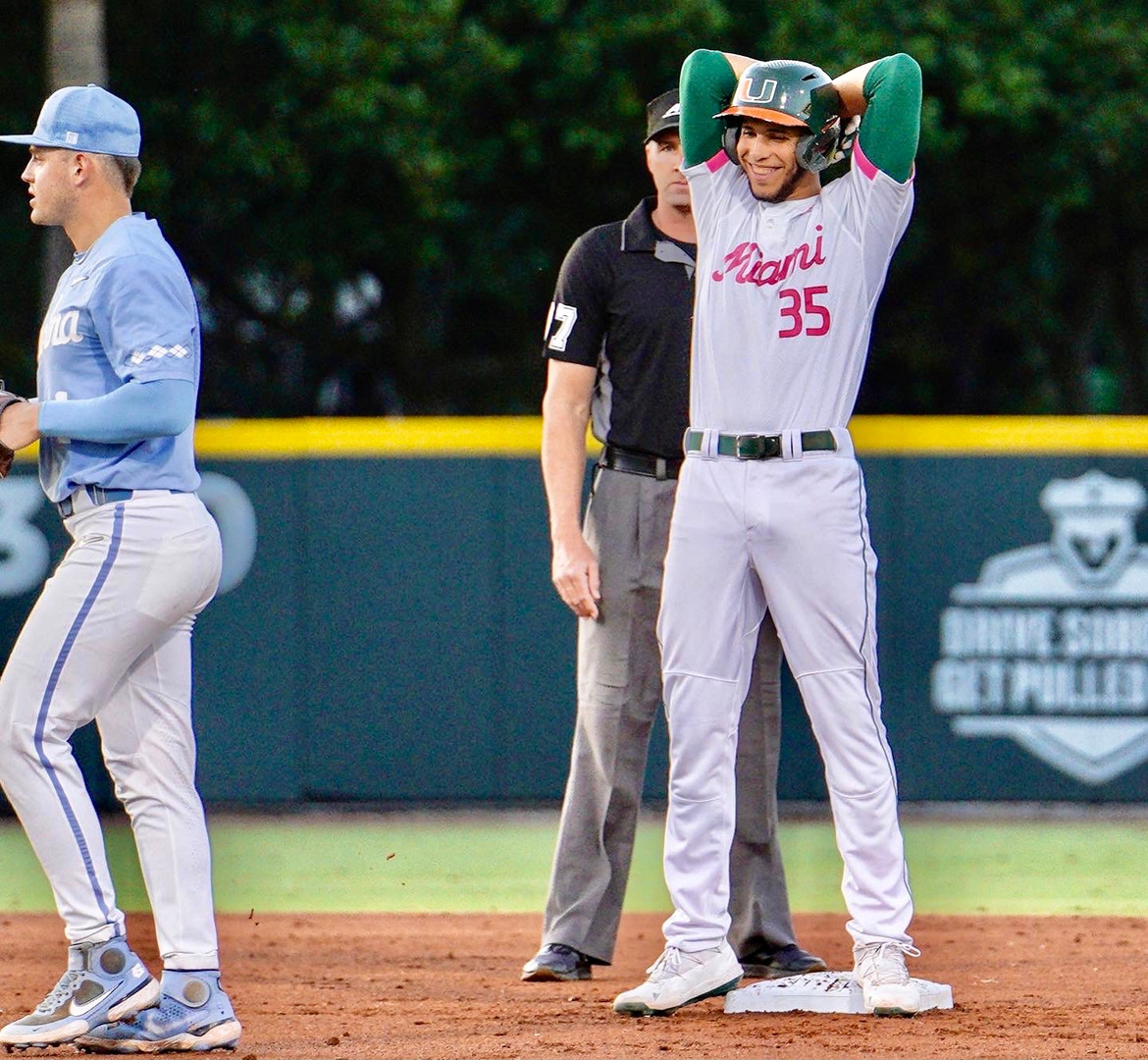 DURHAM, N.C. — Scrappy and young.
When asked about the Miami Hurricanes' identity prior to Opening Day, sophomore Yohandy Morales didn't hesitate.
"A lot of people are doubting us, but we're going to prove everybody wrong," Morales said. "We're going to show what the University of Miami is all about."
Through its first 24 games, Miami (18-6, 7-2 ACC) has played with a chip on its shoulder.
Now, as the Hurricanes head into their series at Duke (12-13, 3-6 ACC), Miami finds itself as a consensus top-20 team, checking in as high as No. 12 in the polls.
But the Hurricanes still have plenty to prove.
"This team has a lot of fight," the third baseman said. "We hate losing more than we like to win. I'm doing anything I can do to motivate this team."
In his second season, Morales was tabbed a captain alongside right-handed pitcher Jake Garland, as voted on by the Miami players and coaches.
As a freshman, Morales led Miami with 13 doubles, three triples, 11 home runs, 44 RBI and a .532 slugging percentage, earning Freshman All-America status by Collegiate Baseball.
But now, the Miami native is determined to make an impact with more than just his play.
"Motivating the guys, especially the guys that haven't gotten the opportunities," he said. "We need everyone on the roster. Everybody has stay ready and stick together."
Morales' message has stayed true.
Last weekend against then-No. 13 North Carolina, freshman Gaby Gutierrez delivered a pinch-hit game-tying RBI single in the ninth to force extra innings. Then, fellow rookie Renzo Gonzalez notched a walk-off base hit in the 14th frame to secure the sweep for the Hurricanes.
"Building a bond together is really important," Morales said. "I've been just trying to get all the young guys used to college baseball. It's baseball 24/7."
The Hurricanes are riding a five-game winning streak, which matches its longest streak of the season. Miami is off to its best 24-game start and ACC start since 2016 when the Hurricanes last reached the College World Series.
And their next test in front of them is Duke in Durham.
"We're all really motivated," Morales said. "We really want to win. I'm more excited about winning than anything else."
The three-game set begins at 6 p.m. Friday at the Durham Bulls Athletic Park. Miami left-handed pitcher Carson Palmquist (5-1, 3.56 ERA) opposes Duke righty Marcus Johnson (1-5, 4.81 ERA)