Hurricanes Topple 18th-ranked Tigers
 CLEMSON, S.C. — Miami's series opener against Clemson was threatened by rain.
But the only thing in the forecast following first pitch at Doug Kingsmore Stadium was the Hurricanes' first ACC road victory.
Miami poured on eight runs across the first four frames, cruising to an 11-4 win over No. 18 Clemson in front of 3,778 fans Friday evening.
"Our approach, our bodies were much more under control," Miami head coach Gino DiMare said. "When we did get the pitches to hit, we did a very good job. We got the starting pitcher's pitch count up, laid off pitches that were out of the zone and made it more taxing on the pitcher."
The Hurricanes (12-5, 3-1 ACC) totaled double-digit runs for the fifth time in the last six games and tamed the Tigers (14-3, 0-1 ACC) behind a strong start from ace Carson Palmquist (4-1).
Five different Hurricanes drove in runs, highlighted by left fielder Edgardo Villegas' three RBI.
"Hitting is contagious," said Villegas. "I was trying to be aggressive and swing at strikes, that's what I've been doing and I'm going to keep doing it."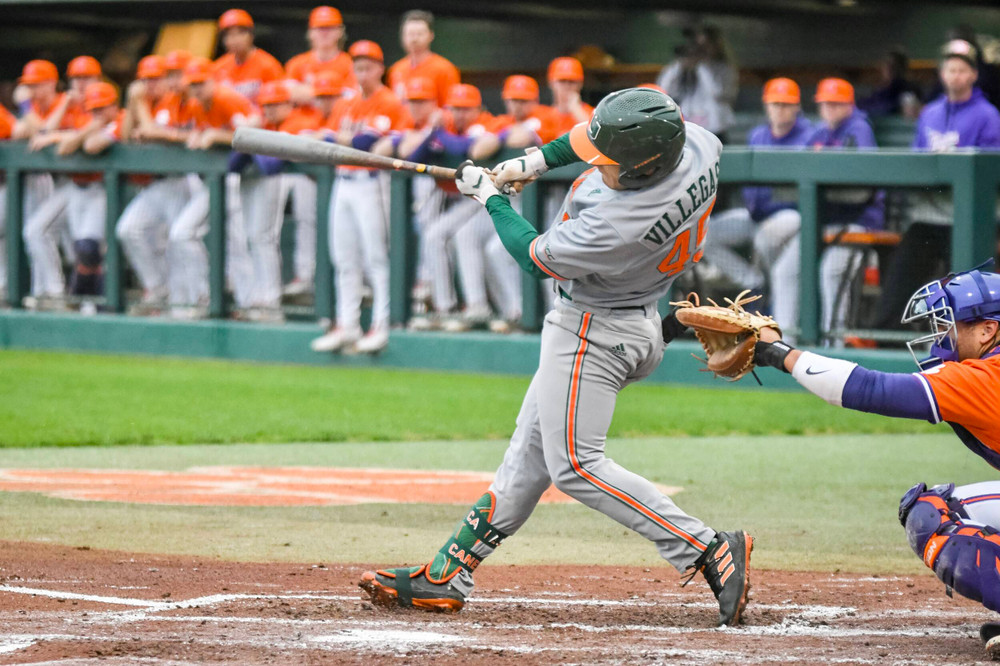 Villegas sparked the Hurricanes in the first inning, drawing a one-out walk. Three-hole hitter Yohandy Morales followed with a free pass of his own, setting the table for catcher Maxwell Romero Jr.
Romero Jr. roped a single through the right side, plating Villegas and putting Miami ahead, 1-0.
Center fielder Jacob Burke doubled the Hurricanes' lead, plating Morales from third with a sacrifice fly in the opening frame.
Miami tacked on two more tallies in the second, getting to Clemson starter Mack Anglin (3-1).
Villegas chased home a run with a groundout up the middle before first baseman CJ Kayfus scampered home to score on a wild pitch, extending the advantage to 4-0.
Two innings later, the Hurricanes ballooned their cushion with a four-run fourth.
Miami led off the inning with three walks to load the bases for Villegas.
The freshman plated a pair with a two-run double, padding the Hurricanes' lead, 6-0.
Morales lofted a fly ball to deep center field, scoring Kayfus from third. Burke capped off the frame with his second sacrifice fly of the evening.
"We made a good adjustment yesterday in practice and I thought it carried over into today," DiMare said. "When you get a lot of runs like that for a guy like Palmquist, it makes it tough on the other team."
Palmquist recorded a career-high 11 strikeouts over a career-long 6.1 innings pitched, becoming the first Hurricane since Chris McMahon on Feb. 29, 2020, to notch double-digit punchouts.
"I believed all day long that we were going to play and kept my routine," Palmquist said. "I felt really good and confident in all my pitches. I wanted to work and fill up the strike zone."
Palmquist retired 12 of the first 13 batters he faced, including the first nine Tigers. The left-handed hurler surrendered just three hits in a 107-pitch performance.
"Everything goes off the command of his fastball," DiMare said. "He commanded both sides of the plate and he did as good a job as I've seen on his glove side."
With the victory, the Hurricanes have won four straight games over the Tigers. Miami has outscored Clemson, 39-12, during that stretch.
The series continues at 3 p.m. Saturday. Miami right-handed pitcher Karson Ligon (2-1, 1.71 ERA) is slated to oppose Clemson righty Nick Hoffmann (3-0, 3.60 ERA).