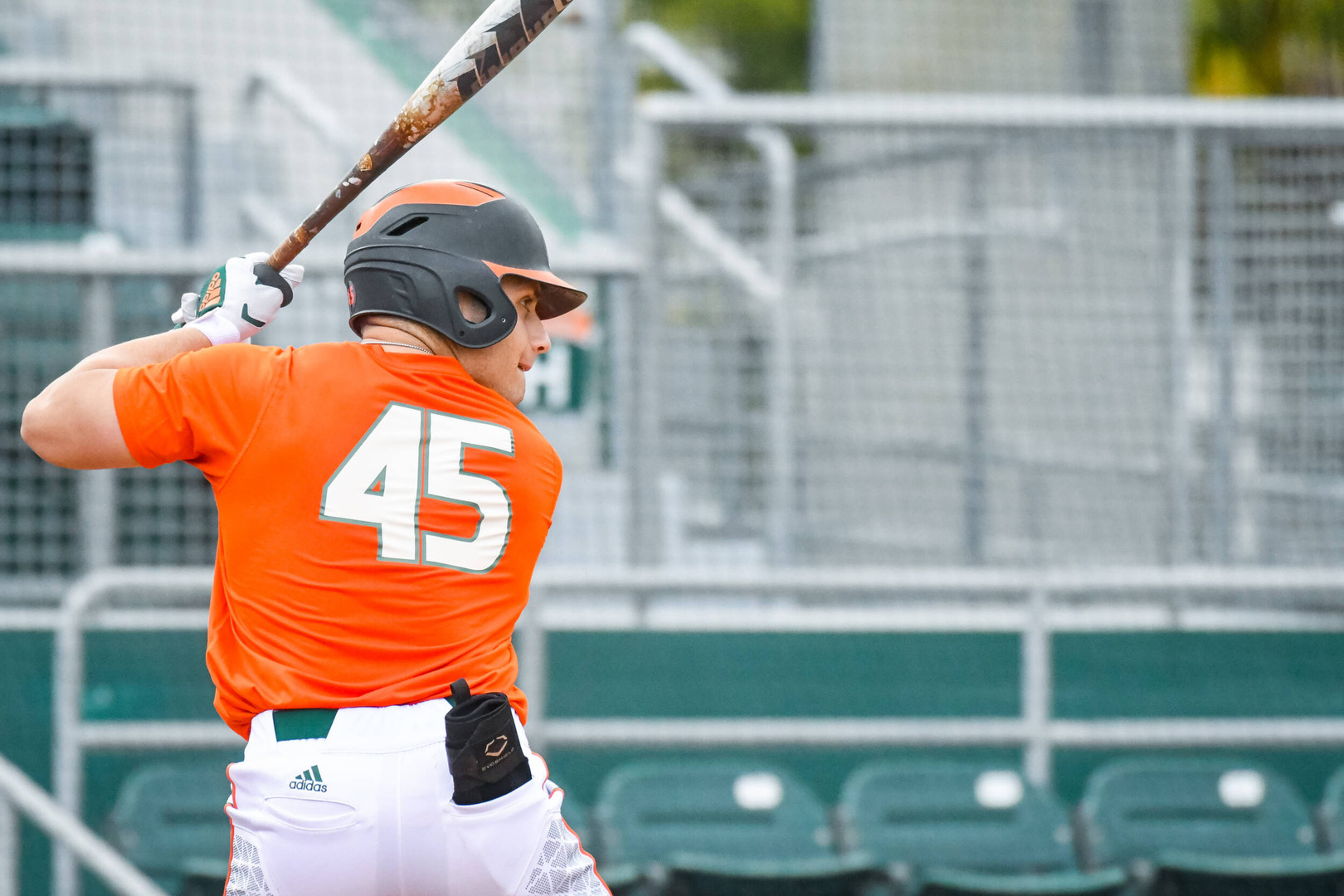 CORAL GABLES, Fla. — As a kid in Puerto Rico, Edgardo Villegas saw two paths to fame and fortune.
And he can't sing.
"You can ask my friends, I'm always singing, but it's definitely not my strength," Villegas said. "Baseball is my passion. Every time I step on the field, I feel that I'm me."
He could've tuned his skills to be the next Bad Bunny, Daddy Yankee or Ozuna.
Instead, the Miami Hurricanes freshman outfielder forged his sights on emulating Roberto Clemente, Carlos Beltrán and Robinson Canó.
From a young age, Edgardo Villegas and Cecilia Rosado saw their son's potential.
They enrolled him in a bilingual school where he learned how to read and write.
But it was on the diamond where the younger Villegas discovered his true love.
"I'm always laughing. It's the way I live," he said. "I can't do things seriously. I like to have fun. Baseball is just a game. If you don't have fun and you don't have passion for what you do every day, you are not going to be successful. Every time I step on the field, I try to be the best player I can."
Baseball runs through Villegas' blood.
His uncle, José Rosado was a two-time AL All-Star for the Kansas City Royals.
The five-year MLB standout served as motivation for Villegas.
As he got older, Villegas continued to finetune his craft.
Villegas woke up at 5 a.m. to ride an hour-long bus to attend the highly-regarded Carlos Beltrán Baseball Academy. There, he was exposed to a college-like schedule.
In the morning, Villegas and his classmates spent time hitting, lifting, running and working on their defense.
And in the afternoon, they'd focus on their studies, taking classes for four hours.
"It prepared me for how to carry myself like a pro. We trained hard every day," Villegas said. "Carlos Beltrán equipped his academy with the stuff the MLB teams have."
As a budding star in Puerto Rico, Villegas caught the attention of colleges and scouts across the U.S.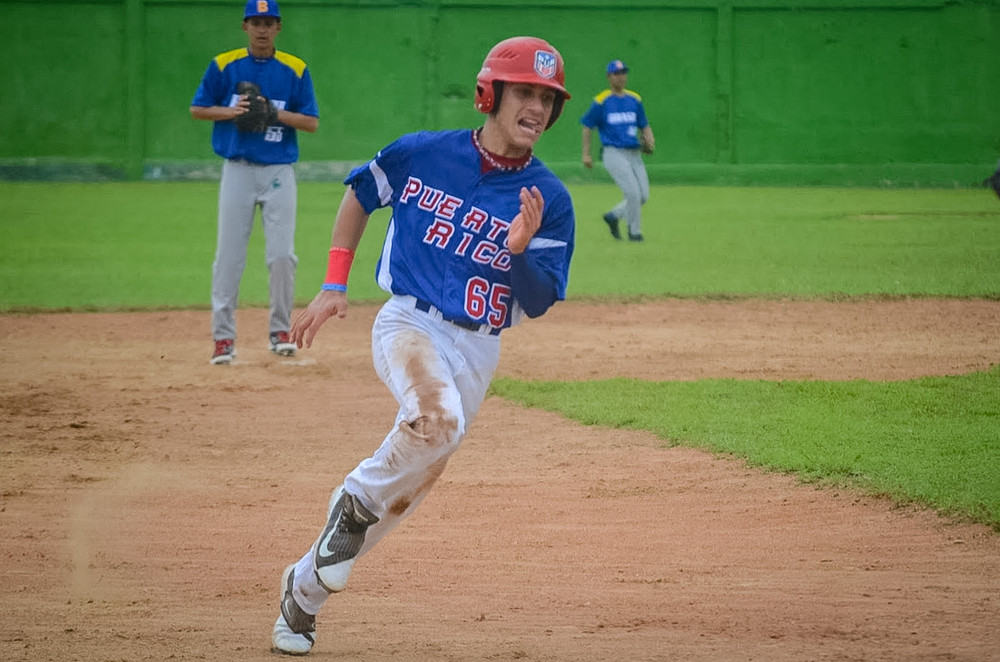 He received offers from some of the top programs in the country, including Miami and Oklahoma, among others.
"I started doing homework and started calling scouts," hitting coach/recruiting coordinator Norberto Lopez said. "He has electric ability. He can run, he can throw, he can hit, he has power. The only thing they told me was he wasn't that tall, but everything else checked the box. I started talking to Edgardo over the phone and I learned he's a great kid with a great personality."
Villegas began to build a strong connection with Lopez.
Over time, the Vega Alta native fell in love with The U.
"I was at the Carlos Beltrán Academy and there was a guy there that was committed to Miami. He was taking his pictures on signing day with a Miami hat and throwing up The U," Villegas said. "I wanted to be like that."
Villegas committed to play at Miami following in the footsteps of Puerto Ricans like Alex Cora and Carlos Correa.
But there'd be plenty of speed bumps to come.
When his senior season in Puerto Rico was canceled due to COVID-19, he enrolled at Doral Academy in Miami.
Villegas was eager to showcase his talents in South Florida, but his final high school campaign would come to a premature end.
"Breaking my foot was a blessing in disguise," he reflected. "At Miami, I can prepare myself to be a better person, student and better player. I can develop my skills both on the field and in the classroom."
The 5-foot-8 dynamo arrived on campus eager to prove he was the player he was prior to his injury.
It took time.
"When I came here, these guys were throwing 95, 97, it's another level. At first, I told myself I was going to get there," he said. "You keep failing and failing and you don't want them to cut you. I wasn't going to give up. I got better and better. No matter what happens, don't quit."
Villegas spent countless hours after fall practices hitting on his own and staying late into the night at Mark Light Field.
As the Hurricanes hit their last few weeks of workouts in 2021, the results started to show.
"He improved a lot as the fall went on and really started showing signs of his tools. Now he's playing more and being around the coaches, he's developed quite a bit. I'm excited to see his abilities come to fruition once it starts clicking," head coach Gino DiMare said. "He's extremely coachable. He's very likable, maybe one of the more likable guys on our team, which is a great compliment for a player to have. He's a fun guy to coach, always has a smile on his face."
Villegas' positive attitude helped him overcome the lows of the game he loves.
And despite being more than 1,000 miles away from Puerto Rico, he has found a new family.
Villegas continues to adapt to his new home, pushing himself to be the best baseball player every time he steps onto the diamond.
And although he'll never win American Idol, his passion for the game he loves has brought him one step closer to realizing his lifelong dream.
"I want to make this team great. I want to help the team the best I can," Villegas said. "Ultimately, for myself, I want to be in the MLB."