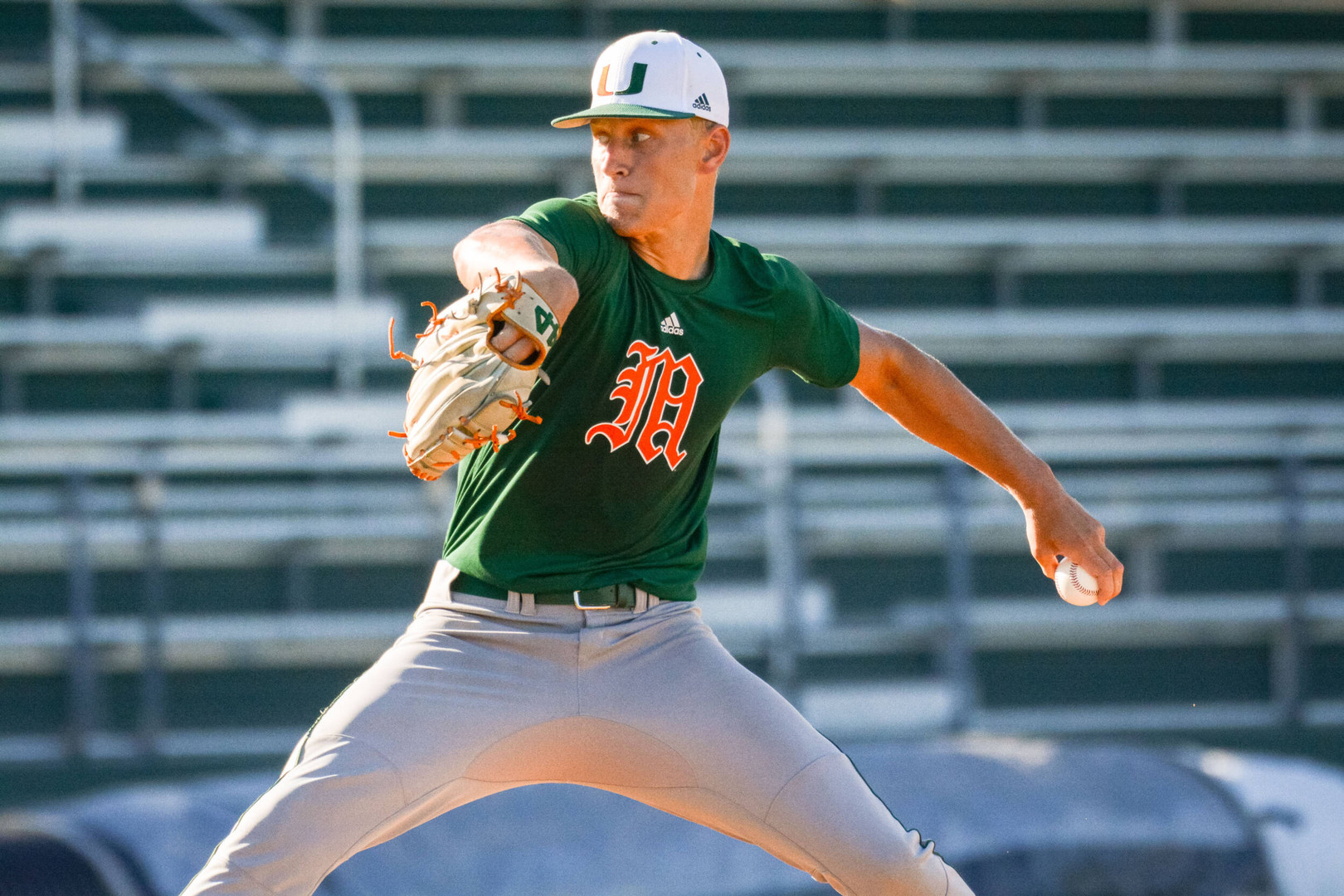 CORAL GABLES, Fla. — As if Rafe Schlesinger needed more motivation.
From a young age, the Holbrook, N.Y., native played for a team called, "The Falcons," who were widely regarded as one of the top teams on Long Island.
But, Schlesinger barely played.
"Eventually, my dad ended up doing the typical baseball-dad thing and emailed the coach," he recalled. "The coach actually cut me. Ever since that day, it was a motivating factor. It created a tiger in me. On the mound, I'd write the initials of the coach who cut me. I used it as a way to prove someone wrong."
From that moment on, Schlesinger wouldn't be outworked.
He always carried that feeling in the back of his mind.
Yet, even as he saw an uptick in his velocity and fine-tuned his command, Schlesinger still doubted himself.
"I was nervous at tryouts," he said. "Other kids always had more confidence in me and would always tell me, 'You're not going to get cut. You're not going to get cut.'
"The JV coach told me I was on the team and they were looking to put me on varsity at some point during my freshman year. That was a big deal at our school. Right there, other people are seeing it. Why can't I see it now?"
The left-handed pitcher hit his stride as a sophomore at Sachem East High School, blossoming into one of the top prospects in the Empire State.
Schlesinger was tabbed the No. 1 southpaw in the state, according to Perfect Game, garnering attention from Northeast schools such as Connecticut, Northeastern, Seton Hall, St. John's and Stony Brook, among others.
However, it was always Schlesinger's dream to play down south.
"Miami reached out and that was the first really big school for me," he said. "Miami was always my dream school since I was little. Even just talking to [assistant coach/recruiting coordinator Norberto Lopez] on the phone for the first time made my month. I was outside of a Hibachi restaurant. It's a moment I'll never forget."
Soon after, Miami pitching coach J.D. Arteaga trekked up to Georgia to see Schlesinger pitch in an event.
After seeing Schlesinger throw in two games, Arteaga reached out.
"He called me on the phone and it seemed like he didn't even give me a choice. He offered me my first offer. I didn't know what to tell him because I was never offered before," Schlesinger said. "J.D. said, 'Just tell me you're a Hurricane." So I told him 'I'm a Hurricane.' And he hung up the phone. It felt like he didn't even give me a choice."
It took a while for the reality to settle in, but Schlesinger's dream had come true.
With his confidence skyrocketing, the 6-foot-3, 199-pound hurler posted a 4-1 mark with a 0.70 ERA and 80 strikeouts across 40 innings as a senior.
Following his stellar season, Schlesinger was named the 2021 Suffolk County Player of the Year, received the Paul Gibson Award, presented to the top pitcher in Suffolk County, 2021 League I MVP honors and All-League recognition.
"It's hard to find good quality left-handers. There are not a lot out there and it becomes a bidding frenzy," said Arteaga. "He has the potential to be a weekend starter at some point, whether it be this year or next year. He has weekend-starter type stuff. We have big plans for him in the future."
Schlesinger recorded 12 strikeouts during the Hurricanes' fall scrimmages, which was tied for the second-most among freshmen.
And as Miami gears up for its 2022 campaign, Schlesinger is in the hunt to win a spot in the rotation.
"Rafe is a highly-recruited kid that a lot of schools were after," head coach Gino DiMare said. "He has a very high ceiling, a lot of potential. We expect him to be one of the starters in the future, maybe even in the near future. He has a very, very loose arm and we think he'll throw even harder as he puts on size and strength. He's going to be a great, great pitcher for us."
Schlesinger has fought much of his baseball career to earn respect.
But he sees his story as more than just about proving his own self-worth.
In the second grade, Schlesinger was diagnosed with a tic disorder, which are sudden twitches, movements, or sounds that people do repeatedly. People who have tics can't stop their bodies from doing these things.
That has only fueled Schlesinger's fire more and has given him a deeper purpose.
"Whatever platform you're at, you can use. I've already had a few kids reach out and tell me how my story has inspired them," he said.
"At first, it was really surreal. It's weird to think that a kid searched my name and had the courage to write to me. I was probably more excited to respond than the kid was for me to respond. To see that I can have an impact on the kid every time I step on the diamond, and he steps on the diamond, hopefully, what I said helps him more. Being an inspiration for a kid is one of the reasons that I play this game."
Rather than feel sorry for himself, Schlesinger focuses on the positives, hoping to help kids who suffer from Tourette Syndrome or tic.
"The way I look at it is I'm blessed enough to have a gift of a left arm that works pretty well on the baseball diamond," he said. "In return, I have to have something that's not so great. You have to look at the positive about it and not ask, why me."
Schlesinger has always had a chip on his shoulder.
Now, he's ready to help a Miami team any way he can and prove people wrong.
"I like seeing all the rankings and getting a little slept on. I think this team has a chance to go to Omaha and win a national championship," he said. "Using that helps a lot because it brings the team together. Not only was I slept on, but all of our hitters and pitchers were. When you start playing baseball mad, good things happen."