Carrier Driven to Develop
CORAL GABLES, Fla. — JP Gates  vividly remembers the first time he met Lorenzo Carrier.
"I looked at him and was like, 'Wow, that's a big dude,'" Gates recalled. "I think that he's Aaron Judge's son. I tell him that every day."
A 6-foot-5, 218-pound outfielder, Carrier's stature is the first thing that most people notice about the 18-year-old.
While the Miami Hurricanes heralded freshman's height and number 99 stick out, the Bear, Del., native is determined to stand out in a different way.
"I want to make a name for myself," said Carrier. "There is nothing like college baseball. Making that leap from high school to college, I want to perform and show people I belong."
Growing up as a two-sport phenom, Carrier fell in love with baseball at a young age.
While plenty of people expected him to shine on the hardwood throwing down acrobatic dunks, Carrier always gravitated towards the diamond.
"It was a place where nothing else mattered to me," he said. "As soon as I stepped on the field, I was just locked into the game and ready to compete."
Carrier's determination helped develop him into one of the premier high school baseball talents.
The two-time Delaware Gatorade Player of the Year led Appoquinimink to a state title in 2019 and garnered attention from colleges and MLB scouts all across the country.
Following his senior season, in which he hit .535 with four home runs and 40 RBI, Carrier was ranked No. 105 overall in Perfect Game's list of top-500 MLB Draft prospects.
Yet, weeks before the 2021 draft, Carrier wrestled with a tough decision.
"I remember him calling and he said, 'I need to tell you something.' Usually, when you hear that, something bad is coming after that. My throat just dropped," Miami head coach Gino DiMare said. "He told me he was foregoing the draft and I went from my heart rate skyrocketing to being so excited."
Added Carrier, "It was a very tough decision, something that I had to think about for a while, but I felt like it was best for me. The numbers don't lie. You can't really go wrong with college. Playing in the ACC, it's one of the best conferences in college baseball. Going up against some of the best in the country is really going to benefit me."
In particular, Miami has a proven track record of developing student-athletes and producing major-league talent. Since 2000, the Hurricanes have had 41 players appear in the big leagues, the most among the 14 Atlantic Coast Conference teams.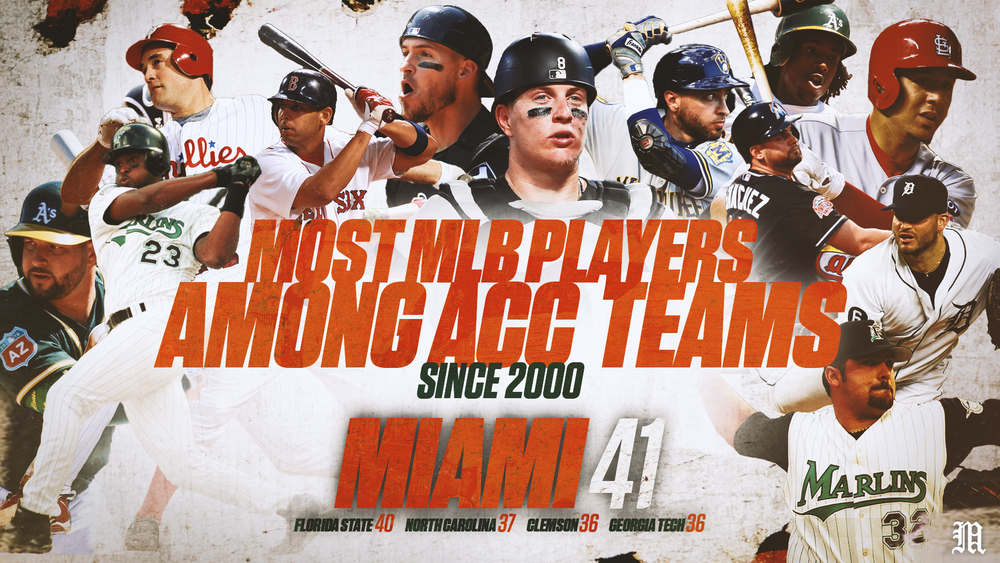 And since DiMare, who recruited nearly all of those standouts, was added to the coaching staff in 1997, 148 out of 157 players have raised their stock in the MLB Draft after attending The U.
"When a family and a player put that much trust into the program that you're going to develop him and give him a better chance to sign after his third year is really an honor," hitting coach/recruiting coordinator Norberto Lopez said. "Everyone talks about his talent, but his intangibles are off the charts. He wants to do things right. His work ethic can't be challenged. He has everything you need to be a great player."
After Carrier pulled his name out of the draft, he quickly stepped foot in Coral Gables over the summer, determined to transform his body.
Carrier added 25 pounds in just a few months before the Canes began team practices in October.
"His work ethic is amazing. I've never seen a kid so dedicated to adding muscle and putting on weight," said Gates, whose locker is right next to Carrier in the Hurricanes' clubhouse. "It was a crazy number of what he was eating. He was eating like 4,000 to 5,000 calories per day. I've never heard of someone putting on that much weight and looking slim and being in shape."
During the fall, Carrier noticed a major difference on the field.
"I feel a lot stronger. This is the best shape my body has ever been in," he said. "I'm a 10 times better player than when I first got here. Being exposed to the competition on our team has really helped me a lot. It pushes me to be better."
After making a quick adjustment at the plate, Carrier finished the fall leading all Miami freshmen with a .275 batting average. He totaled three extra-base hits, including a co-team-high two triples, and swiped a pair of bases.
With Carrier driven to develop into a large fixture in the lineup, he has impressed the Hurricanes fourth-year head coach.
"The ball comes off his bat as hard as anybody on our team," DiMare said. "When he learns to lift it a little bit, I expect him to be a guy that hits a lot of balls out of the ballpark. He's our top freshman from an offensive standpoint that has an extremely high ceiling. He's just only scratching the surface. I wouldn't be surprised after three years of being here, if he develops the right way, he'll be one of the better players [in the draft]. "
Like many baseball players, Carrier's dream is to one day play in the MLB, potentially donning Yankee pinstripes like his childhood idol Derek Jeter or maybe even Judge.
Yet, for now, he's only focused on one tall goal.
"I want to win, that's why I'm here," Carrier said. "I want to help get the Miami Hurricanes back to Omaha."