Cheez-It Bowl Central: No. 18 Miami vs. No. 21 Oklahoma State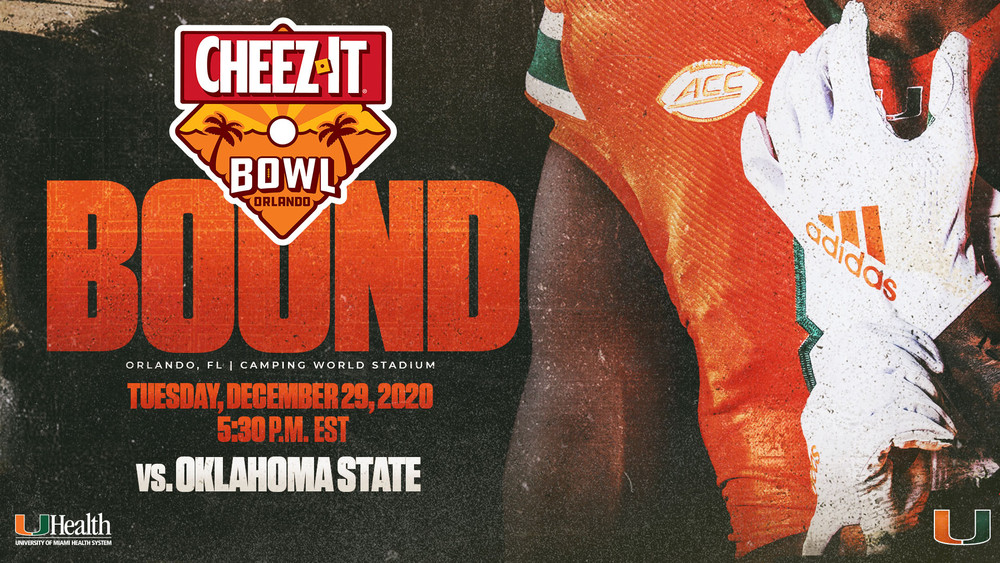 CORAL GABLES, Fla. – The University of Miami football program announced Sunday that it has accepted a bid to the 2020 Cheez-It Bowl and will take on Oklahoma State at Camping World Stadium in Orlando.
The game will be aired live on Dec. 29 at 5:30 p.m. ET on ESPN, 560 WQAM and Unanimo Deportes.
Watch: Coach Diaz discusses the Cheez-It Bowl:
"We are looking forward to participating in the 2020 Cheez-It Bowl," Director of Athletics Blake James said. "Florida Citrus Sports is a first-class bowl host. Our student-athletes and coaches have faced unprecedented challenges throughout this entire year and I'm excited they will have the opportunity to conclude an outstanding season in Orlando."
Miami's appearance in the 2020 Cheez-It Bowl marks the 44th time in school history the Hurricanes have competed in a bowl game and eighth straight year in which the Hurricanes will compete in a postseason game; Miami owns a 20-23 overall record in 43 previous bowl games.
Miami's matchup with #21/RV Oklahoma State (7-3, 6-3 Big 12) represents the second all-time meeting between the two schools and the first head-to-head contest since 1991; UM topped the Cowboys, 40-3, in the only other matchup.
The #18/#18 Hurricanes (8-2, 7-2 ACC) will make their fourth bowl appearance in Orlando since 2009. Miami's first trip to Orlando for a bowl came in 2009 when it took on Wisconsin. The Hurricanes lost the 2013 Russell Athletic Bowl to Louisville, but saw their last bowl win come in the 2016 Russell Athletic Bowl over West Virginia, 31-14, on Dec. 28, 2016.
FLASHBACK: Hurricanes Top Mountaineers in Orlando
"We are looking forward to facing Oklahoma State in the 2020 Cheez-It Bowl," head coach Manny Diaz said. "I'm proud of what our players and coaches have accomplished this season and I'm excited we have an opportunity to secure a bowl win for this outstanding group of Hurricanes."
Tickets to attend the Cheez-It Bowl are available now directly through their website. Please click HERE if you are interested in purchasing socially-distanced seatblocks for the 2020 Cheez-It Bowl. Due to limited inventory caused by socially distanced seatblocks, there will be no ticket sales through the Hurricanes Ticket Office for the 2020 Cheez-It Bowl.