Learn more about D'Eriq King's journey to Miami...
Numbers
In leading the Hurricanes to an 8-3 record, King completed 211 of 329 passes (64.1 percent) for 2,686 yards with 23 touchdowns and just five interceptions. He also rushed for 538 yards and four scores and averaged 293.1 yards per game in total offense.
King's completion percentage in 2020 ranks as the second-best single-season completion percentage in Miami history (Jacory Harris, 65 percent, 2011). According to Pro Football Focus, King was the ACC's highest graded quarterback in the red zone with eight touchdowns, zero interceptions, a 68-percent completion rate and a 119.3 passer rating.
King has three career games with five passing touchdowns and 100-plus rushing yards, the most of any FBS player over the last two decades.
King, who transferred from Houston, holds the FBS record with 16 straight games with at least one passing and rushing touchdown — breaking the record of 14 set by former Heisman Trophy winner Tim Tebow. He totaled 6,346 yards of offense in 22 starts over three seasons at Houston.
Accolades
King is a finalist for the 2020 Earl Campbell Tyler Rose Award. He was also named a 2020 semifinalist for the both the Davey O'Brien Award and Maxwell Award and a Top 10 Johnny Unitas Golden Arm Candidate. King earned honorable mention All-ACC honors.
Weekly Honors
King was named ACC Quarterback of the Week, a Manning Award Star of the Week, Maxwell Award Offensive Player of the Week and Earl Campbell Tyler Rose Award Player of the Week after Miami's 47-34 win against Louisville. He threw for 325 yards and three scores against the Cardinals, posting an efficiency rating of 180.
King repeated as ACC Quarterback of the Week after Miami's 52-10 dismantling of Florida State, during which he threw for 276 yards and two touchdowns, completing 72 percent of his passes.
King was named the Walter Camp National Offensive Player of the Week after amassing 535 total yards and throwing five touchdown passes in Miami's 44-41 win at NC State.
After the win over NC State, King was also named ACC Quarterback of the Week; Davey O'Brien Great 8; Pro Football Focus Offensive Player of the Week; Reese's Senior Bowl Co-Senior of the Week on Offense; and a Manning Award Star of the Week.
King was named to the watch list for the Maxwell Award (nation's most outstanding player) and Davey O'Brien Award (nation's top quarterback) during the 2020 preseason.
While at Houston, King was a 2018 Maxwell Award semifinalist and a 2018 Earl Campbell Award finalist.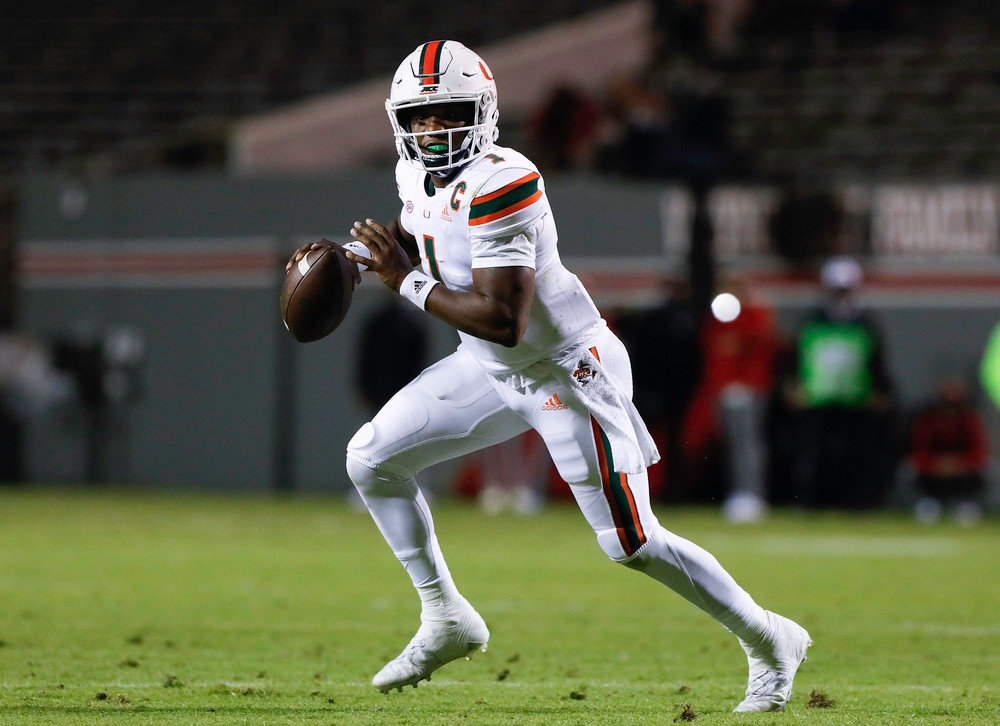 The Rally in Raleigh
In Miami's pulsating, 44-41 win at NC State on November 6, King delivered an otherworldly performance — completing 31 of 41 passes for 430 yards and five touchdowns with no interceptions. He also rushed for a team-high 105 yards, including a 42-yard run and the game-winning scamper to run out the clock. King's 535 total yards of offense was the third-highest single-game total in FBS this season.
UM trailed the Wolfpack on four separate occasions — including by 10 points in the fourth quarter — before King rallied the Hurricanes, who eclipsed 600 total yards for the first time since 2014.
"At His Best When His Best Was Needed"
According to ESPN, it was just the sixth time in the last 20 seasons that a quarterback had at least 400 passing yards, five passing touchdowns and 100 rushing yards in a single game. The last player to put up those kinds of numbers was King himself — during his final season at Houston in 2018.
King also became the first Miami quarterback to rush for more than 100 yards in a game and only the second Hurricane to throw for 400 yards and five touchdowns in a game, along with Stephen Morris. It was just the ninth time in program history a Miami quarterback has thrown for 400 yards in a game. Only Morris, Gino Torretta, Craig Erickson, Bernie Kosar, Steve Walsh, Brad Kaaya and N'Kosi Perry have accomplished the same feat. It was also just the 10th time in program history a Miami quarterback completed 30 or more passes in a game.
King fires the game-winning touchdown pass to Mike Harley in the Hurricanes' 44-41 win at NC State.
Bedeviling Duke
After a three-week hiatus, the Hurricanes dominated Duke 42-0 as King turned in the type of balanced, precision-like performance that makes him so valuable.
King completed 16 of 24 passes for 248 yards and three scores, including an 89-yard touchdown strike to Mike Harley – the fourth-longest passing score in school history. He also ran for 46 yards and scored on an 11-yard touchdown scamper. King engineered six touchdown drives which averaged just 2:09 per drive. All this in just three quarters of work.
King rushes for a touchdown in Miami's shutout win over Duke.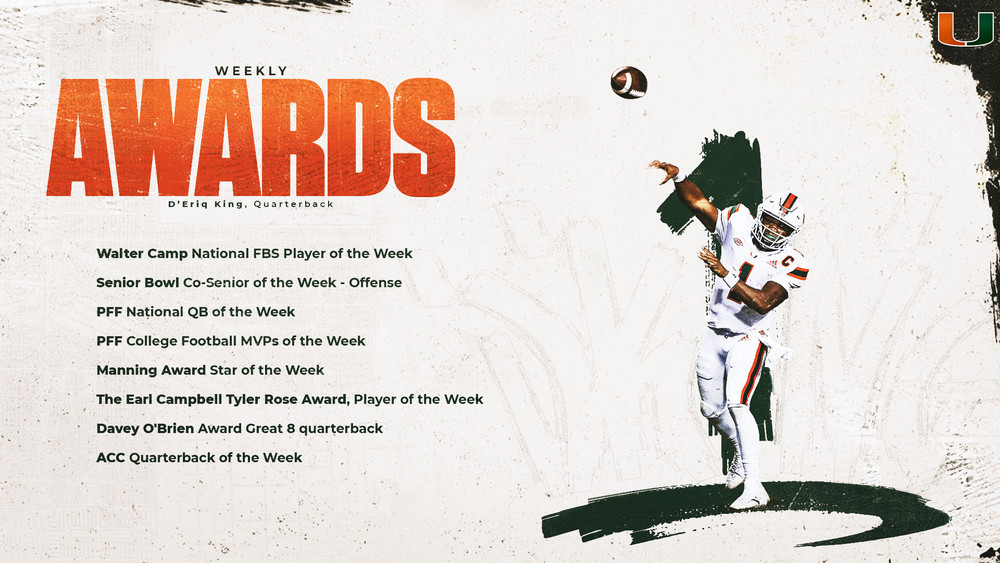 King hits Mark Pope for the game-winning touchdown in Miami's win at Virginia Tech.
What They're Saying
"He's just a natural born leader. You can see his talent when he's on the field but he is just a guy who is connected to every guy in the locker room. It's just been great for us to have a player that the entire team can rally around and have trust and confidence in that he's going to bring his best every day."
Miami head coach Manny Diaz
"D'Eriq King gives them hope. He makes this feel different, makes Miami feel different to me. That position on any team impacts the personality and the confidence of a team and it's been so long since Miami has had that position cleaned up where the defense believes in him, the offense believes in him."
ESPN College Football Analyst Kirk Herbstreit
"He's just contagious in terms of his leadership and his leadership skills. He's a workaholic, a gym rat. He's always working on his game."
ESPN College Football Analyst and former Heisman Trophy Winner Andre Ware
"Some star athletes aren't wired for leadership roles. D'Eriq is. Shortly after he enrolled at Miami and started winter workouts with his new teammates, he set up group texts with every position group on the team. He texted them daily, 'because I was the new guy and needed to show them I cared about them.'"
Pat Forde, Sports Illustrated
"D'Eriq King gives them hope. He makes this feel different, makes Miami feel different to me."

ESPN College Football Analyst Kirk Herbstreit