"At His Best When His Best Was Needed"
RALEIGH, N.C. – Maybe it was the comeback. Or the way his team had overcome challenge after challenge during an especially tough week to get there.
Maybe it was the way he'd just performed when an opponent dared him to be at his best. Or maybe, it was the fact his family was there to cheer him on as it all unfolded.
The bottom line? There were plenty of reasons for D'Eriq King to smile as he walked off the field at Carter-Finley Stadium on Friday and the quarterback savored every one of them.
"Tonight was the most fun game I think I've played in college football so far," said King, a redshirt senior. "It was super fun. … A lot of people around the country doubt this team, especially off a bye week. I know there's a lot of [talk], 'Miami never wins off a bye week' … Just coming out here and getting the win, down by 10 in the fourth quarter, it wasn't easy. But we found a way to win and it was super, super fun."
King, undoubtedly, was a big reason for that win, a 44-41 victory over NC State that not only pushed the Hurricanes' record to 6-1 on the season, but will help keep them near the top of the ACC standings and in the hunt for a berth in the conference championship game.
The quarterback put together one of the most dominant performances in Miami history Friday, completing 31 of his 41 passes for 430 yards with five touchdowns and no interceptions. He added to that with a team-high 105 rushing yards.
According to ESPN, it was just the sixth time in the last 20 seasons that a quarterback had at least 400 passing yards, five passing touchdowns and 100 rushing yards in a single game. The last player to put up those kinds of numbers? King himself, during his final season at Houston in 2018.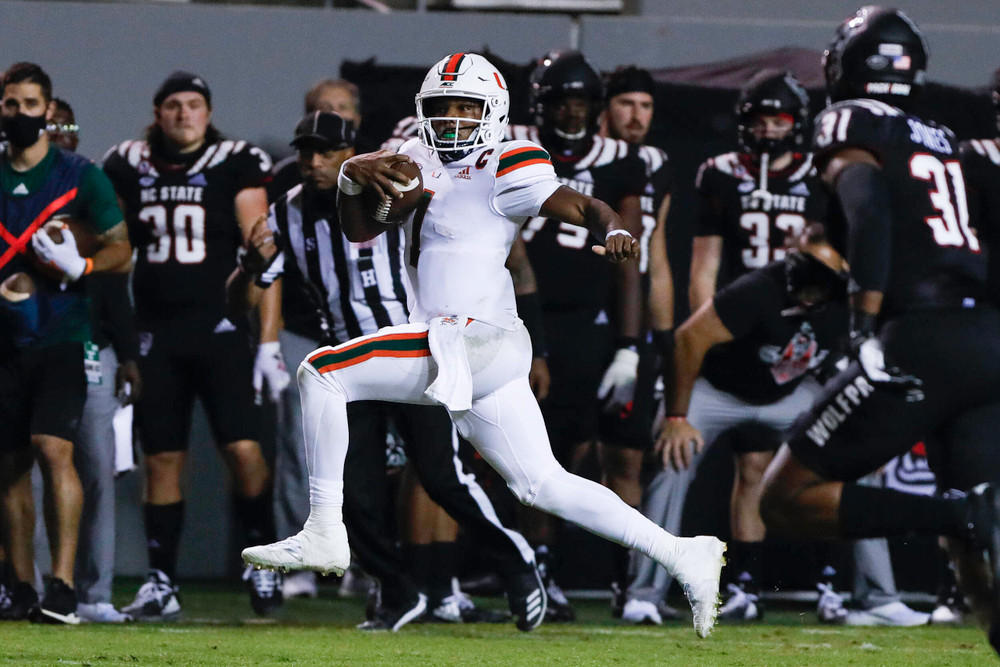 The graduate transfer also became the first Miami quarterback to rush for more than 100 yards in a game and only the second Hurricane to throw for 400 yards and five touchdowns in a game, along with Stephen Morris.
But the accomplishments don't end there.
With his performance Friday, King became just the ninth quarterback in program history to throw for at least 400 yards in a game. Only Morris, Gino Torretta, Craig Erickson, Bernie Kosar, Steve Walsh, Ken Dorsey, Brad Kaaya and N'Kosi Perry have accomplished the same feat.
That his name will now be linked with some of the greats isn't something King takes for granted.
"There's just been a bunch of great quarterbacks to play here over the years and to be on that list, it's an elite list," King said. "So it means a lot."
As big as his personal numbers were, what mattered most Friday, King noted, was that the Hurricanes left Raleigh with a win – something that was in doubt for much of the night.
Miami found itself in an early deficit after the Wolfpack scored on their opening drive.
Though King engineered a 9-play, 75-yard drive that culminated with him throwing a 3-yard touchdown pass to Will Mallory on the Hurricanes' first drive, Miami found itself in a back-and-forth battle most of the game.
But in the opening minute of the fourth quarter, the upset-minded Wolfpack seemed to give themselves a bit of breathing room when Christopher Dunn connected on a 53-yard field goal that gave NC State a 10-point lead.
King and the Hurricanes' offense answered with back-to-back scoring drives, both of which ended with Jose Borregales field goals.
Those drives – and some key stops by Miami's defense – set up one of the biggest possessions of the season for the Hurricanes.
Down 41-37 with 3:51 left, King and the offense took the field knowing they were running out of time and chances to secure the win. The first play of the drive was one of King's few mistakes of the night, an intentional grounding play that cost the Hurricanes a down and put them in a tough 2nd-and-18 situation.
King's response? A 35-yard pass to Mike Harley to move the chains and keep the Hurricanes alive. Three plays later, King and Harley would connect on a 54-yard run-and-catch touchdown that gave the Hurricanes their first lead since the second quarter.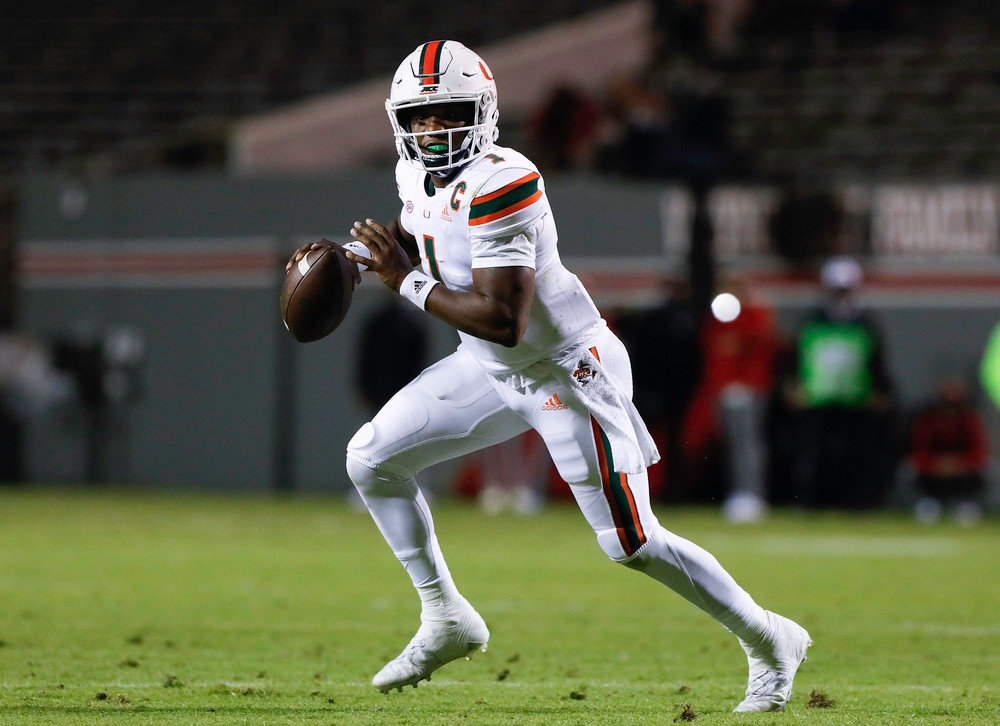 On the Wolfpack's ensuing drive, DJ Ivey picked off NC State quarterback Bailey Hockman, putting the ball back in the hands of King and the offense with 2:36 left.
Then, King delivered another brilliant play – though this one resulted in no points.
On 3rd-and-6, the quarterback scrambled for a 12-yard gain that could have been a touchdown if he'd kept running instead of sliding to stay inbounds and bleed out the clock.
It was the kind of play that goes against most players' natural instincts, but for King, helping his team was more important than adding to his already-impressive numbers.
"It's super hard. Super hard. Honestly, I wanted to score," King laughed. "But getting the win was more important. Three knees and the game's over."
That was how the game ultimately ended. Afterwards, teammates and coaches had nothing but praise for both King's play and his leadership as Miami rallied back.
"What D'Eriq King did tonight was phenomenal," Hurricanes head coach Manny Diaz said. "Throwing for 430 [yards] and running for 105 [yards], that's absolutely remarkable. And he was at his best when his best was needed."
Added Mallory, "D'Eriq came ready to play. He came ready to lead us and that is exactly what we did. We were able to drive down there and score a bunch, which helped us win the game. The preparation he put in this week, the commitment he has to this team is exactly why we got that [win]. He's always poised and he just has that confidence in him, so it's very easy for us to follow him and get that win."
For King and Miami, though, there won't be much time to celebrate.
Next week, the Hurricanes will face another road test when they travel to Virginia Tech. If Miami wants to stay in the hunt for a conference championship, it will have to remain focused.
"We have a great team. I just wanted to come in here and be a leader, not [just] try and put up great numbers," King said. "Of course I want to [put up great numbers], but it's about winning games. That's all I care about. I just want to win as many games as possible and I just want to help lead these guys.
"I think everybody is doing a great job of coming to work every single day, coming to the games and being positive and having confidence. That gives me confidence in those guys to make plays and they are doing it."