University of Miami Athletics
Jared Thomas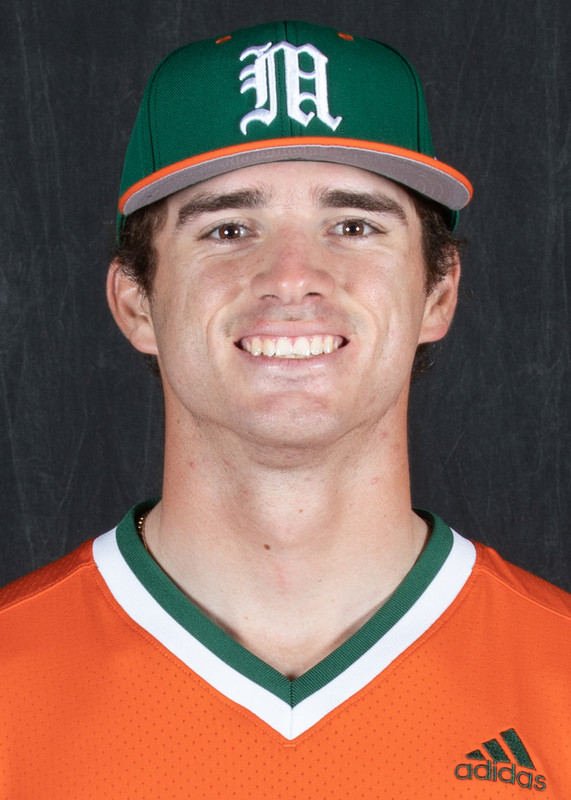 The asterisk next to 2020 and 2021 season bios indicate the NCAA's decision to grant an extra year of eligibility for student-athletes in light of the COVID-19 pandemic; the student-athlete's year of eligibility did not "advance" from 2020 to 2021 due to this NCAA ruling.
*Freshman (2021): Appeared in 19 games, making three starts at designated hitter…Hit .208 with a homer and four RBI…Walked and scored a run in season opener at preseason No. 1 Florida (Feb. 19)…Started at DH, singling in win at Florida (Feb. 20)…Had a base hit and an RBI in win over Wake Forest (Mar. 12)…Singled and scored a run in win at FGCU (Mar. 17)…Walked, drove in a run and scored a run in win at FIU (Mar. 31)…Homered and drove in two runs in win over App State (May 8)…Saw action as pinch hitter in ACC tournament vs. Florida State (May 28)…Singled in NCAA tournament debut vs. South Alabama (June 6).
*True Freshman (2020): Played in 11 games, making seven starts for the Hurricanes in shortened 2020 college baseball season…Saw action in right field and at catcher…Had six hits, a double and a home run in 32 at-bats…Scored seven runs and posted three RBI…Had two multi-hit games and one multi-RBI performance…Made Miami debut and scored three runs in sweep-clinching win over Rutgers (Feb. 16)…Hit a two-run double in first career start, a win over Kent State (Feb. 19)…Went 2-for-5 with first career homer in win over USF (Feb. 26)…Had a hit and a run scored in sweep-clinching win over Towson (Mar. 1)…Went 2-for-4 and recorded first career stolen base at FAU (Mar. 4).
High School: Four-year varsity starter, playing three seasons at Cantwell Sacred Heart Of Mary High School and his senior year at Orange Lutheran High School…Was a two-time team captain and earned three first-team all-league honors…Helped teams to four league titles and Orange Lutheran to a NHSI championship in 2019.
Personal: Parents are Jim and Teri Thomas…Has one brother, Zach, who plays baseball at Dixie State University…Intends to major in business.