University of Miami Athletics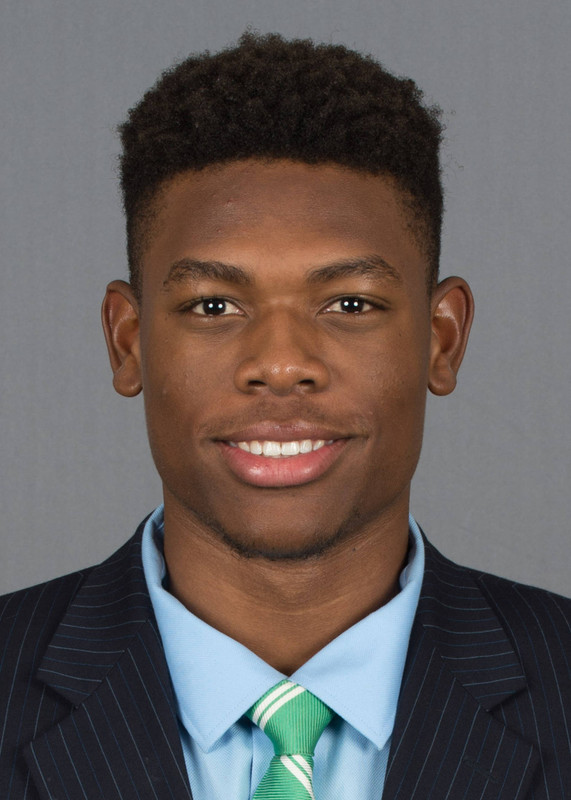 2016 FRESHMAN ALL-AMERICA (ESPN, FWAA, 247Sports, Pro Football Focus)
2016 ALL-ACC, SECOND TEAM (ACSMA)
2016 ALL-ACC, THIRD TEAM (Coaches)
2018 (Junior): Played in one game and had one catch in final season…Started season opener against LSU (Sept. 2) and had one nine-yard reception…Diagnosed withdisabling neck injury that ended football career, announced on Oct. 7.
2017 (Sophomore): Saw action in eight games with seven starts before suffering season-ending meniscus injury prior to ACC Championship Game…Caught 24 passes for 439 yards with three receiving touchdowns…Among Miami's top offensive playmakers…Hampered by injuries for most of regular season…Missed first two games of season due to hamstring injury suffered during fall camp…Started and made season debut in win at Duke (Sept. 29), finishing with three receptions for 106 yards and one touchdown…Had 49-yard reception against Blue Devils…100-yard receiving game was fifth of career…Started and had four receptions for 68 yards in win at Florida State (Oct. 7)…Missed game against Georgia Tech (Oct. 14) due to injury…Started and had six catches for 99 yards in win over Syracuse (Oct. 21)…Posted long reception of 31 yards against Orange…Started and had one 11-yard catch in win at North Carolina (Oct. 28)…Caught three passes for 57 yards, including long reception of 42, in win over Virginia Tech (Nov. 4)…Saw action in win over Notre Dame (Nov. 11)…Had four catches for 51 yards and one touchdown in win over Virginia (Nov. 18)…Caught third touchdown pass of season, matching 2016 total, in three-catch, 47-yard performance at Pittsburgh (Nov. 24).
2016 (True Freshman): Delivered dominant freshman season, starting 11 of 13 games and setting Miami freshman record for receiving yards…Earned Freshman All-America honors from ESPN, Football Writers Association of America, 247Sports and Pro Football Focus…Led team with 934 receiving yards and ranked second with 49 receptions…Finished with three touchdown receptions and averaged 19.1 yards per catch…934 receiving yards led all freshmen nationally, and were sixth-most in single season in UM history…Started season opener against Florida A&M (Sept. 3) and hauled in two passes for 31 yards…Caught first touchdown pass of career vs. Rattlers on 15-yard reception in third quarter…Made second straight start against FAU (Sept. 10) and caught three passes totaling 30 yards…Recorded long catch of 13 yards against Owls…Exploded for 142 yards on four receptions in road win over Appalachian State (Sept. 17)…Caught two passes longer than 60 yards against Mountaineers, including career-long reception of 62…Started and totaled 43 yards on two catches against Georgia Tech (Oct. 1)…Recorded four catches for 58 yards in start against Florida State (Oct. 8)…Had 55 yards on two catches, including 30-yard reception, in start against North Carolina (Oct. 15)…Led team with 78 receiving yards in start at Virginia Tech (Oct. 20)…Caught three passes against Hokies, including long catch of 39 yards…Started and caught three passes totaling 51 yards, including long catch of 24 yards, at Notre Dame (Oct. 29)…Bested own UM true freshman record set in Week 3 with 144-yard performance in win over Pittsburgh (Nov. 5)…Caught eight passes against Panthers, with long catch of 41 yards…Recorded third 100-yard game of career in win at Virginia (Nov. 12)…Caught three passes for 100 yards, including career-long 77-yard touchdown, in start against Cavaliers…Broke Michael Irvin's 31-year-old freshman receiving record with 117 yards in win at NC State (Nov. 19)…Caught career-high nine passes against Wolfpack…Totaled 17 yards on three receptions in regular season finale win over Duke (Nov. 26)…Started and caught three passes for game-high 68 yards, including 51-yard touchdown, in Russell Athletic Bowl victory over West Virginia (Dec. 28).
High School: Earned consensus four-star ranking by ESPN, Rivals, Scout and 247Sports…Competed in 2016 U.S. Army All-American Bowl…Rated as 148th-ranked player in the nation, 28th-best receiver and 23rd in-state prospect, according to 247Sports Composite Ratings…Registered 1,278 receiving yards and 14 touchdowns on 73 catches senior year…Finished with 2,722 yards, 39 touchdowns and 144 grabs in three-year high school stretch…Chose Miami over offers from Auburn, Tennessee and Alabama.