Finding Success off the Gridiron
CORAL GABLES, Fla. – Marquez Williams was struck by the entrepreneurial spirit around him.
During his time with the XFL's Houston Roughnecks, he learned practically all of his teammates had secondary business ventures away from the football field.
One had a clothing line. Another sold skincare products. Some managed various franchises.
For some, it was a financial necessity. For others, it was a way to explore interests outside the game. Either way, Williams – a former Hurricanes fullback – was plenty intrigued.
"The one thing that we kind of did in the XFL versus the NFL was that people spoke about what they were doing outside of football a lot more and spoke about money a lot more," said Williams, who played at Miami in 2016. "I was just sitting out with some of my teammates and some guys had franchise apartment companies, some guys had started [selling] their own skincare products or like their own denim lines and it just hit me one day. I was like 'You all don't just play football?' and they said 'No, we do other stuff.'"
It was from those conversations that Williams began considering opening a business of his own.
Today, he is working to get his socks – Pop's Socks – onto as many feet and in as many stores as possible.
He is one of several young Hurricanes football alumni – including former receiver Lance Leggett, former receiver Ahmmon Richards and former offensive tackle Jason Fox – who are working to find success in a place maybe they hadn't quite considered early in their careers: the business world.
For each of them, the journey has been different. But all say their experience at Miami made a difference in their journeys today.
"Miami was, for me, life-changing," Williams said. "It showed me that all things were possible."
For Williams, creating a company from scratch meant balancing his responsibilities with the Roughnecks while using his free time to build a website, learning about drop-shipping and figuring out designs for his socks after practices were done.
As to why he chose to try and sell socks? That was easy, Williams explained.
"I always had a love for socks. That was a big thing for me. Wore some cool ones, and the overhead for it was very low," said Williams, whose company name is a nod to the nickname given to him by former Hurricanes football coach Mark Richt. "It's also a necessity – everybody's got to wear socks. Now I have to figure out a way to get everybody to wear my socks, if possible. It's something need-based. It's something not a lot of people are doing and it's something I had a love for."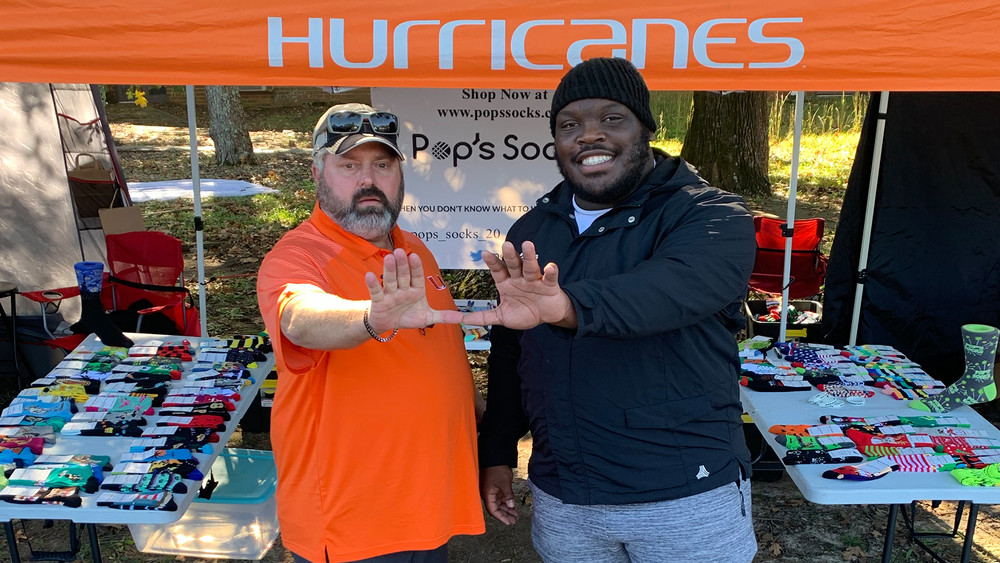 And like many former Hurricanes players who have launched their own businesses, Williams has tapped into his Miami connections to try and make things happen.
Richt, who brought Williams to Miami as a graduate transfer, has shared his support for Williams' socks on social media, as have several of his teammates. And more than a few Hurricanes fans have purchased socks, too.
All of that, Williams says, has meant the world to him.
"It all means more than I can ever give words to speak of it," said Williams, who now lives in Athens, Georgia with his daughter Zephaniah and his fiancée Abigail Curry. "Oftentimes, as athletes, you're seen as a commodity and sometimes you feel that way. To finish playing at Miami and to be able to text Coach Richt or call him and he picks up the phone and I say 'This is what I'm doing' and he buys into it and wants to support you…Even my teammates. It means the world, more than I could ever speak words to…Especially because now I have a family and this is how I support my family."
Here, more stories from some of Miami's young football alums and their work off the field…
"It's Always Been Kind of Like in My DNA"
Ahmmon Richards grew up watching – and admiring – his father's work ethic.
Mark Richards worked a corporate job, ran his own restaurant and even helped deliver newspapers all throughout his son's childhood. That left an impression on his young son.
And so, when an injury ended Ahmmon Richards' football career while he was still at Miami, the former receiver was determined.
He wasn't about to let that moment – difficult as it was – define him.
"My dad has always been hustling, so it's always been kind of like in my DNA to just get to it, no matter what," said Richards, who in 2016 finished with 934 yards to surpass Michael Irvin's Miami freshman receiving record. "Life is crazy. So that's just always been my mindset. When [the injury] happened, it took a while to realize that, but it's always been there for me."
After graduating from Miami, Richards started a marketing agency. He launched Official Visit, a website that has player-driven reviews about their college football experiences and he connected with Miami alum Omar Soliman, one of the founders of moving company College Hunks Hauling Junk and Moving.
Soliman wanted to open a franchise in Miami and believed Richards could help that venture be successful. Richards jumped at the opportunity.
"He already knew my grind, as far as building up a company from scratch, so he was like, 'Hey, let's see if we can work together,'" Richards said. "It was a quick text, then we got on the phone, I flew to Tampa, we sat down, talked out our vision for this particular franchise and we made it happen, you know? College Hunks 305 officially opened on December 22nd."
Getting a franchise off the ground in a market as competitive as Miami's hasn't been easy, but Richards said the experience and knowledge he gained from the University has made a difference.
Making the experience even more rewarding? He's working with the man who inspired him – his father.
"We just kind of piggyback off each other. He has experience. He's been in this business world for a while, so I'm learning a lot from him," Richards said. "But yeah, as far as hiring, unfortunately firing, partnerships, calling the customers to do welcome calls and things like that, I'm doing it all. It's kind of like that build-up phase, where you're in the mud with it, you know? But it's going to be worth it in the next three to five, to 10, 20 years. We're definitely going to be the prominent moving and junk company in the city of Miami. That's going to be exciting. But right now, the first six months are always the hardest."
As to how his experience at Miami has helped him in his post-football life, of course, Richards knows there is the natural connection with Soliman, a fellow University alum.
But the lessons he learned in the classroom and on the football field have proven key as he's started his professional career.
"I think it shaped me in a good way, especially from an academic standpoint. I think a lot of people forget that the University of Miami is a top-20 institution and as athletes, we still have to go to class and keep up our side of the bargain, so we learn a lot," Richards said. "The network from the school, in general, well, I'd just advise all athletes to tap into more of that network…Welcome everyone with open arms because you never know who you'll run into in this world. Obviously, football ends sometime for everyone. I think having a strong network and meeting the right people, knowing the right people will definitely help you for a lifetime, especially at the University of Miami."
"I've Always Had Kind of an Entrepreneurial-like Business Mind"
Jason Fox knew, from the start, his NFL career wouldn't last forever.
So after his fifth year in the league – with his body already dealing with the nagging aches the game brings about at the highest level – Fox returned to Miami to get his master's degree.
It was a move the former offensive tackle and founder of social music platform EarBuds knows made a difference for him personally and professionally, even if the program was intense.
"What's nice about the offseason is normally, guys can recharge a little bit, recover, let their bodies heal up and then they can start training for the next season, All I had to do was really balance training with academics," joked Fox, a former offensive tackle who spent time with both the Detroit Lions and Miami Dolphins during his six-year NFL career. "It was a lot, because it was a [heavy] course load in a short amount of time. It was kind of like training camp, but for schoolwork. It was an awesome program and the University did a great job…I learned a lot. I made a lot of really great connections out of that and the program was invaluable.
"It was a lot and it really took up the whole offseason, but I'm really glad I did it. I think it helped prepare me for EarBuds and whatever comes after that."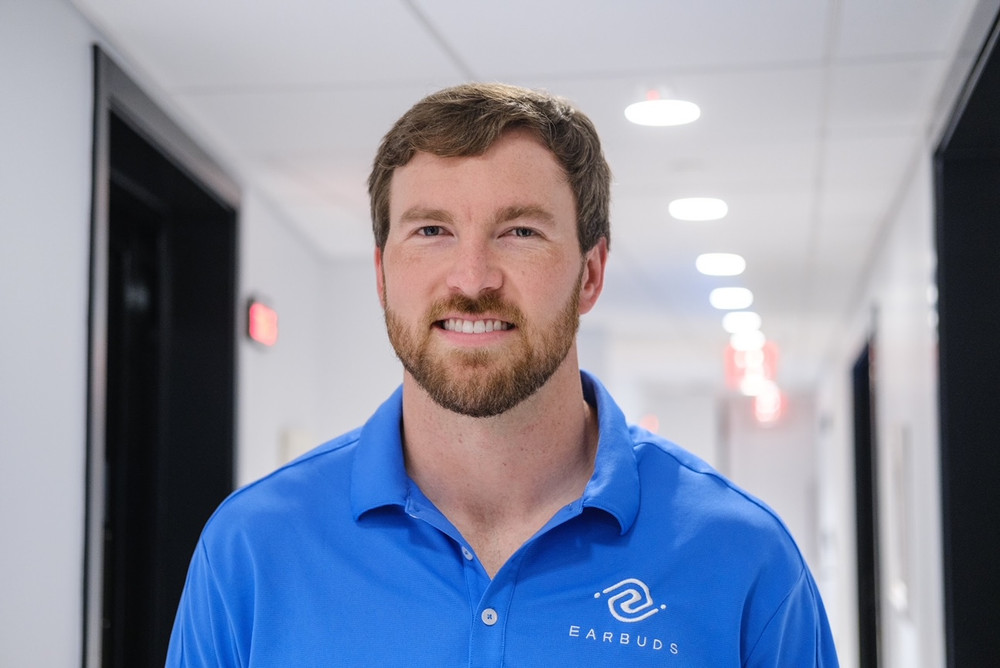 For Fox, the work in Miami's MBA program was especially personal.
The idea for EarBuds, a social media app that allows users to share their playlists with friends and other users, was one that came to Fox during his playing days. In one of his classes, he pitched the idea to a professor, detailing how, before games, he'd often notice many fellow NFL players wore headphones while warming up and he often wondered what they were listening to.
A social media platform that would allow those athletes to share their playlists with fans, he realized, could generate interest. In class, he built on that idea and perfected a business plan.
Once he was out of the Miami MBA program, investors like Techstars, Ecliptic Capital, LFG Venture and Camwood Ventures put their support behind Fox's idea and EarBuds got its start.
The company has also received support from the likes of Kansas City Chiefs quarterback Patrick Mahomes, Cleveland Browns quarterback Baker Mayfield, Hall of Fame quarterback Brett Favre and the Andre Agassi Foundation.
All of that, Fox said, has made a difference in growing his company.
Today, EarBuds works with streaming platforms Apple Music, Pandora, Spotify and Amazon Music to connect users. And Fox says there are exciting changes ahead for the company as it partners with new companies and platforms to reach broader audiences in the coming weeks and months.
And he credits his experience as both a student and football player at Miami with helping him get Earbuds where it is.
"Football teaches you so much. How to overcome adversity, how to work with a diverse group of people from all different types of backgrounds to come together for a common mission, being able to get knocked down and get back up again, as corny as that cliché is," Fox said. "There's so many life lessons that come from the game of football. In my opinion, it's the purest, best sport there is. Athletes train their whole lives with that mindset – that I'm going to outwork people…I take some of the life lessons football teaches you and apply it to life, apply it to business."
"I Always Wanted to Do This"
Lance Leggett learned to love football – and slushies and boiled peanuts – as a kid.
The former Hurricanes receiver had a steady supply of both treats during his childhood in Bartow, thanks to his uncle, who operated a truck that sold both the sugary concoctions and the salty snacks.
Now, as an adult, Leggett has found himself operating Taste One Boiled Peanuts, a company he says builds on what he enjoyed as a child and is a "new school" iteration of a beloved snack.
"My family has been around this all my life. My mom said, 'Do this, do this, do this. Put this in there, put this in there,'" Leggett said. "We worked to come up with the recipe together."
Initially, Leggett sold his boiled peanuts at a slushy shop he opened with some of the money he'd saved from his NFL playing days. But while his store may have sold slushies, it was the peanuts that sold out on a day-to-day basis.
From there, the idea for Taste One eventually started to take shape.
Leggett opted to close his restaurant and instead, learned how to start producing the boiled peanuts on a bigger scale. His first attempt wasn't as successful as he hoped, and eventually, Leggett went in a different direction, getting a commercial driver's license and operating a trucking company.
But he never stopped trying to think of a way to get his peanut business back on track and eventually, he used the money he made driving to get Taste One going.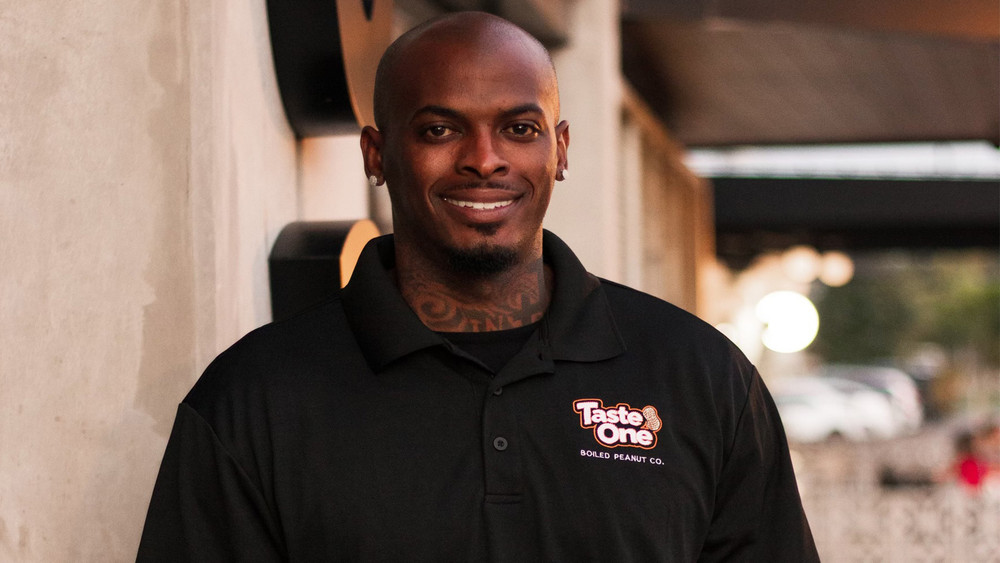 Today, Leggett uses social media to help sell his product online. He's put the peanuts in more than a few central Florida stores and recently, he even created an online stir with Miami fans when he got some of the peanuts in the hands of the man who recruited him to Miami – Hurricanes head coach Mario Cristobal.
Cristobal, who was in Central Florida earlier this month for a speaking engagement, spoke to Leggett at the event and asked the former receiver if he happened to have any peanuts with him.
Leggett didn't – but by the time Cristobal and Hurricanes defensive assistants Jahmile Addae and DeMarcus Van Dyke got on their flight home, there was plenty of Taste One for them to enjoy.
How? Leggett rushed to some of the stores that carried his product and bought and delivered them to Cristobal himself.
Cristobal later shared an image of the peanuts from that plane ride home on social media and that support was something Leggett said he won't forget any time soon.
"I didn't know he was going to do that," Leggett said. "It meant a lot…Two days into the job, [Cristobal] texted me and said 'I've got to have these peanuts' because he follows me on Twitter…He said 'Every University of Miami fan, and everyone in the whole city of Miami and state of Florida are going to know about your peanuts if I have something to do with it.'"
For Leggett – and many entrepreneurs – the path to success hasn't been easy.
There have been setbacks and challenges, but persistence has made the difference.
That, Leggett hopes, is what many of the youngsters in his hometown see as they watch him work to continue growing his company.
"Man, being at Miami and just playing at Miami is going to teach you to have that work ethic," said Leggett, who earned his UM degree in three years. "Playing football teaches you to have that work ethic. If you quit, you fail. If you don't work hard, you sit on the bench. If you aren't working hard in business, you're not going to make money…When I talk to young kids, I always go back to football and my experience. I tell them: 'The same way you see me work hard for my business, for Taste One, that's the same work I used to do in football.'…My dad gave me that work ethic and when I got to Miami, it just carried over."