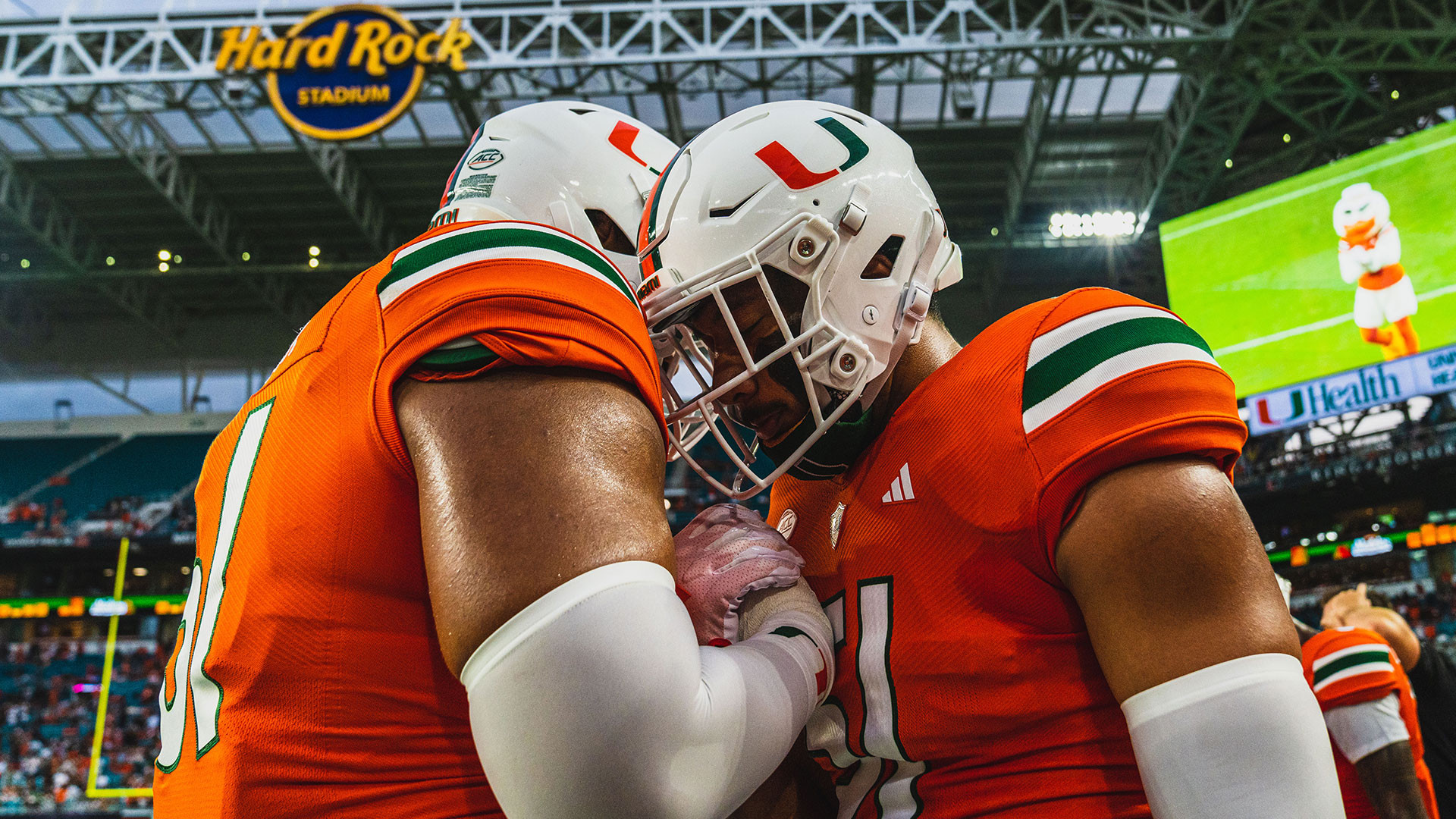 CORAL GABLES, Fla. – It was about as tough a moment as he's had this season.
Moments after the Hurricanes had come up just short in a hard-fought, gut-wrenching loss to rival Florida State and not long after they'd watched their quarterback suffer a significant injury, Miami linebacker Francisco Mauigoa walked into a small, tightly packed press room.
He sat down and began answering questions, the disappointment of the day etched on his face.
But in the back of the room, support.
His younger brother, Hurricanes offensive lineman Francis Mauigoa stood and watched, quietly providing the reminder that no matter what may happen during their time at Miami – good or bad – neither brother would ever have to experience it alone.
"I really just wanted to be there to support him. That game meant a lot to him. Rivalry games always mean a lot," said Francis Mauigoa, a freshman. "I just wanted to be there in support, to make sure my presence was there and was felt."
Said Francisco Mauigoa, "That's what a brother does, just being there for those moments with you, whether it's a loss or a win. You know you've always got people to fall back on that provide support and he's been a big part of that. It was just trying to get our spirits up and I'm just thankful for that moment and thankful for the opportunity."
For the Mauigoa brothers and their family, moments like those mean everything.
It wasn't that long ago that the brothers, their parents, and their siblings gathered in Hawaii to, together, make a decision they knew would affect them all.
At the time, Francis Mauigoa was a five-star offensive line prospect at IMG Academy in Bradenton whose size and athleticism meant he had his pick of college options with the likes of Alabama, Georgia, LSU, Michigan, Ohio State, Penn State, Oklahoma, Oregon, and Miami, among others, all offering him scholarships.
Francisco Mauigoa, meanwhile, was coming off an impressive sophomore season at Washington State where he'd started 11 games and totaled 60 tackles.
But while Francis and Francisco were playing football and studying in the United States, their parents – Fa'alialia and Telesia – were watching from thousands of miles away back in the brothers' hometown of 'Ili'Ili in American Samoa.
With both brothers finally poised to play college football at the same time, the Mauigoas decided it was time for the family to be together again.
The best way to make that possible? Having Francis enter the transfer portal and play beside his younger brother at a place where their parents could move and be closer to them both.
"I feel like it was very hard on them, it was a big sacrifice to make, to have some teenagers living on their own. Something could happen, eventually," Francis Mauigoa said of his parents' decision to allow him and his brother to come the States on their own. "But it was a sacrifice that has led us up to where we're at right now. … My parents had not watched a game of us in high school, because they were back in Samoa. They wanted to be involved in every game and having two brothers at different places was going to be difficult for them."
The family explored all of their options, joining Francis on his official visits. They asked questions about how each school the young lineman was considering would be a good fit not just for him, but for his older brother, too.
And it didn't take long for the Mauigoas to see most of the schools recruiting Francis would be more than happy to have Francisco on the roster, too.
"He was a dominant player when he was at Washington State," Francis Mauigoa said proudly.
Once the visits were finished, the family made their decision on that fateful trip to Hawaii.
Miami, where former Hurricanes offensive lineman Mario Cristobal had recently taken over as his alma mater's head coach, was going to be their new home.
"When I came here for my visit, I just felt like I belonged. People here are family," Francisco Mauigoa said of Miami. "So even though we're far from home, they're my family, too, outside of football, outside of home."
These days, Francis and Francisco Mauigoa are both major contributors for the Hurricanes, who are set to host ninth-ranked Louisville at Hard Rock Stadium on Saturday afternoon.
Francis Mauigoa has started every game this season and has helped the Hurricanes average 427.6 yards of offense per game. Francisco Mauigoa, meanwhile, is second on the defense with 54 tackles. He has a team-high 15 tackles for loss and has 6.5 sacks, sharing the team lead with freshman Rueben Bain, Jr.
And yes, the Mauigoas say, they've relied on some healthy brother-on-brother competition to make each other better.
"Practices are really fun. We get to talk, you know, a little trash here and there and it just keeps our competitiveness up and we encourage each other," Francisco Mauigoa said. "Every practice when I see him during one-on-ones, if he's not doing so good, I encourage him … I give him tips here and there, about what he could have done better from my perspective, and he'll give me tips from his perspective. It's fun to line up against him and Coach Cristobal always hypes that up too, so it makes even more fun."
Said Francis Mauigoa, "I feel like competing against your friend, your brother, is way harder than competing against somebody else. It's just that chemistry, of trying to be better than that other dude. It really helps you with your mindset and makes it fun. … After we make contact, I'm like, 'Come again, come again.'"
But it isn't just on the field where the brothers have felt at home.
Their parents moved to South Florida and live close enough nearby that weekly family dinners are possible, as are post-game meals. The Mauigoas also attend church together every week, and say their bond is as tight as ever.
"It means a lot to have them here and have their support," Francis Mauigoa said. "Seeing their support, and the fans, too, it really means a lot. It really boosts your confidence."
With just two games left in the regular season and a bowl game on the horizon, the Mauigoas – like the rest of their Miami teammates – are hoping to finish the year strong and build on the success they've shared.
And for them being able to take this journey together has been the opportunity of a lifetime.
"The two of us are doing good on both sides of the ball," Francis Mauigoa said. "He's doing a phenomenal job, and it means a lot. We're putting our names out there."
Said Francisco Mauigoa, "There's only one way we're going to go and that's up. We're going to keep getting better … I've enjoyed this experience and I'm just thankful for all of the opportunities presented to me and my brother."