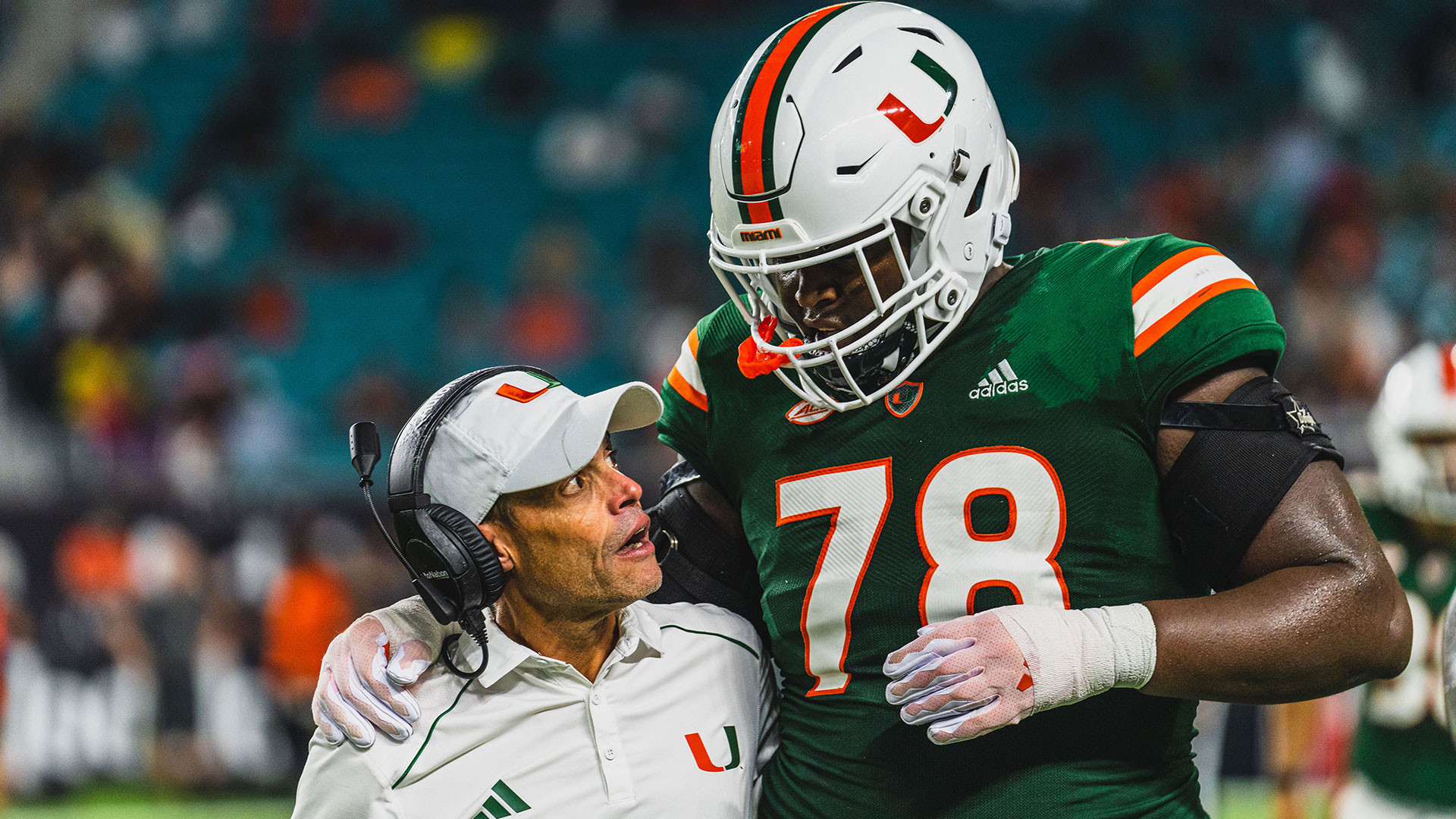 CORAL GABLES, Fla. – Each meeting starts the same way.
One by one, they file in and sit down, just the way they'd line up on the field.
In the front row, the starting left tackle is next to the starting left guard. He's next to the starting center, who's next to the starting right guard and then, the starting right tackle.
Behind them, the offensive linemen on Miami's second unit fill in their respective spots, too. The third row is more of the same.
It's a simple concept, but it's an arrangement Hurricanes assistant head coach and offensive line coach Alex Mirabal believes makes a difference – and sends a message.
"Whether it's common or not, I don't know. But the reason I like to do it is because I like to sit them with who they're going to be with on the field, so they can communicate with each other," Mirabal said. "I'll be talking, but I'll see Matt [Lee] talking to Javion [Cohen], or Matt talking to [Anez Cooper] or Coop talking to [Francis Mauigoa] or Jalen [Rivers] talking to Javion and then the second group, I can see them communicating with each other. I think that's important.
"I also think it's important for them to see who's ahead of them and to see who's behind them. That's not always been permanent. There's social mobility there. You can go forward, you can go back. That's just kind of how we do it. How I do it. You've got to earn the right to sit in the front row. And I like it too because it creates clarity. … We're very transparent in that room in everything we talk about and everything we do. It prevents misunderstandings."
Through seven games, there's no misunderstanding this: Miami's offensive line has been a force.
The unit has helped the Hurricanes average of 481.9 yards per game, a number that ranks 10th nationally among FBS programs. On the ground, the Hurricanes are averaging 193.86 yards per game, which also ranks in the top 25.
In last Saturday's win over Clemson – a team long regarded as one of the most physically dominant in the ACC – the Hurricanes outrushed the Tigers 211-31, a statistic that, unsurprisingly, earned Miami plenty of praise from head coach Mario Cristobal after the fact.
"They're legitimate, hard-working, tough, resilient, accountable, physical, smart, cohesive human beings that are team-first guys," said of the offensive line. "They want to see the team win … They've got great personality. They're natural leaders by what they do and whatever comes out of their mouth, by example. Those guys are a lot of fun to be around, and the culture of that room just gets better and better and better."
Said Miami offensive coordinator Shannon Dawson,  "We knew we were going to have to run the ball. Obviously, I feel like we have the best o-line in the country, along with the best o-line coach and they came through. We were physical. Those guys protected. … It was as solid of a performance against a really, really, really tough defensive front."
Miami's coaches aren't the only ones that have been impressed by the offensive line's performance this season.
Last week, the unit was one of 23 teams nationally to earn a spot on the Joe Moore Award Midseason Honor Roll after the Hurricanes started the season as the fifth-most improved program in terms of total yards per game.
The annual award recognizes the best offensive line in college football and is named after Joe Moore, who is widely regarded as one of the best offensive line coaches in history.
It's an honor that is given not to an individual player, but to a group that works together cohesively to help their team succeed and that's the mindset Mirabal – a veteran offensive line coach with two decades of experience at the high school and college level combined – wants to foster among his players.
"It's five men, one mind. That's what he preaches every day since he's gotten here," said fourth-year redshirt sophomore offensive lineman Jalen Rivers. "When one guy messes up on the o-line, it's not a great play. If one guy doesn't win his one-on-one block, it's a sack or a tackle for loss. So, five men, one mind. … We all have to be on the same page, and we all have to trust each other. That's the biggest thing."
Building that level of trust among his players has been one of Mirabal's driving forces since arriving at Miami last season with Cristobal.
The two coaches have been close friends since playing together at Miami's Christopher Columbus High School and for much of Cristobal's career, Mirabal has been a constant.
The two worked together at both FIU and Oregon and for Mirabal, the opportunity to return home to Miami when Cristobal was hired as the Hurricanes' head coach in December 2021 was a no-brainer.
"It's extremely special. It's humbling and it's a blessing," Mirabal said of coaching at his hometown program. "It's an honor because of what The U stands for. The U stands for championships. The U stands for the City of Miami. I think a lot of universities are just there, but The U represents Miami. It represents its people. … To get an opportunity to come here is something that I don't take for granted.
"It's not like other places I've been at – and they've all been great. But it's different. It's different because I'm from this community. I'm from this community and this university represents this community. We're trying to help make people proud of this University."
Before joining Cristobal's staff at FIU in 2007, Mirabal spent a decade teaching – and coaching – at Columbus. It was an experience that he says not only changed his life, but one that shaped the way he approaches coaching.
And his approach – of being a teacher first – is one his players can't help but appreciate.
"Coach Mirabal is a good coach. I feel like he coaches us very hard, but he teaches more than a lot of coaches. He teaches everything," said sophomore offensive lineman Anez Cooper. "Any little thing, he writes it down on the board. He's very communicative. He makes sure we know everything. He's like a teacher, coaching football and I feel like it's very good for us.
Said Rivers, "You can tell he was a teacher. He's very detailed. He's passionate, too. I've seen that with a lot of teachers I've had in the past. To have it here, in an o-line coach … He's going to overcommunicate with us, overteach us and that's important for guys who are visual learners or auditory learners. He does everything. He covers everything. If you're not sure about something, you can meet with him one-on-one. I feel like that's important as a coach, too, being available for your guys to even be able to want to come to you on a personal level."
The same way Mirabal wants to build trust amongst his players, he wants to make sure his players trust him to put them in the best position to succeed not just on the field, but in life.
During the offseason, it's not unusual for Mirabal, his wife Berta, and their sons Alejandro and Nicolas to welcome Miami's offensive linemen to their home. There are outings together, too.
Meals are enjoyed. Stories are shared. And a sense of community and family are built.
Berta Mirabal says she and her husband wouldn't have it any other way.
"We love those kids," Berta Mirabal said. "It's a big deal to both of us. I was a teacher myself and I loved my students. I think especially knowing that some of those kids are from out of town, that they're not from here, it's a big deal for us that those boys to feel like they have family here, that they have people who are looking out for them, that if they need anything, they know that they can reach out. If one of their parents needs something, that they feel comfortable enough to know they can reach out. It's no less than what we'd want for our own kids if they were in that situation. …
"At the end of the day, it's having an extra set of boys and I always brag because I think that the offensive line is the best group. There's no ego. They put their heads down and they work. … They are the hardest working, most humble kids and to be able to sit and talk with them, it's a really great thing. … I'm super, super proud of Al. I could not be proud of him. He's made himself the coach and person he is and we're all – all of us, me, the boys, our families – we're all very proud of what he does and how he does it the right way."
With the Hurricanes now more than halfway through the season and set to host another crucial ACC game against Virginia on Saturday at Hard Rock Stadium, Mirabal and Miami's offensive linemen know they will continue to be counted on to help push the Hurricanes forward.
It's a challenge both the coach – and his linemen – are embracing, not for themselves, but for their team and for each other.
"I want to see them physically impose their will on other people. That's what I want to see," Mirabal said. "At the end of the day, blocking is moving a man from Point A to Point B against his will. That's what I want to see them do. Until we do that for a whole game, we've got something to work on. And I think that's what they want, too. I want to see them succeed. I want to see them succeed for themselves. I want them to be able to walk around with their heads held high and their chests out, and them being successful for themselves. … I've been part of very successful programs and the teams and the joy and the memories that come from that are phenomenal. I would love for them to be able to experience that."
Said Lee, "[Mirabal's] a guy that's not only going to coach the hell out of you and give you everything he's got on the football field and in the meeting room day in and day out, but he's going to treat you like his own son off the field and give you whatever you need and help you through whatever you want. That just makes you want to play for him and get better for him. It increases our passion that much more."