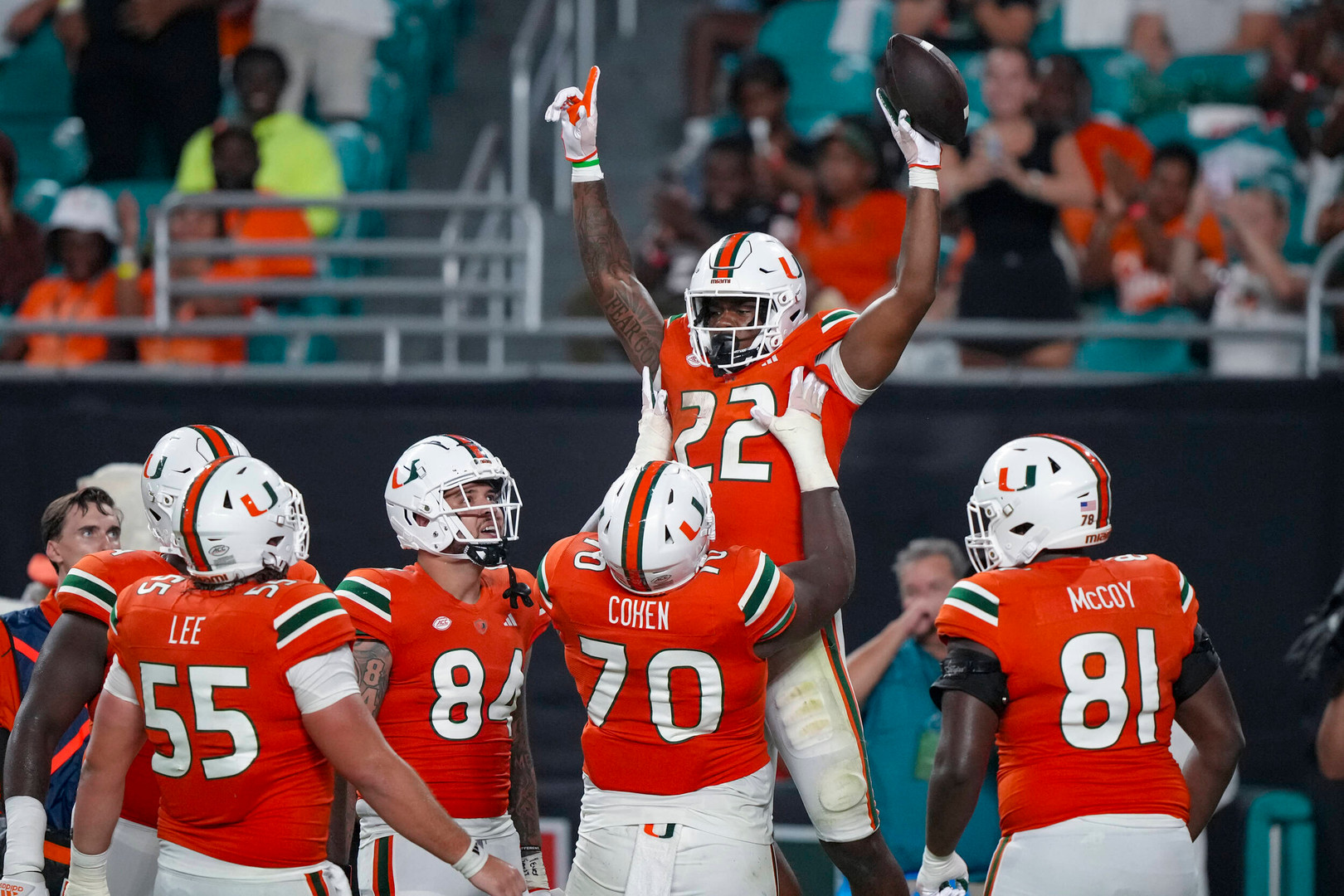 MIAMI GARDENS, Fla. – As the Hurricanes went through their final preparations ahead of their season opener, Miami's running backs had a chance – ever so briefly – to connect with the past.
Former Hurricanes great Frank Gore, a five-time Pro Bowler whose 16,000 career rushing yards ranks third in NFL history, stopped by the Carol Soffer Indoor Practice Facility to take in practice.
While there, he made it a point to say hello to as many of the current Hurricanes as he could – including, of course, the running backs, among them Henry Parrish, Jr. and Mark Fletcher, Jr.
Their conversations weren't particularly long, but they made an impact, reminding the two young running backs of the standard that was set by the players who came before them.
On Friday, Parrish, Fletcher and fellow backs Donald Chaney, Jr. and Ajay Allen did their best to try and uphold that standard, combining for 251 rushing yards and three touchdowns in the Hurricanes' 38-3 season-opening win over Miami (OH).
Parrish, a fourth-year junior out of Miami's Christopher Columbus High School, led the way with nine carries for 90 yards and a touchdown, while Fletcher, a freshman out of American Heritage in Plantation who made his Miami debut on Friday, had nine carries for 76 yards with a score of his own.
Chaney Jr., who has dealt with his share of injuries during his Miami career and appeared in just one game last year, scored the Hurricanes' final touchdown of the night and finished with 38 yards. Allen – a transfer from Nebraska – added 47 yards and averaged 5.2 yards per carry.
Making that all the more notable? Those performances came against a RedHawks defense that, last season, held opponents to an average of 135.9 yards per game. Kentucky managed just 50 rushing yards in its win over Miami (OH) last September.
That the Hurricanes were able to total 250 rushing yards against that defense was a testament to the work – and the competition – those running backs have shown in the offseason and throughout training camp, head coach Mario Cristobal said.
"They've been competing and competing hard. It was hard to tell who was separating, but you probably saw some of that tonight. Everybody looks good," Cristobal said. "Look at Don's run at the end. And then Ajay comes out and breaks that run out to the side and, wait a second, Mark Fletcher, Jr.'s run went over some people for a touchdown.
"It's the way it should be. When Miami's been really good, you remember those running back rooms, right? What they were like with Edgerrin James, Najeh Davenport, James Jackson and then you have Clinton Portis, Willis McGahee, and Frank Gore. I'm not saying we are there yet, but I'm saying that type of competition, we benefit a lot from it, and we intend to keep that competition going."
The running backs, for their part, are perfectly fine with that.
Competing – and working together – has made them all better, they say.
"We do it in practice, so it's nothing new. We just push each other every day, having that 1 percent [better] mentality," Parrish said. "Just bringing each other up, never let [any] outsiders in, keeping our group together and having it tight."
More than once during the game, Parrish noted he'd come off the field and share with his fellow running backs what he was seeing from the RedHawks defense. And Fletcher did the same.
The backs pushed themselves to excel and in doing so, helped the Hurricanes notch their first win of the season.
That's something both Parrish and Fletcher said made them proud – especially given how much has been said about offensive coordinator Shannon Dawson's affinity for the air raid offense.
"Nothing gets started in the air without running the ball and Coach Dawson tells us that every day in practice," Fletcher said. "It showed tonight."
Added Parrish, "We did what we had to do. When a play was called, we did our job and we executed at a high level."
Their efforts weren't unnoticed by teammates, either.
Hurricanes quarterback Tyler Van Dyke – who completed 17 of 22 passes for 201 yards with a touchdown and an interception – credited the running game, and the offensive line, for doing their part to keep the chains moving and putting points on the board, especially in the second half.
"All four of those guys are tough, tough, hard running backs," Van Dyke said. "I trust each and every one of them. The competition in the room is really good. Each of them has a different skill set that they bring to the table, so very excited to see what those guys are going to do moving on…We definitely ran the ball really well tonight. Hopefully, we keep doing that."
Parrish and Fletcher said that's exactly what they intend to do.
The backs both know they'll face a challenge next week when the Hurricanes host No. 23 Texas A&M, which is set to open the season Saturday against New Mexico.
And as they've done throughout the offseason, in training camp and now, in the opener, they'll continue to push each other to get better.
The goal now is to build on what they did Friday.
"Just keeping our head down, going to practice, having that 1-0 mentality like I just said," Parrish said of the goal for the running backs moving forward. "Just focus on the next practice, the next play and keep moving forward."
Added Fletcher, "Just keep on going, get back to practice, and you practice how you play, so as soon as we get back to practice, we'll go at it and that will set us up for the next game."