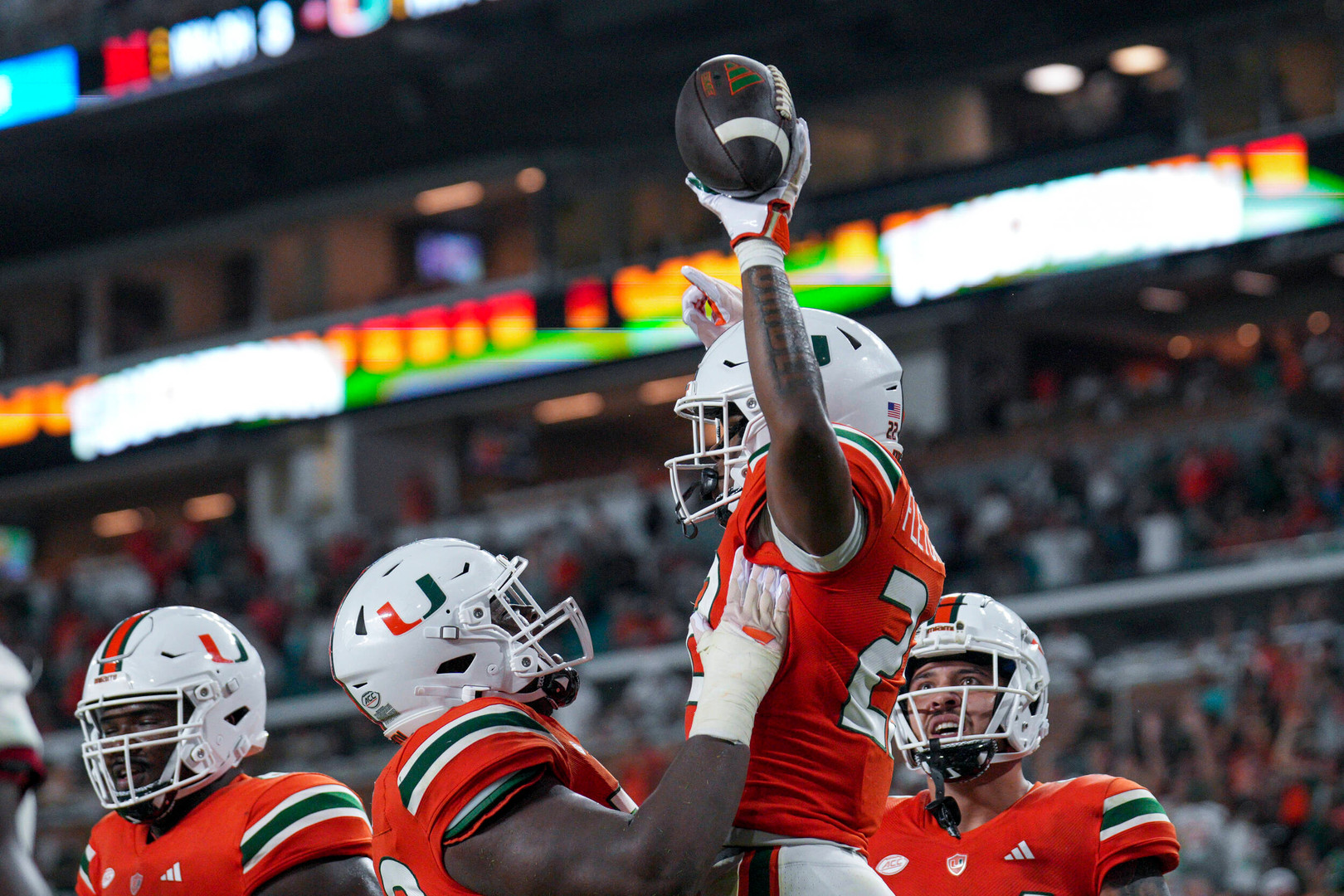 MIAMI GARDENS, Fla. – Some South Florida rain showers delayed the start of the Miami Hurricanes' opening night performance of 2023.
But when the proverbial curtain rose, it was well worth the wait.
Dominating both sides of the line of scrimmage, the Canes rolled to 38-3 win over Miami (Ohio) Friday before a crowd of 49,024 at Hard Rock Stadium – running its record to 16-0 in Hard Rock home openers.
Miami was at its mauling, menacing best up front, rushing for 250 yards and holding the RedHawks to just 51 yards of real estate on the ground.
"We played a lot of guys tonight and played a pretty solid brand of football," head coach Mario Cristobal said. "I was certainly proud of the way our defensive guys came out and put a lot of pressure on their offense. They got us some really good field position and, while we didn't capitalize all the time, we put a couple good drives together.
"I'm proud of the offensive and defensive lines. I felt they controlled the line of scrimmage for a majority of the game."
Henry Parrish, Jr. paced the backfield with 90 yards and one touchdown, while freshman Mark Fletcher, Jr. rushed for 76 yards and his first career score. Ajay Allen added 49 yards and Don Chaney, Jr. had 38 yards and a touchdown. The Canes averaged 6.9 yards per carry.
"It's kind of what (running backs coach) Tim Harris has been talking about all week," Cristobal said. "They've all been competing and competing hard. It was hard to tell who was separating but you probably saw some of that tonight. Everybody looks good."
Quarterback Tyler Van Dyke completed 17 of 22 passes for 201 yards, one touchdown and one pick, connecting with wide receiver Xavier Restrepo five times for 68 yards. Fellow wideouts Colbie Young (four catches, 79 yards, one touchdown) and Jacolby George (six receptions, 56 yards) also had big nights.
"I thought (Tyler) performed really well," Cristobal said. "He'd love to have the interception back. He's really hard on himself. He was really efficient. He put us in the right plays, made the right decisions in the run game, as well. He carries a lot when he runs this offense. There's a lot of autonomy that goes with it and I thought he did a great, great job."
Linebacker Francisco Mauigoa paced Miami with five tackles. Defensive end Jahfari Harvey and linebacker Wesley Bissainthe each had two tackles and one sack.
Overall, Miami outgained its homonymous guest from Ohio 493 to 215 total yards and allowed the RedHawks to convert just 2 of 13 third-down attempts.
"Aggressive," Cristobal said of the defense. "I saw a team that played fast. I saw a team that played to their training, since January; A commitment to increasing our level of physicality and speed. They're playing with a bit more power. And then, Coach (Lance) Guidry, and how highly we think of him, he put it together. If you watch film with him, he's not going to be completely happy. He's going to find a lot of stuff to fix. But he is going to be happy with the effort."
After a 22-minute lightning delay, wide receiver Brashard Smith took the opening kickoff to the Canes 40 and Miami wasted no time getting to the end zone. Parrish rushed twice for 11 yards to get the Canes past midfield before Van Dyke threw a dart to Young, who turned on the jets and raced down the left sideline for 44 yards. Miami led 7-0 just 1:34 into the game.
The Canes' defense forced a three-and-out after Harvey sacked quarterback Brett Gabbert for a five-yard loss. Miami took over at its own 18 and again marched into RedHawks territory as the rain returned. Andy Borregales capped the drive with a 34-yard field goal to push Miami's lead to 10 points.
After the teams traded punts, Van Dyke looked deep for George but was picked off by MU's Michael Dowell. The RedHawks took over at their own 40 but went backwards as Bissainthe sacked Gabbert for a nine-yard loss. Miami got the ball back at its own 22.
The Canes went to their ground game as Allen and Fletcher rushed seven straight times between them for 64 yards to the RedHawks 19. But the drive stalled and Borregales booted a 32-yard field goal to push the lead to 13-0 with 2:33 left in the first half.
On the ensuing drive, Gabbert hit wide receiver Gage Larvadain in stride for a 30-yard completion to the Miami 35. But the Canes again held firm, forcing a 48-yard field goal from Graham Nicholson to cut the deficit back to 10 points.
But the Canes still had 58 seconds to work with and they made them count. Van Dyke hit Restrepo for 13 yards before Parrish galloped 37 yards to the MU 25. That gave Borregales another shot and he converted, hitting from 43 yards. It was 16-3 Canes at the break.
Tyler Van Dyke meets with the media after Miami's season-opening win.
The Canes forced a three-and-out to start the second half and then Miami's offense put together another efficient march. Van Dyke hit Restrepo twice for 29 yards to move the ball to the MU 26 and Fletcher took care of the rest, racing 26 yards down the left sideline for his first career touchdown. Van Dyke connected with Restrepo again for the two-point conversion and Miami had a three-touchdown lead.
Two drives later, Van Dyke lofted a gorgeous ball to Restrepo, whose one-armed grab moved the Canes to the RedHawks 35. Three plays later, Parrish scampered for 12 yards and dove into the end zone. The Canes were up 31-3 with 13:43 remaining.
Freshman Emory Williams took over under center later in the fourth quarter and completed all three of his passes for 42 yards, pushing Miami to the MU 20. Chaney churned his way to the end zone on the next snap – the Canes' third rushing score of the second half. The Canes had a 35-point lead with 4:38 left.
Miami next hosts No. 23 Texas A&M on Saturday, September 9, at 3:30 p.m. on ABC.