Canes Camp Report: August 14
CORAL GABLES, Fla. – After practicing in front of family, friends and fans at Hard Rock Stadium this weekend, the Hurricanes returned to Greentree on Monday to start another week of camp.
But the opportunity to get a feel for their home field wasn't one some of the newest Hurricanes took for granted, particularly running backs Ajay Allen, a transfer from Nebraska, and Mark Fletcher, Jr., a South Florida native who, before Saturday, had only seen the action at Hard Rock Stadium from the stands.
Even days after that practice, both ball carriers were still raving about their experience.
"I'm from Louisiana and we play our state championship games in NFL stadiums, like the New Orleans Saints'," Allen said. "But that was my first time getting a look at [Hard Rock Stadium]. I felt great on the field and coming together as a team, I think we competed well as a team."
Added Fletcher, "It was just good energy out there, playing in my hometown. I was just excited, just actually playing in the Hard Rock [Stadium], instead of watching in the stands. It was great energy and I'm just happy to be a part of it."
Both Allen and Fletcher turned in their share of big plays during Saturday's practice, eliciting more than a few loud cheers from the fans who made their way to Miami Gardens.
The hope now, both said, is that they – and the rest of Miami's running backs – can continue improving during the rest of camp.
The competition in the group will only help on that front.
"We all have to stay healthy first. Continue to be great here every day…See what's what with everybody, keep each other competitive with one another and I think we're doing great with that as well," said Allen, who rushed for 190 yards in four games at Nebraska last season before suffering a season-ending collarbone injury. "Coming in every day, we know we have to compete. Everybody wants to be that guy, so we have to compete to be that guy. I think [if] we keep competing every day, we'll be better ourselves."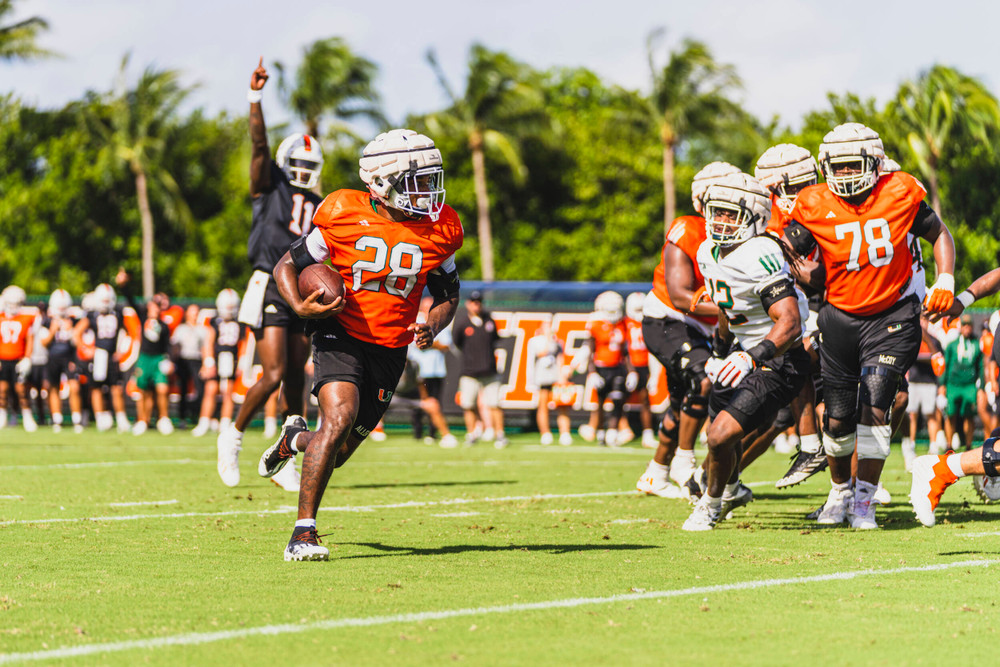 Here's more of what Allen, Fletcher, fellow running back Henry Parrish, Jr., defensive lineman Branson Deen and offensive lineman Jalen Rivers had to say after Monday's practice…
Running back Ajay Allen
On why he came to Miami:
"When I was growing up, this was a dream school, besides other schools I was looking at. I thought this was a dream school and I could continue the legacy here."
On why Miami was a dream school:
"I used to watch the Hall of Famers here, back in the day. I used to watch Frank Gore. He was one of my favorite running backs. He played for the 49ers."
On how he'd describe his running style:
"I call myself a game-changer. I compare myself to Jonathan Taylor from the Colts. We have a similar game and when I get in space, I do what I do best."
On how he'd assess the speed on the team:
"We have some fast guys on the team, so I really can't compare myself to everybody. There's a lot of guys on the team that are just as fast as me. I'm competing with them every day to better myself and get faster."
On how the running backs can help the passing game:
"As far as that, if we do end up throwing the ball, we still have to pass protect. That's a running back's job. Make a good pocket for [Tyler Van Dyke] and we can excel."
On how he and Mark Fletcher Jr. complement each other:
"Me and Mark, we're both great to one another. If I tell Mark something, he knows he listens. He takes it, he uses it. He tells me something, if I miss a read, like anything, I'll take that and fix it."
On dealing with an injury last season at Nebraska:
"It was a minor setback for me, just sit back and learn, learn from older guys, and come back better than ever. I just took that as a motivation and came back and competed. I got hurt, so, I had to sit back, and watch and I really hate sitting back and watching. So, I come here and compete every day to be better than what I was last year."
Running back Mark Fletcher, Jr.
On what he thinks he's learned in his first collegiate training camp:
"One thing I would have to say is a big thing is pass [protection], most definitely. As far as for a running back, that's been the most challenging thing. Not saying it's been too hard, but I'd say that's the most challenging thing as far as a running back. Everybody knows you have to wake up early, grind, so I was already prepared for that part. Learning the plays wasn't too hard, wasn't too difficult. We're just stacking days now."
On the offense:
"Even though they say [offensive coordinator Shannon Dawson's] a big air raid guy, when I first met him, he said, 'You know, we don't start anything without running the ball' and he's been standing on that information since I've been here. I love the offense."
On what it's like to play with quarterback Tyler Van Dyke:
"He's a player. He's a gamer. A real leader and I'm just happy to be right next to him. Anything I don't know, he'll tell me and that's on and off the field. He's a great guy."
On how he'd describe himself:
"I'd say, a power back who can do it all at the same time. I can run past a guy, I can run through a guy, catch the ball, anything you need. Anything to help the team, really."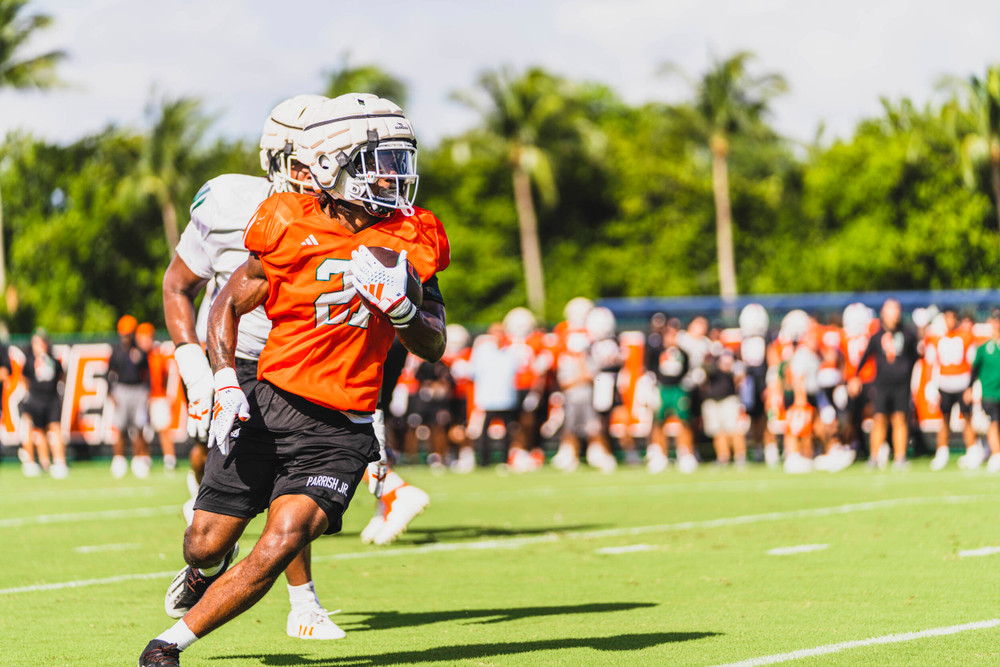 Running back Henry Parrish, Jr.
On the scrimmage:
"Overall, I feel like we did good, even though there's more to be improved on, but as far as the scrimmage, it went pretty good. Everybody making plays, guys rotating in, flying around. Just making plays."
On the offensive line:
"Guys are opening up holes. You can see it, clearly. No second-guessing. Just downhill running and making plays."
Defensive lineman Branson Deen
On how he feels Saturday's scrimmage went, from a defensive line perspective:
"I thought we played well. I thought we got after it a little bit. It's always good to have that back and forth. I thought the o-line played well, too. I thought we grinded it out."
On getting to scrimmage at Hard Rock Stadium:
"I loved it. Man, I was trying to soak it in. We obviously didn't have much time to actually look and soak in the place, but I soaked it in for a quick minute. I can't wait to go back though."
On players that have taken steps forward during camp:
"Like always, Rueben [Bain, Jr.]. Rueben's going to be really key for us. [Leonard Taylor III] is finding his rhythm. He's a big, explosive dude and he's getting better every single day. We have a bunch of young guys that'll be helpful for us, Nyjalik [Kelly] and Jahfari [Harvey]. Those guys are battling it out and they're really consistent. I can't wait to get on the field with those guys."
On Rueben Bain, Jr.:
"Man, that dude goes like a vet. It's hard to find a freshman that can sustain that level of energy and that level of aggression…shoot, we ended with two-minute [drills], and he had some crazy rushes, full speed. He's a seasoned vet already and he'll only get better."
On running back Mark Fletcher, Jr.:
"He's a truck, golly. You don't really see kids that big be able to cut that agile and that quick. He's a surprise. You won't feel his speed and agility until you get out there on the field with him, but man, he's going to be great for us."
Offensive lineman Jalen Rivers
On Mark Fletcher's touchdown and the hole the offensive line opened to help make it happen:
"It's not his first college game, but it's his first college type of game at Hard Rock, like a scrimmage. So, it's really exciting to see him score his first touchdown in that stadium and I hope for many more. We hope to block for him for many more. It was really good. We all ran down and celebrated with him…
"It's very encouraging [to see the line open a hole that size]. But of course, we're not going to be like 'oooh.' That's going to be the standard. We want to further that more, work on that. Of course, we had some mishaps and a lot of things to work on, both sides of the ball. But I would say we're heading in the right direction."
On Tyler Van Dyke's play in the scrimmage:
"Tyler, that's expected from him. But it's very nice to see him back, coming off of last year. He's just taking good steps as well. I'm proud to be blocking for him, too."
On the different styles of running backs Ajay Allen and Mark Fletcher, Jr.:
"Ajay's very twitchy. He's not as big as Mark, obviously, but the advantage is he's very slippery, too. He'll get out on the edge and he's very fast. Mark, he's very powerful, too. He's similar to Don [Chaney], but he's just very powerful. He gets off tackles really quick and get them yards. He's very adamant in getting every yard. He's just very powerful. He's going to get the yards and get the first down."
On the play of freshman Rueben Bain, Jr.:
"I've been going against him ever since spring and he's just elevated his game. He's made sure to work on many things, learning from what he did in the spring going into the summer. He's a very talented guy. He's a very finesse type of player, get off. He uses his hands a lot and he has that speed-to-power, too. It's good to go against him and he's learned off of that and just teach him things, too. We just feed off each other. Iron sharpens iron, like I always say. But he's a great player and I expect him to make many plays in the coming years."
On the season getting closer:
"I'm very excited. We've been building this line up, we've been building this chemistry with the whole offense, really, not just the line. We're excited to see what it is coming on that first day, September 1, against Miami of Ohio and just handling adversity. We've been trying to go through adversity throughout the spring and summer, so, that's our biggest challenge, seeing how we handle all that."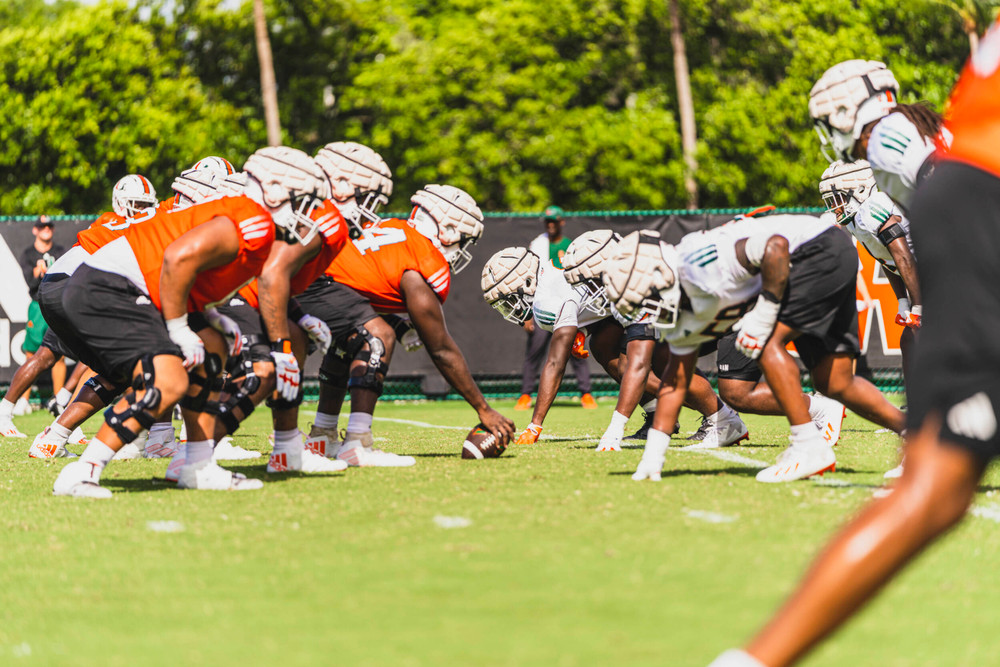 Kinchens, Taylor on Bednarik Watch List
Safety Kamren Kinchens and defensive lineman Leonard Taylor III on Monday were both named to the preseason watch list for the 2023 Chuck Bednarik Award honoring the most outstanding defensive player in college football.
For Kinchens, a first-team All-American a season ago, it is the fifth major accolade of the preseason. He was also named to the watch list for the Wuerffel Trophy, the Nagurski Trophy and the Thorpe Award. He also earned preseason All-ACC recognition.
Kinchens had a team-high 59 tackles and six interceptions last year for the Hurricanes.
Taylor III, who earned All-ACC honorable mention recognition in 2022, had 24 total tackles and 10.5 tackles for loss last season. He also had an interception and led Miami with six quarterback hurries.
Kinchens and Taylor are among several Hurricanes who have been named to the preseason watch lists for several major awards including Javion Cohen (Outland Trophy), Matt Lee (Rimington Award), Elijah Arroyo (Mackey Award) and Andy Borregales (Groza Award).