Mentoring a New Generation of Hurricanes
CORAL GABLES, Fla. – The day before the Hurricanes opened training camp, Tim Harris, Jr. sat in the Carol Soffer Indoor Practice Facility, his mind already focused on the work ahead.
And for Miami's running backs coach – a former All-American track and field athlete for the Hurricanes and a member of the UM Sports Hall of Fame – that work is extremely personal.
"It's a different feeling when you've put this on before," Harris said, gesturing to the orange and green "U" on his chest. "You know the feeling that you had and the work that went into it when you were an athlete here and just what it meant to you and how it helped me to be who I am as a person. Every day [now], I feel that feeling again. It's just like I'm warming up for the ACC Championships, about to compete. It's crazy, but it's so fulfilling. So fulfilling."
That's a sentiment Hurricanes wide receivers coach Kevin Beard understands well.
Like Harris, Beard knows what it's like to compete for Miami and like Harris, he's determined to do everything in his power to make sure a new generation of Hurricanes is as prepared as possible for not only the challenges that await them on the field this season, but beyond it.
"It's really special," said Beard, a former receiver for the Hurricanes who played at Miami between 1999 and 2003 and was a member of the 2001 national championship team. "I take every moment as a moment to remember and I'm grateful and honored to be here. And the opportunity to affect those young men on a day-to-day basis, I don't take it for granted, so I'm here early in the morning and I'm here late at night, just trying to make sure I have everything possible prepared so I can be organized, detailed and precise in the information I give them."
Harris and Beard are two of the newest members of the Hurricanes coaching staff, a staff that was revamped this offseason by head coach Mario Cristobal, a Miami alum himself.
More than once since returning to his alma mater, Cristobal has detailed how driven he is to help the Hurricanes return to national prominence. A two-time national championship offensive lineman at Miami, he knows full well the program's potential and what it means to the South Florida community as a whole when the Hurricanes are at their best.
Beard and Harris know that potential, too. Their shared task is now helping the current Hurricanes understand how they can be a part of Miami's resurgence.
And having the ability to tap into the experiences they had as Hurricanes, they said, will only work to their advantage as they coach, teach and try to inspire.
"When you can give them that other side, it makes it feel a little bit more real for them," Beard said. "Sometimes, a lot of coaches can't do that. They don't have that ability to do that. And it so happens that my experience was actually here…I'm able to tell those guys that when I was coming up, I put the heat on Daryl Jones and then when I became the older guy, Roscoe Parrish put the heat on me. That's not saying I wasn't good enough. That's not saying Daryl Jones wasn't good enough. That's saying that's what pushed us to become the greatest college football team ever."
Said Harris, whose time of 1:47.12 in the outdoor 800-meter still ranks third in school history, "When you talk about wanting to be a coach at a young age, it's always about helping develop young people. For me, it's a unique situation, being that I went to school here…Individually, having been here, having had a lot of success here – I went into the Hall of Fame last spring – doing enough good stuff where there's evidence when you talk to them. They don't have to look far to be able to trust what I'm telling them to do. They're able to go downstairs, look in that building and know 'What coach is telling me, it must mean something because he accomplished something here.' That's how I look at it. It's just that simple."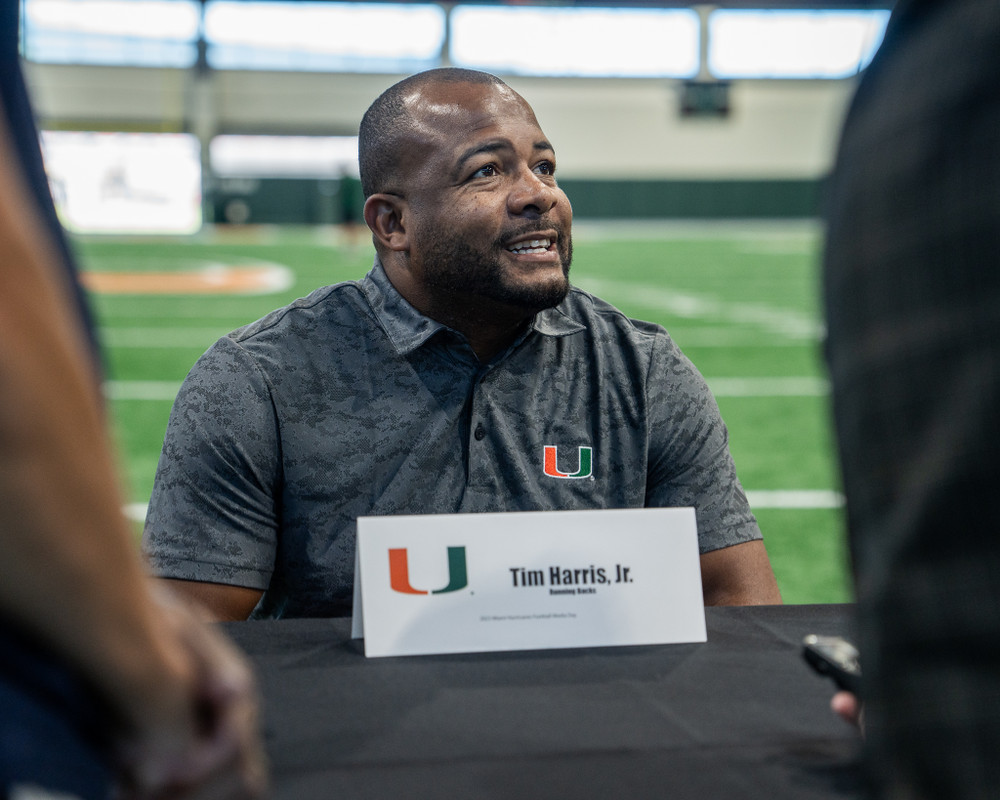 Though Beard and Harris have only been back at Miami a short while, their messages have already resonated with the players they are mentoring.
Receivers Colbie Young and Xavier Restrepo both say Beard's emphasis on competition is pushing them and the rest of Miami's receiving corps to step things up as they make their way through preseason camp.
And Donald Chaney, Jr. and Henry Parrish, Jr. noted Harris' efforts to get to know his players have made a difference when it comes to strengthening bonds in the running backs room.
"He's a good dude, a good person. He tells us what we need to do, and I appreciate him for that," said Parrish of Harris. "Not a lot of coaches check up on you and see how you're doing, but he's a guy that texts you and goes out of his way to call you and check up on you and see how you're doing. Stuff like that is important, building that bond and trust. Ever since I got here, we've always been connected."
Said Restrepo of Beard, "That's my guy. Words can't describe how much love and admiration I have for him. He pours his everything into coaching us…He's another guy that's all in and I love to be around people like that…Not a day goes by where he doesn't give examples or lay out the platform for us to walk on and step on. Every single day, he's like 'You all better bring it or else, somebody's spot is going to get taken.' Super attention-to-detail, super caring. He's very patient and he just cares a lot."
As the Hurricanes continue the work of preparing for their Sept. 1 season opener against Miami of Ohio at Hard Rock Stadium, Beard and Harris are determined to continue helping their players be at their best.
It's simply what Hurricanes do, they said.
"Sometimes, it gets lost in our profession because we get focused on coaching big groups and talking to big groups all the time, where you lose the individual side of it," Harris said. "I like to develop individual relationships with my guys because they are all different. They all are different. They come from different backgrounds. They've been through different things, and I've got to figure out a way as a coach to reach them as individuals to help them get to where they want to be. And I try very hard every day to learn a little bit more about them to be able to do something to help them reach their goals."
Said Beard, "This means so much to me that I feel like I'm getting choked up. I can't wait for them to see themselves and be like, 'I'm really dominating, and I didn't see myself like this before.' … It just means so much to me to help them be the best versions of themselves. That's what pushes me on a day-to-day basis."