Morris Selected to 2024 ABCA Hall of Fame Class
CORAL GABLES, Fla. — Former University of Miami head coach Jim Morris has been selected for induction in the American Baseball Coaches Association (ABCA) Hall of Fame in 2024, the organization announced Wednesday.
Morris joins the 10-member Class of 2024 that also includes Cal Bailey (West Virginia), Danny Hall (Georgia Tech), Pat McQuaid (Nova High School), Brian O'Connor (Virginia), Tim Pettorini (The College of Wooster [Ohio]), John Vodenlich (Wisconsin-Whitewater), Jim Wells (Alabama), Wayne Welton (Chelsea High School) and Jeff Willis (LSU Eunice).
The two-time national champion skipper spent 41 years as a collegiate head coach, notching over 1,7000 career wins while setting multiple NCAA coaching records. Morris set an NCAA record by taking the Hurricanes to the College World Series in each of his first six seasons in Coral Gables and became just the sixth coach in NCAA Divison I history to reach the 1,500-win plateau when he did so in 2016.
Morris, who was at Miami from 1994-2018, led the Hurricanes to their third and fourth national titles in 1999 and 2001, respectively, and to 13 College World Series appearances over 25 seasons, the most by any coach during the same time period. Under his guidance, Miami went 1,090-472-3 (.696), earning Morris national coach of the year honors three times and Atlantic Coast Conference Coach of the Year accolades in 2008.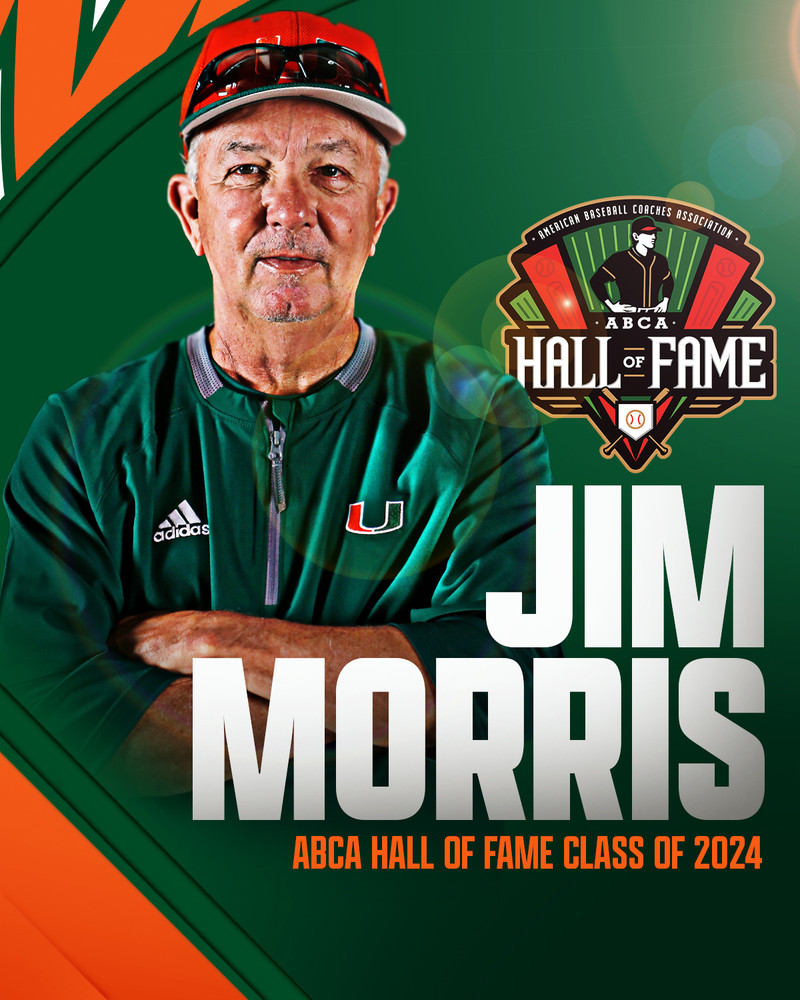 Prior to his arrival at The U, Morris was the head coach at Georgia Tech from 1982-1993. The Yellow Jackets advanced to the NCAA Tournament in each of his final nine seasons in Atlanta, while claiming four ACC championships along the way. Morris left Georgia Tech as the school's all-time leader in coaching victories in any sport with a 500-243-1 (.672) mark.
Morris' first head coaching job came when he started the baseball program at DeKalb Community College in 1976. He led the Eagles to the 1977 Junior College World Series. After four seasons at DeKalb, Morris worked as an assistant at Florida State for two years before leaving for Georgia Tech.
In 2020, Morris was inducted in the National College Baseball Hall of Fame.
The 2024 ABCA Hall of Fame Banquet induction ceremony will be held during the 80th annual ABCA Convention on Friday, Jan. 5, 2024, at the Gaylord Texan in Grapevine, Texas.
Tickets for the event will be available for purchase online. ABCA members will be able to purchase tickets during the Convention registration process. Non-members will be able to purchase tickets beginning Sept. 1.
Induction to the ABCA Hall of Fame is the highest honor bestowed by the organization. The ABCA was founded in 1945 and the Hall of Fame begin in 1966.
To keep up with the University of Miami baseball team on social media, follow @CanesBaseball on Twitter, Instagram and Facebook.