University of Miami Athletics
Jim Morris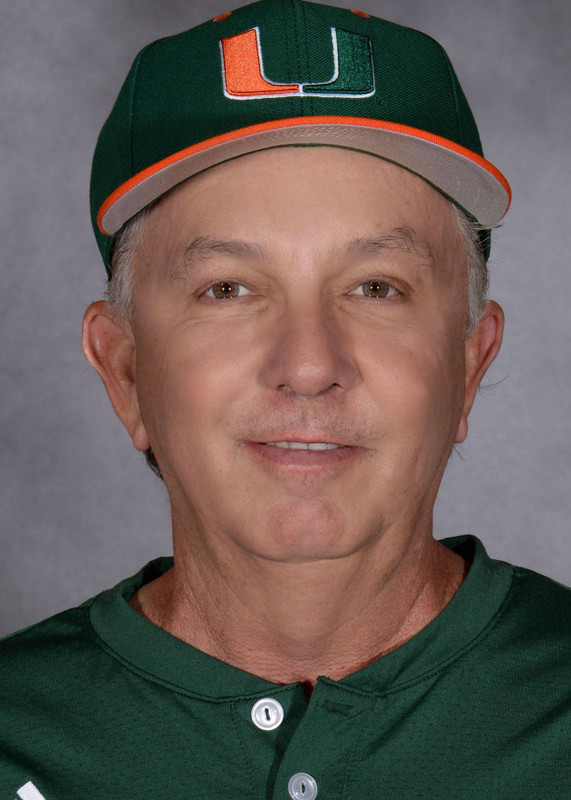 National College Baseball Hall of Fame
Class of 2020
National Coach of the Year Honors
2001 & 1999 Collegiate Baseball Newspaper
2001 & 1999 American Baseball Coaches' Association
1994 Baseball America
Conference Coach of the Year Honors
2008 Atlantic Coast Conference
It doesn't matter if his roster is full of rookies or veterans, University of Miami head coach Jim Morris continually produced some of college baseball's most consistent and dominant teams over his 25 seasons in Coral Gables. With a talented staff around him, Morris' Hurricanes were continually the class of collegiate baseball, having won national titles in 1999 and 2001 and the ACC Baseball Regular Season Championship in 2008, 2014 and 2016.
In his 25-season tenure at Miami, no program has qualified for the College World Series as much as Morris and his Hurricanes. Miami, which qualified for the NCAA Tournament a college baseball-record 44 consecutive years, made it to Omaha in 13 of Morris' 25 seasons in Coral Gables – including most recently in 2016, when Miami was awarded the No. 3 national seed for the NCAA postseason.
Morris set an NCAA record for guiding a program to the CWS in each of his first six years at UM. In addition, Morris has won 17 of 23 NCAA Regional appearances at UM, including a record 13 straight to start his tenure in Coral Gables. His teams have qualified for NCAA Regionals for 32 consecutive years – his first 23 at Miami and his final nine at Georgia Tech.
A three-time national coach of the year and 2008 Atlantic Coast Conference Coach of the Year, Morris directed the Hurricanes to a 1,090-472-3 (.696) mark since arriving in 1994. Including his 12 seasons at Georgia Tech (1982-93), Morris forged a 1,590-715-4 (.689) Division I record in 37 years as a head coach. Overall, Morris was the head coach at the collegiate level for 41 seasons, spending the first four at DeKalb (Ga.) Community College from 1976-79, and registered a 1,721-754-4 (.694) overall ledger.
After a 41-year collegiate coaching career filled with championships and accolades, Morris was enshrined in the National College Baseball Hall of Fame as a member of its Class of 2020.
In addition to carrying on Miami's great baseball reputation for 25 years, Morris personally led the charge in the construction of Alex Rodriguez Park, and logged hundreds of hours raising funds for the stadium's renovation prior to its reopening in 2009.
Morris reached two coaching milestones in 2016, as he led the program to its 25th College World Series appearance in history, its third straight ACC Coastal Division title and the program's second ACC Regular Season Championship in a three-year span. The Hurricanes posted a 50-win season (50-14) for the second straight year, marking the first such instance for Miami since 1998 / 1999.
Morris became just the sixth coach in the history of Division I baseball to reach the 1,500-win plateau when Miami topped Louisville 8-4 in dramatic fashion on March 18, 2016. A walk-off grand slam from Willie Abreu gave Morris his 1,500th.
Eight days later, Miami topped Clemson 5-4 in 11 innings – also in walk-off fashion – to send Morris to his 1,000th win at the helm of the Hurricanes.
Under his direction, the Hurricanes set the program record for fielding percentage with a sparkling .983 mark in 2016, a figure that ranked best nationwide. Seven Hurricanes were selected in the first round in 2016 Major League Baseball First-Year Player Draft, including the program's first first-round selection since 2010 in catcher Zack Collins (No. 10, Chicago White Sox). Morris also helped guide two Hurricanes to a pair of major awards: Collins became the first Hurricane to win the Johnny Bench Award as the nation's top collegiate catcher in 2016, while Bryan Garcia set the program saves record and became the first Hurricane to win the NCBWA Stopper of the Year Award as the nation's top relief pitcher.
In 2015, Morris led the Hurricanes to their second straight ACC Coastal Division title, the 24th College World Series appearance in program history, and reached the 50-win mark for the 12th time.
Morris entered 2015 among the winningest active coaches in Division I baseball with 1,435 wins. He wasted little time in moving up the record books, moving into sole possession of eighth place in all-time wins (1,439) on Feb. 15 with a 25-4 win over Rutgers and then seventh place with a 9-5 win over Louisville on March 7 (1,445).
Miami captured the 2014 ACC Regular Season Championship under his watch, recording 24 wins in conference play for the first time in program history. The conference win total set a new record for the program and tied the ACC's all-time single-season win total at the time.
Morris reached two coaching milestones in the first half of the 2014 season. He became just the eighth Division I coach to reach 1,400 wins in a 5-2 win over Boston College on March 8, and won his 900th game at Miami in a 7-1 upset of No. 3 Virginia on March 22. The Hurricanes, who have never missed the Atlantic Coast Conference Championship since joining the ACC in 2004, qualified for their 10th straight conference tournament under Morris and earned a Regional host spot for their 42nd consecutive postseason trip.
On March 15, 2013, Morris won his 1,500th game as a head coach in signature fashion – upsetting No. 1 North Carolina on the road at Boshamer Stadium in Chapel Hill, N.C.
Morris has reached a number of other coaching milestones in his time in Coral Gables. His 1,000th Division-I game on April 4, 2004, at his old stomping grounds at Georgia Tech. He also achieved another milestone during the 2004 season, winning his 500th game at the helm of the Miami program. Morris' 500th win came just a few weeks following his 1,000th overall win as a Division-I head coach by beating Florida State 7-3 on April 17. His 600th win at Miami fittingly came in UM's 2006 Regional Opener against San Francisco on June 2, an 11-2 win that began the greatest run to the postseason in Miami's history. He is the second Hurricanes' head coach to win 500 games at Miami, joining Ron Fraser, who won 1,271 games from 1963-1992 in Coral Gables.
The 2008 season saw the Hurricanes reach their 11th CWS and reach the 50-win plateau for the seventh time under Morris. The team finished with an overall record of 53-11 (.828), the highest winning percentage for a Miami team in 16 seasons. The Hurricanes, after going 43-8 overall and 23-5 in ACC play during the regular season, went on to win their first ACC title at the 2008 ACC Championship in Jacksonville. Miami would go on to host and win both the Coral Gables Regional (vs. Bethune-Cookman, Mississippi and Missouri) and the Coral Gables Super Regional (vs. Arizona) on its path to Omaha. Morris earned ACC Coach of the Year honors for his leadership in 2008 while eight Hurricanes were named to the All-ACC team, including left-hander Chris Hernandez, who was named ACC Freshman of the Year.
For the first time in school history, three Hurricanes were selected in the first round of the Major League Baseball Draft in 2008. Junior first baseman Yonder Alonso (7th overall to the Cincinnati Reds), junior second baseman Jemile Weeks (12th overall to the Oakland Athletics) and junior right-handed pitcher Carlos Gutierrez (27th overall to the Minnesota Twins) were the first three of eight total `Canes taken in the 2008 draft.
Affectionately known as "3" by those surrounding the UM program, Morris and the Hurricanes claimed the 2001 National Championship with a 12-1 victory over Stanford in the College World Series finale at Rosenblatt Stadium. The 11-run margin of victory over the Cardinal tied a 45-year-old CWS record for a championship game, while the Hurricanes' 12.3 runs per game set a new CWS mark. Miami had also defeated Tennessee twice, 21-13 and 12-6, and Southern California, 4-3, to advance to the title game.
Miami finished the 2001 season riding a NCAA-high 17-game win streak, including a nine-game sweep during the postseason. The Hurricanes claimed the Coral Gables Regional championship with wins over Bucknell, Florida and Stetson, followed by a two-game sweep of Clemson in the Coral Gables Super Regional. The Hurricanes' 53-12 overall record in 2001 marked the most in wins (53) and winning percentage (.815) under Morris. Miami also led the nation in stolen bases (228) and relief pitcher appearances (223). Morris also saw school record 11 players were drafted and two more signed to free agent contracts off his 2001 squad.
Collegiate Baseball Newspaper and the American Baseball Coaches Association each honored Morris with its National Coach of the Year honors following his 2001 title to give him five such honors for his career. He additionally won top honors from Collegiate Baseball and the ABCA after the Hurricanes defeated Florida State, 6-5, for the 1999 National Championship. Morris' first National Coach of the Year honor came in his first season at Miami in 1994.
Morris has tasted success everywhere he has been, and he knew when he came to the University of Miami in the fall of 1993 that there was no better place for a winner to be than at the helm of the Hurricane program.
The Georgia Tech program he built in his 12 years in Atlanta, and which he guided to four ACC Championships (1985, 1986, 1987, 1988) in his nine seasons, took on a lot of the qualities that former UM coach Ron Fraser had been so successful with at Miami. Morris has kept both the prestige and winning at Mark Light Field, and has the old-time fans remembering the "good old days," when it seemed like almost every season under Fraser would end in Omaha.
"Jim came to me wanting to learn. He not only wanted to know why we did the things we do at Miami, but how to do it in a first-class manner," recalled Fraser.
"In my opinion, Coach Fraser is the most influential head coach in the history of college baseball," commented Morris. "What he has done for this sport and at Miami is legendary. Coach Fraser has made an impact on so many young coaches throughout the years, including myself. He helped me tremendously before I came to Miami and still does to this day."
Family Man
Coach Morris and his wife Nhan live in Miami with their four-year-old son, James W. Morris IV (Will).
The Perfect Choice
Athletic Director Paul Dee officially appointed Morris Miami's eighth baseball coach on November 4, 1993. Morris graciously accepted and opened a new chapter in his storied coaching career.
"This is a great honor, I'm very excited," said Morris. "The University of Miami has a baseball program I've always respected. It is a program that I've always admired."
"I'm extremely pleased that we've been able to attract to the University of Miami one of the most outstanding collegiate baseball coaches in the country," explained Dee. "Jim's experience in a major metropolitan market with several professional teams was an important aspect of his background outside his outstanding coaching ability.
"Another important aspect of Jim's background is that he was able to have successful teams at a highly competitive academic institution."
Leaving Georgia Tech, which was the preseason No. 1 team in 1994, had to be tough, but the usually candid Morris put it in perspective.
"I'm going from the No. 1 team in the country, to the No. 1 program in the country," he said.
Welcome to Miami
Morris' admiration for the Hurricanes' baseball program began when he first came in contact with it as a 22-year old shortstop. He asked Coach Fraser's permission to take ground balls on the new Tartan Turf that would later become a part of Mark Light Field. His meeting with Fraser and his chance to practice at the Light left an impact on Morris that he would not forget as he began his professional career.
Morris ended up playing two seasons in the Boston Red Sox minor league system. Though his playing days came to an early end, he quickly saw that he had a future in coaching. An assistant coaching stint at Appalachian State in 1975 set the groundwork. In 1976, he then accepted the challenge of building, from scratch, a baseball program at Atlanta's DeKalb Community College's South campus.
Building the Best
At DeKalb, Morris started with no players and no field. After settling those "minor" issues, he quickly made a name for himself. His Eagles were nationally ranked three times in four years and advanced to the 1977 Junior College World Series. DeKalb finished second in just his second season. Morris added two more winning years at DeKalb before moving on to become an assistant coach at Florida State University.
Carrying the Tradition
On May 23, 1981, Morris received his second dose of Mark Light schooling. On that night, an overflow crowd packed The Light for a game vs. Florida State. Fraser, ever the showman, wasn't about to turn away a patron.
"Coach Fraser asked us if it was all right to rope off sections of foul territory down the lines. We said sure, and they were packed 10-feet deep in there. It was most incredible thing I've ever seen in college baseball. Fraser also asked us if we'd consider roping off the warning track, but we balked at that," added Morris. "I remember how exciting that game was and it was the first game I saw at the University of Miami. It was an outstanding day for me."
Miami defeated the Seminoles, 14-6, that night in front of 7,268 fans. It was a big night for the Hurricanes and one that Jim Morris would never forget.
A year later, Morris would accept a huge challenge in accepting the head coaching job at Georgia Tech. It was a reclamation project as the Yellow Jackets were on the backside of four straight losing seasons and were 4-23 in their first two seasons in the Atlantic Coast Conference.
At Georgia Tech, Morris was the all-time leader in coaching victories, in any of the school's varsity sports, as he had 12 straight winning seasons, nine straight NCAA regional berths, four straight Atlantic Coast Conference titles (1985-88) and a school-record 51 wins in 1987.
In 1985 Morris was asked to be director of marketing and ticket sales by Dr. Homer Rice at Georgia Tech. Morris had put the Yellow Jackets' program on the map in baseball, and in the process raised money for lights and a new stadium. After one year, Morris decided it was impossible to do both and chose to focus his efforts completely on baseball even though he had great love for marketing and fundraising.
Major League Guidance
Over 150 professional baseball players have played under Morris during their college careers at Miami, Georgia Tech and DeKalb.
Among the players Morris coached at Miami that went on to play in the Major Leagues were Ryan Braun (Milwaukee), Pat Burrell (Tampa Bay), Alex Cora (New York Mets), Bobby Hill (San Diego), Aubrey Huff (Detroit), Chris Perez (Cleveland), Cesar Carrillo (San Diego), Brian Barton (St. Louis), Gaby Sanchez (Florida), Charlton Jimerson (Houston), Jay Tessmer (New York Yankees), and Danny Graves (Cincinnati) and Jason Michaels (Houston). Several more Hurricanes during the Morris tenure are right on the cusp of making the show, including Mike Rodriguez (Houston), David Gil (Cincinnati) and Jon Jay (St. Louis). Standout players under Morris from his days at Georgia Tech were Nomar Garciaparra (Los Angeles Dodgers), Jay Payton (Oakland A's) and Jason Varitek (Boston Red Sox).
Morris has also enjoyed success on the International scene. From 1989-90, Morris served as head coach of the USA Baseball team that won a Silver Medal in the 1989 Presidential Cup (Taiwan), Bronze Medal at the Goodwill Games and the 1990 International Baseball Association (IBA) World All-Star Game in Atlanta. At the Goodwill Games, his USA squad won two of three games against Cuba, marking the first time in history a senior-level team won a series with Cuba. In 1987, Morris served as pitching coach under Ron Fraser at the Pan American Games (Silver Medal).