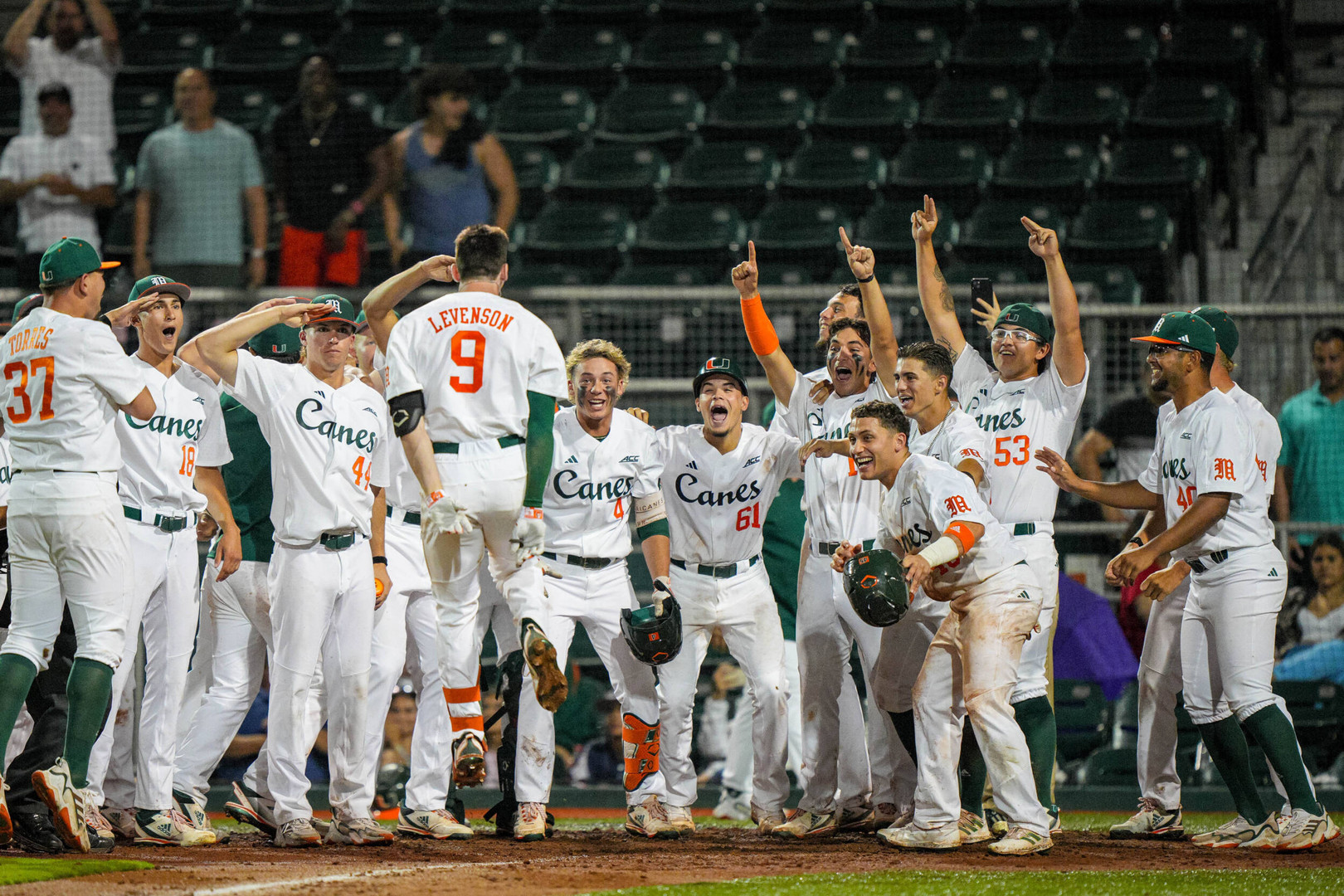 CORAL GABLES, Fla. – Zach Levenson hasn't forgotten the sting of last year's ACC Baseball Championship.
He can still see the sea of Wolfpack red in the stands, can still remember how he and his teammates felt as they left the field after a pair of tough losses to NC State and Wake Forest.
There was a sense of disappointment, a feeling that the Hurricanes – who'd put together an impressive regular season – hadn't been at their best when they'd most needed to be.
It was frustrating and now, with Miami headed back to North Carolina for another ACC Baseball Championship, Levenson says he and his teammates are determined to show they can compete when the spotlight shines brighter, the stakes get higher, and a conference title is on the line.
"It was definitely a big influence today at practice…Everybody knows that we have not played well there, so we're excited to get there," Levenson said Monday just before the Hurricanes left Mark Light Field to catch their flight to Durham for this year's championship. "We're playing [well] right now. We feel good about where we're at, playing with our group. It's only up from what we've done there, so we're excited for what we can do."
Hurricanes head coach Gino DiMare echoed that sentiment – and reiterated the need for No. 11 Miami to stay in the moment and not look forward to what potentially awaits beyond Thursday's opener against NC State.
"We haven't played our best baseball in the ACC tournament in recent years, and I want our guys to be focused on concentrating on this tournament and nothing else," DiMare said. "Really just focused on NC State. To me, that's the most important game no matter what happens with Duke and NC State. I know how this pool play works. We need to be playing good baseball. That's the bottom line. I do not want to be coming back from there on a backwards note, in terms of us not playing well or not playing good baseball. That's all I'm really focused on."
The Hurricanes (37-18, 18-12) have every reason to be confident entering the championship.
Miami has won 10 of its last 12 games and has won five straight ACC series, beating the likes of Duke, Pittsburgh, Louisville, Georgia Tech and North Carolina in the process.
The Hurricanes have also notched 12 top-25 victories and have shown their resiliency throughout the season, totaling 18 come-from-behind wins including a 10-8 triumph over Duke just this past Friday.
In that game, Miami scored a combined five runs in the eighth and ninth innings to force extras before catcher Carlos Perez hit a walk-off, two-run home run to give Miami the win in the 10th inning.
All of that, the Hurricanes say, have prepared them for this crucial part of the season.
"We're confident going late in games. There's no giving up for this team," said closer Andrew Walters, a two-time first-team All-ACC selection who enters the conference championship with a 1.21 ERA, 63 strikeouts, a 4-0 record and nine saves. "It's been fun, actually. We never count ourselves out no matter what situations are in the game."
Said Levenson, "We're a resilient team. We're never going to give up. We're a great group of guys. We always stick together. That's a big thing with us and that's just what we have to carry on to the postseason…Last year, sometimes, games would get away from us and that was it. This year's team, we're down 8-3 in the eighth [inning] and we come back and win. So, I think there's a little bit more toughness with this team than maybe previous teams, which is always a great thing to have. That's probably one thing that sticks out with this team for sure."
In pool play in Durham, the Hurricanes will face two familiar opponents they've played well against this season.
Miami took two of three against NC State in March and just this weekend, took two of three from Duke.
Still, while that may give the Hurricanes an additional shot of confidence heading into Thursday's game, DiMare cautioned Miami can't take anything for granted at this point in the year – especially not since the Wolfpack (35-18, 13-16) came into the ACC championship on a three-game win streak, have posted a 6-1 record against the Hurricanes in previous championship matchups and will more than likely have what feels like a home-field advantage at Durham Bulls Athletic Park.
"[NC State coach] Elliott Avent's teams normally play better at the end of the season," DiMare said. "Here they are in the same situation they seem to have been in sometimes where they're on the bubble or fighting for their lives, if you will, trying to get into the [NCAA] Tournament…I've been in that stadium when we've played NC State. There's not an open seat in there and it's all red. So, it'll be packed with NC State fans. And although we took two of three…that was a long time ago. They're a different team…We're a different team, too. I would think they're going to be playing really, really well…They could be dangerous."
The Hurricanes know they'll face a challenge over the next few days, but it's one they believe they're ready for given all they've experienced this season – and what they remember from a year ago.
"I think it helps that we have some veteran guys…We have a bunch of guys who were on this field last year when the thing ended and it was tough," DiMare said.
Added Levenson, "We want to be playing [well] right now. This is the time that we need to be playing [well], right now. The ACC tournament is huge for us."