Canes Deliver Big Plays During Spring Game
FORT LAUDERDALE, Fla. – For six weeks, they toiled on Greentree, preparing for this moment.
On Friday night, the Hurricanes finally took the field at DRV PNK Stadium for their annual spring game and in the process, gave Miami fans their first glimpse at this year's new-look team.
Those fans saw quarterback Tyler Van Dyke – who was hampered last season by a shoulder injury – slinging passes down the field and looking comfortable in a new offensive system.
They saw why freshman defensive lineman Rueben Bain, Jr. a four-star prospect coming out of Miami Central High School last fall, was one of the most coveted recruits in the country.
They saw receiver Xavier Restrepo, who last season worked through an injury of his own, diving for catches and making multiple big plays for Van Dyke, his friend and roommate.
And they saw kicker Andres Borregales, one of Miami's most consistent performers last fall, pick up right where he left off, connecting on a pair of field goals, including one from 51 yards out.
There were highlight-worthy plays on both sides of the ball and there was, Miami head coach Mario Cristobal noted, indications that the Hurricanes have grown during their 15 spring workouts.
But, the coach pointed out, the work of preparing for the 2023 season is far from finished.
"We set out to get a lot of competitive situations. Thought we did that," Cristobal said of Friday's scrimmage. "We played physical in spurts. We were successful in spurts on both sides of the ball and showed some signs of inconsistency. But overall, progress. We really feel like we have progressed. But we've got to continue to progress from here."
Many of the Hurricanes echoed that sentiment.
"We can't take our foot off the pedal," said safety Kamren Kinchens, who had a pair of tackles in the first half Friday night and is coming off an All-American campaign in 2022. "Our bodies need to rest now, but the thing is, we can't let the mental side go. We can get treatment, let our bodies take a break, but we've got to make sure our minds are in-tune 24/7, that can be off the field, with school, anything like that. We have to be on point with everything."
Added Restrepo, "It's about staying healthy now, enhancing our bodies, getting faster, stronger and smarter. Studying defenses, all of that stuff. Football IQ, everything."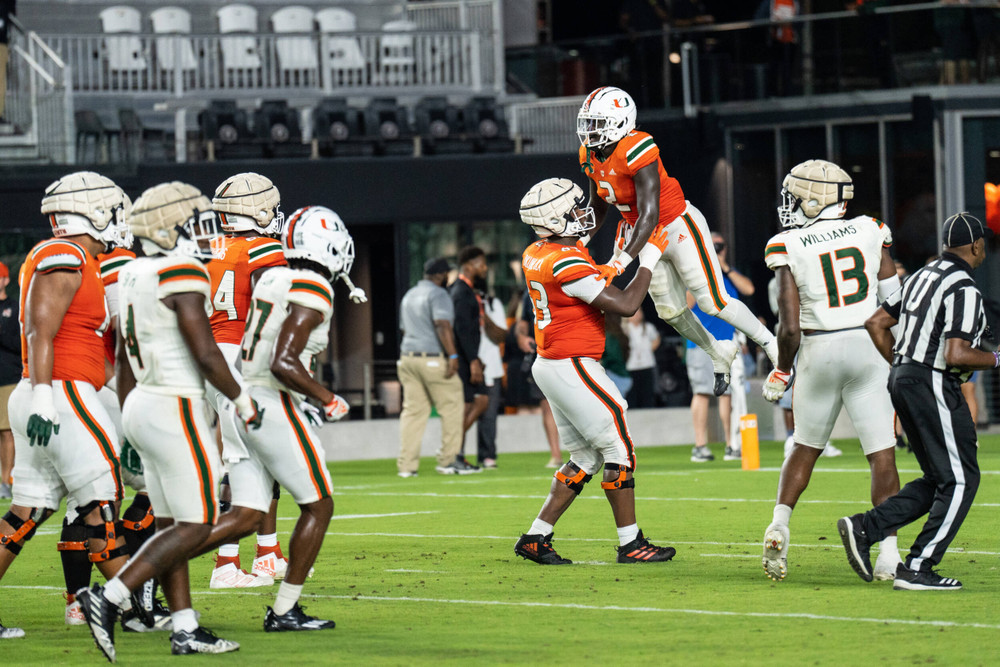 But before turning the focus to the offseason, there was the spring game.
Restrepo, who averaged 11.4 yards per catch last season despite missing five games because of his injury, was a bright spot for the first-string offense, hauling in three catches for 69 yards in the first half, which allowed for tackling and followed more of a traditional game format.
Fellow receiver Jacolby George had a pair of catches for 46 yards in the first half, including a spectacular 15-yard touchdown grab in the corner of the end zone on a pass thrown by Van Dyke.
Van Dyke, meanwhile, was poised in offensive coordinator Shannon Dawson's scheme.
The quarterback – the 2021 ACC Rookie of the Year – completed 13 of 19 passes for 185 yards, his touchdown pass to George giving the offense an edge in the scoring system that pitted it against the defense.
"I felt comfortable. To be able to have the freedom to go wherever with the ball is nice. Based on what the defense gives you, you can change the plays," Van Dyke said of Dawson's system. "It gives a quarterback a lot of freedom to put the ball in the right spots.
"I thought we communicated well with all the plays tonight. That was the biggest thing. I thought we executed well. I mean, there's definitely some things we could have done better, as always. We always need to improve on lots of stuff, but overall, I thought tonight was good."
More than a few of Miami's defenders stepped up and made big plays, too.
Francisco Mauigoa – a transfer from Washington State – notched four tackles, including a tackle for loss, while Bain totaled three sacks, all in the first half.
His performance, understandably, drew rave reviews from his head coach.
"He's got a relentless motor and a ton of pride," Cristobal said of Bain. "He's been coached really, really, really well over at his high school. They just go hard, so he's used to this practice regimen, the structure and he's extremely disruptive and he's very, very tough. He does not shy away. It doesn't matter if it's a senior offensive lineman or a freshman that came in with him, the guy's going to get after somebody's butt, and he did tonight."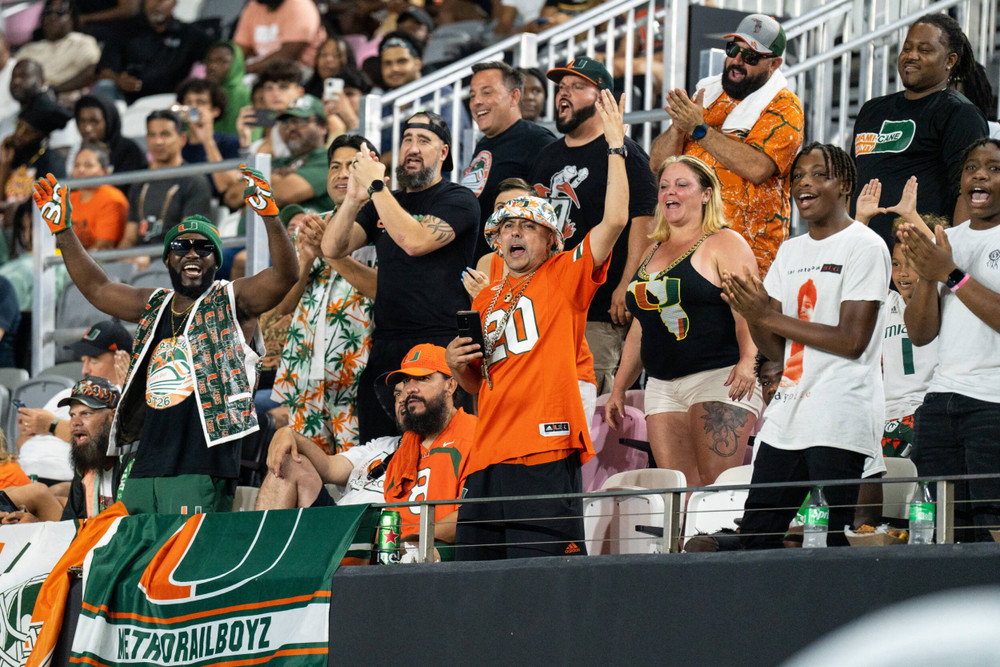 Another freshman earning praise from Cristobal? Receiver Nathaniel "Ray Ray" Joseph, who showed off some of his dazzling speed late when he scored on a 79-yard touchdown pass from freshman quarterback Emory Williams.
"These are Miami Hurricanes. This is what Miami needs to always have, and lots of them. Remember playing here, that's what our teammates looked like," said Cristobal, a national champion offensive lineman during his own time at Miami. "Today was a good glimpse of roster addition and enhancements. Ray Ray is a diehard, diehard Cane through and through. A must-have guy. Tonight, he showed why. You just see the catches, but you should see him block, see him throw his body around. The guy really is a tremendous competitor and an elite, awesome human being that really has an incredible impact on the team."
With the spring game now behind them, the Hurricanes will turn their focus to offseason workouts. Several of them pointed out this week how they plan to bring teammates into the Carol Soffer Indoor Practice Facility with them to continue preparing for the season that awaits.
And before long, it will be time for preseason camp and a Sept. 1 season opener against Miami of Ohio.
"The habits that are formed and the culture that you work to create are just as important," Cristobal said Thursday when discussing the work the Hurricanes will do moving forward. "The coaches go on the road in the coming weeks and they're going to be gone for a while. [The players] have to be great leaders. They have to force the issue of culture. They have to make sure it's implemented in everything that we do on a daily basis, that our workouts look like we're there, that their player-led practices look as if its coaches running it.
"We have to continue to take steps as a program. [Spring football] was a really good step, with new coordinators in the building, with new coaches and a lot of new players. But we have to continue taking steps."